What is The Best Spaghetti Carbonara Recipe?
This is by far the best spaghetti carbonara recipe I have ever had. Traditionally, a Carbonara is an Italian pasta dish made with eggs, hard cheese (like Pecorino Romano or Parmigiano-Reggiano), pancetta, and black pepper. The version I am sharing below is not authentic, but it sure is delicious! And one of the best pasta dishes you will ever make with just a few simple ingredients.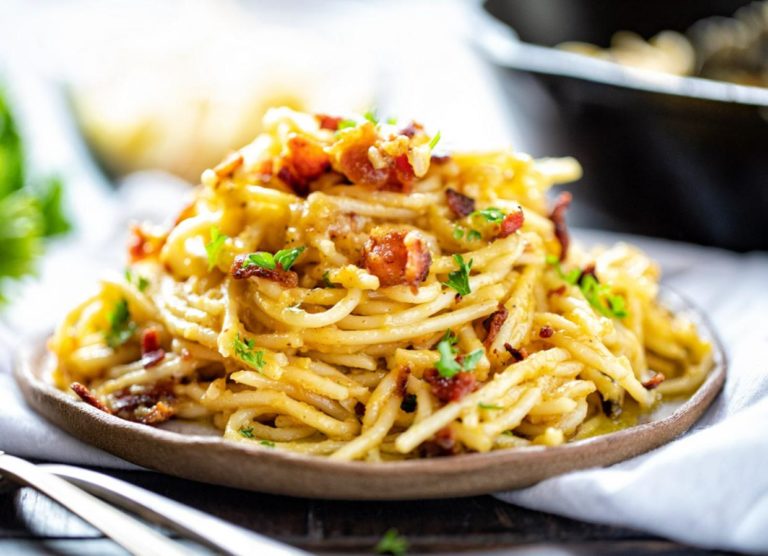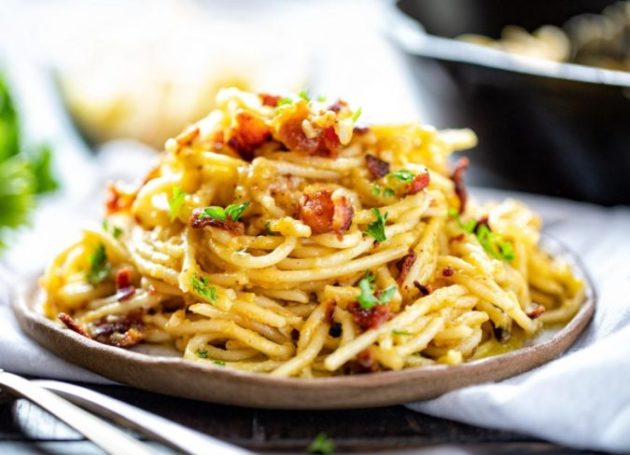 How to Make Carbonara
I make my carbonara with a few pantry staples:
Spaghetti noodles
Olive oil
Bacon
Onion
Garlic
Eggs
Parmesan
One of the most important parts of this dish is, of course, the spaghetti noodles. You want to make sure they are cooked al dente.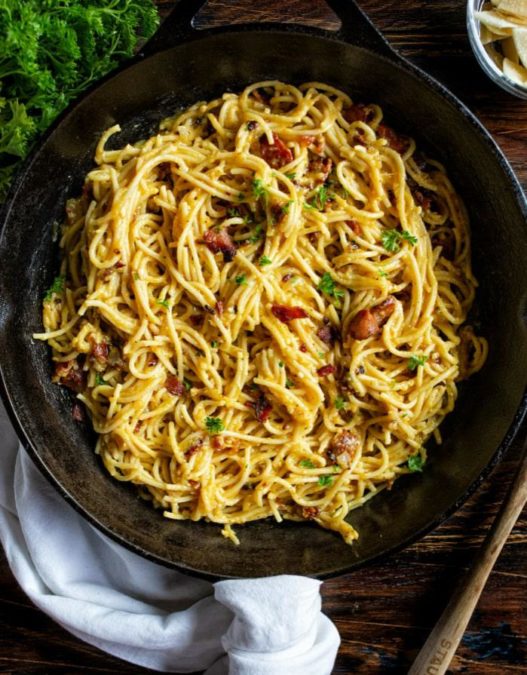 How to Cook Al Dente Spaghetti Noodles
Take a big pot and fill it with about 4 quarts of water. Add a generous amount of salt. As some chefs like to say, "salty like the sea". This will help to season your pasta.
Once the water reaches a boil, add in your dried spaghetti and then stir it. Don't walk away! Stirring at the beginning of the boiling process will help to keep the pasta from sticking to itself.
Once your pasta has cooked for a few minutes and is firm yet starting to soften it is al dente. For spaghetti, this is anywhere from 6-10 minutes. The best way to test this is to try it! Al dente pasta will feel firm, not crunchy when you bite it. You can also break a piece of pasta in half to see if it's done correctly. The pasta will be mostly cooked with a small center of uncooked pasta running through the middle.
Drain your pasta (you can reserve some of the water!!) into a strainer and then pour some olive oil on top and toss the noodles. This will ensure they don't stick to each other.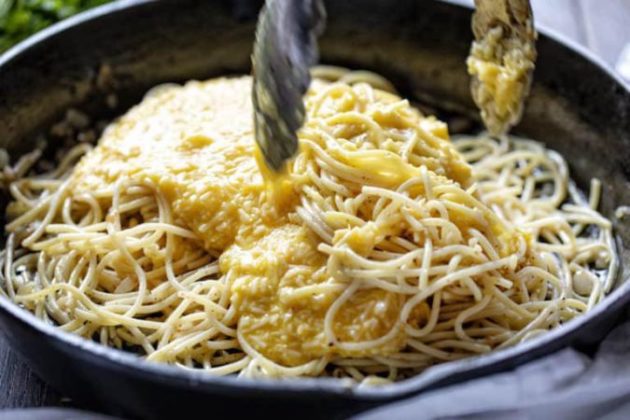 Next, chop the bacon and set in a cast iron skillet over medium heat. Cook until just crispy. (I prefer my bacon VERY crispy, but you should definitely cook it to your preference.) Remove the bacon from the skillet and set on a plate lined with a paper towel. Set this aside.
In the same skillet you cooked the bacon, add the diced onion. There should be about 2 tablespoons of bacon grease in the pan, but if you happen to have less than that, add some olive oil. Cook the onion for about 5 minutes, or until translucent. Add in the chopped garlic and cook for about 1 minute more.
Now add the spaghetti noodles back to the hot skillet and using tongs, turn the noodles over so that they are fully coated with the onion and garlic sauce. Reduce heat to low.
In a medium bowl, beat the eggs. Add the shredded (or crumbled or grated) parmesan directly to the eggs and stir well. Pour the egg & parmesan mixture over the noodle and again with the tongs, toss to coat the noodles well. You do not want to scramble the eggs, just gently cook them with the melting cheese so that they create a creamy sauce.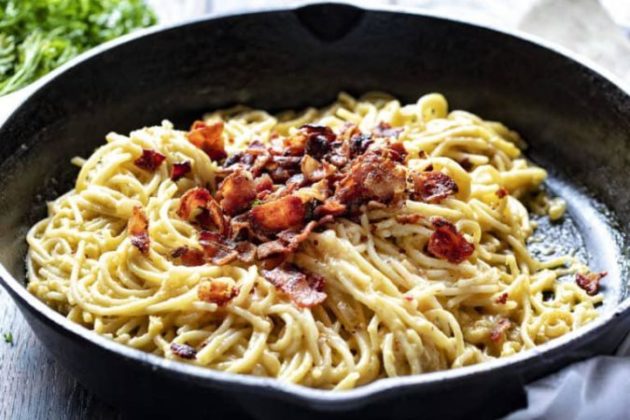 Add the crispy bacon back to the pan with the noodles and toss again. Garnish with more parmesan and parsley and enjoy!
Quick note: If the sauce is too thick you can add in some olive oil. If you have any pasta water left over this can also thin the sauce.
To reheat leftover Spaghetti Carbonara, just add the noodles back into a warm skillet and toss it occasionally. You can also add more olive oil or heavy cream when reheating. You may also need another pinch of salt & pepper.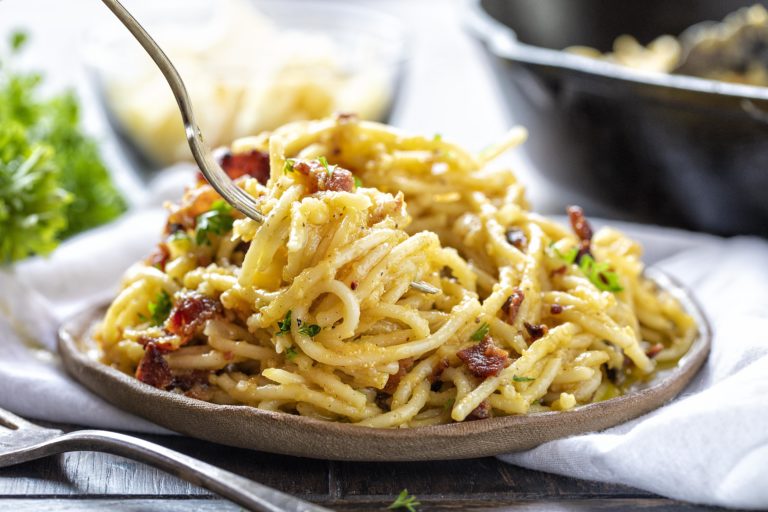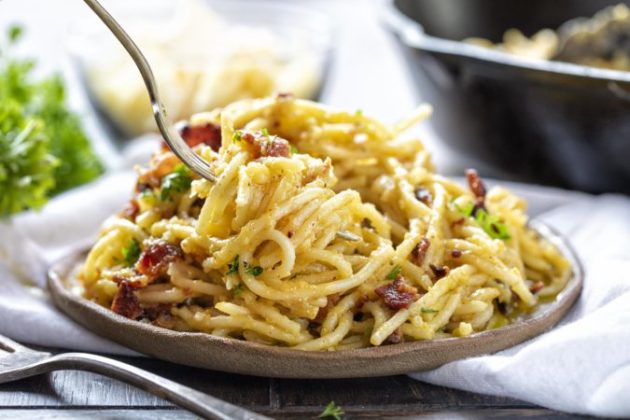 INGREDIENTS
1 box (16 ounces) spaghetti noodles
1 tablespoon olive oil
8 slices bacon, chopped (can use Pancetta)
1 medium white onion, chopped
1 clove garlic, minced
4 large eggs, beaten
2 cups Parmesan cheese, grated
1 pinch salt and black pepper, to taste
2 tablespoons Parmesan cheese, grated
2 tablespoons fresh parsley, chopped (optional)
INSTRUCTIONS
In a large pot of boiling salted water, cook spaghetti pasta until al dente (about 6-10 minutes). Drain. (Can reserve a cup of pasta water just in case you want a thinner sauce.) Toss with 1 tablespoon of olive oil, and set aside.
In a large skillet over medium heat, add chopped bacon and cook until crisp; remove and drain onto paper towels.
To the same skillet over medium heat (That has not been drained or cleaned! You should have about 2 tablespoons of bacon fat remaining in the fan – if you don't add some olive oil.), add chopped onion.
Once onion is translucent (about 3-5 minutes) add the minced garlic, and cook for one more minute.
Add the spaghetti noodles back into the pan and toss to coat and heat through. Reduce the heat to low.
In a medium bowl, mix together eggs and parmesan cheese. Add this to the noodles and cook, tossing constantly with tongs until eggs and parmesan develop into a light sauce over the noodles.
Add in bacon, salt and pepper to taste, and top with remaining parmesan cheese. (And chopped parsley for garnish if you so desire.)
Serve immediately.