Cabbage and sausage are two ingredients that were definitely meant to be enjoyed together!
Tender potatoes, smoky sausage, onion and sweet cabbage seasoned with garlic butter and all cooked in a tidy little packet on the grill!
This foil packet dinner is perfect as an effortless summer meal or as a delicious way to prepare ahead of time while you're camping!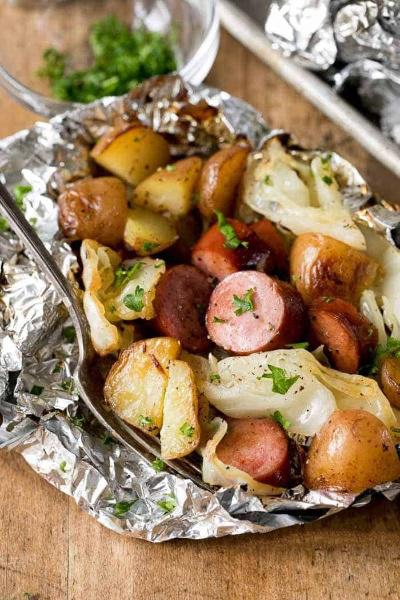 Comfort Food – we all want and crave it from time to time. There is just something about cabbage that I can't resist… and it's even better when it's served alongside sausage.
In addition to cabbage and sausage, these foil packets contain tender potatoes and onions all smothered in garlic buttery goodness for the perfect meal!
While these Cabbage and Sausage Foil Packets are scrumptious, they are also super easy to prep and are ready to put on the grill in under 15 minutes!
Not to mention, foil packets make clean up a total breeze since you can simply use the foil packet as it's own serving plate, so no need for extra dishes!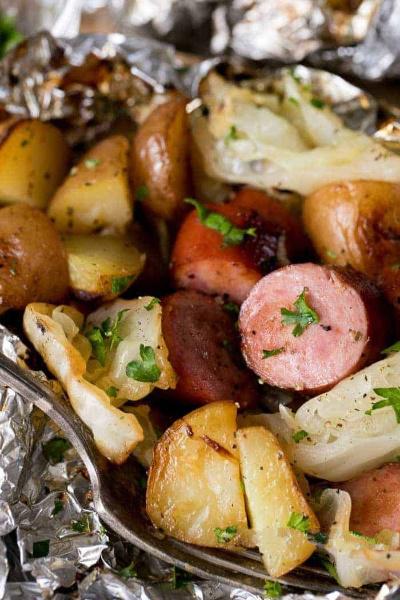 MY FAVORITE TIP that makes these turn out perfect every time… is the way the potatoes are steamed right on the grill! The steam helps the flavours mingle together and cooks the veggies until they are perfectly tender.
The trick to steaming in foil is adding just enough liquid to steam without everything becoming soggy. Easy enough right!?
The problem with adding liquid to foil packets is that very often while sealing the packet, the liquid pours out. To remedy this, simply add an ice cube!
This provides the perfect amount of liquid and makes sealing up the packets super easy and leak free!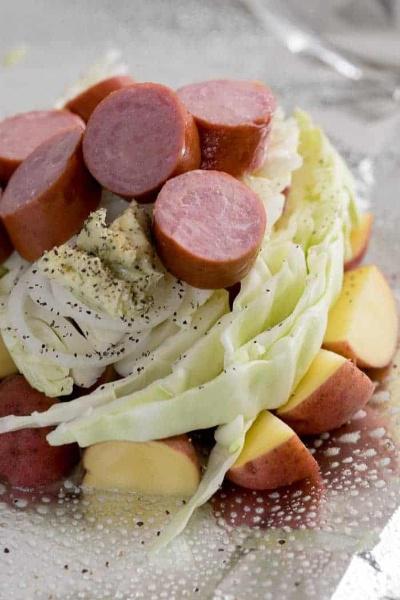 You can definitely use your favorite sausage to customize this recipe. I love farmer's sausage or garlic sausage, both are delicious options (you just want to make sure it's a pre-cooked/smoked sausage).
Feel free to toss in your favorite veggies or whatever you have on hand! If you choose to add mushrooms, you may want to omit the ice cube so there isn't too much moisture.
These Cabbage and Sausage Foil Packets are great to make ahead of time and are ready to pop on the grill when you are! This is a super idea for busy weeknights or to take to the cottage or camping where preparation and clean time is at a premium!
So quick, easy and will definitely satisfy any appetite – even an 'I've been outdoors all day' appetite!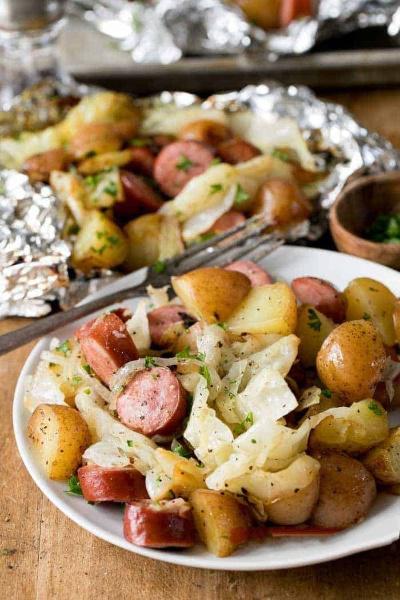 You will then have time to sit back, relax and enjoy a cool glass of watermelon lemonade! Really, that's what summer (and being at the cottage or camping outdoors) should be about – less fussing about meals and more taking time to enjoy!
The next time you are looking for a quick, convenient, delicious recipe that provides a 'bang for your buck', look no further than Cabbage and Sausage Foil Packets. The robust flavours all mingle together to create a delicious and mouth watering dish!
Note: These can be baked in the oven at 425 degrees for 35-40 minutes or until potatoes are fork tender.
Ingredients
1 pound Polish sausage cut into 1 inch pieces (or your favorite smoked sausage)
½ head of cabbage cut into ½″ wedges
20 small potatoes quartered
1 small onion sliced
garlic butter store bought or homemade
salt & pepper to taste
4 ice cubes
Instructions
Preheat your grill to 400°F.
Cut four 18 x 12 inch sheets of foil. Spray well with non-stick spray.
Divide the cabbage, potatoes and onion over the foil sheets.
Add 1 ice cube to each mound.
Evenly divide the sausage between the packets and top with garlic butter (1-2 tablespoons per packet), salt and pepper.
Seal each packet well and place on grill.
Grill for 50 minutes flipping from the packets every 15 minutes.
Allow to rest 10 minutes before serving.
Serve with sour cream if desired.
Recipe Notes
These can be baked in the oven at 425°F for 35-40 minutes or until potatoes are fork tender. Potatoes sizes can vary, you'll want just over 1 cup diced/cubed potato per serving. If you are concerned that your foil may leak, double wrap your packets.
Nutrition information provided is an estimate and will vary based on cooking methods and brands of ingredients used.