Potato pancakes are an absolute favorite of mine! This recipe is made with shredded potatoes mixed with flour & eggs to create the perfectly crispy pancake!
Whether you are from a Polish, Irish, or German heritage, you've likely had a version of this at some point!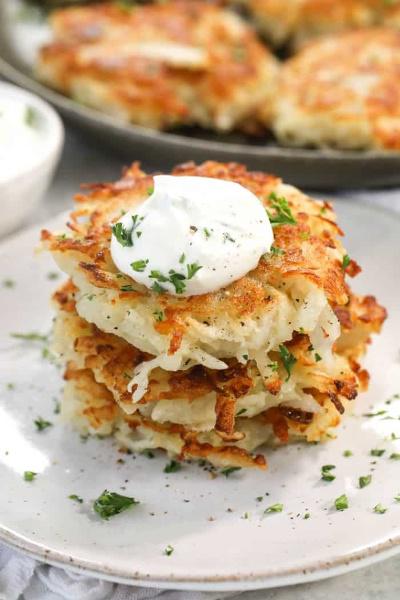 What Potatoes to Use
Potato pancakes are also called latkes, boxties, or draniki depending on what culture you draw from, but the basic recipe is the same: potatoes, onions, seasonings, and sour cream or applesauce!
Russet potatoes are perfect for this recipe because they are extra starchy which helps bind the other ingredients. They fry up really well without absorbing extra oil.
Making Sure They Stick Together
While this recipe is easy to prepare there are a few tricks to making them stick together perfectly when cooking!
Moisture You'll want to remove as much moisture as possible from the potatoes. Once grated, I put them in a kitchen towel and squeeze them out as much as I can by twisting the towel.
Binder The real trick to perfect potato pancakes is the right amount of binder (flour, egg) to potatoes!
Heat Make sure the oil is hot enough, the pancakes should sizzle when dropped in. (Make sure it's not too hot or the potatoes won't cook through before the outside is crisp).
Size Be sure they are uniformly flat so they cook at the same rate and come out perfect every time!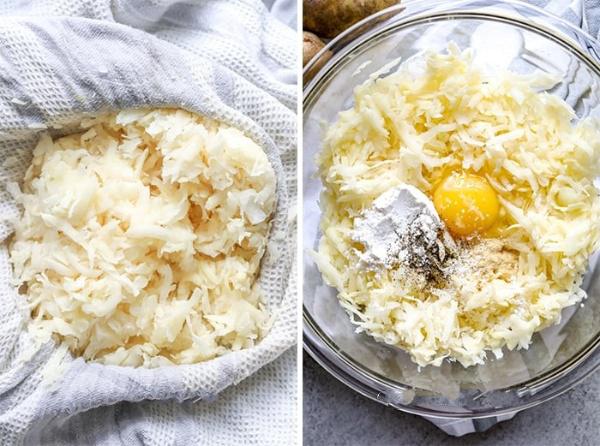 How to Make Perfect Potato Pancakes
Once your potatoes are prepped this easy recipe comes together quickly! Just combine, fry, and enjoy.
Combine all ingredients together (see recipe below).
Fry scoops of potato mixture, pressing into pancake shapes.
Drain excess oil by placing on a paper towel.
Serve these pancakes for breakfast or as an easy side dish that everyone will love.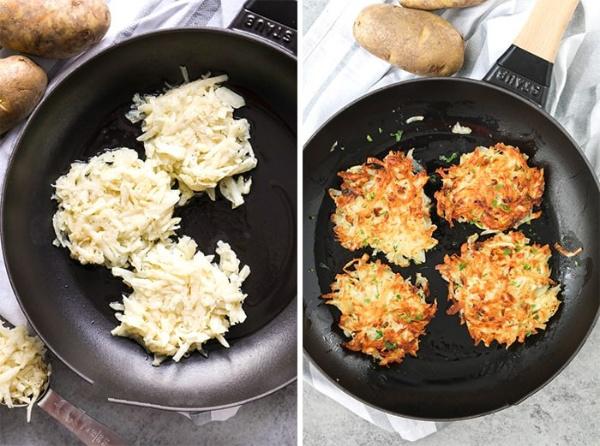 My Favorite Potato Pancake Toppings
Traditionally, potato pancakes are topped with applesauce or sour cream. But, what doesn't go with potatoes? Think of them like hash browns, what would you put on hash browns?
Here is a list of my favorite toppings:
Sauce: ketchup, salsa, guacamole, nacho cheese sauce, or sour cream.
Toppings: black olives, jalapenos, bacon bits, or chives.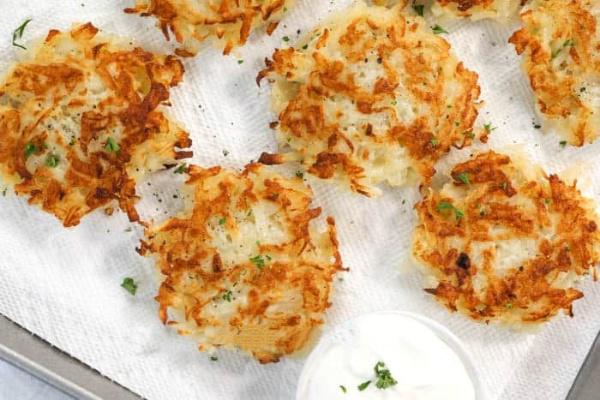 Ingredients
4 russet potatoes peeled and grated (approx. 4 cups)
1 sweet onion peeled, and grated
2 large eggs
2 tablespoons all-purpose flour
1 teaspoon kosher salt
1 teaspoon garlic powder
½ teaspoon black pepper
¼ cup vegetable oil more may be needed
Applesauce optional
Sour cream optional
Instructions
In a colander add potatoes and onion. Wrap in a tea towel and squeeze as much liquid as you can out of the mixture.
Add potatoes and onions to a large mixing bowl.
In a small mixing bowl add eggs, flour, kosher salt, garlic powder, and black pepper. Whisk until smooth and no flour lumps remain.
Pour the egg mixture over the potatoes and stir to combine.
Add oil to a 12-inch skillet and set over medium-high heat.
When the oil is hot add four ¼ cup sized scoops of the potato mixture into the hot oil. If you do not hear a sizzle when the potato mixture enters the oil is not hot enough.
Gently press the potato mixture down to make a pancake.
Cook for about 3-5 minutes per side or until deep golden brown.
Continue cooking, adding more oil if needed.
If desired, serve with applesauce or sour cream.
Recipe Notes
As batches of potato pancakes are cooking they can be kept warm in a 275°F oven.
Shredded hash browns can be used in place of potatoes, omit the salt from the recipe.