Avocado Corn Salsa is a light and refreshing dip loaded with avocados, sweet corn, tomatoes, red onion, jalapeno, cilantro, lime juice, and garlic.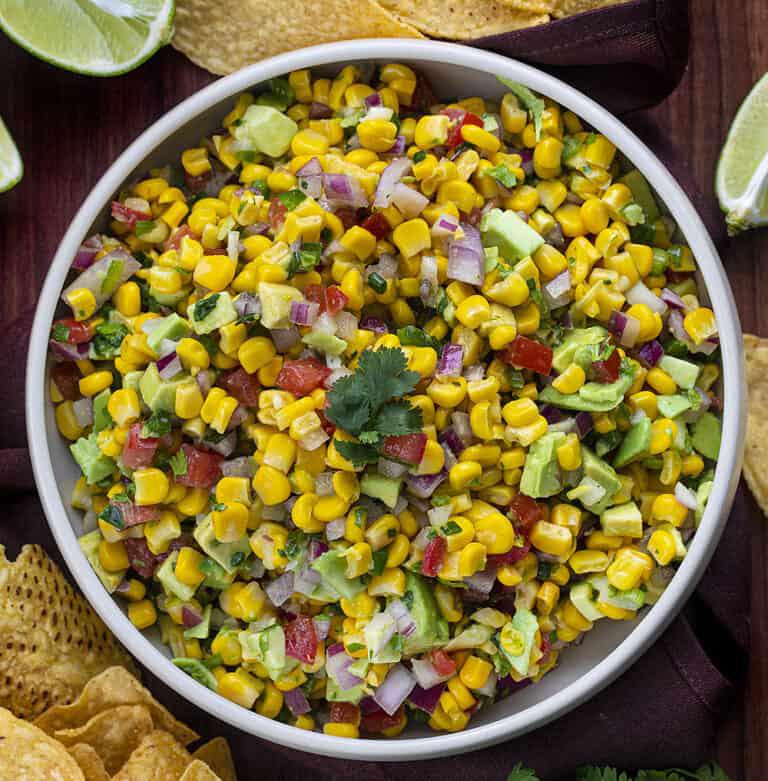 AVOCADO CORN SALSA
This salsa is delicious enough to eat on its own, but it is also perfect for chips, on a bed of cilantro rice, or in some shrimp tacos. Each scoop is full of ripe avocados and lots of veggies with just the right amount of flavor. You may want to double this salsa after you realize how easy it is to eat by the spoonful!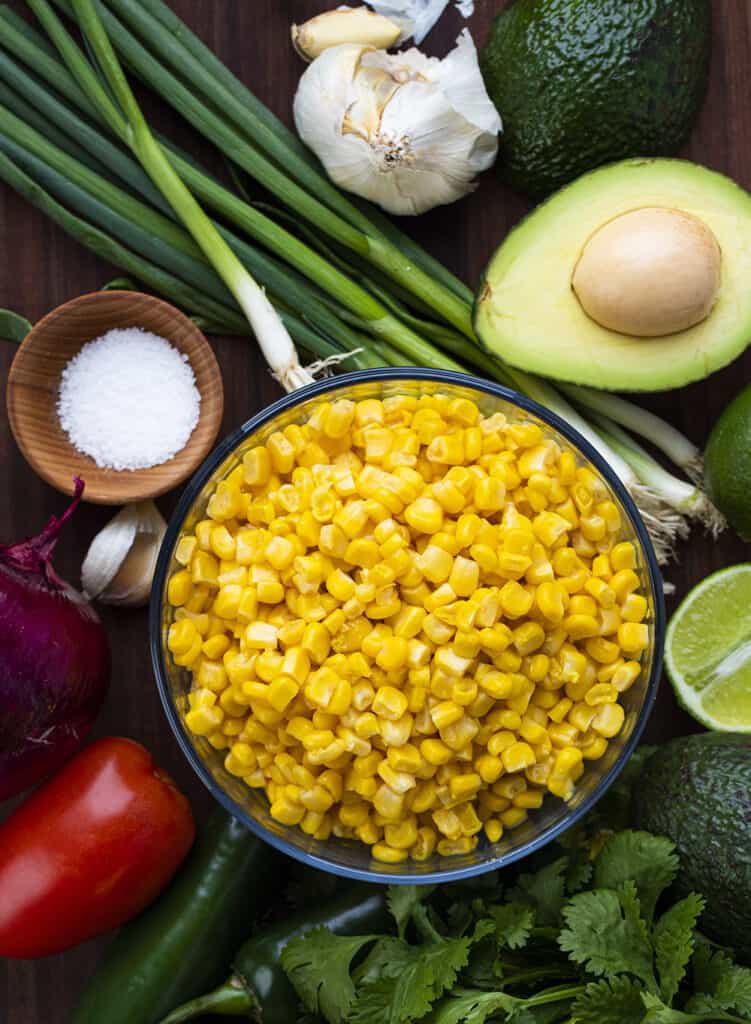 AVOCADO CORN SALSA INGREDIENTS
Avocados: Avocados are a fruit that many consider being a superfood. It is high in healthy fats, very nutritious, and has a nice flavor and texture. To pick out a ripe avocado, go for feel rather than color. Gently press into the avocado near the stem; it should feel soft, by not mushy. (If you leave a dent, there is a good chance the avocado is overripe.)
Sweet Corn: I used canned sweet corn for this recipe since fresh sweet corn is not in season at the moment.
Jalapeno Pepper: There is only one jalapeno pepper in the salsa, so it is still fairly mild. I would actually add a few more to give the salsa more of a kick!
Cilantro: If you are not a fan of cilantro, start with half the amount and give it a taste. It is an important part of the recipe, so I encourage you to not leave it out entirely. Wash the cilantro well before using. Remove the leaves and discard the stems. Chop or rip the leaves to the size you prefer.
Lime Juice: The juice of one lime was used in this recipe. If you don't have a fresh lime around, use about 2 tablespoons of bottled juice.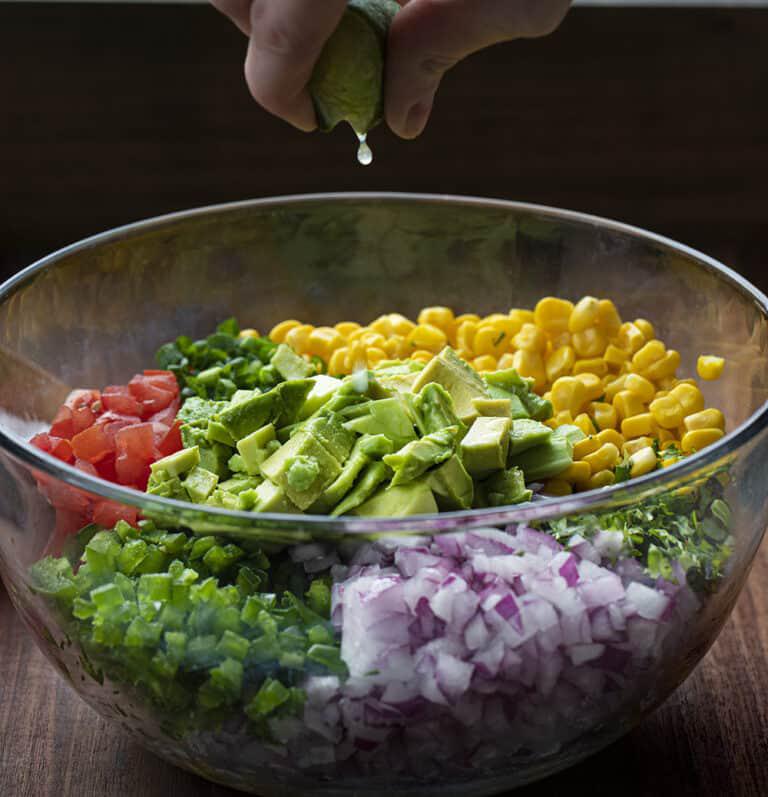 HOW TO SEED AND DICE JALAPENO PEPPERS
If you are adding jalapeno peppers to this recipe, knowing how to seed and dice a jalapeno properly will make your life a whole lot easier. After cleaning and removing the jalapeno seeds, the rest is a short mixture of chopping and mixing. It really doesn't take long at all!
Removing the seeds from a jalapeno is a touchy business, literally speaking. Hopefully, this isn't your first rodeo with cutting a jalapeno, but if so, take my advice from here on out. Some people think that the seeds hold all of the heat, others think the membrane is the culprit.
I recommend wearing gloves or holding the jalapeno with a paper towel while you cut, so you can avoid any burning that comes from touching eyes or skin after cutting a jalapeno.
Make a lengthwise cut, exposing the membranes that hold the seeds in place. Then take a spoon and scrape out the membrane, working from the bottom to the top of the pepper. Scoop the seed directly into the compost. Finally, WASH YOUR HANDS! Like really get in there and wash them with soap. Gloves for the win!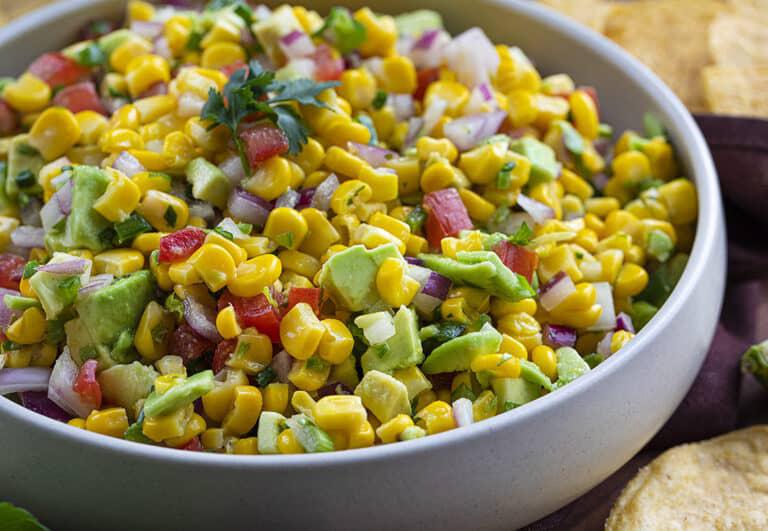 HOW TO MAKE AVOCADO CORN SALSA
Once you have the avocados and the vegetables cut and ready to go, it's so easy to put this salsa together. Simply combine all the ingredients in a large bowl. Mix everything together, cover the bowl, and let the salsa chill in the refrigerator for about 15 minutes before serving. Store leftovers in the refrigerator for up to a week.
Ingredients
2 medium avocados, peeled and diced
2 cans (15.25 ounces each) sweet corn, drained
1 Roma tomato, diced
1 medium red onion, diced (approximately 1 cup)
1 large jalapeno pepper, seeded and diced
½ cup cilantro, diced
1 medium lime, juiced
1 tablespoon green onion
1 teaspoon garlic, minced
1 teaspoon salt
Instructions
in a large bowl, mix together all the ingredients. Cover and let rest in the refrigerator for at least 15 minutes before serving.
Store in the refrigerator, covered, for up to a week.