Don't let the simplicity of the ingredients fool you, these Amish Sugar Cookies are one of the most flavorful and melt-in-your-mouth cookies you will ever have! So good you will want to double the recipe next time!
The magic behind this recipe is the ingredients themselves. I use really good quality flour, sugar, eggs… but especially in the vanilla.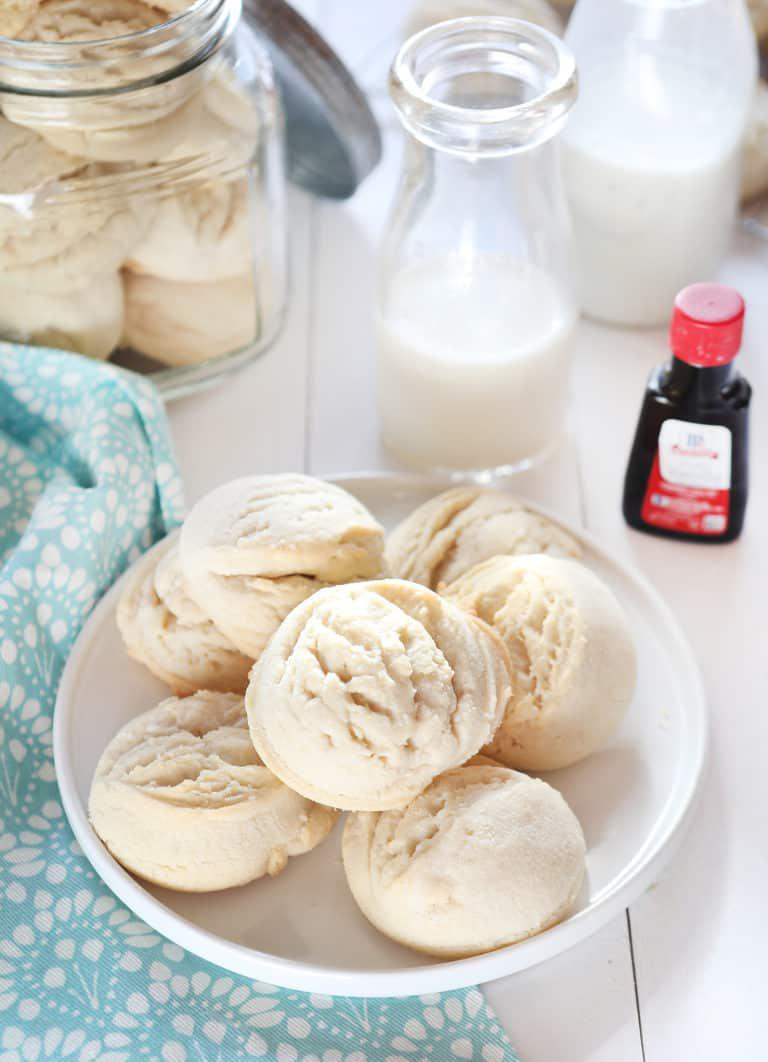 The vanilla in the recipe is very important. The pure beautiful flavor really shines in these cookies so using the best quality vanilla I could find was important! Thank goodness McCormick Pure Vanilla Extract is readily available at most grocery stores.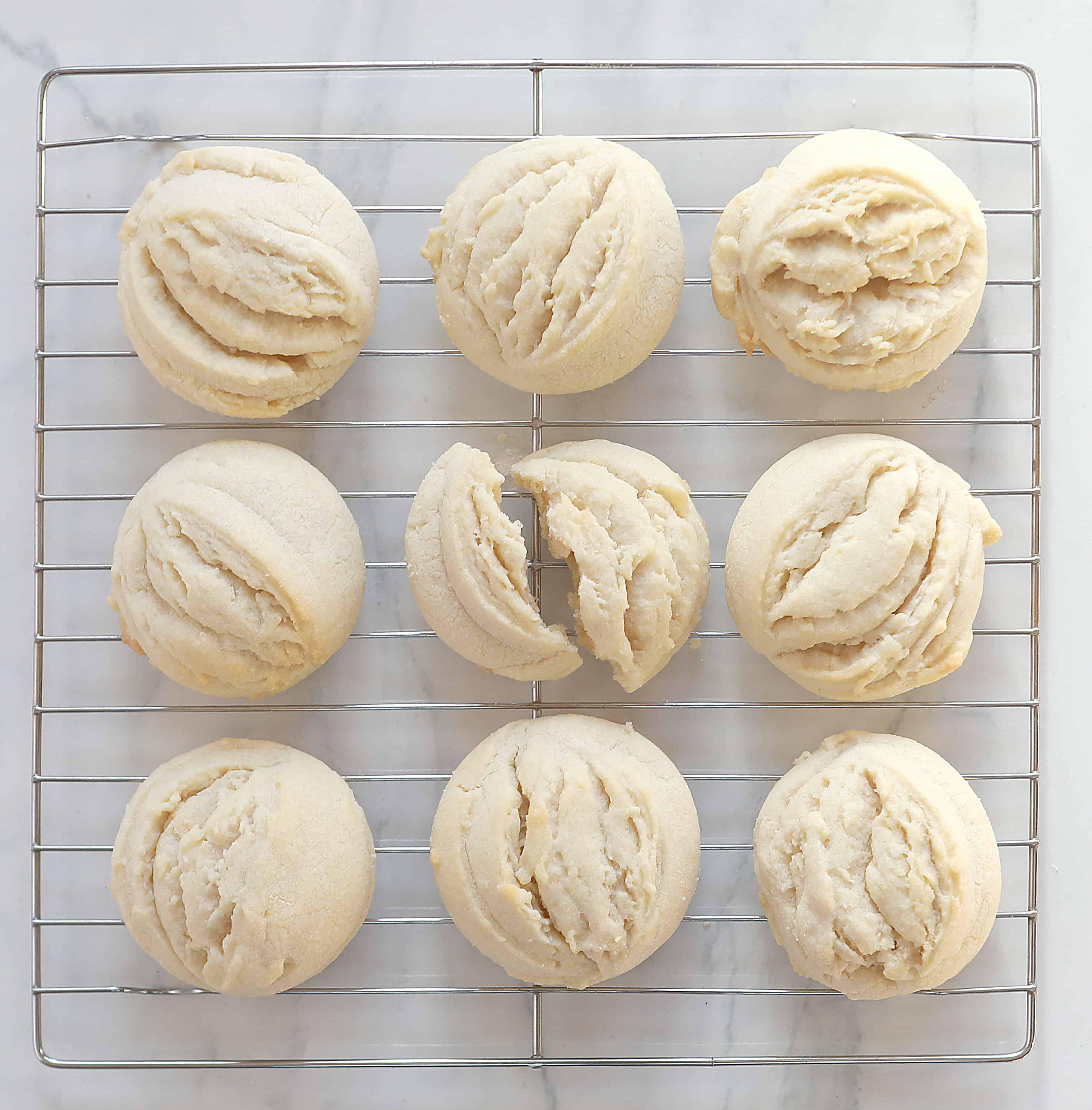 Tips, Tricks, and Variations for Sugar Cookies:
The Amish don't use electricity, why does this recipe have a stand mixer? Simply put, I love the consistency and ease of utilizing my stand mixer. You can absolutely make these sugar cookies by hand, it will just require a bit of elbow grease.
Can you cut the recipe in half? Absolutely!
Why do you call these "Amish"? My family has been making them for years. This specific Amish sugar cookie recipe originally came from an Amish cookbook, so that is where it gets its name. Versions of the sugar cookie have been around since the 1700's and are said to have originated in Pennsylvania.
Can I freeze sugar cookies before baking? Yes! This recipe works beautifully from frozen. Simply prepare recipe as directed, scoop out the dough onto a parchment-lined baking sheet, (they can be placed close together) then freeze for about an hour. After an hour, remove from freezer and place all of the solid sugar cookie dough balls into an airtight container or sealable plastic bag. (remove as much air as possible) Label the bag with the date and pop into the freezer. (If you freeze cookies often you may also want to label the bag with the name of the recipe and cooking instructions.) You can bake these cookies directly from the freezer, just be sure to add 1-3 minutes to the baking time.
Can I freeze after baking? Sure thing. Just make sure the cookies are cooled, then place in an airtight container in single layers. (I like to use wax paper between each layer) I have stored them for a few months in the freezer and while they are still good, I prefer this cookie fresh or freezing them before baking.
Can you frost Amish Sugar Cookies? Oh, my word YES. I absolutely adore them with Cherry Buttercream. It reminds me of a Swig Cookie! You can also use vanilla, buttermilk frosting, chocolate, or any frosting that you prefer. My hubby likes them with strawberry preserves on top!
Do these cookies work for holiday decorating? I love these Amish sugar cookies rolled in red or green sprinkles for the holiday! Simply roll the dough into a ball, roll the ball around in the colored sugar (or sprinkles) of your choice, then bake as directed.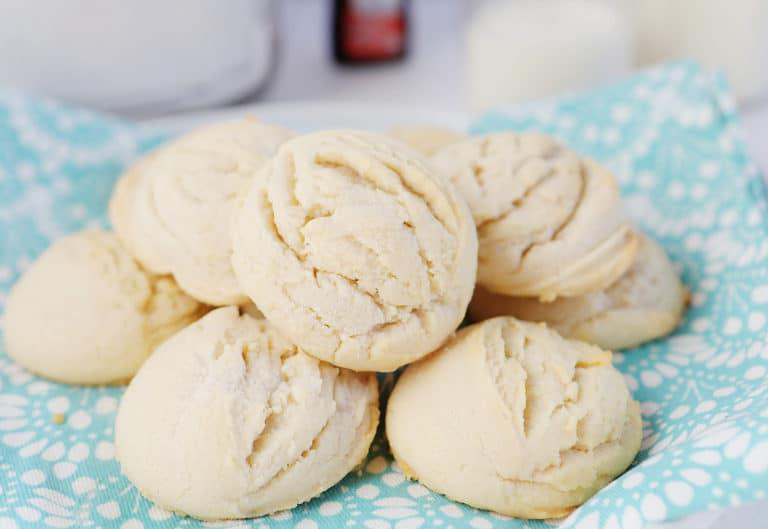 INGREDIENTS
4 1/2 cups (576g) all-purpose flour
1 tsp. baking soda
1 tsp. McCormick Cream of Tartar
1 cup (2 sticks or 226g) salted butter, room temperature
1 cup (224g or 8 ounces) vegetable oil
1 cup (200g) granulated sugar
1 cup (125g) confectioners sugar
2 (3.50 ounces – 4.0 ounces) large eggs room temperature
2 tsp. McCormick Pure Vanilla Extract
INSTRUCTIONS
Pre-heat oven to 375°F and line a few baking sheets with parchment paper. (I bake them at 350°F in a convection oven)
In a large bowl, whisk together the flour, baking soda, and cream of tartar. Set aside.
In the bowl of a stand mixer fitted with the paddle attachment, cream together the butter, oil, and sugars on medium-high speed until light and fluffy, scraping the sides as necessary.
Reduce speed to medium and add the eggs, one at a time, mixing just until combined.
Add the vanilla and mix until combined.
Reduce speed to low and add the flour in three additions, scraping down the sides as necessary.
Using a scoop that holds 2 tablespoons of dough, drop batter onto the baking sheet, spacing at least an inch apart.
Bake for 8 to 10 minutes, just until the edges begin to darken.
Let cool on baking sheet.