Baked Bruschetta Chicken is an easy weeknight meal and perfect served over your favorite pasta! Tender balsamic marinated chicken breasts are baked with garlic, basil and juicy cherry tomatoes to create a delicious meal that everyone loves!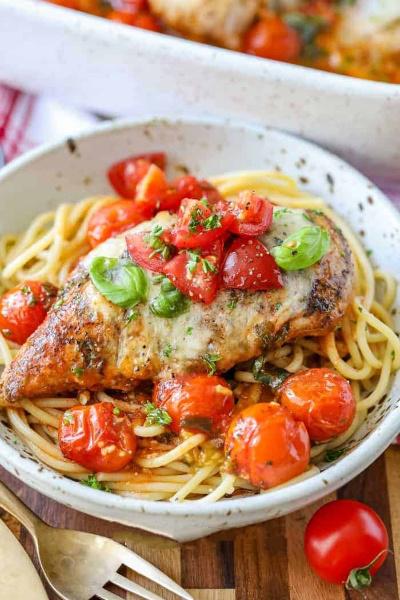 An Easy Weeknight Meal 
Don't be afraid of the fancy Italian-sounding name "Bruschetta." I make a ton of tomato bruschetta all summer long and we often end up eating it for meals or served over chicken!
Kind of like Easy Chicken Parmesan, this bruschetta chicken recipe is a make-ahead and pop-in-the oven kind of entrée. Tender chicken breasts covered in a garlicky, seasoned marinara, cherry tomatoes, and bubbling mozzarella cheese! Perfect for Sunday dinner with the extended fam. Who can say no to that?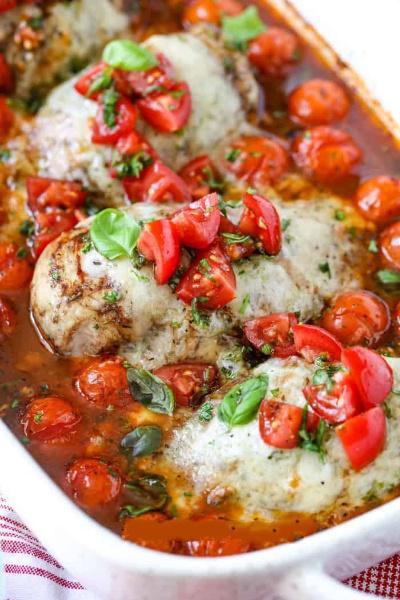 Bruschetta Chicken
Bruschetta is an appetizer many of us are familiar with however, did you know that the word bruschetta actually refers to the bread and not the topping? I took the flavors from my favorite bruschetta topping (tomato/basil/garlic) to create this amazing meal!
What is Bruschetta Chicken? Bruschetta chicken bake is full-flavored and hearty; the topping is baked right onto the chicken breasts. Turn this into a complete meal by serving it over spaghetti for the perfect Bruschetta Chicken Pasta. Mama Mia!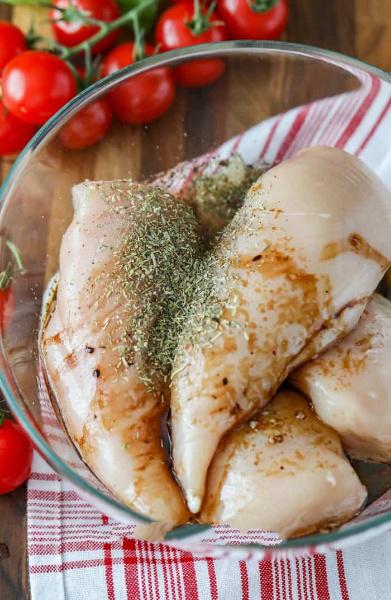 How to Make Bruschetta Chicken
This meal is pretty easy to make and uses basic ingredients. Fresh basil isn't expensive but it makes a huge difference in the flavor of this dish! If you can't find cherry tomatoes, grape tomatoes (or even chopped roma tomatoes) will work just fine.
Marinate: Combine olive oil, balsamic vinegar and minced garlic in a small bowl and marinate chicken breasts for a few minutes.
Brown: Brown the chicken for two minutes on each side. The chicken will cook in the oven, you just want to brown it.
Bake: Place in a 9×13 casserole dish and top with cherry tomatoes. Bake until bubbly.
Top: Top with cheese and broil up to 3 minutes or until melted.
To Serve this Chicken Dish
For the topping, combine tomatoes with olive oil, vinegar, and basil garlic. Spoon over the finished dish and serve over pasta!
What to Serve with Bruschetta Chicken
A great glass of Chianti, of course! A light, bright tossed salad, and some garlic bread rounds out this unforgettable entrée! For a true Italian dining experience, a little Tiramisu or Panna Cotta makes for a sweet ending!
Ingredients
4 chicken breasts
4 tablespoons olive oil divided
1 clove garlic
2 tablespoons balsamic vinegar
1 teaspoon Italian seasoning
salt & pepper to taste
¾ cup marinara sauce
2 cups cherry tomatoes
4 oz mozzarella cheese
Bruschetta Topping
1 cup cherry tomatoes diced
1 clove garlic minced
2 tablespoons fresh basil finely chopped
1 tablespoon olive oil
½ tablespoon red wine vinegar or balsamic
salt & pepper to taste
Instructions
Preheat oven to 400°F.
Combine 3 tablespoons olive oil, balsamic vinegar, and garlic in a small bowl.
Mix ¼ cup of the balsamic mixture with chicken breasts, salt & pepper, and Italian seasoning and marinate 15 minutes.
Heat remaining tablespoon olive oil in a medium skillet. Add chicken and brown 2 minutes on each side.
Place marinara sauce in the bottom of a 9×13 pan. Top with browned chicken breasts and cherry tomatoes. Drizzle with remaining balsamic mixture.
Bake 20-25 minutes or until juices run clear and chicken reaches 165°F.
Top with mozzarella and broil 2-3 minutes.
Combine all topping ingredients in a bowl and spoon over chicken. Serve over pasta.