This chicken lasagna recipe is one of our favorite comfort foods. Tender chicken is layered with veggies, cheese, and lasagna noodles in a rich creamy alfredo inspired sauce. Serve it alongside a caesar salad and garlic bread for a comfort meal that's perfect for any time of the year!
Having simple dinner recipes that I can make during the week and that reheat well to make a few meals is a complete game changer. Cue, this chicken alfredo lasagna recipe!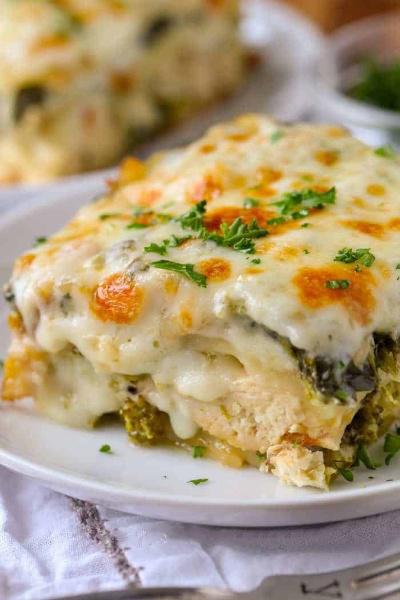 Chicken Lasagna Alfredo
I love using leftover roast chicken for this recipe, but poached chicken, grilled chicken breasts, or even store bought rotisserie chicken work great in a pinch. If you have leftover frozen turkey, that is a great substitution too!
Making the sauce homemade alfredo style sauce adds so much flavor to this white lasagna recipe. It makes it so creamy, dreamy, and delicious!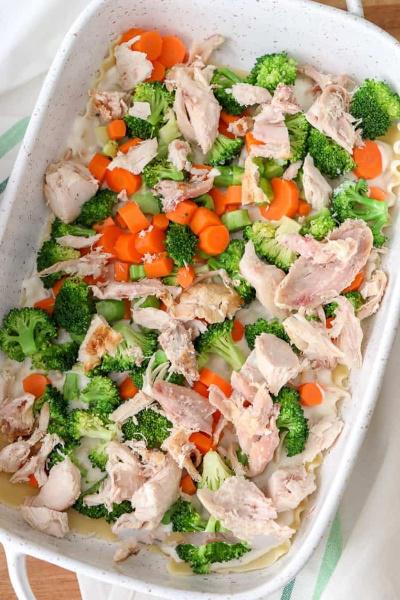 How To Make Chicken Lasagna
Lasagna has a few steps but this dish is worth every second! To make this chicken lasagna recipe:
Make the cheesy cream sauce
Combine cottage cheese, parsley, eggs, and spinach for the cheese layer
Layer noodles, sauce, cheese, vegetables, and chicken, end with a noodles and sauce layer
Bake for 40 minutes covered
Uncovered, top with cheese, and bake for an additional 20 minutes
When you layer lasagna, the trick is to keep things as even as possible throughout the dish to ensure even baking. The lasagna noodles should be cooked al dente as they'll cook a little bit longer in the oven.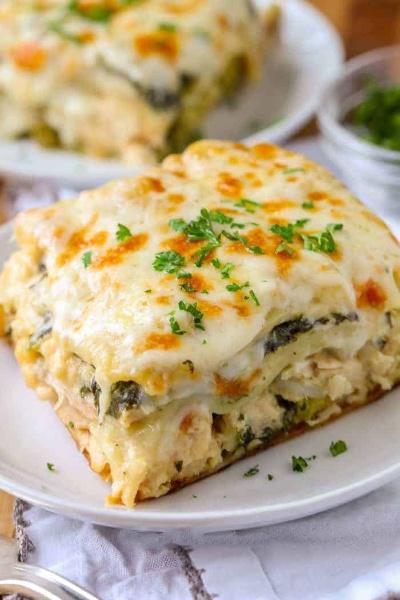 What Temp To Bake Lasagna
I bake this chicken lasagna at 350°F for about 60 minutes in total. Adding the cheese towards the end of baking ensure it doesn't fall into the rest of the dish or overcook and crisps up nicely.
If you notice the cheese isn't as browned and bubbly as you'd like, turn the oven to broil right before you remove the chicken lasagna from the oven.
Alternatively, if the topping is done to your liking and you still have some cooking time left, cover the lasagna with foil to prevent further browning while it finishes off.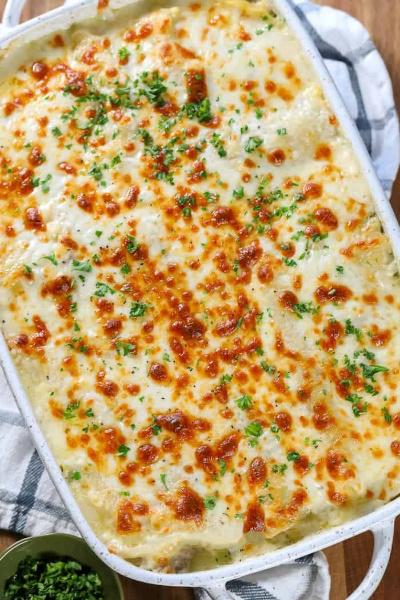 As with all Lasagna recipes, make sure you let this casserole sit at least 10-15 minutes before cutting. This gives it a chance to set up.
Ingredients
12 lasagna noodles cooked and cooled
4 cups cooked chicken
3 cups vegetables cooked and cooled
10 oz frozen chopped spinach defrosted and squeezed dry
2 cups cottage cheese or ricotta cheese
2 eggs
2 tablespoons parsley
4 cups mozzarella divided
⅔ cup shredded parmesan cheese divided
Sauce
⅓ cup butter
1 onion diced
2 cloves garlic minced
¼ cup flour
2 cups milk
2 cups chicken broth
4 oz cream cheese
1 teaspoon dried basil
½ teaspoon oregano
Instructions
Sauce
To make the sauce, melt butter, onion and garlic over medium low heat. Cook until onion is softened, about 3 minutes. Add flour and cook for 1-2 minutes.
Reduce heat to low. Combine milk and broth. Add a small amount at a time whisking to thicken. The mixture will become very thick, continue adding a little bit of liquid at a time whisking until smooth.
Once all of the liquid has been added, stir in cream cheese until melted.
Remove from heat and add in ⅓ cup parmesan, 1 cup mozzarella cheese, dried basil and oregano.
Assembly
Combine cottage cheese, eggs, parsley and spinach. Set aside.
In a 9×13 pan, layer 4 noodles, sauce, cooked vegetables and half of the chicken. Sprinkle with ½ mozza, ¼ cup parmesan and ⅓ of the sauce.
Add another layer of noodles, chicken, cottage cheese mixture, sauce. Top with noodles and sauce. Cover and bake 40 minutes.
Uncover, top with cheese and bake 20-30 minutes more.