Loaded with meats and cheese, Cuban Sliders are filling and satisfying enough to be a meal! They are also a great appetizer for your next big gathering.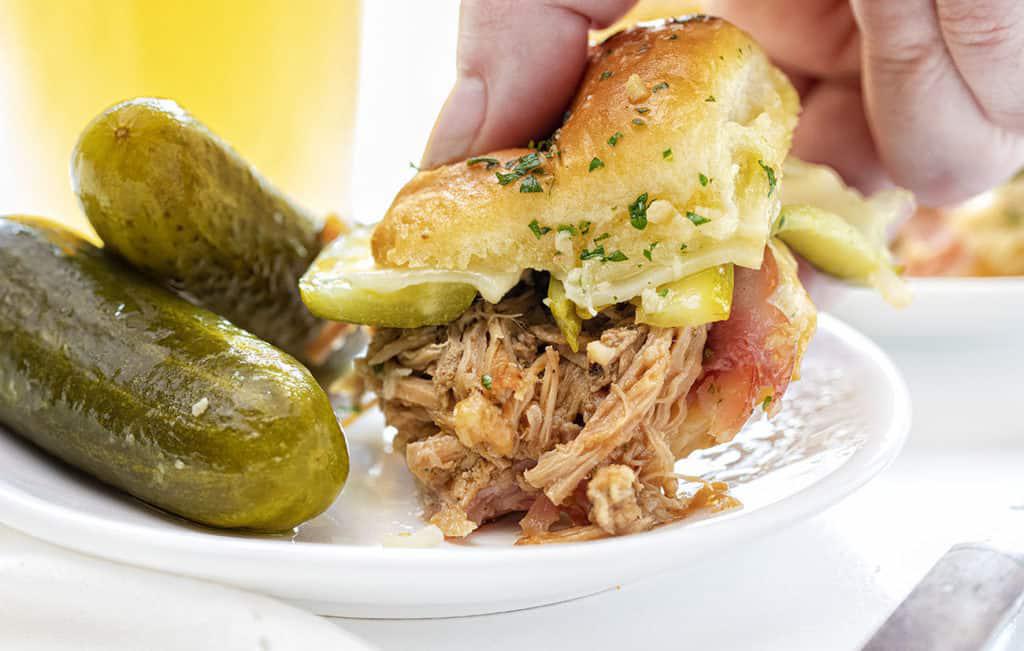 CUBAN SLIDERS
Sometimes a ham and cheese sandwich just doesn't cut it, although I have ham and cheese sliders that are pretty darn good! Anyway, to step it up a notch, I made these Cuban Sliders that are more of a meal than finger food. Of course, I had to sample one immediately, and the flavors did not disappoint! These sliders are so loaded with meat, I actually needed a fork to pick up the meat that had fallen out of the slider! Sliders have come a long way since the 1940s when sailors in the U.S. Navy would eat mini hamburgers. The hamburgers were so greasy, they would 'slide' down the sailors' throats in about 2 bites! Well, you will want to get as many bites out of these Cuban Sliders as you can because they are THAT good!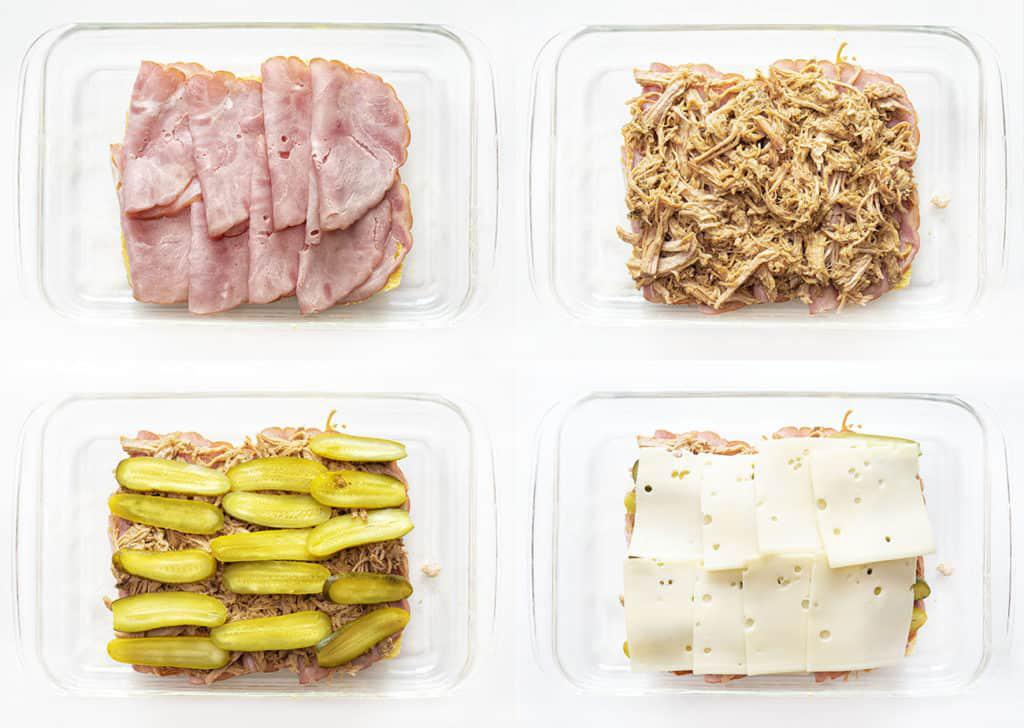 CUBAN SLIDER RECIPE
Cuban Sliders are really easy to make! It all about layering the ham, pork, and cheese, mustard and pickles. The part that makes these sliders stand out above your average sliders are the seasonings in the butter sauce! Believe me, once you spread that butter all over the sliders, you will use it for every slider recipe you make!
Sliders Ingredients
Kings Hawaiian Dinner Rolls–Make your own homemade Hawaiian rolls!
Dijon mustard
Ham
Pulled pork
Dill pickles
Swiss cheese
To make the Cuban Sliders, layer the bottoms of the rolls in a baking dish. Then, spread the mustard on the bottom parts of the rolls, followed by the ham, pulled pork, dill pickles, and swiss cheese. Top it all with the tops of the rolls and magic ingredient–seasoned butter topping!
Butter Topping Ingredients
Butter
Sea salt
Garlic
Fresh parsley
To make the butter topping, simply mix together the melted butter, sea salt, garlic, and parsley. Be ready to spread that all over the tops of your Cuban Sliders! In fact, be sure to get that butter into every nook & cranny, over the sides, into every little crevice. If you don't have a pastry brush you can also pour the butter over the top.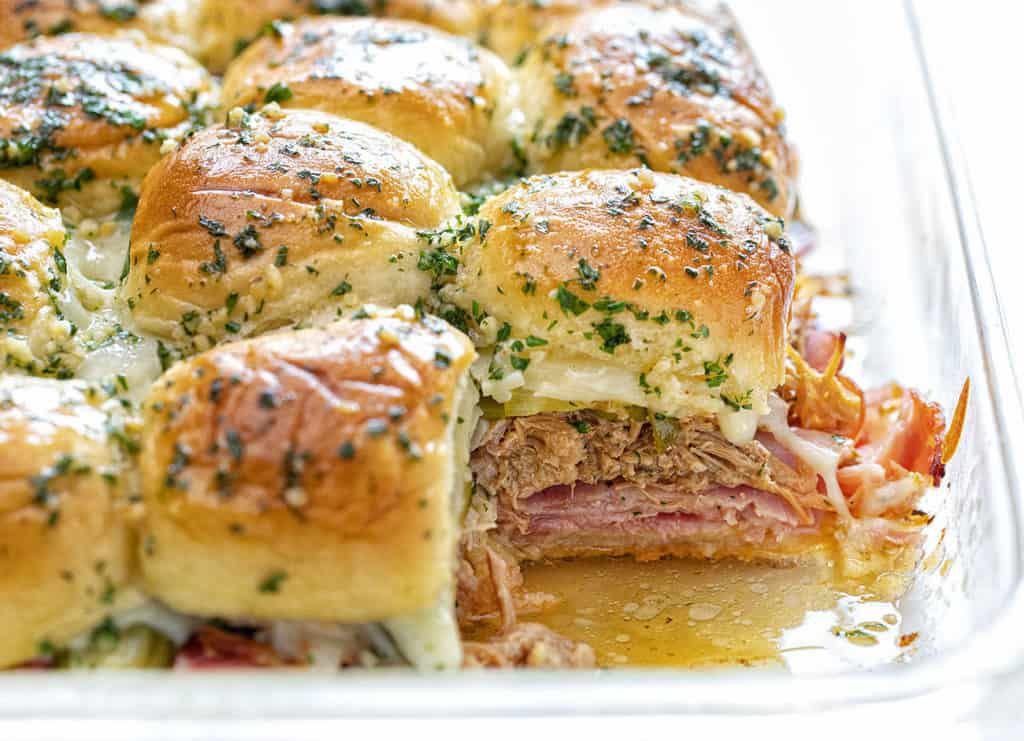 SUBSTITUTIONS IN CUBAN SLIDERS
When it comes to sliders, the options are endless! I tried to stick with a traditional Cuban sandwich for these sliders, except for the rolls. (Usually, a Cuban Sandwich is served on Cuban bread.) You could definitely replace the pulled pork with turkey and instead of swiss cheese, try provolone cheese. If you are not a fan of dill pickles, there are many other varieties to try, like bread and butter pickles. Serve the Cuben Sliders with chips, french fries, sweet potatoes, or black beans for a complete meal! Disfrutar (Enjoy)!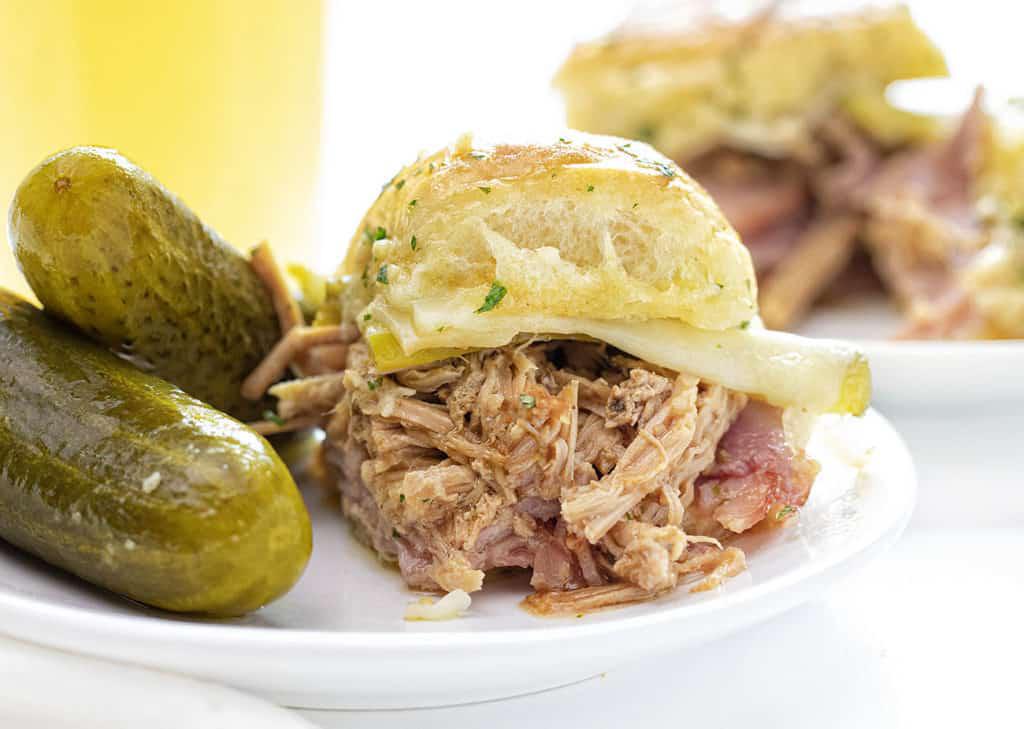 Ingredients
SLIDERS
12 Kings Hawaiian Dinner Rolls
2 tablespoons Dijon mustard
1 pound sliced ham, dried with a paper towel
1 pound pre-cooked pulled pork
5-6 Dill pickles, sliced lengthwise
8 slices Swiss cheese
BUTTER TOPPING
1/4 cup butter, melted
1 teaspoon sea salt
3 teaspoons garlic, minced
1 tablespoon fresh parsley, finely chopped
Instructions
Preheat the oven to 350°F.
Split your rolls in half, place the bottom half in a prepared baking dish.
Spread mustard onto the bottom buns.
Top with ham, pork, pickles, and finally swiss cheese..
Place the top half of the buns on top
In a small bowl, mix together the buttered topping ingredients.
Brush the top of the rolls with the melted butter mixture.
Cover the dish with tinfoil and bake for 20 minutes at 350°F or until the cheese is hot and bubbly.
Remove foil, and bake for an additional 5 minutes (or until the tops of the sliders turn a golden brown).
Remove from oven, slice and serve