This recipe is technically a copycat of Red Lobster's Cheddar Bay Biscuit! Soft, buttery, salty and cheesy… it is the perfect complement to dinner!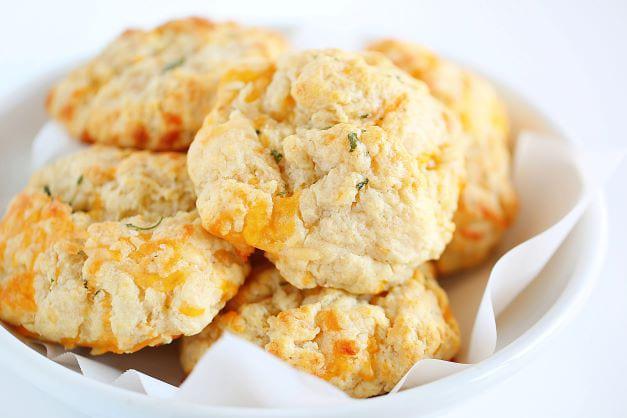 Red Lobster Biscuits
These biscuits could not be easier. Quite possibly the easiest biscuit I have ever made! There is a trick to really replicating the beauty of those famous biscuits and that is not to overbake them. Keep a close eye on your biscuits when they are in the oven. The second they start to gently brown around the edges take them out! Over baking could mean a more dense biscuit.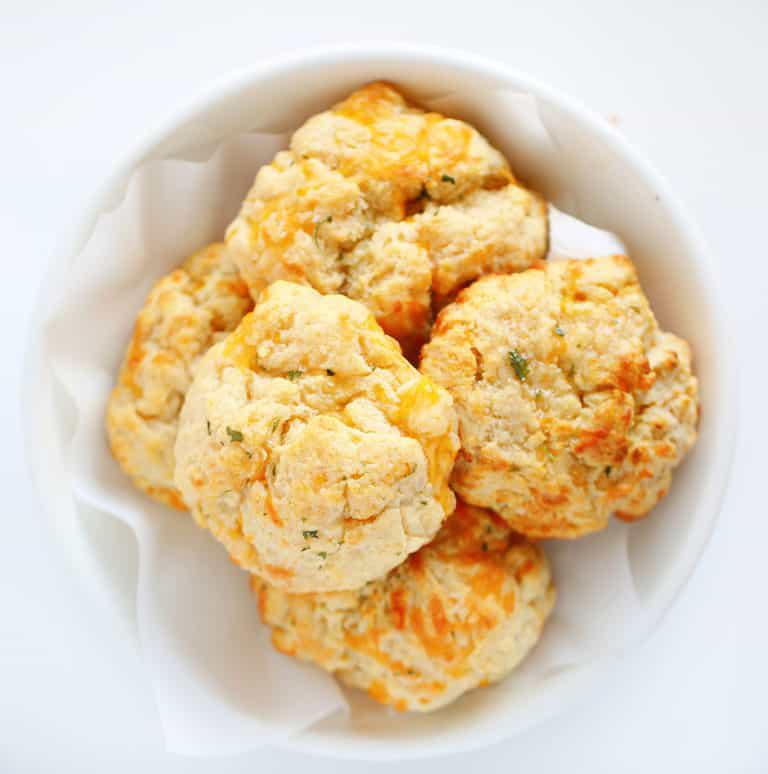 So easy in fact, I had my kids help. The 4-year old measured while the 7-year old mixed. (And then they switched of course because the other job looked more fun!) Subsequently, this is how we decided to make them "giant" cheesy garlic biscuits. I think the kids wanted to make sure they got the biggest possible biscuit.
We mixed everything in the bowl, dropped some dough on a cookie sheet and BAM! Perfect Cheesy Garlic Biscuits.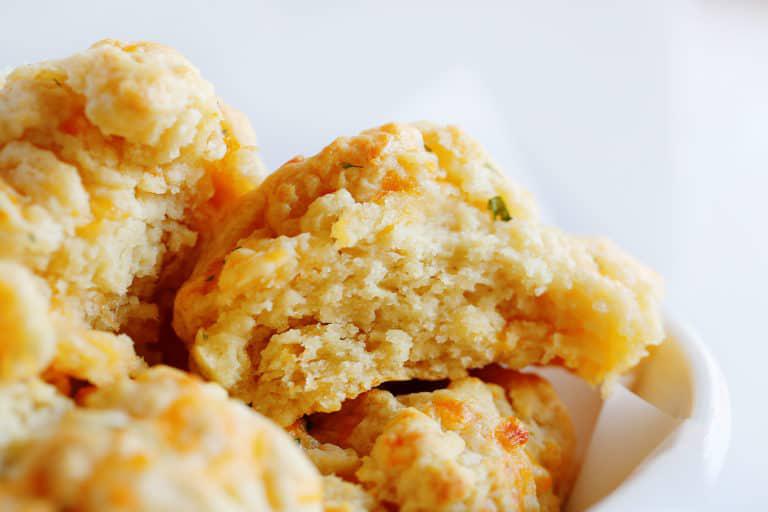 Tips for Cheesy Garlic Biscuits
I recommend getting the biscuits in the oven as soon as possible after dropping them on the baking sheet. After making multiple batches I saw that the biscuits that sat and waited for the oven did not plump up as high as the first batch.
We loved a sharp cheddar cheese for these biscuits, but I did leave mild cheddar in the recipe. The sharp does give the biscuits a distinctively different flavor and is worth trying if you love cheese! I do have to mention, when I tried 'organic aged white cheddar cheese', it did not melt as well and was not as pretty as the orange cheddars, but it does taste amazing.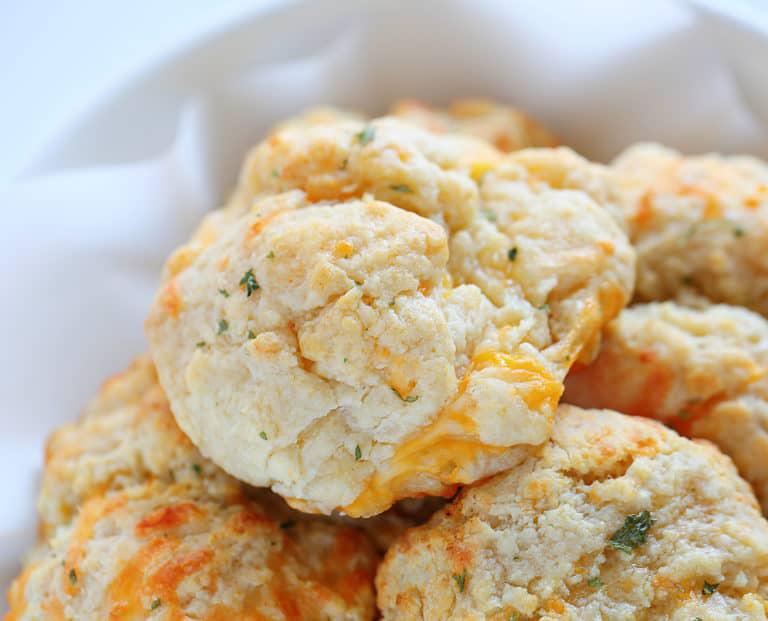 Also, do not skimp on the salted butter bath at the end~ these fresh, hot Red Lobster biscuits literally soak up all that amazing salty butter and it truly makes it perfect!
Air Fryer Cheesy Garlic Biscuits
Just in case you have a craving for these but don't want to turn on the oven, here is how to make them in the air fryer – follow directions for how to mix all ingredients. Line air fryer with parchment or spray with non-stick spray. I recommend making the biscuits a little smaller when in the air fryer. Scoop or form balls and place them in the air fryer tray. Bake at 350°F for 10-14 minutes. Brush with butter when done baking and serve.
INGREDIENTS
¾ cup (170g) butter, divided
2 cups (250g) all-purpose flour
1 tablespoon granulated sugar
1 tablespoon baking powder
1 tablespoon garlic powder
2 teaspoon kosher salt, divided
1 cup (245g) whole milk
2 cups (8ounces, 230g) mild cheddar cheese
½ teaspoon dried parsley
INSTRUCTIONS
Preheat oven to 425°F. Prepare a large baking sheet with Silpat or parchment paper. (If you are shredding your own cheese, do that first.)
In a medium microwave-safe bowl, add 1/2 cup (113g) butter. Heat until butter is melted. (About 45 seconds) Set aside to slightly cool.
In a large mixing bowl add the flour, sugar, baking powder, garlic and 1 teaspoon salt. Whisk until well combined.
Pour the milk into the melted butter you set aside and stir well.
Pour the milk and butter mixture over the dry ingredients and stir until just combined, making sure to not over mix. Add shredded cheese and fold in until cheese is evenly distributed.
Grab about 1/2 cup of dough with your fingers and drop onto baking sheet. (about the size of a small fist) You can fit 8 large biscuits onto one baking sheet. If you want smaller biscuits, prepare another lined baking sheet and make each biscuit about 1/4 cup.
Bake for 10-12 minutes, until biscuits are just barely golden brown.
While biscuits are baking, melt remaining 1/4 cup (56g) of butter in small mixing bowl. Microwave for 30 seconds or until butter is melted. Add 1 teaspoon salt and all parsley and stir.
When biscuits are removed from the oven, immediately brush with butter parsley mixture.
Serve hot.