A delicious Bay Cake on a sandy pastry with mushrooms, ham and cheese. The pie is very hearty, and most importantly will feed your whole family with a delicious dinner. It is not difficult to make a pie, but your family will always appreciate your efforts.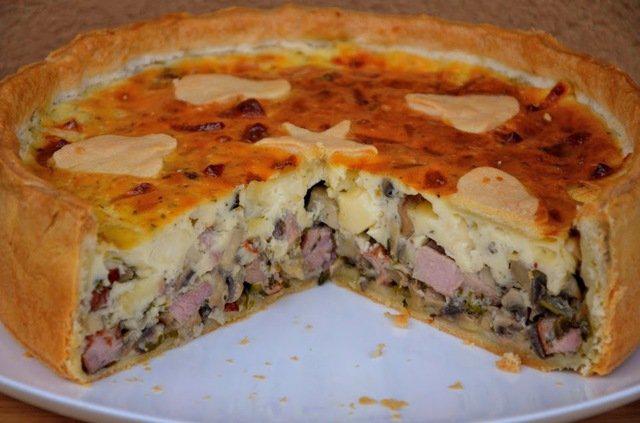 INGREDIENTS
for the shortbread dough:
flour – 250 g.
butter – 125 gr.
baking powder – 1 tsp.
milk – 75 ml.
salt (pinch)
for stuffing:
onions – 1-2 pcs.
ham – 300 g.
champignons – 400 g.
Hard cheese or brine cheese – 250 g.
parsley greens (small bunch)
for the filling:
eggs – 3 pcs.
flour – 3 tablespoons
20 % sour cream – 250 g.
salt – 0,5 tsp.
ground black pepper
provanza herbs
STEP BY STEP RECIPE
1. Prepare the shortbread dough. Sift flour and baking powder together and mix with a whisk. Cut butter into cubes, add to flour and mix everything with your hands to make small crumbs. Add the milk and a pinch of salt and knead quickly into a smooth short dough. Shape the dough into a ball, wrap in clingfilm and leave in the refrigerator for 25-30 minutes.
2. Prepare the stuffing for the pie. Peel and dice the onions and fry them in vegetable oil for 5 minutes. Wash and dry the mushrooms thoroughly with paper towel. Then cut them into slices. Add the mushrooms to the onions and fry all together over low heat until the liquid evaporates. Season mushrooms and onions with salt and pepper to taste. Dice the ham into medium sized pieces, add to the mushrooms and onions and fry for 5-7 minutes, stirring occasionally. Cool the stuffing, add the greens and mix well. Cut the cheese into small cubes of medium size. I have brynza, you can take any other cheese you like.
3. Roll out the cooled dough. Place in a greased buttered 24 cm diameter mold, press well to the bottom and make sides about 4-5 centimeters high. Trim the edges of the dough and save, we will need it for decoration. Spread the fried onions, mushrooms and ham on the pastry base, and place slices of cheese on top. You can always experiment with the filling and each time there will be a new flavor of pie.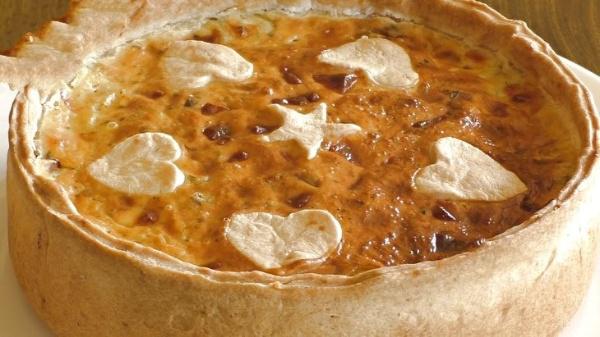 4. Prepare the pie filling. Add to the eggs sour cream, flour, salt, black pepper, provan herbs or any other spices to your liking. Mix everything well until a homogeneous mass. Pour the filling evenly with the egg and sour cream mixture and gently smooth the surface.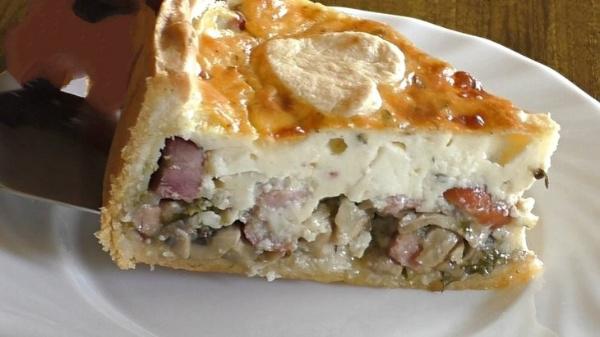 5. Roll out the rest of the pastry and cut out the shapes. Then place the pastry decoration on top of the filling. Bake the pie in a preheated 180 ° C oven, 40-45 minutes. After baking, let the pie cool slightly and release from the form. The pie is very tasty, both hot and cold. The pie with mushrooms, ham and cheese is ready. Enjoy your appetite and have a good baking!