Cheesy Chicken Spaghetti is a family comfort food favorite! This recipe uses a from-scratch sauce that is super easy to make so that your delicious cheesy casserole is ready for the oven in just 15 minutes.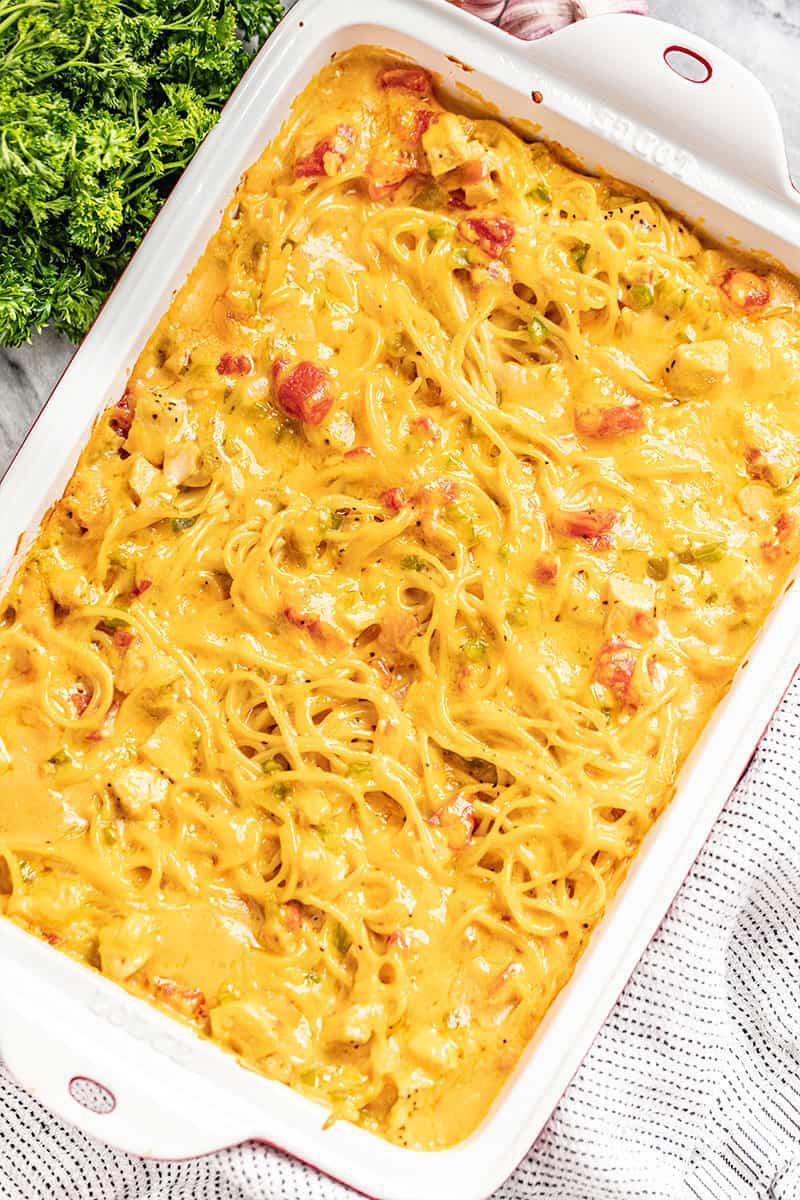 We can't get enough of this cheesy twist on a classic recipe. Is anyone else over spaghetti with tomato sauce and meatballs? Sure, it's a classic and we love the classics, but after the 2,393,984th time, we're ready for something different. And boy is this different in all of the right ways!
We love dishes that are easily customizable, and cheesy chicken spaghetti is no exception. Prefer shredded chicken? Go for it! Want a little kick of spice? Replace the diced green chilis with diced jalapeños. You really can make this recipe your own by changing it to suit your own personal preferences.
CAN I MAKE CHEESY CHICKEN SPAGHETTI VEGETARIAN?
You can easily make this dish vegetarian by leaving out the chicken. If you want to make sure it is filling enough as the main meal, add an 8oz container of sliced and sautéd crimini or white button mushrooms.
CHEESE OPTIONS:
Instead of cheddar cheese, mix things up with Monterey jack, mozzarella, pepper jack, or a Mexican cheese blend.
STORAGE AND REHEATING INSTRUCTIONS:
Store any leftovers in the fridge in an airtight container for up to 4 days. Reheat on the stovetop in a large skillet, adding a few tablespoons of water as needed to thin out the sauce.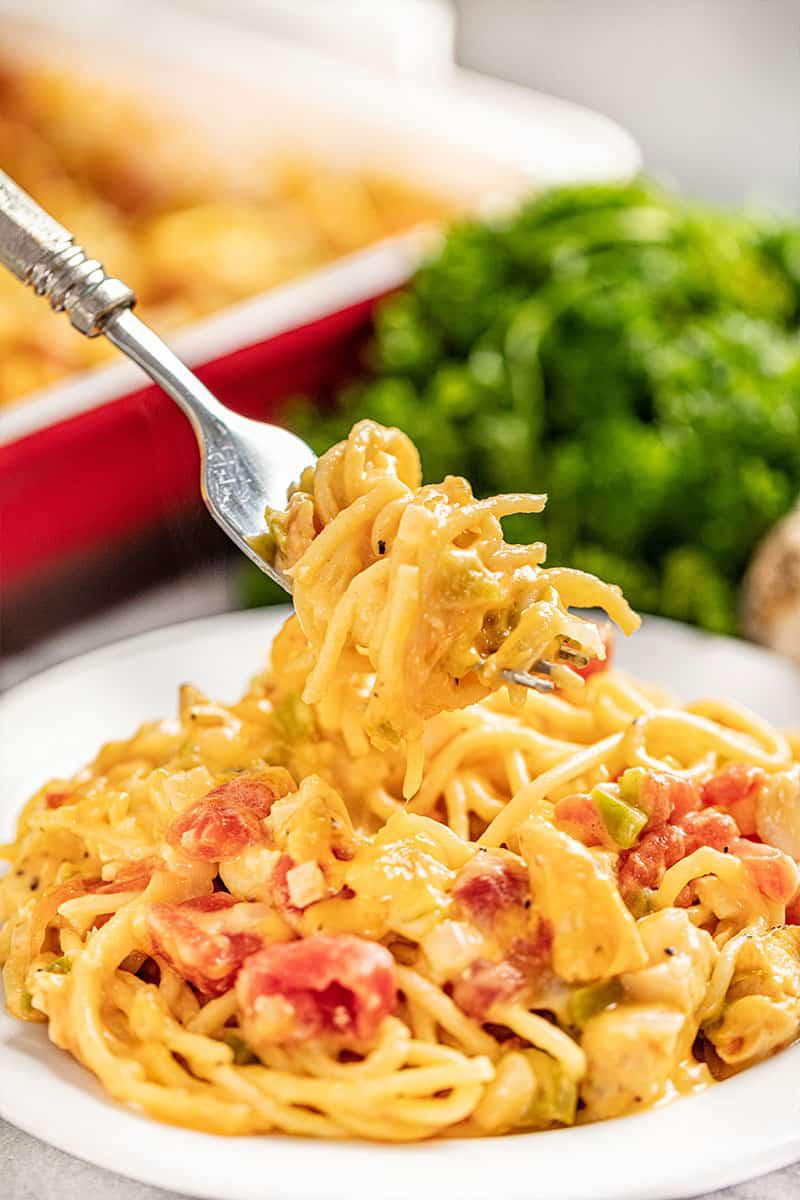 INGREDIENTS
8 ounces spaghetti
2 tablespoons butter
1 medium white onion diced
1 green bell pepper diced
2 cloves garlic minced
1/4 cup all-purpose flour
2 cups milk
3 cups shredded cheddar cheese divided
15 ounces canned diced tomatoes drained
4 ounces canned diced green chiles drained
2 cups cooked diced chicken
1/2 teaspoon salt
1/2 teaspoon black pepper
INSTRUCTIONS
Preheat oven to 350 degrees. Cook spaghetti in a saucepan according to package directions.
Meanwhile, melt butter in a large pot over medium-high heat. Add in onion and bell pepper and cook until softened, about 5-7 minutes.
Add in garlic and flour and continue to cook 2 more minutes. Slowly stir in milk and bring to a simmer until thickened. Once the sauce thickens, immediately remove from heat.
Stir in 2 cups cheddar cheese until melted and smooth. Then stir in diced tomatoes, diced green chilis, diced cooked chicken, and drained spaghetti. Season with salt and pepper to taste.
Pour pasta into a lightly greased 9×13 pan. Top with remaining 1 cup cheddar cheese. Bake in the preheated oven for 25 to 30 minutes until cheese is warm and bubbly and starting to brown.
NOTES
Instead of cheddar cheese, mix things up with Monterey jack, mozzarella, pepper jack, or a Mexican cheese blend.