These donuts are absolutely going to melt in your mouth! Homemade donuts covered in a smooth glaze make up one of our favorite breakfast treats.
There is nothing I like more than working with dough and creating beautiful and delicious baked goods for my family. This recipe is a labor of love, truly, and one that will most likely be saved for the most special of occasions!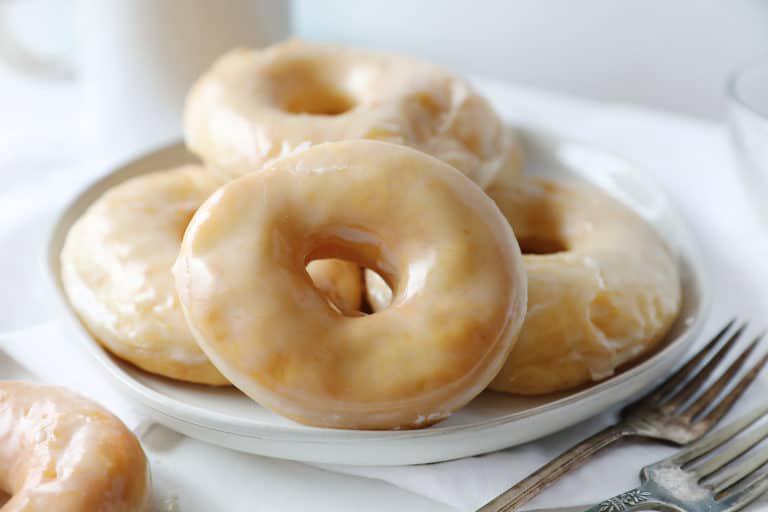 How to Make Amish Glazed Donuts
The original recipe I am sharing is called "Amish Glazed Donuts" and I found it in an old cookbook from a church in Pennsylvania. However, after extensive research on the topic, the Amish recipe doesn't seem to vary greatly from traditional recipes. The main difference is the method, as most recipes seem to have the same basic ingredients:
milk
sugar
butter
yeast
eggs
flour
This recipe was interesting to me as it utilizes two separated "wet" ingredients. You start by creating the milk mixture; milk, sugar, salt, and butter. You set that aside to cool a bit. Then the water mixture is started. That consists of the water, sugar, yeast. This needs to rise and bubble, indicating an active yeast. After those two are done, the dough can be made.
So while the steps seem daunting at first, they really are easy to do and the dough will come together quickly!
The other aspect to this method was the rising times. Yes, most recipes call for the dough to rise so that in itself is not unique. But one thing I had never done before was let the dough rise a bit after I have cut out the individual donuts, and I really appreciate that extra step! These donuts puffed up SO beautifully in the hot oil and stayed that way. Donut skip that part!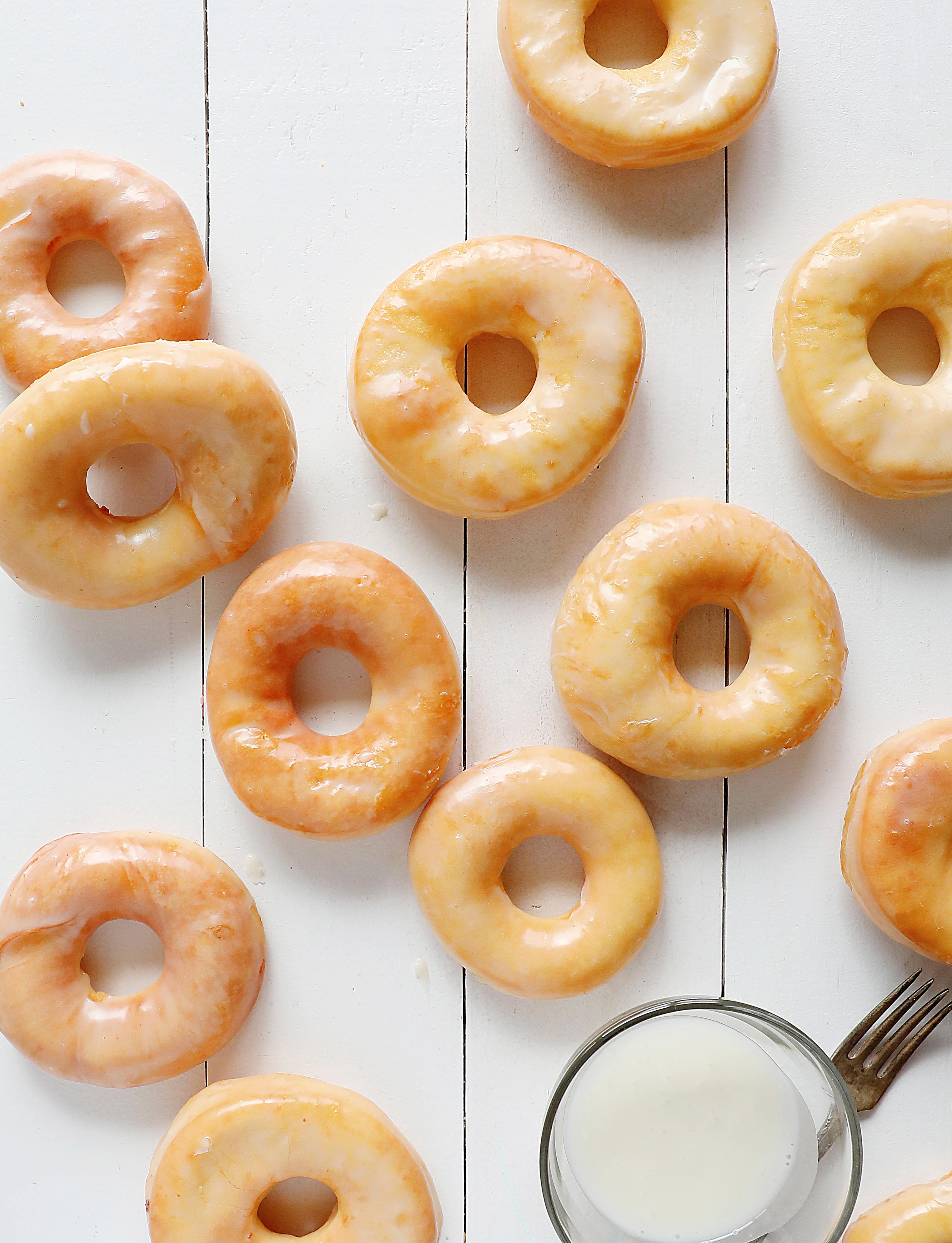 How to Fry Donuts
Dropping beautiful dough into a too-hot oil or a too-cold oil can do bad stuff to the beautiful dough that you have spent hours with. I found that the best way to ensure your oil stayed at a consistent 350°F was to have a thermometer right in the oil at all times. If you happen to have a pan large enough for frying 3-4 donuts at once, the addition of the dough can decrease the temperature significantly. If you see the temperature lower, you can immediately add heat and get it back up to temp. Requested info by a reader: I used a dutch oven with enough oil to reach 2inch deep. I don't recommend adding more than that.
Be prepared!
I found that when making glazed donuts it helped to have two people. One for frying and one for the glaze. To best prepare for this make sure you have these tools out and ready:
thermometer safe for hot liquids
a hand-held strainer or forks to easily rotate the donuts in the hot oil
plate lined with paper towel to set hot donuts on
several cookie sheets fitted with cooling racks for setting glazed donuts
a bowl for the glaze that is large enough to drop an entire donut in
fork/spoon/tongs for easy transferring of donuts
a table lined with parchment paper to set donuts on to dry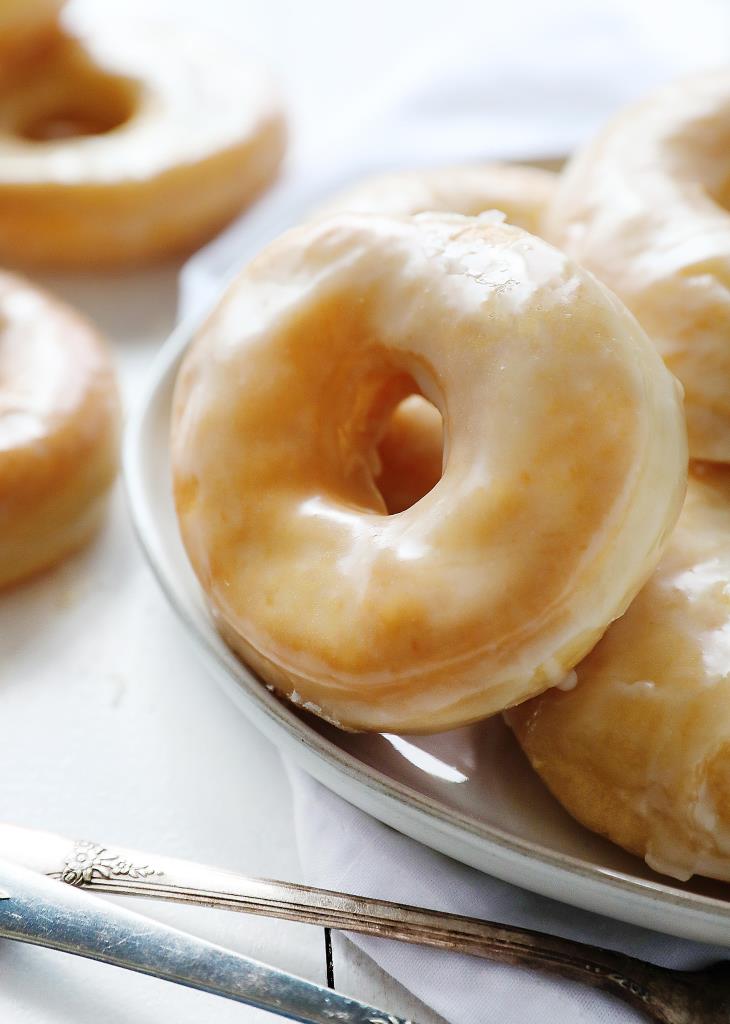 How to Glaze Donuts
I prefer to glaze the donuts when they are still warm, yet cool enough to handle. To making the glazing easier, I used a bowl that was bigger than needed just to make sure I could easily drop and remove the hot donuts. Then, when I was ready to glaze, I set my bowl right next to a pan with a cooling rack in it. Drop an entire donut into the glaze and then flip it over. Using a fork or the handle of a wooden spoon, life the donut out by the center hole and let the excess glaze drip off. Place the donut on the cooling rack and allow to harden.
Double Glaze
Who doesn't love a donut with double the glaze? But, as much as I love doing that, I don't recommend it with a recipe this big. You will double your process time and will also need to double your glaze recipe. If you happen to cut this donut recipe in half, that would be a great time to try out double glazing! After the first coat of glaze has hardened for a bit, just re-dip the donut and then allow to set.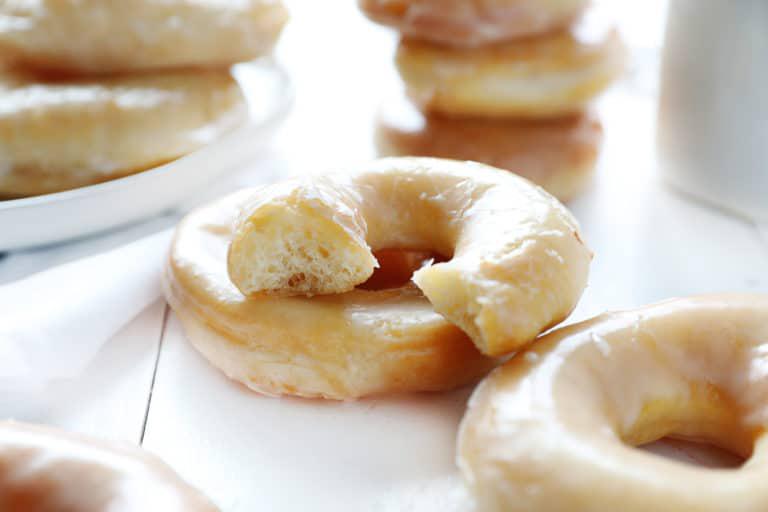 Donut Glaze Recipe
Making the glaze is easy as it's just a few ingredients. Sugar, corn syrup, vanilla, salt, and milk. I don't know about you, but whenever I see corn syrup added to a recipe I tend to want to leave it out. But for these donuts, it really does add something of value. I can say that because I made two versions of glaze, one with corn syrup and one without. We found that the donuts with corn syrup glaze were coated better, stayed soft and moist longer, and even tasted better. If you are adamant that you want to leave it out, I recommend using milk, confectioners sugar, salt, and a tiny bit of vanilla. The vanilla can be overpowering if you use too much and take away from the light-as-air taste of this donut recipe. If you use good quality vanilla like McCormick, you will not run into any issues.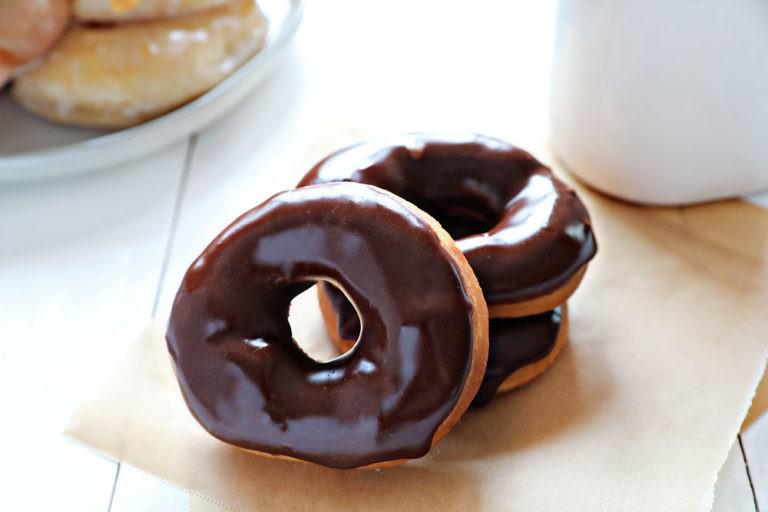 Chocolate Glazed Donut
I tried out several different version of chocolate donut glaze and was disappointed by them all. It was a LONG day in the kitchen! Finally, after an hour of frustration with gloppy, lumpy, greasy, and gross tasting glazes, I added some cocoa powder to the glaze recipe below. It worked AMAZING!
Simply add 1/2 cup of cocoa powder to the recipe below and add any milk as needed. I added about 1 tablespoon more of milk (maybe 2 depending on the humidity in your area) and not only was the glaze shiny and beautiful, but it tasted great!
When dipping the donut into the chocolate glaze I opted for only dipping the top. The donuts that were 100% coated in chocolate glaze seemed to only taste like chocolate and not any of that glorious donut inside. Feel free to test this out and see which you prefer!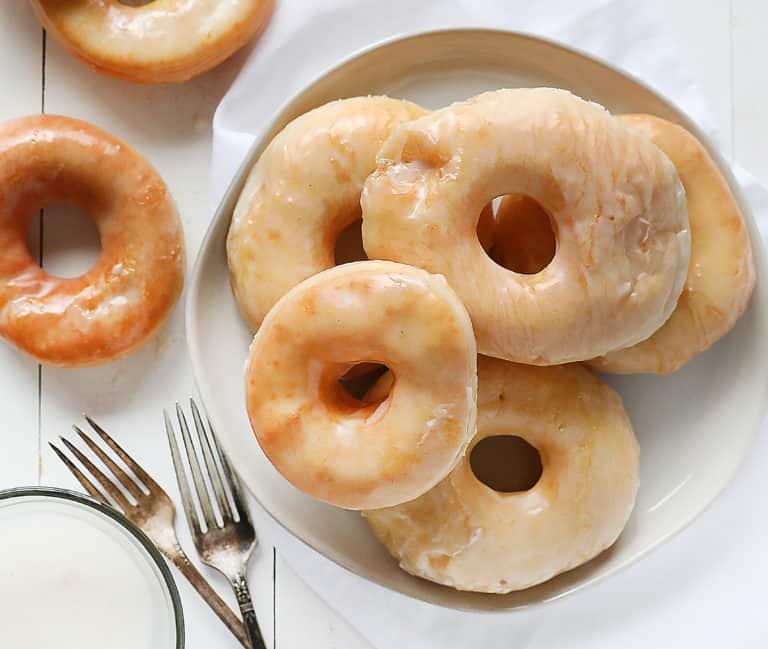 Can You Make the Dough Ahead of Time?
Yes! Simply make the dough through step 8 the night before and then chill in the refrigerator until the morning. When you are ready to begin, remove the dough from the refrigerator, allow it to come to room temperature and then start with "Preparing the Donuts" in the recipe instructions.
INGREDIENTS
MILK MIXTURE
1 1 /2 cups (367g) whole milk, heated
1 /2 cup (100g) sugar
1 teaspoon salt
1 /2 cup (113g) unsalted butter
WATER MIXTURE
1 1 /2 cups (355g) warm water
2 teaspoons sugar
2 packages of active yeast, about 4 1/2 teaspoons
DOUGH BASE
2 large eggs, room temperature
9 cups (1,125g) all-purpose flour
GLAZE
4 cups (500g) confectioners sugar
2 teaspoons corn syrup
1/2 teaspoon McCormick vanilla extract
1/4 teaspoon salt
1/4-1/2 cup milk
INSTRUCTIONS
DONUT DOUGH
In a medium saucepan over medium-high heat, pour milk. When the milk is hot but not boiling, add in the sugar, salt, and butter.
Set aside to cool down. (about 5-10 minutes)
Add yeast packets and 2 teaspoons sugar to warm water. (I used hot water out of the faucet)
Let sit for 5 minutes, allowing mixture to grow and bubble. If your yeast does not bubble, it may be bad and this is a good time to start again.
In the bowl of a stand mixer fitted with the dough hook attachment, add in the milk mixture and water mixture. To this add the eggs and mix for a couple of minutes to combine.
Add in the flour 1 cup at a time with the mixer on low. (You can also turn the mixer off, add flour, turn mixer on 2, knead a bit, then mixer off again and repeat for all the flour.) After last flour has been added knead for 10 minutes.
Drop the dough into a greased bowl and let rise 1 hour. It should double in size.
After an hour, punch down the dough. Allow dough to rise for 1 more hour.
GLAZE
On the last rise, prepare the glaze. Mix all ingredients in a medium to large bowl. Whisk until they are smooth and you have reached the desired consistency. (I think the perfect consistency is the same as the corn syrup, not too runny but loose enough for it to fall beautifully over all the nooks and crannies of the donut.)
PREPARING THE DONUTS
Roll out the dough to 1/2 inch or up to 3/4 inches thick. It is important to make sure the dough is at least 1/2 thick or your donuts will be too flat.
Once rolled out, use a donut cutter to cut out shapes. If you do not have a donut cutter, use a round tool like a kitchen glass or a jar lid that is about 3-inches across. You can use a bottle cap or small shot glass for the smaller hole.
Set cut-out donuts on a baking sheet. I filled up 4 baking sheets with donuts and donut holes.
Starting with the first pan of donuts you cutout (meaning that those donuts have been allowed to rise a bit more while you cut out the rest) drop one donut at a time into vegetable oil that has been heated to 350°F.
Allow each donut to brown for 45seconds to 1 minute on one side, and then flip over so that the other side may brown.
Carefully remove donut from oil (I prefer and hand-held strainer) and set on a plate lined with paper towels.
While donuts are warm, submerge into the glaze. Using a wooden spoon handle or a fork, rotate the donut so that both sides are covered. Lift and let drain into the bowl, then move the donut to a baking sheet with a cooling rack in it. (You can also place on parchment or wax paper but the glaze might pool.)
Donuts can be enjoyed immediately or you can double dip them depending on how much glaze you like.
Store donuts in between parchment paper in an airtight container for up to two days.