Puto pao is one of the many creative variants of the ordinary puto, and usually the white puto. Actually you can do the same with the ordinary puto batter by just putting a filling inside. The puto recipe here is a little special because it contains milk and butter and what makes it more special is the pork asado filling inside.
Filipinos have enjoyed this small version of the Chinese dish Siopao, not only because it is relatively easy to eat when you're late from school or work but because of the Pinoy essence in it. Puto Pao is made out of Puto, a steamed rice cake, and the fillings usually seen in Siopao: chicken or pork.
Making the asado filling is simple. You will need sliced pork that you will stir fry along with garlic and onions. Then add the soy sauce, sugar and water then simmer until tender. Add in the diluted cornstarch until the sauce becomes thick.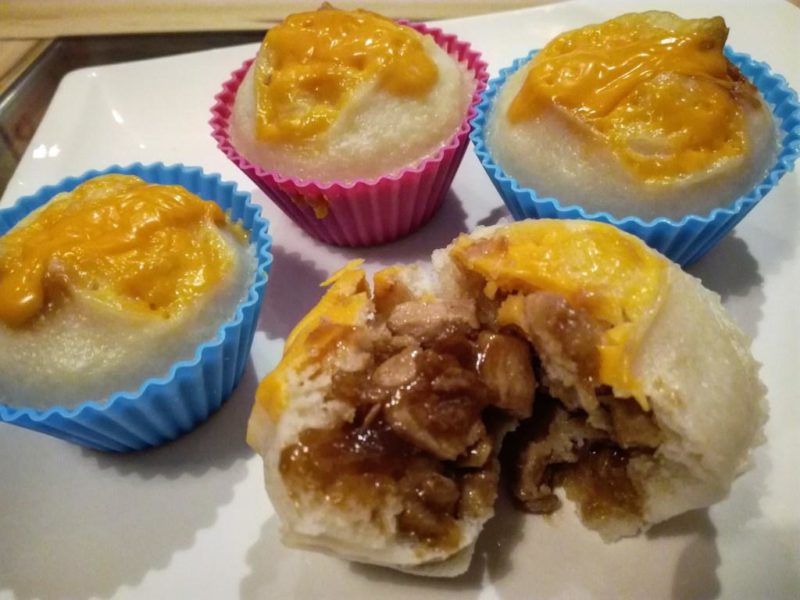 Ingredients
3 large eggs
500 grams all purpose flour
250 grams white sugar
¼ cup baking powder
1 cup powdered milk
3 tablespoons butter, melted and cooled
2½ cups water
For the filling:
500 grams flaked pork
2 tablespoons cooking oil
2 cloves garlic, minced
½ cup water
½ cup white sugar
1 teaspoon cornstarch
½ cup soy sauce
1 piece star anise
1 piece laurel leaf
For the toppings:
Cheddar cheese, sliced
4 salted eggs, sliced
Instructions
In a large bowl, mix together the flour, sugar, and baking powder. Pour in water and powdered milk, then stir well.
Add in the eggs and butter then mix until well blended. Set aside.
Making the filling:
In a pan, heat oil and saute garlic until aromatic. Add flaked pork and cook for 3 minutes, stirring often. Add the rest of the filling ingredients and cook until pork is tender and the sauce has thickened.
Once filling is ready, discard anise and laurel. Set aside.
Assembling:
Prepare steamer, or use a large wok with a plate or a metal rack set atop some water.
In muffin cups (lined or greased depending on preference), pour a little amount of batter then add a tablespoon of filling. Cover the filling with another amount of batter until cup is nearly all the way full. Top with salted egg and cheese.
Steam for 10 to 15 minutes or until done. Puto-pao are done when the tops have domed and are soft and springy to the touch, and a toothpick inserted in the center comes out clean.