THIS CRAB RANGOON DIP HAS ALL THE ELEMENTS OF YOUR FAVORITE AMERICAN-CHINESE APPETIZER BUT IS MUCH EASIER TO MAKE. IT'S THE YUMMIEST START TO YOUR NEXT HOLIDAY PARTY!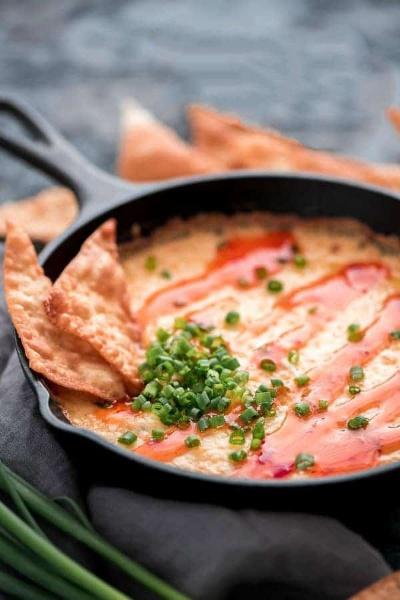 Every time I go out for Chinese food I order Crab Rangoon as an appetizer. How can you not love fried wontons filled with warm cream cheese and crab meat?! I've made crab rangoon before but I could never get all of them to turn out perfect. Some would be overcooked and some would open up while frying and lose all the creamy crab deliciousness inside. With this Crab Rangoon Dip, you don't have any of those problems.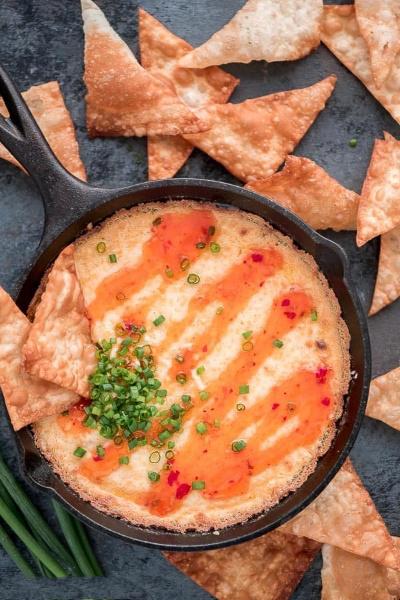 To make this dip you just mix up all the ingredients, place it in an ovenproof dish, and let it cook until bubbly. I like to dip my crab rangoon in sweet Thai chili sauce so I thought, "why not drizzle it on top?" Best decision! It adds the perfect amount of sweetness and if you're using fried wonton chips it really does taste like you're eating a crab rangoon.
If you want to go all out and make wanton chips, slice wanton wrappers diagonally in half to make triangles and then just heat some oil in a large pot. They only take about 20-30 seconds per side but you'll need to work in batches so they don't touch when in the pan. Then just drain them on a paper towel-lined pan and sprinkle with a little salt. So good and really not too much work.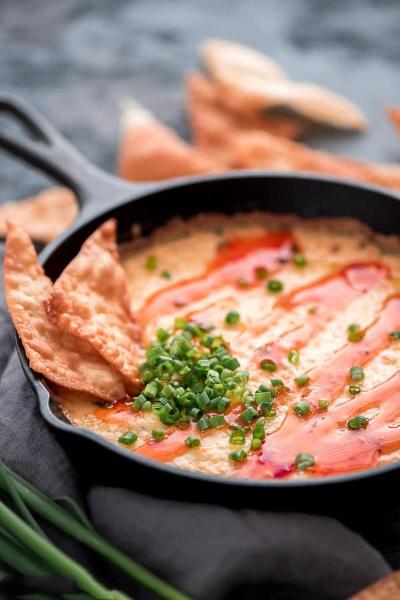 Serve this Crab Rangoon Dip at your next holiday party and it will be eaten right up. Even kids will love it… but you won't want to share it with them.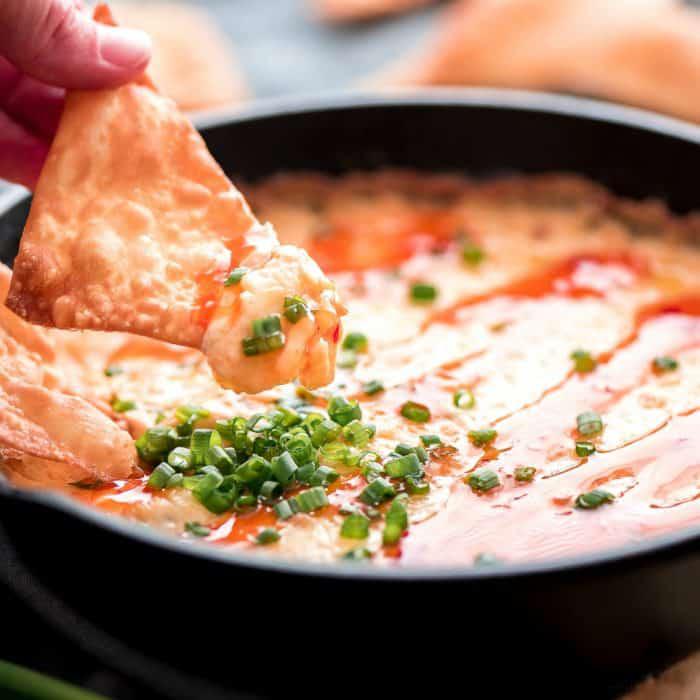 Ingredients
8 ounces cream cheese softened
1/4 cup sour cream
1 teaspoon sriracha
1 teaspoon Worcestershire sauce
1/2 teaspoon garlic powder
12 oz crab meat Two 6-ounce cans, drained
1 cup white cheddar cheese shredded (divided)
1/4 cup Parmesan cheese
2 green onions chopped
Sweet Thai Chili sauce
Instructions
Preheat oven to 400 degrees F.
In a large mixing bowl, beat the cream cheese with an electric mixer until smooth. Add the sour cream, sriracha, Worcestershire sauce, and garlic powder and mix until combined.
Fold in the crab meat, 1/2 cup white cheddar cheese, and Parmesan. Place dip in an ovenproof shallow dish, top with remaining 1/2 cup cheese, and bake for 20-25 minutes or until bubbly.
Drizzle with sweet Thai chili sauce, sprinkle the green onion on top and serve with wonton chips or tortilla chips.