Cherry Vanilla Heaven Dessert is an angel food cake layered with cherries, vanilla pudding, and whipped cream! This light and fluffy dessert is easy to make and will be a favorite to share at a potluck or holiday gathering. For a similar dessert, try my Blueberry Lemon Heaven Dessert. If you love angel food, don't miss my Coconut Angel Food Cake and Coconut Angel Food Cupcakes!
Cherry Vanilla Heaven Dessert
If it's your turn to bring a dessert to your next party, don't dread it. And, don't just go buy something! Cherry Vanilla Heaven Dessert is super easy to put together, and the light and cherry flavor is so delicious! This dessert was gone first out of all the other desserts the last time I shared it and everyone wanted the recipe. It looks a lot fancier than it is, and it is a recipe that everyone can make!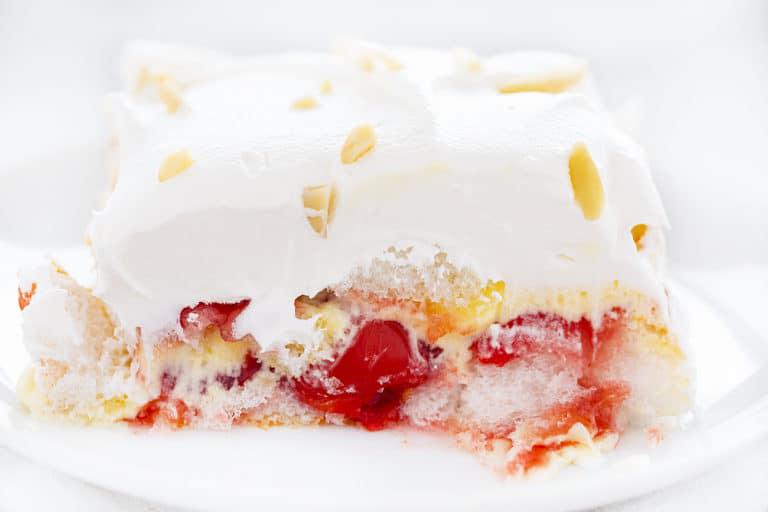 How to Make Cherry Vanilla Heaven Dessert
With a few simple layers of goodness, you will have this Cherry Vanilla Heaven Dessert ready to share! It all starts with the angel food cake. Did you know that you can buy one already made at the store? That will save you some time. But, I am here for you if you want to make your own Angel Food Cake from scratch. It's up to you!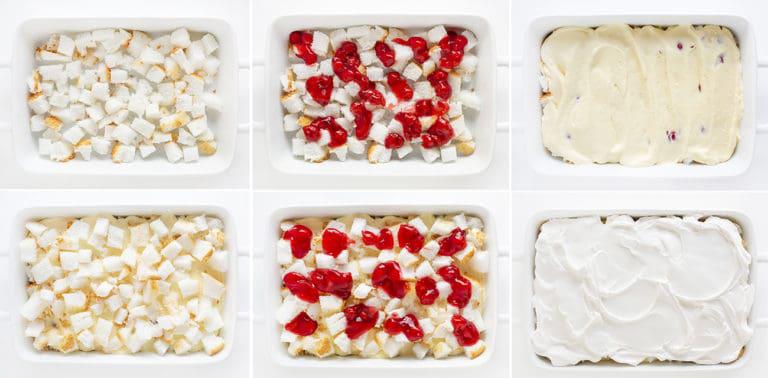 After you cube your angel food cake, it's all about the layering. One of the layers is the vanilla pudding, so make sure you have that made and set aside to use in the center of the dessert.
Start by laying down half the cubed angel food cake in a 9×13 inch casserole dish. Don't worry about spraying it with non-stick spray.
Then, top that with half the cherry pie filling.
Next comes the vanilla pudding. Try to spread it out as evenly as you can.
Then, repeat with the cubed angel food cake and cherry pie filling.
Finally, top it all off with whipped cream and slivered almonds. Of course, leave off the almonds if there are any nut allergy concerns.
Pop it in the refrigerator for a few hours before serving.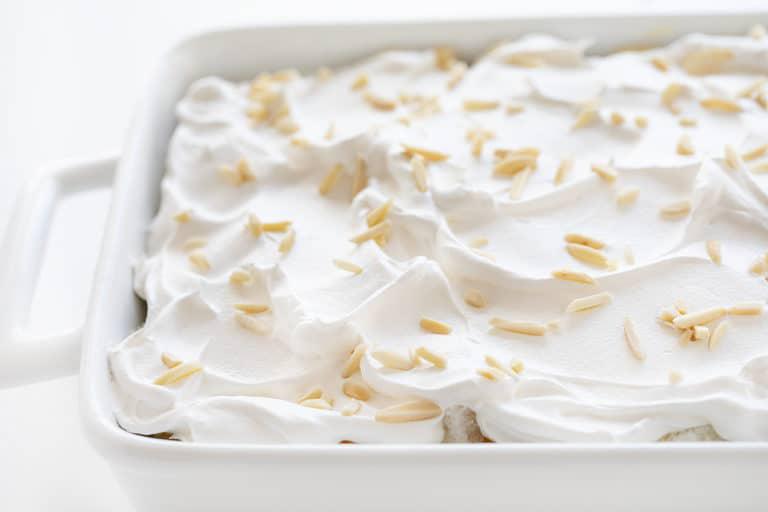 Variations to Cherry Vanilla Heaven Dessert
If you are not a fan of cherries, simply substitute the pie filling for a different flavor. I love blueberry or strawberry pie filling for this recipe. If you want your dessert a little thicker, use a square casserole dish instead. Since this is such an easy recipe, the more options you have, the better!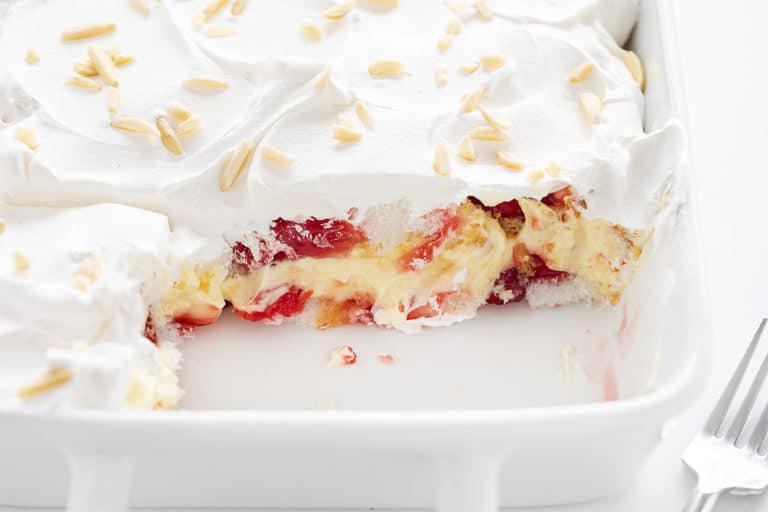 INGREDIENTS
1 whole Angel food Cake, (Click the link in the Notes for from-scratch Angel Food Cake)
PUDDING
1 package (3.4 ounces) instant vanilla pudding
1½ cups (368g) 2% or whole milk
1 cup (238g) heavy cream
TOPPINGS
1 can (21 ounces) cherry pie filling
8 ounces whipped topping, such as Cool Whip
¼ cup slivered almonds, for topping (optional)
INSTRUCTIONS
Cut angel food cake into cubes. (This was by far the most time-consuming part of the entire recipe. Take your time and use a good serrated knife!)
PUDDING
In a large bowl combine vanilla pudding, milk, and heavy cream. Using a hand-held mixer, beat on medium-high for 2 minutes. Set aside.
ASSEMBLE THE DESSERT
In a 9×13 baking dish, arrange 1/2 of the angel food cake cubes in a layer.
Drop half of the cherry pie filling over top of the angel food cake cubes.
Spoon vanilla pudding over the filling and spread evenly.
Arrange the other half of the angel food cake cubes on top of the vanilla pudding layer.
Carefully spread the remaining cherry pie filling over the angel food cake cubes.
Top it off with the whipped topping and slivered almonds (optional).
Place in the refrigerator for 3-4 hours. Serve cold.