Today is a fabulous day. I get to share a fantastic recipe with you! It is an Old Fashioned Dr. Pepper Cake and is one of the most FLAVORFUL cakes you will ever try! Don't let the ingredients scare you.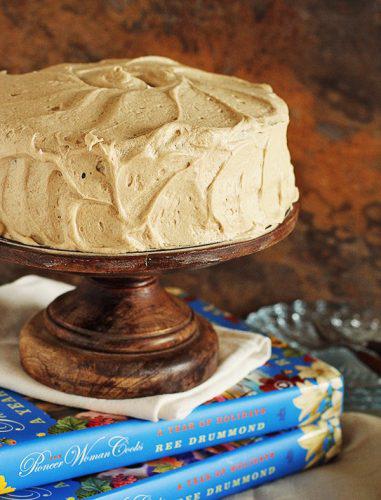 The Pioneer Woman has a new book out called A Year of Holidays. I have to tell you, it's my favorite book yet. I was moved to tears when I read page 87. Please, if you don't win a copy, go and buy it and tell me that you aren't moved by it. Not only does she get me with some tear jerkin' emotion throughout the book, but she makes me laugh too!
This whole book just makes me happy. It's a perfect package.
But first, this Dr. Pepper Cake!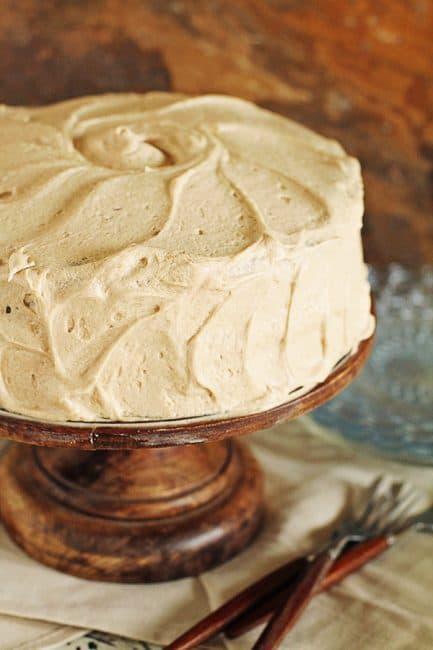 How to Make a Dr. Pepper Cake
Ree shares a Dr. Pepper cupcake in the book and I adapted it into a cake version. I have to tell you, this cake is seriously like nothing I have ever made before. The ingredients and technique were new to me, which is not something I often say about cakes!
Things like prunes and dried cranberries add depth of flavor and charm to this recipe. If you happen to have an old church cookbook laying around, chances are you have seen this recipe in it!
Now don't get scared by this list of ingredients. Each one adds something special to this ALWAYS MOIST cake. Once you get all your ingredients out and measured, it comes together beautifully.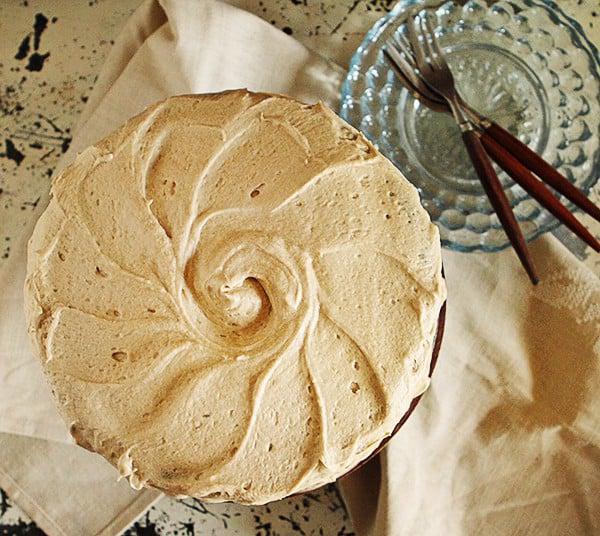 Dr. Pepper Frosting
This frosting is a dream to work with. It swirled so beautifully and tasted even better. Reduced Dr. Pepper, spice, butter, and sugar are all you need to create this light-as-air frosting! The ingredients are simple but when mixed together create this magical frosting that you will want to make with every cake!
Dr. Pepper soda
butter
ground ginger
confectioners sugar
vanilla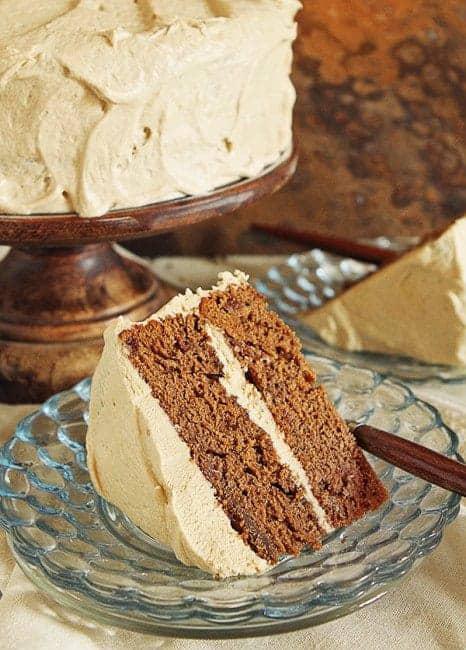 INGREDIENTS
CAKE
½ cup prunes, roughly chopped
½ cup dried cherries, roughly chopped
1 cup Dr. Pepper soda
1 cup (2 sticks, 226g) unsalted butter, room temperature
¼ cup (30g) cocoa powder
½ cup (118g) boiling water
½ cup (120g) buttermilk
3 large eggs, room temperature
1 teaspoon baking soda
1½ teaspoons vanilla extract
2 cups (256g) all-purpose flour
1⅓ cups (267g) granulated sugar
½ teaspoon nutmeg
½ teaspoon ginger
½ teaspoon all spice
FROSTING
4 cups Dr. Pepper soda
1½ cups (3 sticks or 339g) butter
1 teaspoon ground ginger
2½ cups (312g) confectioners' sugar
1 teaspoon vanilla
INSTRUCTIONS
CAKE
Heat oven to 350°F. Prepare two 8-inch round cake pans with pan release or butter & flour.
Add prunes and dried cherries to medium saucepan. Pour in 1 cup of Dr. Pepper, then bring it to a slow boil over medium heat.
Cook for 5 minutes. Then, remove it from the heat and set it aside to cool for about 20 minutes.
Boil ½ cup water. In a microwave-safe dish, melt butter. Add cocoa to melted butter then add in boiling water. Whisk together until smooth, set aside.
In small bowl add buttermilk, eggs, baking soda, and vanilla and whisk until combined.
In the bowl of a stand mixer fitted with a paddle attachment add flour, sugar, nutmeg, ginger, and allspice.
With mixer on low, add in cocoa mixture.
Pour in buttermilk mixture.
Slowly pour in Dr. Pepper mixture and blend until fully combined.
This batter was about 5 cups, so I evenly divided it into two 8-inch pans. (2½ cups per pan)
Bake for 30-34 minutes or until cake has pulled away from the edges and slightly cracked on top.
FROSTING
Boil 4 cups of Dr. Pepper in a small saucepan over medium heat until it has reduced to about 1/2 cup (20 to 25 minutes). (I actually had my temp on medium-high and reduced the soda for about 1 hour). Set aside to cool completely.
Add butter to mixer and then add in ginger, confectioners' sugar, and vanilla.
Mix on medium high speed for 3-5 minutes, scraping bowl as needed.
With the mixer on low, add in Dr. Pepper reduction and blend completely. Spread over cooled cake.