Prepare to up your kebab game with these amazing Surf and Turk Kebabs with Chimichurri Sauce. Tender and juicy steak and shrimp, grilled to perfection and covered in an authentic tangy chimichurri sauce. Impressive and delicious!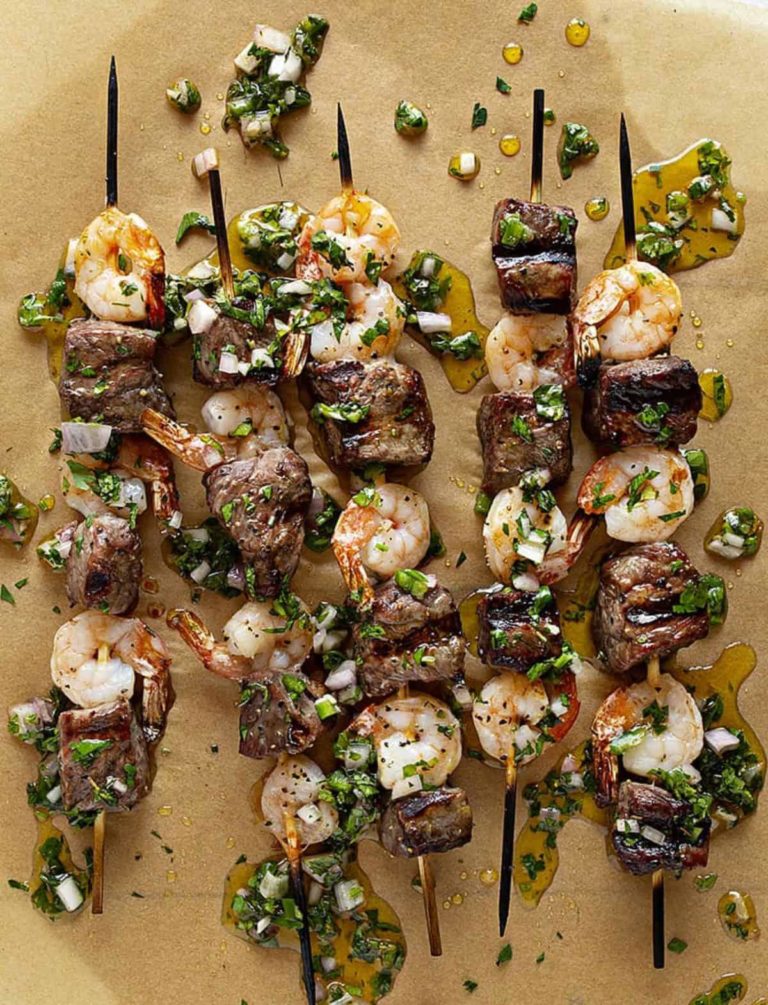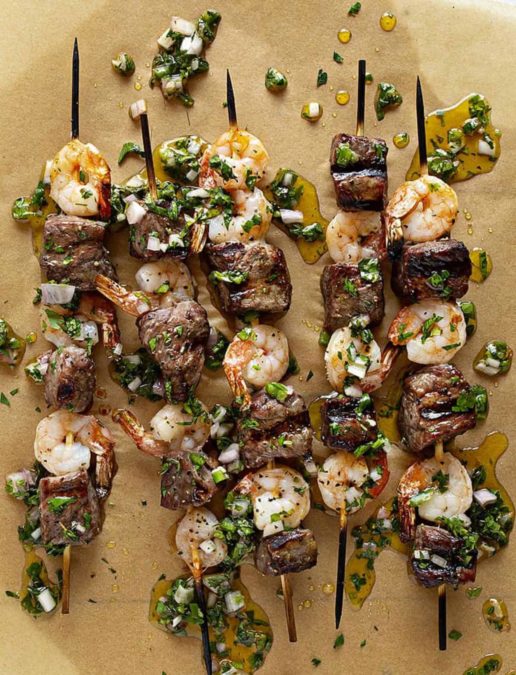 Surf and Turf Kebabs
Remain calm. Surf and Turf Kebabs are about to solve your dinner worries. This recipe is simply divine. Perfectly grilled steak and shrimp, topped with an amazing chimichurri sauce, on your table in 10-15 minutes. You will not believe how incredibly simple this recipe is. It certainly doesn't taste simple!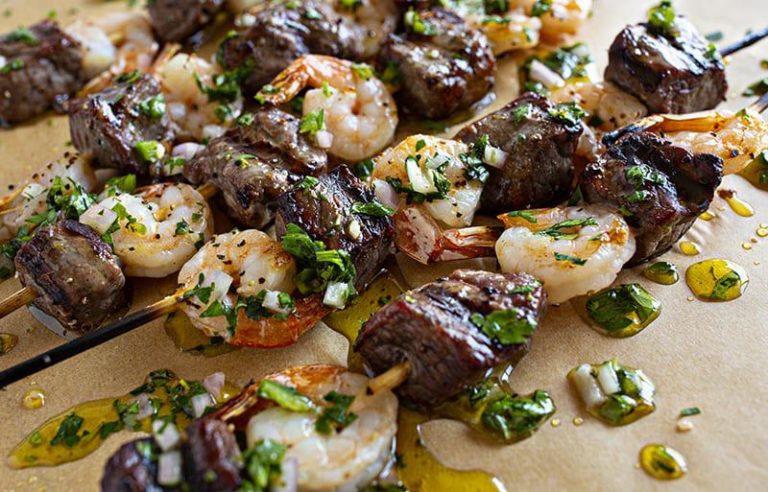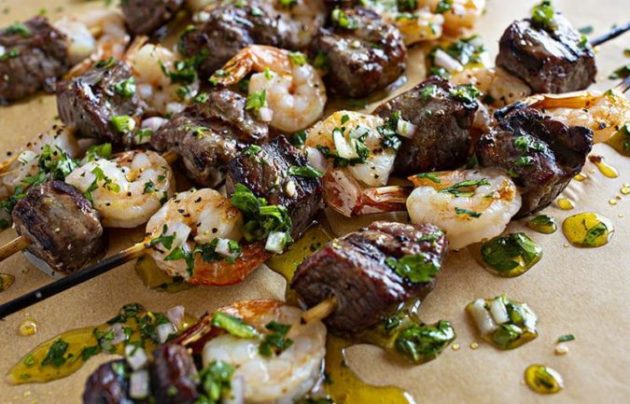 What is Surf and Turf?
If you have never heard of surf and turf, you are missing out my friend. Surf and Turf is the classic name for any main meal that consists of red meat and seafood, served together. In my case, I went for steak and shrimp but you could probably try something similar with scallops or prawns.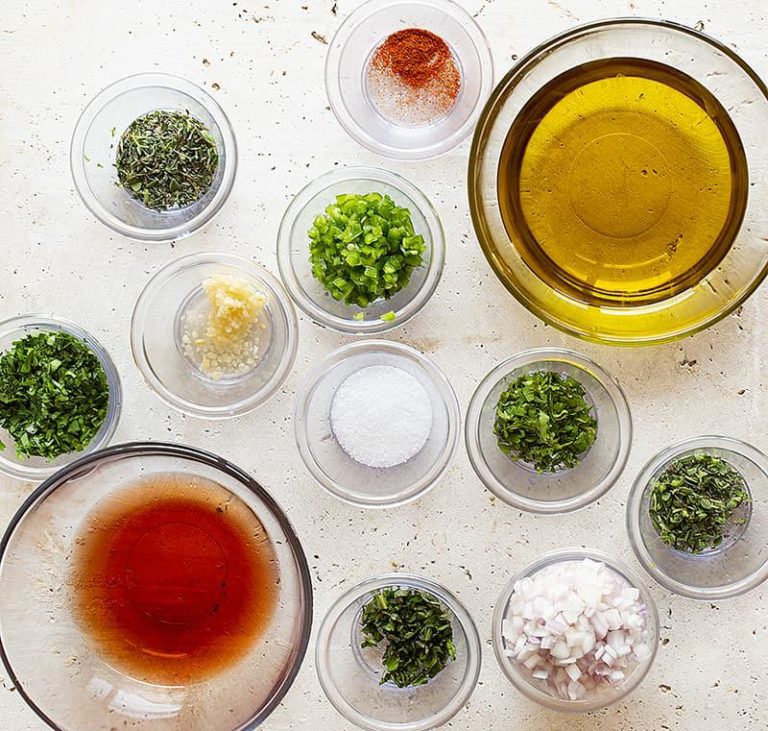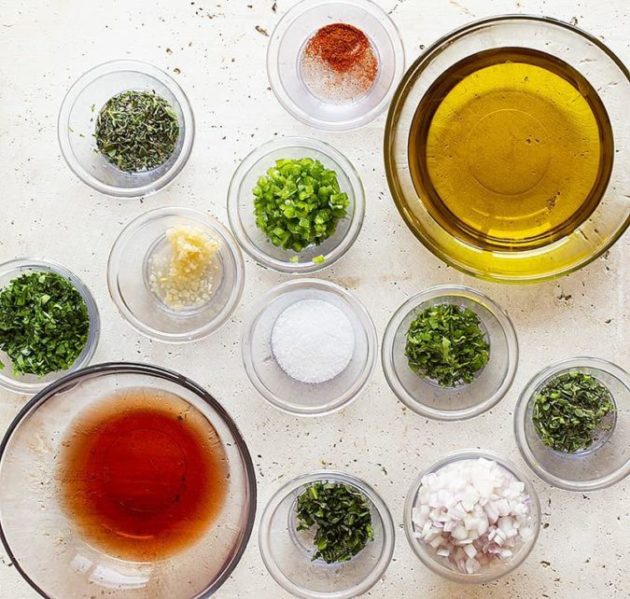 Chimichurri Sauce
Chimichurri sauce is a South American condiment that is traditionally served with red meat or grilled fish or chicken. It is a simple dish with no added sugar, just finely diced fresh herbs, vinegar, and oil. To make the sauce start by dicing the following:
Garlic
Shallot
Parsley
Basil
Thyme
Oregano
Cilantro
Jalapeno
Add all of these ingredients into a medium-sized bowl and then add salt and cayenne pepper. Stir to combine and then add the olive oil and red wine vinegar. Stir to combine well. Since this is an oil-based condiment it needs to be stirred regularly.
This mixture should marinate for a few hours before you use it. In a traditional South Amerian household, the chimichurri sauce sits out at room temperature, so no need to refrigerate.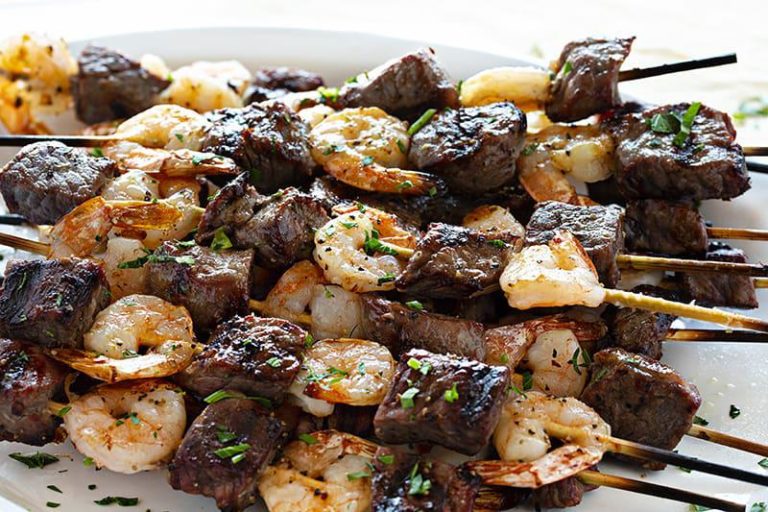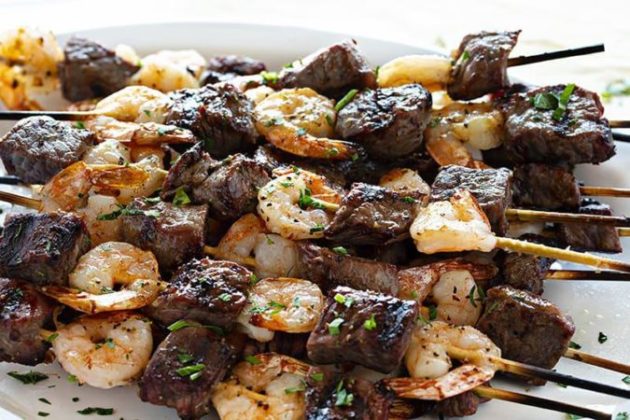 How to Make Surf and Turf Kebabs with Chimichurri Sauce
Start by soaking your wooden skewers in water for about 30 minutes. The water will soak into the wood and create a barrier that will help prevent them from burning.
Cut your steak into 1-inch cubes. Try hard to keep the cubes uniform in size, this will ensure they cook evenly. Before cooking my shrimp will actually appear LARGER than the steak, but no worries, they will all become uniform in size when they are done. Alternate the steak and shrimp onto the skewers, leaving about 1 inch of empty space on each end. Brush both sides of the skewers lightly with olive oil and then season with salt and pepper. Add the skewers to a hot grill (make sure to oil the grates). Flip every 4-5 minutes until the shrimp turns white and the steak is cooked to your liking (about 8-10 minutes).
How to Oil Grill Grates
Just be safe about it. Don't spray cooking spray on the grates or pour oil on the grates. This will cause the flame to ignite and could blow back at you. The safest method of oiling a grill grate is to dip a cloth or handful of bunched-up paper towels into cooking oil (like canola). Do not saturate the clothes, they should not be dripping. You want enough oil on it to coat the grill grate, but you don't want it dripping everywhere. With a protected hand (use an oven mitt or glove), lightly brush the hot grill grates with the cloth.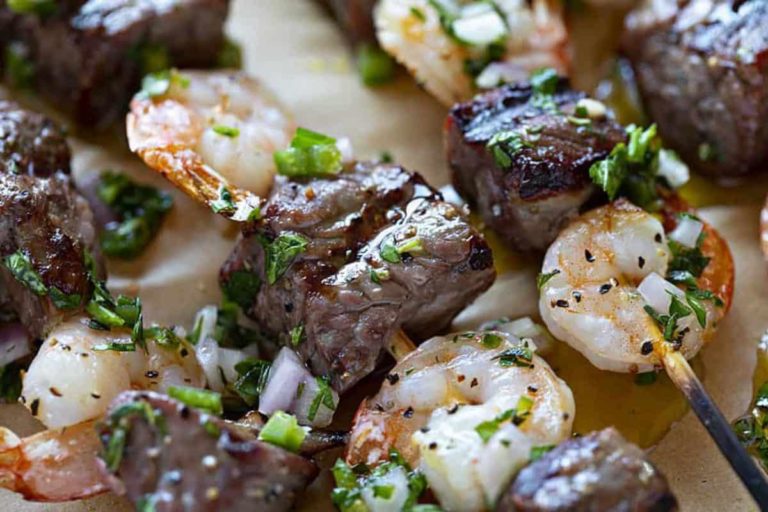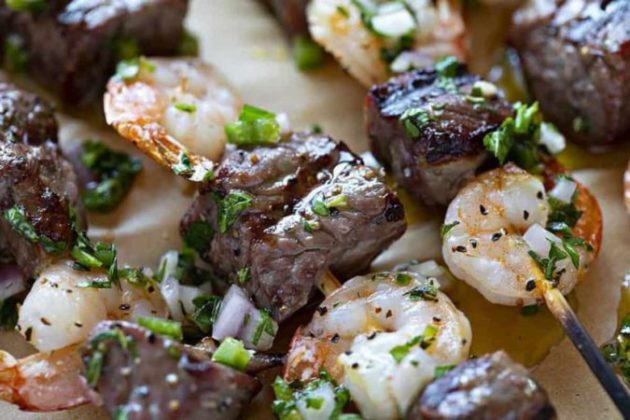 INGREDIENTS
CHIMICHURRI SAUCE:
1 cup olive oil
1/2 cup red wine vinegar
2 cloves garlic minced
2/3 cup minced shallot
2/3 cup minced fresh parsley
2 tsp chopped fresh basil
2 tsp chopped fresh thyme
2 tsp chopped fresh oregano
2 tsp chopped cilantro
1 jalapeno, finely chopped
1 tsp sea salt
1/8 tsp cayenne pepper
SURF AND TURF:
3 lbs sirloin steak, cut into 1″ cubes
1 package (16 ounces) jumbo shrimp, peeled and deveined, tail-on
1 tablespoon olive oil
salt and pepper, to taste
INSTRUCTIONS
CHIMICHURRI SAUCE
Stir all ingredients together in a bowl and leave at room temp for two hours.
SURF AND TURF
If using wooden skewers, make sure to soak them in water for 1 hour to prevent burning.
Preheat grill to medium-high heat (about 425°F).
Cut beef into 1″ cubes and then thread steak and shrimp onto skewers.
Brush oil onto skewers and then lightly salt and pepper both sides
Cook for 8-10 minutes for turning every four minutes. (You may want to test a shrimp for doneness. We prefer steak Medium-Rare. If you perfer more well done steak you may want to cook the steak and shrimp separately.)
Remove from heat, drizzle with chimichurri sauce and serve.