Making French Toast for your family is an easy and fantastic way to start the day! Follow my easy tips and tricks to make sure your French Toast is perfect, every time! Don't miss my amazing Apple Fritters and Homemade Monkey Bread if you are looking for other amazing breakfast options!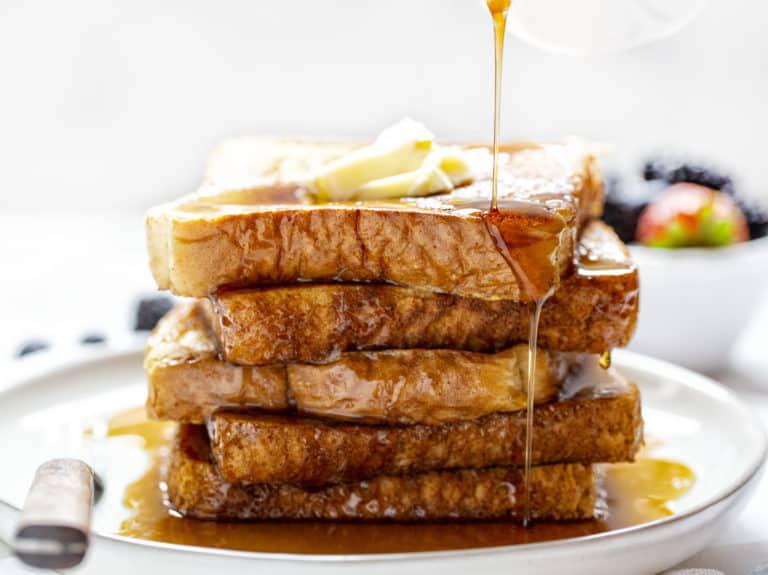 How to Make French Toast
This easy recipe will be your go-to for perfect French toast! It uses simple ingredients like
eggs
milk
vanilla
sugar
salt
cinnamon
bread
Topped with organic maple syrup (this is a must in our house) and you have the perfect breakfast!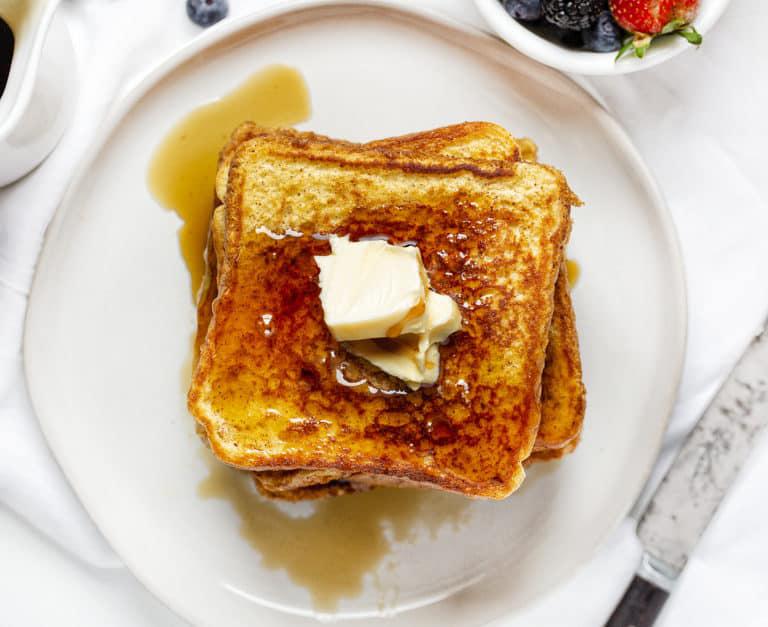 What Kind of Bread is Used in French Toast?
I find that the easiest option is regular store-bought bread. No muss, no fuss. Just grab a loaf of your favorite white or whole wheat bread and get started! However, there are a few other options that I will use when I am feeling fancy:
Baguette
Challah
Brioche
12-Grain
It has been said that the optimum size for french toast is between 3/4 inch and 1 inch thick. I have found that the thicker the bread, the longer it needs to soak and therefore you run the risk of soggy French Toast. A loaf of bread from the grocery store is anywhere from 1/4 inch to 3/4 inch thick and seems to work perfectly for this recipe.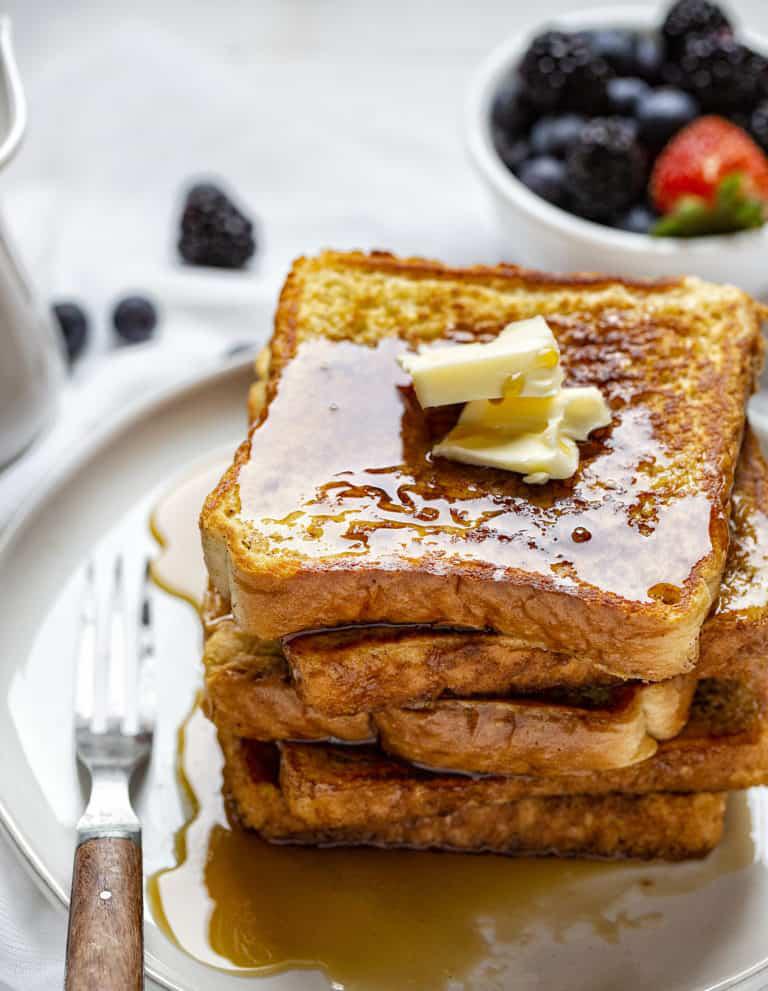 How do You Cook French Toast?
We prefer to make ours on a griddle set to 375°F. However, we have also made it in a skillet and find that they have a beautiful dark crust that can add some texture to any ole French Toast recipe. One trick is to add a pad of butter directly under each piece of bread as you cook it.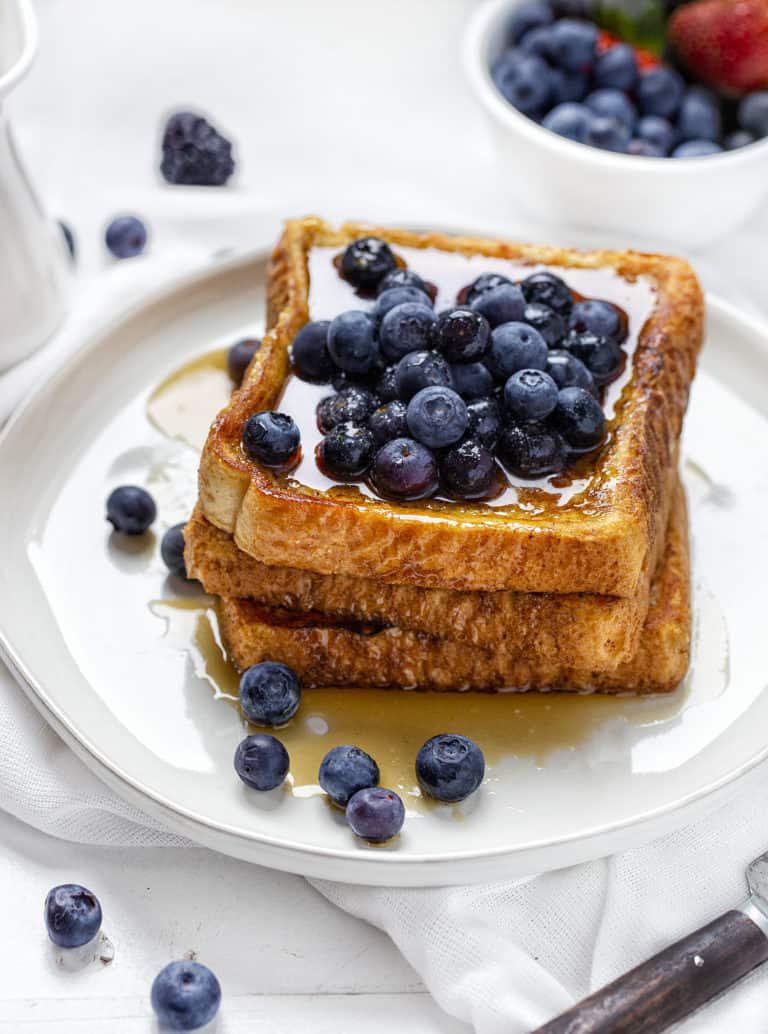 We have made french toast many times before, but this version is really, really, really good. I have never added vanilla or sugar to the milk mixture before… such a 'UFF-DA' moment! (Sorry, I am part Norwegian)
And so easy!
Seriously… try it! You will not be disappointed. This truly is the BEST French Toast!
Ingredients
4 large eggs, room temperature
1 1/4 cup milk, I recommend whole milk
2 tablespoons granulated sugar
2 teaspoons pure vanilla extract
1/8 teaspoon kosher salt
1 teaspoon cinnamon, you can add more or less to your tastes
10-12 slices bread
pure maple syrup
Instructions
Beat eggs, milk, sugar, vanilla, salt, and cinnamon with wire whisk until smooth. Heat griddle 350°F to 375°F, and grease griddle if necessary. (I did not)
Dip bread into egg mixture (do not soak it) then place on griddle. Cook 2-4 minutes on each side or until golden brown.
Serve with room temperature butter and syrup and or fresh fruit.