Dill Pickle Pasta Salad is literally my favorite pasta salad ever! In this creamy pasta salad recipe, dill pickles play a starring role and add tons of flavor and crunch! This recipe is even better when it's made ahead of time making it the perfect potluck dish!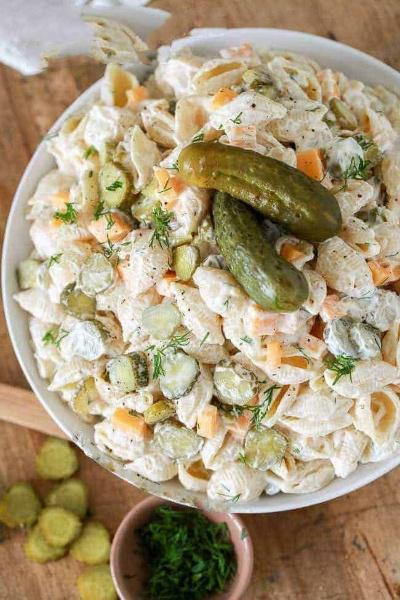 I have a thing for dill pickles. I always have. My sister and I have exchanged pickle themed gifts for about 20 years now… I've received everything from pickle erasers and a case of pickle pops (like freezies.. but pickle juice) and given her everything from a yodeling pickle to pickle soap and jewellery. One thing we haven't exchanged yet is a dill pickle recipe, so of course I have to dedicate this delicious pasta salad recipe to my sister Candace.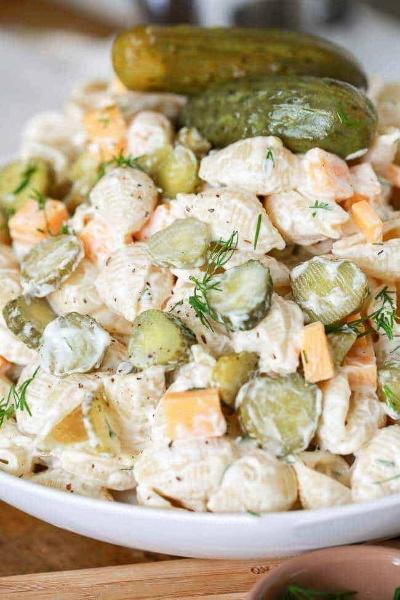 I like pasta salads, I make a ton of them. They're easy to make and usually better if made ahead of time. They're the hit of every potluck meal and perfect to pack the next day for lunch. As much as I like pasta salads, this Dill Pickle Pasta salad is honestly one of the best pasta salads I've ever had! Pickles (or even dill pickle relish) usually play a supporting role in recipes, especially pasta salad recipes and potato salads.
But not this time… nope, this time the prized dill pickle plays the starring role, front and center.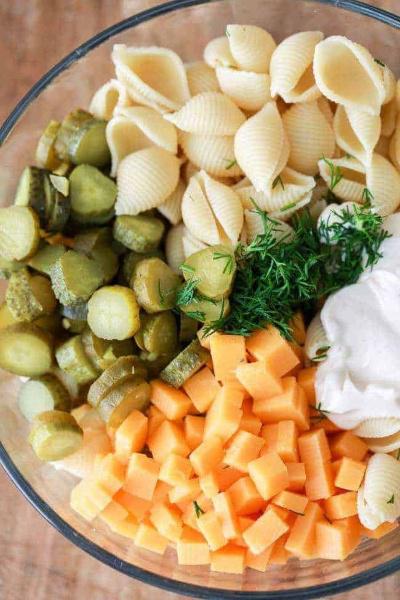 There is pickle flavor infused throughout this recipe (in 3 different places) yet it's just the right amount of pickley (if pickley is even a word!?). Yup, time to get pickled people (in the dill pickle sense of course).
When buying pickles for this recipe, I love baby dills if you can find them because I love the crunch they give and I love how they look in little rounds. I'm a bit freakish about my pickles so I actually pick up all of the pickle jars at the store and try to choose jar with the the smallest pickles. I look like a person trying to choose the perfect produce, only in the pickle aisle. If you only have bigger dill pickles (or homemade pickles), they'll still be great in this recipe too, just chop them but not too small, you want them to keep that crunch.
If you have (or love) sweet pickles you can also throw a handful of those in here too. I mean, sweet and salty, crunch creamy… perfection right?!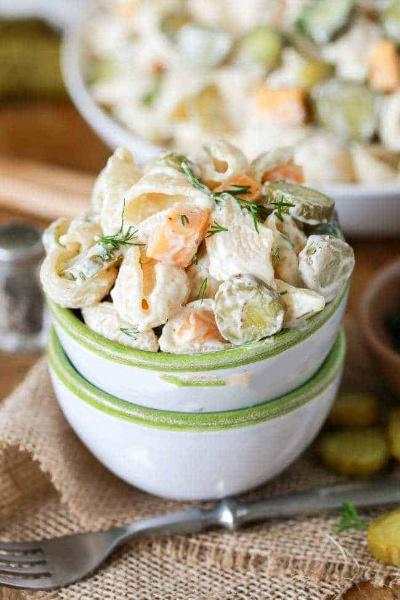 Oh, and when you're scooping out your pickle juice to add to the dressing in this recipe, try to grab all of those yummy little garlicky bits floating around and put them in the dressing too, they add extra flavor. And one last tip about the white onion… be sure to grab the onions with the white papery skin, the ones with the yellow skin are much stronger and will be a little bit overpowering in this dish.
This dill pickle pasta salad is pretty much guaranteed to be the hit of your next potluck and the best part is that it is awesome made the day before! If you're lucky enough to have leftovers (which I doubt would happen) they'll keep several days in the fridge and make the perfect lunch!
Ingredients
½ pound dry shell pasta about 3 cups
¾ cup pickles sliced
⅔ cup cheddar cheese diced
3 tablespoons white onion finely diced
2 tablespoons fresh dill
½ cup pickle juice
Dressing
⅔ cup mayonnaise
⅓ cup sour cream
⅛ teaspoon cayenne pepper
4 tablespoons pickle juice
salt & pepper to taste
Instructions
Boil pasta al dente according to package directions. Run under cold water to stop cooking.
Toss cold pasta with about ½ cup of pickle juice and set aside for about 5 minutes. Drain & discard pickle juice.
Combine all dressing ingredients in a small bowl and mix well.
Toss all ingredients in a large bowl. Refrigerate at least 1 hour before serving.