I stumbled upon a recipe from a chef at one of the Georgian restaurants for Khachapuri Soup. When I cooked it, I knew immediately – this was a culinary masterpiece I needed to share.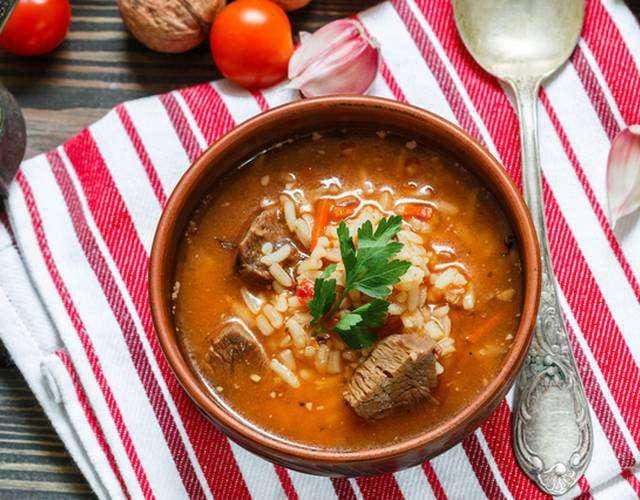 When I first decided to make Khachapuri Soup, I had no idea about the ingredients that go into it and what makes it so flavorful and slightly spicy. A quick internet search provided me with numerous recipes, but it was the one from a chef at a Georgian restaurant that caught my attention. After preparing the soup, I instantly realized – this was the real deal.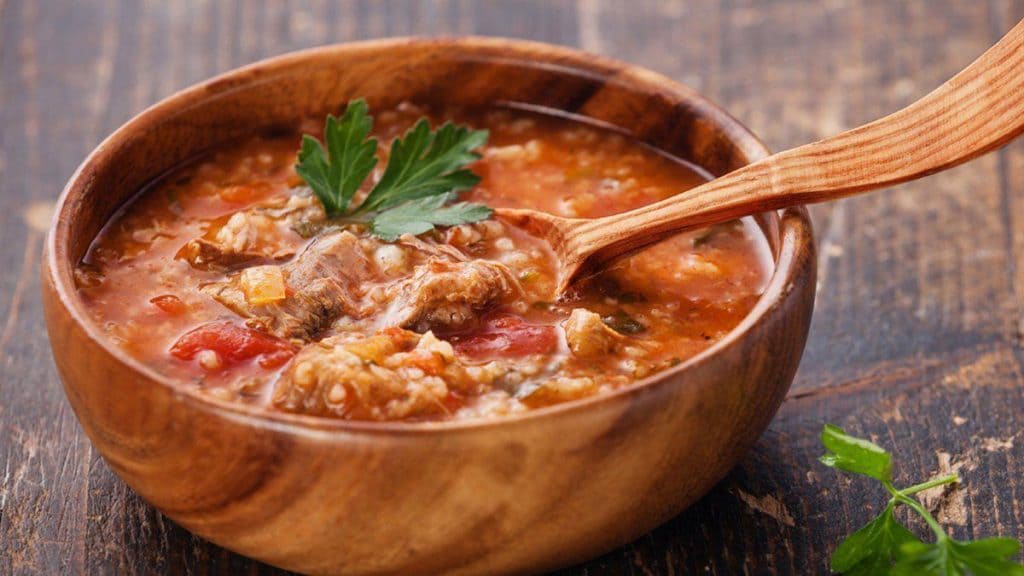 Embark on a culinary journey with a cherished gem from the heart of Georgia – the captivating Khachapuri Soup. This recipe, crafted by a skilled chef, brings to life the vibrant flavors of Georgian cuisine. The rich beef brisket, aromatic spices, and the boldness of Tkemali sauce come together to create an experience that's both heartwarming and exhilarating. Dive into this traditional delight, where each ingredient plays a crucial role in orchestrating a symphony of tastes and aromas that will surely transport you to the heart of the Caucasus mountains.
Ingredients:
8 cups water
14 oz (400g) beef brisket
1/2 cup rice
2 onions
2 tbsp Tkemali sauce
1/4 cup walnuts
2 tbsp tomato paste
3-4 cloves of garlic
1 tbsp fresh dill
1 tbsp fresh parsley
1 tbsp fresh cilantro
Salt to taste
Spices:
1 tsp Khmeli Suneli (Georgian spice mix)
1/2 tsp dried basil
1/2 tsp red pepper
Bay leaf
Khachapuri Soup. Step-by-Step Recipe:
Place a pot with water on the stove, add beef, one onion, bay leaf, and salt. Cook for 1.5 hours.
Dice the second onion and sauté it in vegetable oil until translucent.
Add tomato paste, Tkemali sauce, garlic, and dried spices to the sautéed onion.
Rinse the rice and add it to the broth, cooking for exactly 10 minutes. Then add the sautéed mixture, ground walnuts, and fresh herbs.
Let the soup steep for at least 1 hour before serving.
Khachapuri Soup turns out incredibly rich and flavorful. The spices blend harmoniously due to the sautéing process, unlocking their full aroma. Don't skimp on fresh herbs and nuts; they contribute to the distinct Eastern taste and fragrance of the soup.