Smoked Sausage Pasta is a completely well-rounded and delicious meal filled with smoked sausage, corn, parmesan cheese, pasta and just the right amount of Cajun seasoning. It is easy to put together and get on your dinner table any night of the week!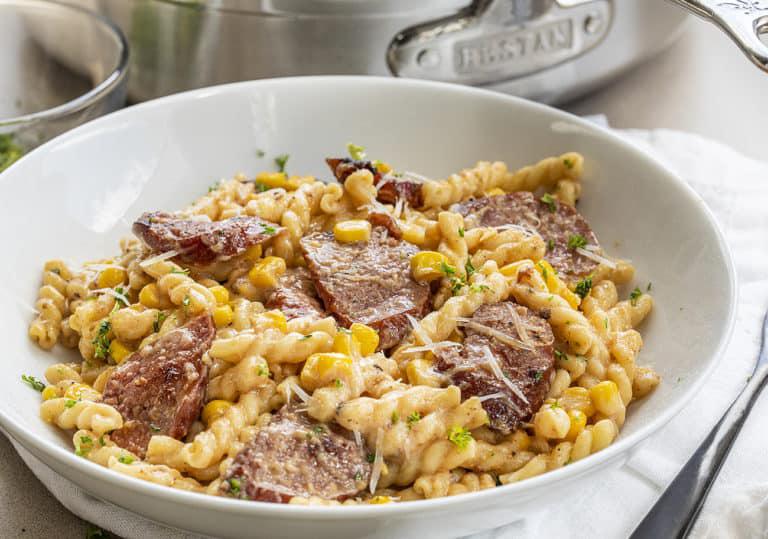 SMOKED SAUSAGE PASTA
Smoked Sausage Pasta starts with your favorite pasta and smoked sausage. Smoked sausage is nice to have on hand because it is already cooked so it can be eaten hot or cold. You can find different flavors of smoked sausage from garlic to habanero to plain. It also can be made from turkey, pork, beef, or a combination of meats. I had plain smoked sausage on hand for this recipe so the Cajun seasoning could stand out a little more.
SMOKED SAUSAGE PASTA RECIPE
Get out all the delicious ingredients that go into this recipe and get dinner on the table in no time!
Ingredients (full recipe below)
Smoked sausage
Flour
Whole milk–You could get by with 2% or even 1% if that's all you have on hand, it just won't be as rich and creamy.
Chicken broth
Cajun seasoning–Make your own Cajun seasoning to have on hand whenever you need it, and as spicy as you want it!
Garlic powder
Canned corn
Parmesan cheese
Pasta– like Gemelli pasta for this recipe, but any of your favorite shaped pasta will do.
Fresh parsley (optional, for garnish)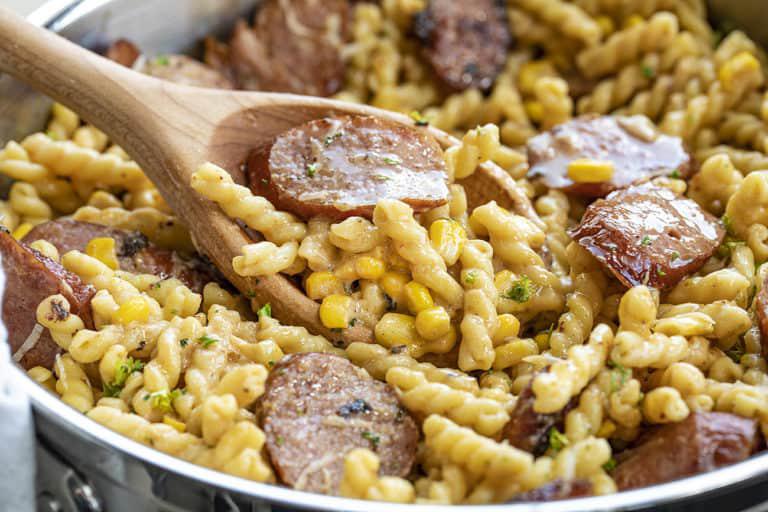 HOW TO MAKE SMOKED SAUSAGE PASTA
Before you begin cooking and mixing all the delicious flavors and ingredients together, get your pasta boiled and drained and set it aside.
Next, take out your frying pan to heat up the sausage. I cut the sausage into about 1/4-inch pieces before I added them to the pan. Speaking of the pan, I do have to brag at how stunning this Hestan ProBond Pan is. But don't let the beauty fool you; it is sturdy and heavy-duty and will last for many years to come!
Anyway, once you have heated up your sausage for 2-3 minutes on each side over medium heat, remove it, put the sausage pieces on a plate, and set it aside while you add other ingredients.
In the same pan (without cleaning it out), add the flour and whisk it for about 5 minutes with the brown bits from the pan until a paste forms. Slowly add in the milk, whisking that together for another 5 minutes. The mixture will start to thicken.
Next, add in the chicken broth, Cajun seasoning, and garlic powder. Bring this to a light simmer and add the corn and parmesan cheese. Cover the pan and let it all simmer for about 5 minutes. Finally, add in the cooked pasta and heated smoked sausage and mix everything together.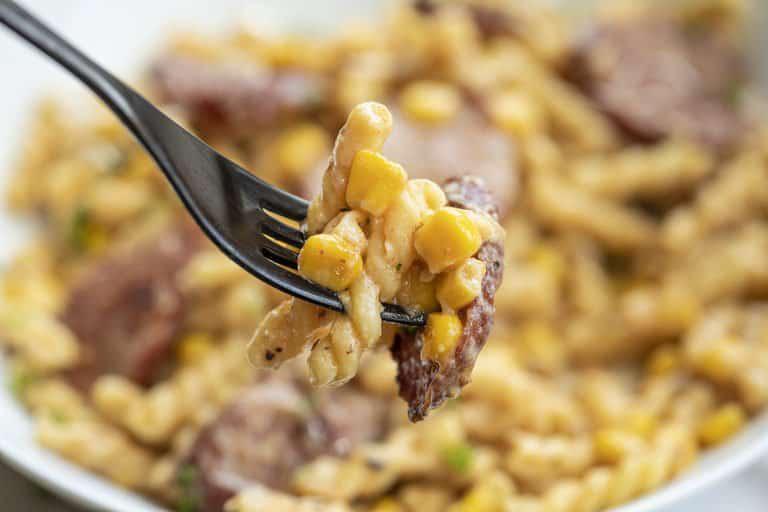 Ingredients
16 ounces smoked sausage, cut into 1/4 inch pieces
1 tablespoon flour
1 cup whole milk
1 cup chicken broth
1 teaspoon Cajun seasoning, (or more to your tastes)
1/2 teaspoon garlic powder
1 can (15 ounces) corn, drained
1 cup parmesan cheese, freshly grated
16 ounces Gemelli pasta, or any pasta of your choice, cooked al dente
fresh parsley, for garnish
Instructions
Boil pasta in salted water according to package directions. I recommend al dente. Drain and set aside.
In a large frying pan over medium heat, add sliced sausage in a single layer (cook in batches if necessary). Heat for 2-3 minutes on each side. Remove from pan and set on a plate.
In the same pan (do not drain), add flour and whisk, scraping up the brown bits from the pan, until a paste forms and the mixture starts to brown.
Slowly add in the milk. Whisk continuously until the mixture starts to thicken (about 5 minutes).
Add in the broth, Cajun seasoning, and garlic powder. Bring to a light simmer.
Add in the corn and the parmesan cheese. Stir and simmer for another 5 minutes.
Add the noodles and sausage back into the pan, mixing everything together.
Garnish with fresh parsley and more parmesan cheese.