Outrageously cheesy, ultra creamy, and topped with a crunchy Panko-Parmesan topping, this mac and cheese recipe is most definitely a keeper. I used three different cheese and a homemade cheese sauce to take this macaroni and cheese recipe over the top.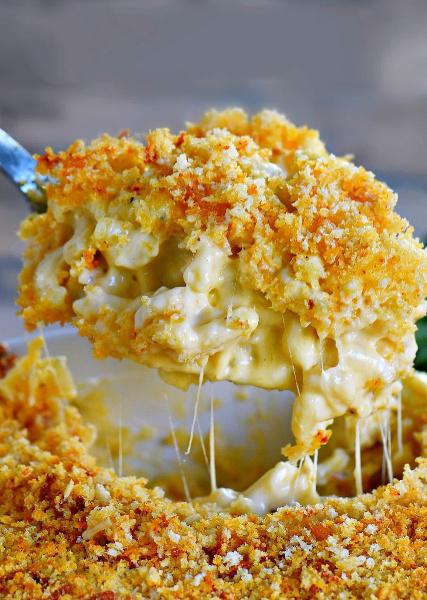 Homemade Baked Mac and Cheese
There is absolutely nothing I love more than cheese. And when you add pasta to it? Fuggetaboutit.
Mac and cheese is one of those recipes that can take on so many different forms. I love it anyway I can get it but baked mac and cheese is my very favorite and I'll tell you why… The topping. I use breadcrumbs for my topping occasionally, but, a Panko topped mac and cheese is just that much better.
I mix in Parmesan, butter, and paprika with the Panko so it crisps up beautifully and gets a nice golden brown color when this amazing homemade mac and cheese is baked.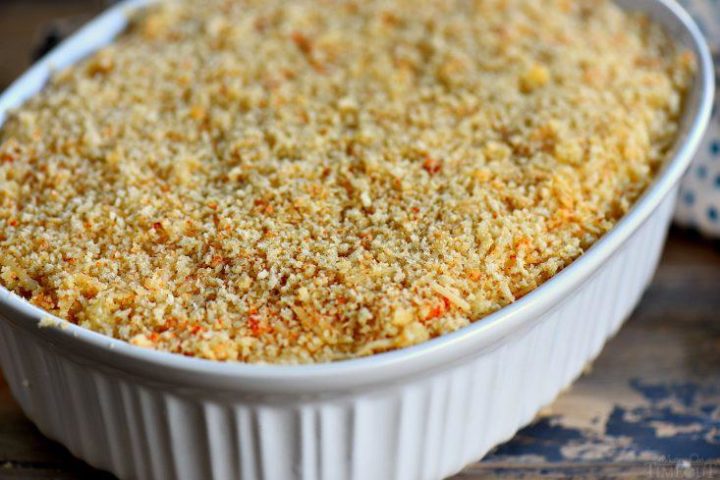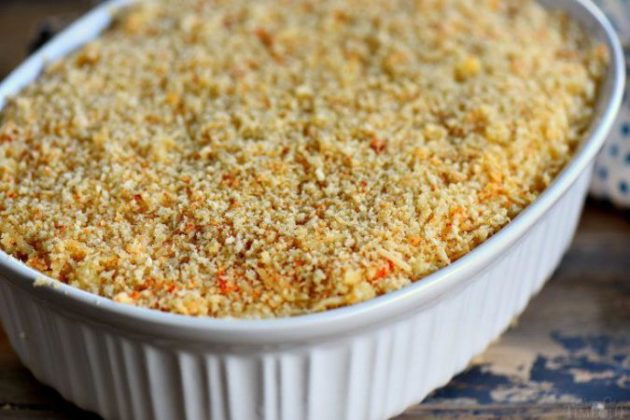 Tips for the Best Homemade Baked Mac and Cheese
Use block cheese and shred, do not buy the pre-shredded cheese. The pre-shredded cheese is great for so many things but not macaroni and cheese. It's coated and won't melt properly.
You need to shred it yourself for the best result.
Cook your pasta to slightly less than al dente, about one minute shy is perfect. The reason is that this is baked mac and cheese so the pasta will continue to cook in the homemade cheese sauce in the oven. You don't want soggy macaroni.
I used elbow pasta but really, any tubular past will work.
This mac and cheese recipe starts with a roux. The roux is super important to getting the creamiest cheese sauce of your life. Here is what you need to look for:
The roux (equal parts butter and flour) is whisked together until bubbly and golden.
Whisk in cold milk – not warm – to prevent the flour from clumping.
Cook the roux until you see bubbles on the surface and then continue cooking for an additional 2 minutes before adding the cheese.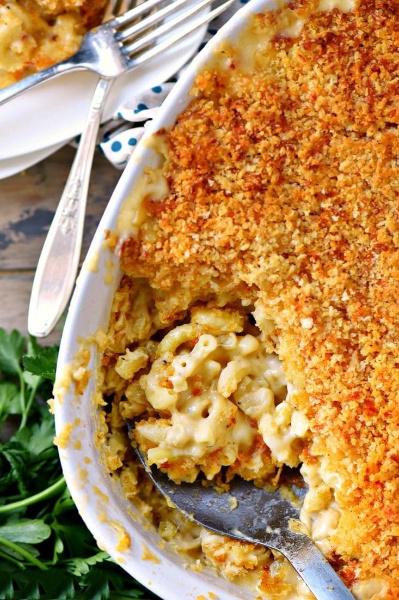 Homemade Macaroni and Cheese: What Kind of Cheese Should I Use?
I honestly use different cheese combinations almost every time I make this mac and cheese recipe but the one I always come back to is sharp cheddar and Gruyere. If you can't find Gruyere, Jarlsberg Swiss cheese is the best substitute. Other cheese that work: mozzarella, jack cheese or pepper jack for a little zip, American and Velveeta as well for a creamier cheese sauce. This baked mac and cheese uses 6 cups of cheese so just
To add even more flavor to my homemade mac and cheese, I add Parmesan to the Panko topping – so good!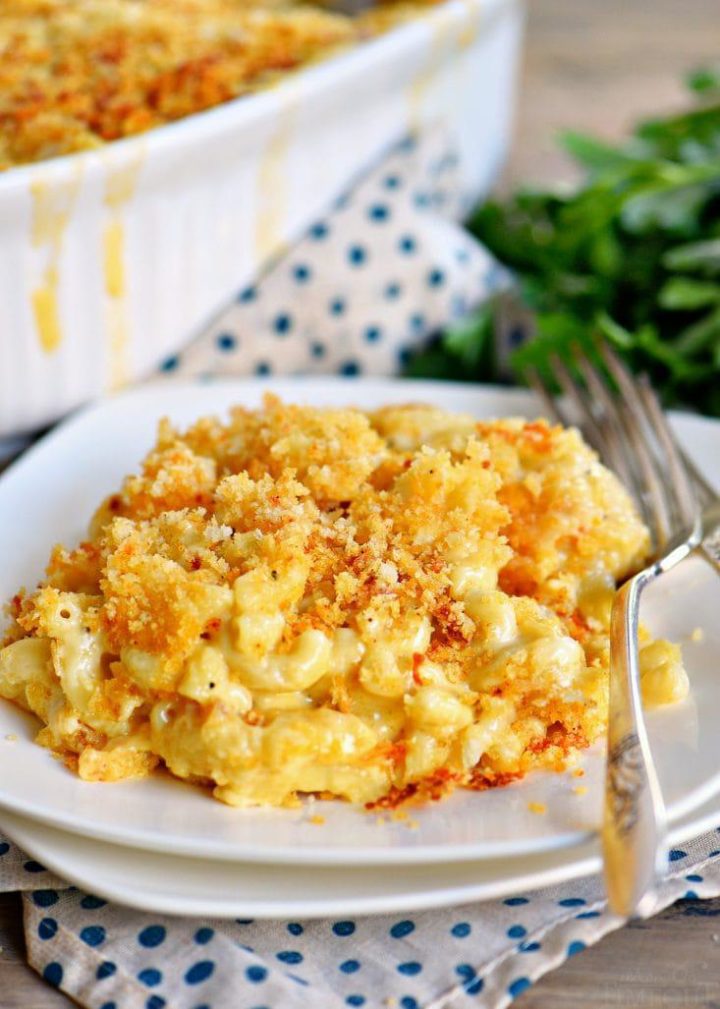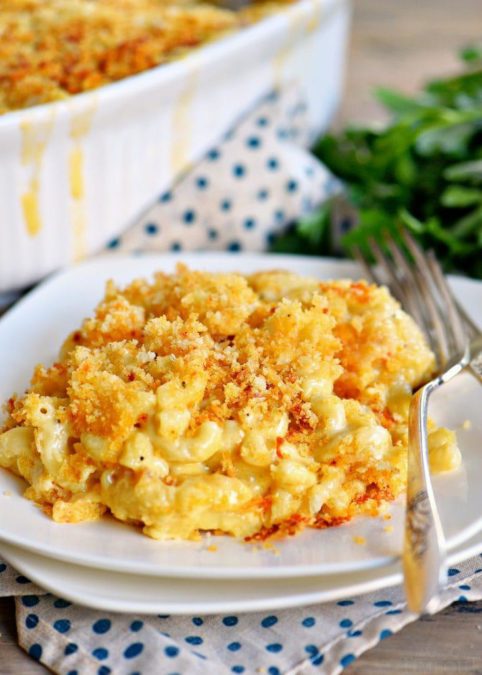 Ingredients
16 oz elbow macaroni, cooked (or other tubular pasta)
1 tbsp extra virgin olive oil
6 tbsp unsalted butter
1/3 cup all purpose flour
3 cups whole milk
1 cup heavy whipping cream
4 cups sharp cheddar cheese shredded
2 cups Gruyere cheese shredded
salt and pepper to taste
1 1/2 cups panko crumbs
4 tbsp butter melted
1/2 cup Parmesan cheese shredded
1/4 tsp smoked paprika (or regular paprika)
Instructions
Preheat oven to 350F. Lightly grease a large 3 qt or 4 qt baking dish and set aside.Combine shredded cheeses in a large bowl and set aside.
Cook the pasta one minute shy of al dente according to the package instructions. Remove from heat, drain, and place in a large bowl.
Drizzle pasta with olive oil and stir to coat pasta. Set aside to cool while preparing cheese sauce.
Melt butter in a deep saucepan, dutch oven, or stock pot.
Whisk in flour over medium heat and continue whisking for about 1 minute until bubbly and golden.
Gradually whisk in the milk and heavy cream until nice and smooth. Continue whisking until you see bubbles on the surface and then continue cooking and whisking for another 2 minutes.
Whisk in salt and pepper.
Add two cups of shredded cheese and whisk until smooth. Add another two cups of shredded cheese and continue whisking until creamy and smooth. Sauce should be nice and thick.
Stir in the cooled pasta until combined and pasta is fully coated with the cheese sauce.
Pour half of the mac and cheese into the prepared baking dish. Top with remaining 2 cups of shredded cheese and then the remaining mac and cheese.
In a small bowl, combine panko crumbs, Parmesan cheese, melted butter and paprika. Sprinkle over the top and bake until bubbly and golden brown, about 30 minutes. Serve immediately.