Bread Bowl Spaghetti is a kaiser roll brushed with garlic butter and filled with spaghetti, meat sauce, and mozzarella cheese, baked to a golden brown.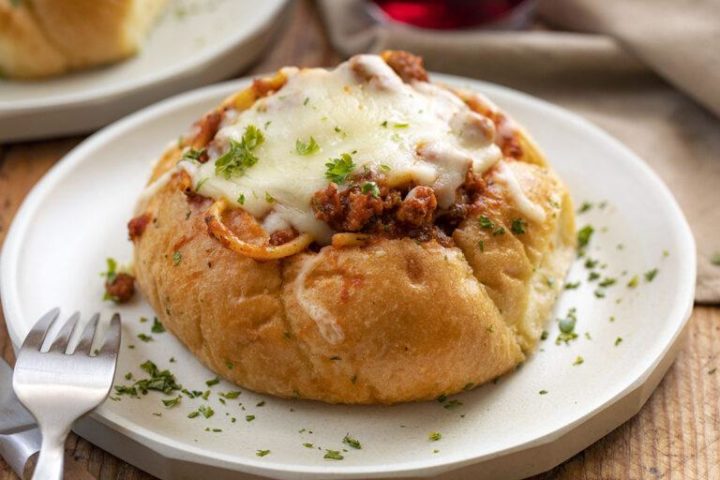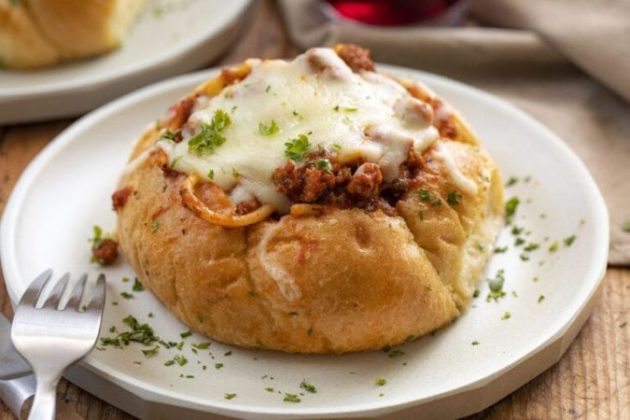 BREAD BOWL SPAGHETTI
There is something comforting about a plate of spaghetti. It's easy to put together, and it fills you up, especially with a side of country garlic cheese bread. But, sometimes, it's nice to switch things up a bit. This Bread Bowl Spaghetti recipe gives you garlic bread (the bread bowl with garlic butter), spaghetti with meat sauce, and cheese all in one!
BREAD BOWL SPAGHETTI INGREDIENTS
There are three important parts to this bread bowl spaghetti: the rolls, spaghetti, and homemade garlic butter.
Rolls: I used 5-6 inch kaiser rolls for this recipe to keep individual servings. Sourdough bread is also a great and delicious choice to use. You could also buy bread bowls at some grocery stores.
Spaghetti: You will only need a quarter (4 ounces) of the box of spaghetti noodles for this recipe (if using a 16-ounce box). That makes about 2 heaping cups of cooked noodles.
Sauce: Choose your favorite jar of spaghetti sauce to use. I also added ground beef to the sauce, but you could leave that out to keep it meatless. I also have a homemade meat sauce you may like.
Cheese: Shredded mozzarella is put in the bottom of the bread bowl, as well as on top of the spaghetti for a cheesy bite!
Garlic Butter: This is the same garlic butter recipe I used for my Cheesy Garlic Bread, which you will want to keep in mind when you need a side of garlic bread in the future!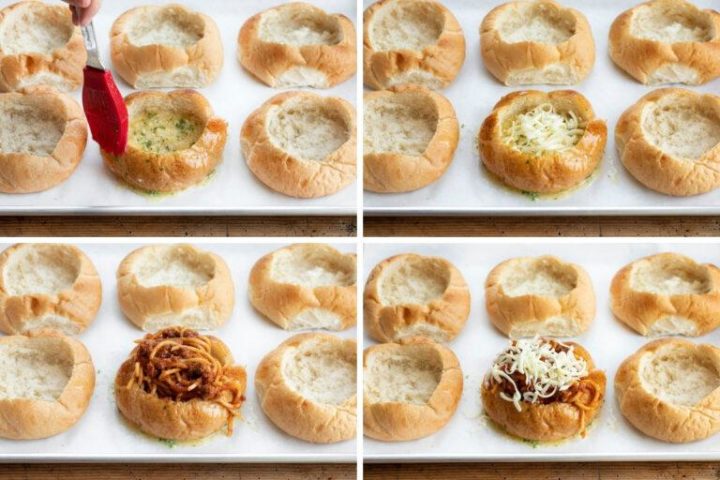 CUTTING A BREAD BOWL
Once you have your bread picked out, it's time to get them cut to be filled! When cutting your bread bowl, move in from the edge a bit and use a serrated knife to cut a circle around the top. I try to cut at an angle, with my knife pointing towards the center of the bread so that a V shape will pop out of the bread.
You can then use your fingers to remove any additional bread if you would like. (As in, it can be as hollow as you prefer.) We diced up the bread top and toasted it with butter and garlic for a homemade crouton. Place the hollowed-out bread onto a sheet pan lined with parchment paper. Set them aside as you prepare the ground beef and sauce.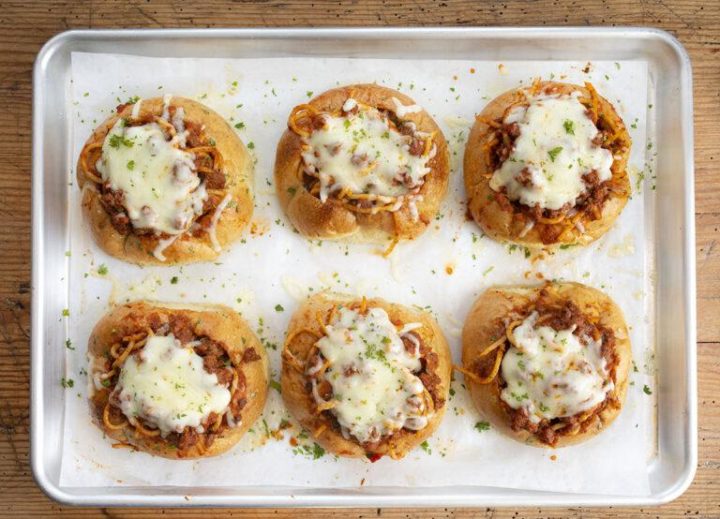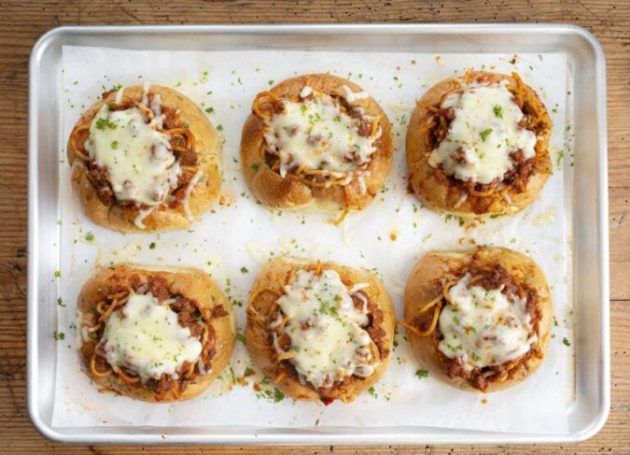 HOW TO MAKE SPAGHETTI IN A BREAD BOWL
Once the noodles have been cooked and the bread hollowed out, it's time to cook the ground beef and get the sauce made to mix with the noodles. Cook the ground beef until no longer pink and then pour in the jar of spaghetti sauce and add salt and pepper. Allow the sauce to simmer for about 10 minutes. When ready, add the cooked noodles to the sauce, tossing to coat.
To make the garlic butter, simply combine the melted butter, garlic, kosher salt, and parsley. Stir until combined. Once combined, brush the garlic butter equally on the bread bowls. Be sure to get the butter inside and outside of the rolls.
Next, add about a tablespoon of shredded cheese to each bread bowl. Then, use a 1/2 cup scoop to add the spaghetti mixture to each bread bowl. Finally, top with another tablespoon of shredded cheese. Bake the bread bowls in the oven for 7-10 minutes, or until golden brown and the cheese has melted. Top with parsley and serve.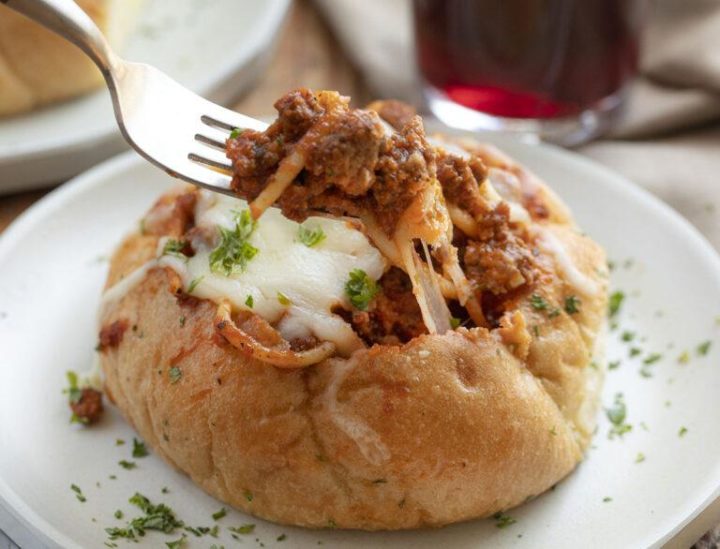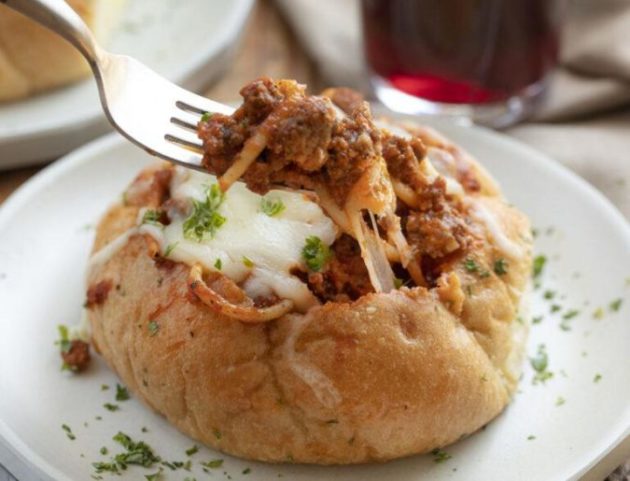 Ingredients
6 round (5-6 inches) rolls, like white kaiser rolls
Spaghetti
4 ounces (¼ of a 16-ounce box) spaghetti noodles, cooked according to package directions
24 ounces spaghetti sauce
1 pound ground beef
salt and pepper, to taste
2 cups mozzarella cheese, shredded and divided
Garlic Butter
1 cup (2 sticks or 227g) butter, melted
2 tablespoons garlic, minced
1 teaspoon kosher salt
1 tablespoon parsley, minced
Instructions
Preheat oven to 350°F. Line a sheet pan with parchment paper. Set aside.
Spaghetti
In a large skillet, over medium heat, brown ground beef until no longer pink. Add spaghetti sauce, salt, and pepper. Reduce heat to low and simmer for 10 minutes.
Add cooked noodles and toss to coat. Set aside and cover to keep warm
Garlic Butter
In a medium bowl combine butter, garlic, salt, and parsley. Stir until well combined.
Assembly
Cut the centers out of the tops of the rolls, making sure that the base of the bread remains attached, so not cutting all the way through. Place rolls on the parchment paper-lined sheet pan.
Spoon and brush the garlic butter sauce equally on each roll (inside and out). You will use 2-3 tablespoons of the garlic butter sauce per roll.
Fill each roll with 1 tablespoon shredded mozzarella cheese, ½ cup of the spaghetti mixture, and another 1 tablespoon mozzarella cheese.
Bake for 7-10 minutes, or until golden brown. Top with parsley, for garnish.