Amish Macaroni Salad is full of flavor, texture, and fresh ingredients. For a spring picnic or a light dinner side dish, make a big batch of this and watch it disappear!
MACARONI SALAD
Macaroni Salad is a staple at outdoor barbeques. I crave it when I head to graduations, summer parties, or any outdoor potluck. Does that stop me from making this recipe on a random Tuesday? Nope. I love this stuff. This Amish Macaroni Salad recipe is so sweet and tangy. My mouth is watering just talking about it.
The base for this dish is Miracle Whip, not mayo (sorry). Mayonnaise is great for many things, and it is typically my go-to for most recipes. However, we are looking for the sweet tang of miracle whip in this recipe. They are not interchangeable here.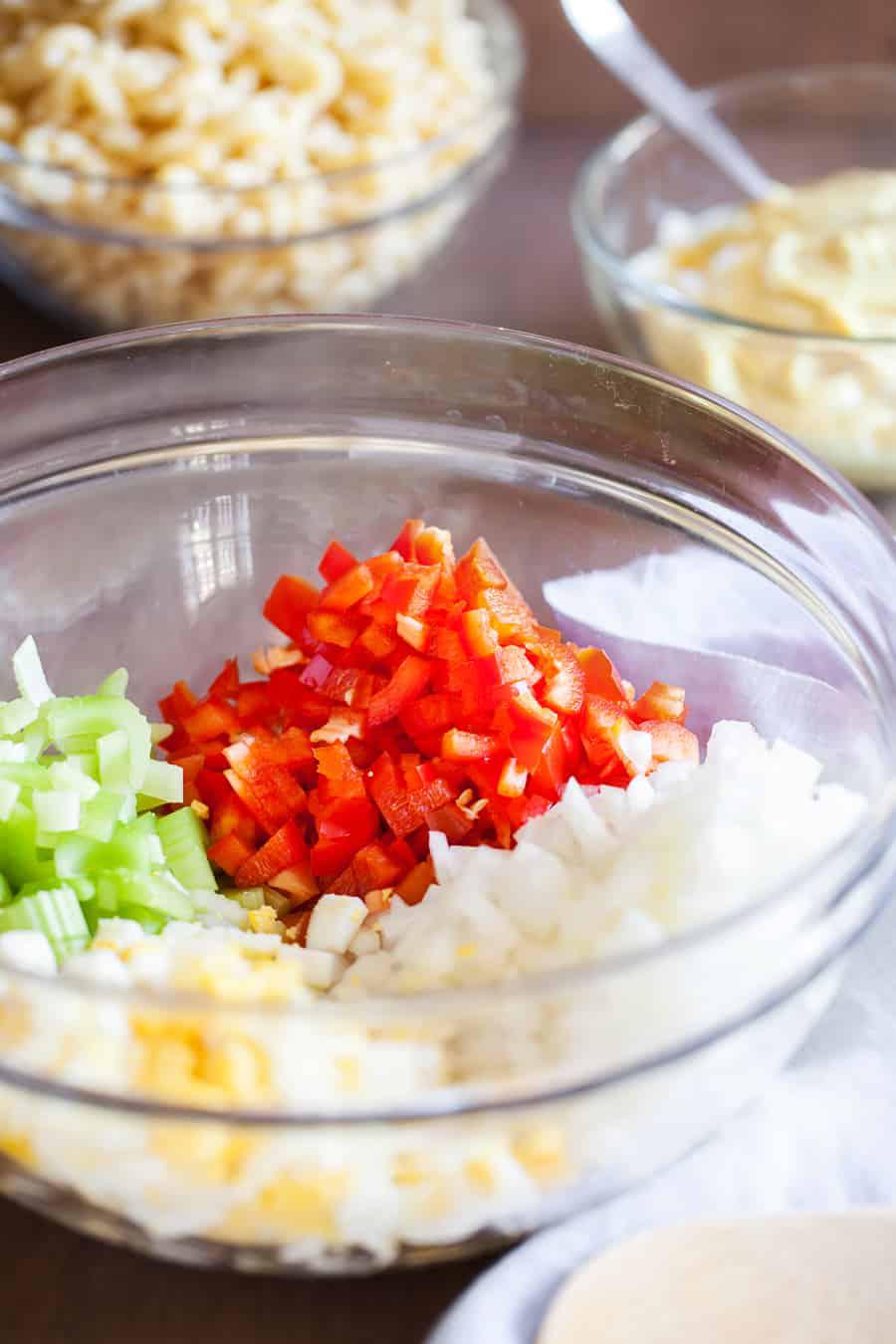 MACARONI SALAD RECIPE
If you have the time, make sure to let this Amish Macaroni Salad refrigerate for a while (overnight if you can). The chilling process allows all of the flavors to marinate together so nicely. I happen to think this is one of the meals that is better the next day. There are a few other variations that come up quite a bit. If you are like me, you look for variety in your food. I like to switch things up and keep it interesting so I almost always have a bag of tricks up my sleeve for modifying my recipes.
CAN I MAKE AMISH MACARONI SALAD WITH HAM?
Yes, and you probably should! Small chunks of sweet ham taste pretty good with this dish. In fact, when we cook up a crock pot honey ham, we typically chop up the leftovers and use it in this macaroni salad. You could probably mix in any number of meat variations and this would still be good. I am thinking oven roasted pulled pork or even cooked tuna fish.
CAN I MAKE THIS WITH A DIFFERENT TYPE OF NOODLE?
Yes, but I caution you from using noodles that get too flimsy like spaghetti or linguini noodle. That could make the dish taste a little mushy. I would stick with a more structured, solid noodle like an elbow macaroni noodle, a bow-tie, or even a fusilli noodle. Whatever you decide, cook to the package directions for al dente. Typically it is about 10-12 minutes.
Ingredients
12 ounces box elbow macaroni prepared according to package
3/4 teaspoon celery seed
1/4 cup sugar
2 teaspoons white vinegar
3 tablespoons yellow mustard
2 tablespoons dill pickle relish
2 cups Miracle Whip Salad Dressing
3 stalks of celery chopped
1 small vidalia onion chopped (sweet onion)
1 small red bell pepper seeded and chopped
4 hard-boiled eggs chopped
1/2 teaspoon salt
Instructions
Heat a large pot to boiling and cook the macaroni for the time instructed on the packaging minus 1 minute (ie. if the instructions say cook for 9 minutes, cook for 8 minutes). Drain and rinse under cold water.
In a large bowl, add the eggs, red bell pepper, onion, and celery. Stir to combine.
In a separate medium bowl, whisk together the dressing, relish, mustard, vinegar, sugar, celery seed, and salt.
Pour half of the dressing mixture into the egg mixture. Stir to combine. Add all of the cooled macaroni and stir to coat. Add in more dressing, if needed. Serve immediately or cover and chill in the refrigerator until ready to serve.