An entree and a side dish all in one pan, this Country Meat, and Mashed Potatoes Casserole will disappear before your eyes! With the most juicy and flavorful meat on the bottom and a thick layer of skin-on mashed potatoes on top, you may want to double this recipe. If there are any leftovers (not likely!), it keeps really well for lunch the next day.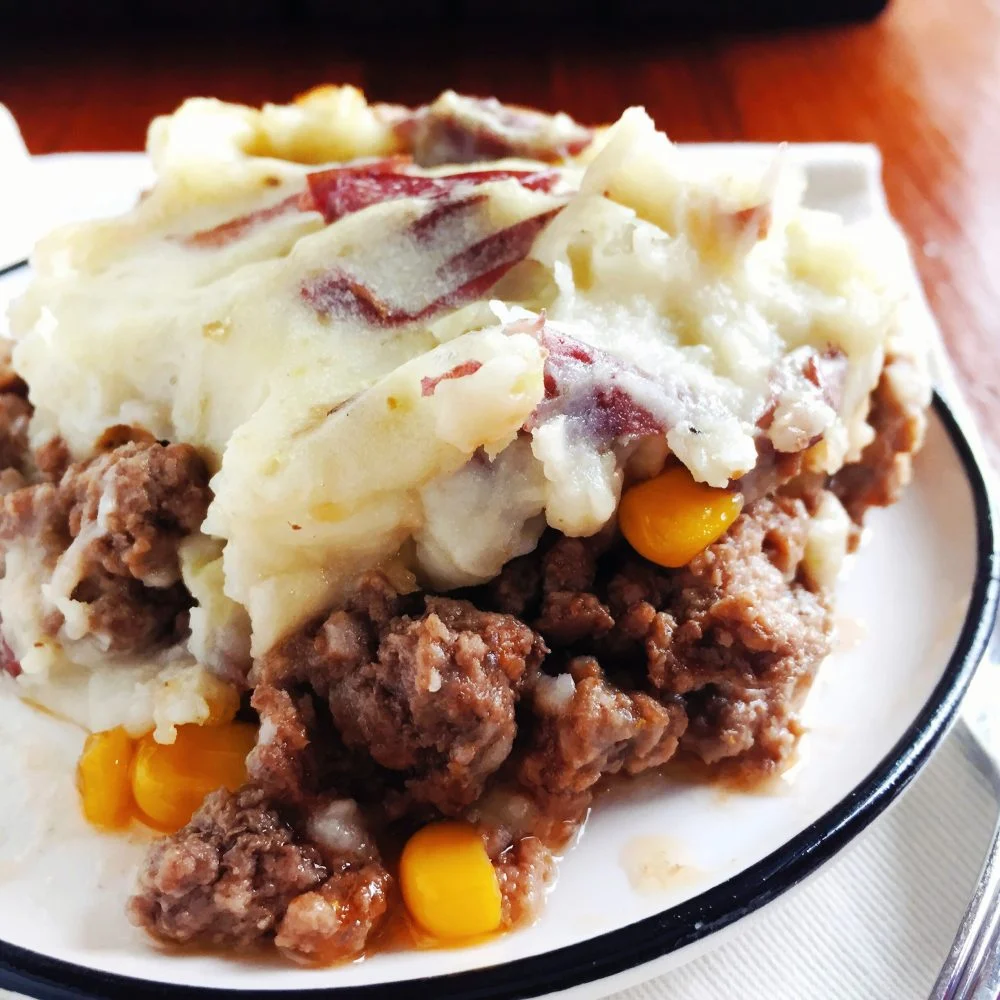 Country Meat and Mashed Potatoes
One of my favorite parts about this recipe is the skin-on mashed potatoes. This is how mom and her mother before her made them and it brings up such great memories! You can peel your potatoes of course. The recipe will remain the same when the potatoes are peeled. Get the recipe for Country Mashed Potatoes here.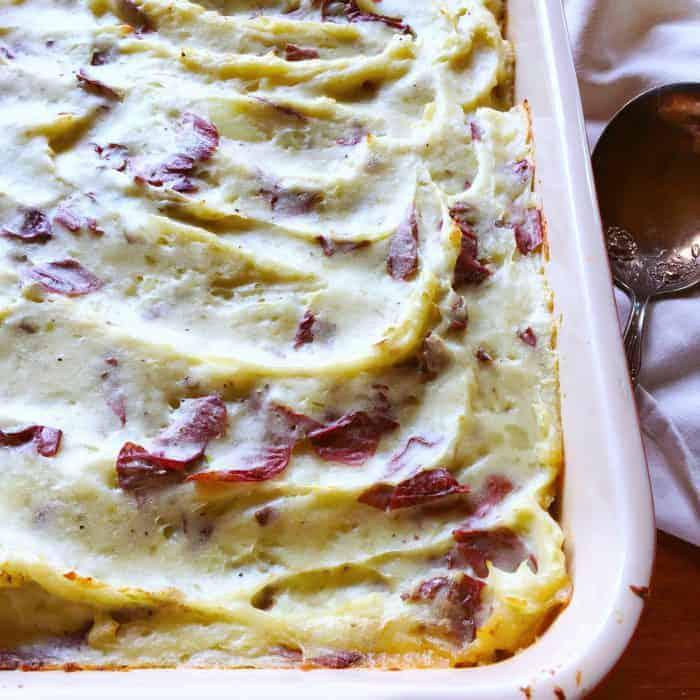 Meatloaf
Meatloaf has always been a favorite around this household. We like to make it a few different ways, my magic meatloaf recipe is also a family favorite. When you think of meatloaf, you should also be thinking about mashed potatoes. It is a rule. So, the pairing of these two dishes was a no-brainer! Our kids love cheese so sometimes we will shake this recipe up and bit and throw piles of shredded cheddar cheese and bacon on top. Kind of like a loaded baked potato. Serve it up with some sour cream and, in my case, some ketchup. I personally don't agree with the ketchup combo but I have been overruled in that department.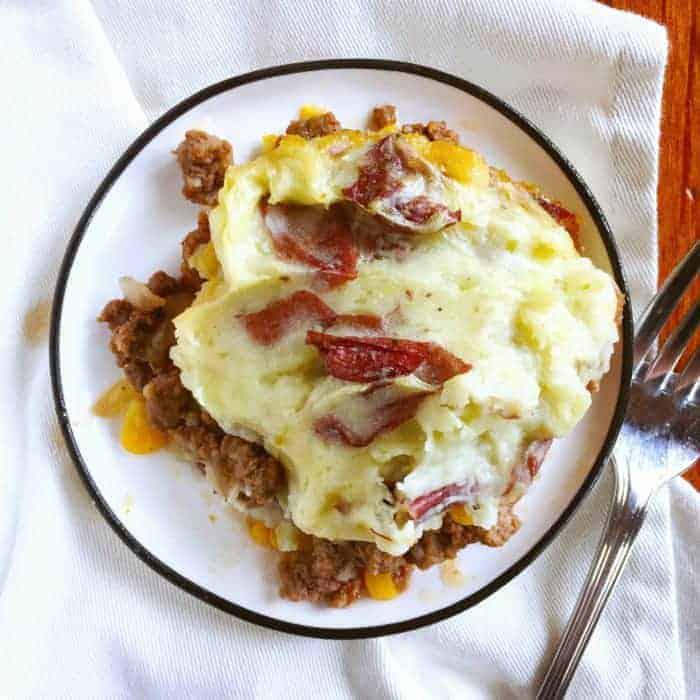 Country Mashed Potatoes
So, the mashed potato recipe I used is the ONLY mashed potatoes recipe that is allowed in my house. You can use whatever makes the most sense. People get really defensive when you say that your mashed potato recipe is the best. But it is. Just saying. I have seen some people use a cheesy mashed potato or sour cream and chive mashed potato recipe. I won't fight you on it. Mashed potatoes can be amazing any way you like them, just don't use the box stuff or we will have to have words.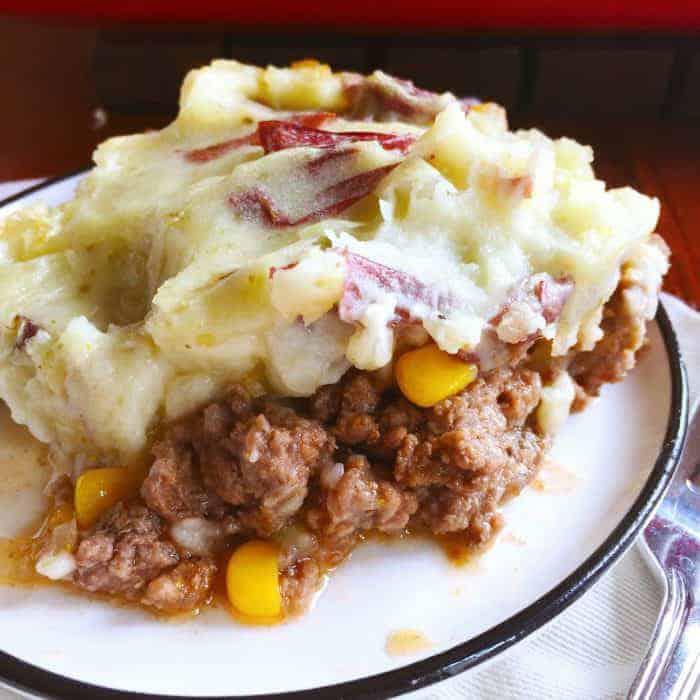 How to make Country Meat and Mashed Potatoes
This recipe whips up rather quickly. Once you have the potatoes done, everything moves pretty quick. You basically throw everything into a skillet until the ground beef is no longer pink. Then you spread it out into your baking dish, making an even layer. Top with the mashed potatoes and pop it into the oven for about 30-40 minutes. Feel free to leave out the corn. I know some people are not a fan of that.
I highly recommend trying to Skins On Mashed Potatoes, even if you don't make the entire casserole. They are simply AMAZING and your opinion of mashed potatoes will forever be changed! But be sure to try this Country Meat and Mashed Potatoes Casserole, sooner than later!
Ingredients
2 pounds ground beef
1/2 cup chopped onion
2 cloves garlic chopped
1 can corn drained
1/3 cup ketchup
1 teaspoon salt
1/2 teaspoon black pepper
Country Mashed Potatoes link in post
Instructions
Preheat oven to 350°F and grease a 9x13inch baking pan.
In a skillet over medium heat, brown onions and garlic until aromatic and translucent. Add beef and brown. Drain juices.
Add corn, ketchup, salt, and pepper and stir well.
Put the meat into the prepared baking pan and press down to spread out and form an even layer.
Carefully spread Country Mashed Potatoes over the meat and smooth out.
Bake uncovered for about 30 minutes.