Did you know I bake lots of cakes? Like, lots and lots of lots of cakes? This Yellow Cake Mix is the perfect way to get rid of box mixes or the perfect gift for a friend! This recipe also makes the perfect Birthday Cake!!!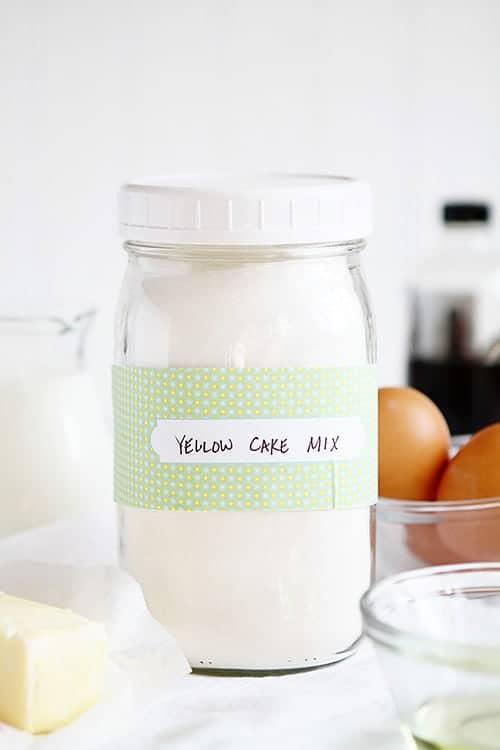 Yellow Cake Mix
There are two reasons that I finally ended up in this yellow cake recipe:
It's a one-bowl recipe.
It uses whole eggs, not 8 egg yolks.
Oh, and one more… it's the BEST! Tastes amazing.
(If you want this recipe written out to try my Birthday Cake recipe, it is the same delicious yellow cake only written to be made immediately.)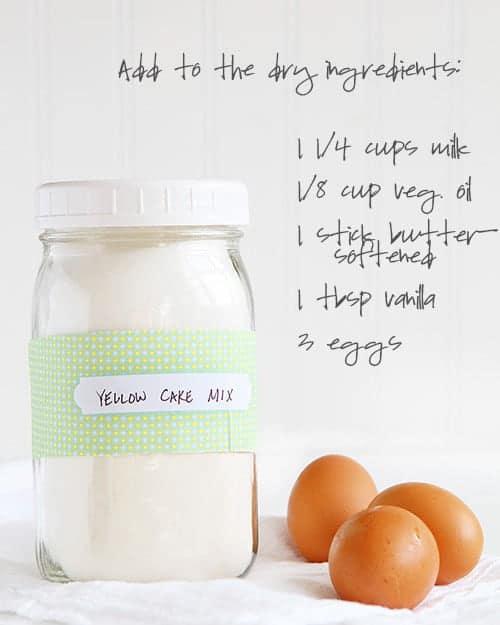 Homemade Cake Mix
The recipe is written to be stored. You prepare the dry ingredients, label, and store it in your pantry. When you are ready to bake the yellow cake, you remove from your pantry and add the wet ingredients. It is a great option if you have a few extra minutes the week before a birthday or special occasion! Not only can making your own cake mixes save you time, but they taste amazing and are real, natural ingredients!
If you want a yellow cake recipe check out this Birthday Cake version. Detailed tips and tricks on how to make this yellow cake from scratch when you do not need to make the yellow cake mix.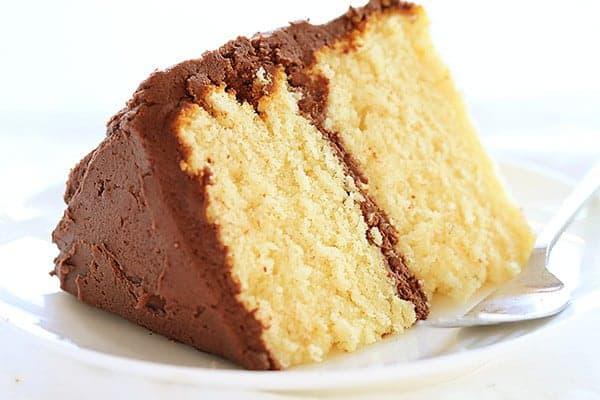 I couldn't help but pair this yellow cake with rich chocolate buttercream, as that is my favorite combination.
If you want to give this as a gift simply print out the 'wet' ingredients and the directions and attach to the jar. Be sure to add some instructions, though. Something like, "After the cake is cooled call me and I will be right over."
Ingredients
2¼ cups (281g) all-purpose flour
1½ cups (300g) granulated sugar
3½ teaspoons baking powder
1 teaspoon salt
1¼ cups milk
⅛ cup vegetable oil
½ cup (1 stick or 113g) butter, softened
1 tablespoon vanilla extract
3 large eggs
Instructions
Measure flour into quart size mason jar.
Add sugar on top, then baking powder, then salt. Place lid on jar. (My ingredients JUST fit)
When Ready to Prepare Cake Batter
Place softened butter into stand mixer and mix on medium for 1-2 minutes.
Place dry ingredients into stand mixer and combine with butter for 30 seconds.
Add milk, oil, vanilla and eggs and mix on medium-high for one minute.
Pour batter into prepared pans. Bake at 350°F. For 8-inch pans it's 20-25 minutes. For cupcakes start checking around 15 minutes. To make in a 9×13, bake for 30-38 minutes. Cool before frosting.