This Dark Chocolate Cake with Buttermilk Pecan Frosting was a fantastic surprise. My friend's mom requested it for her 70th birthday and sent me the recipe – her recipe was called "Rumble Cake".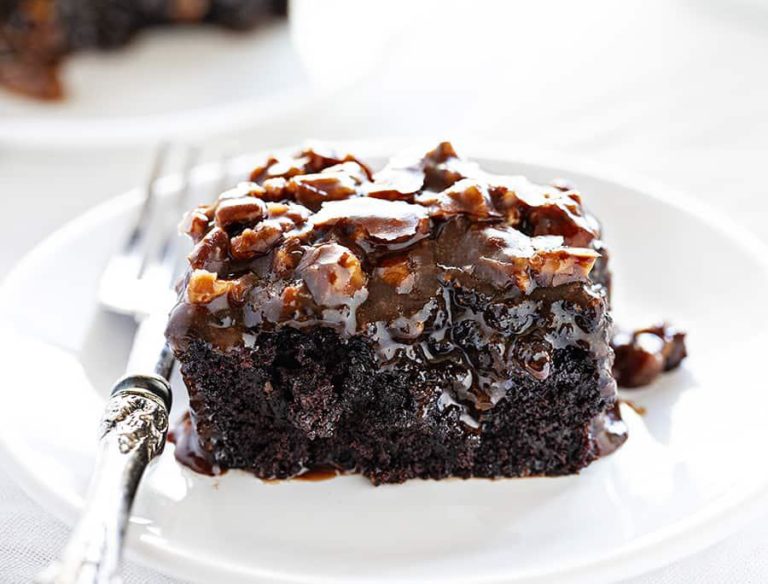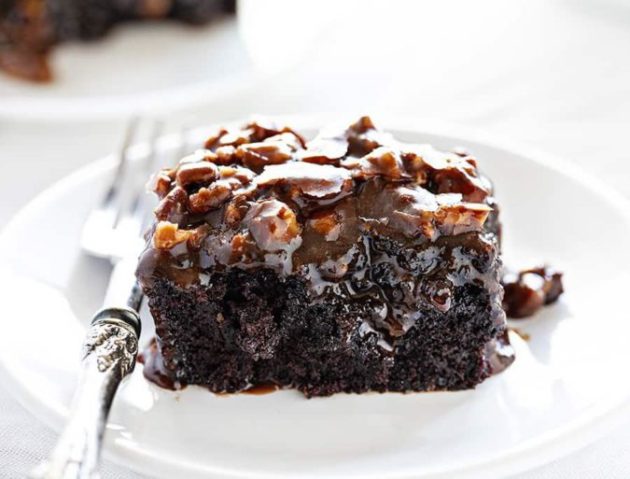 Dark Chocolate Cake Recipe with Coffee
I have many recipes on my site for chocolate cake and most of them use coffee. Coffee will enhance the flavor of the chocolate, not overpower it. If your recipe is good (and this one is) you will not taste the coffee at all, you will only taste the richest chocolate cake you have ever had.
This recipe utilizes brewed coffee. Some recipes will call for instant coffee crystals or espresso coffee.
What Can Be Substituted for Coffee?
You may substitute WATER for the coffee if you prefer, but the chocolate flavor will not be as intense.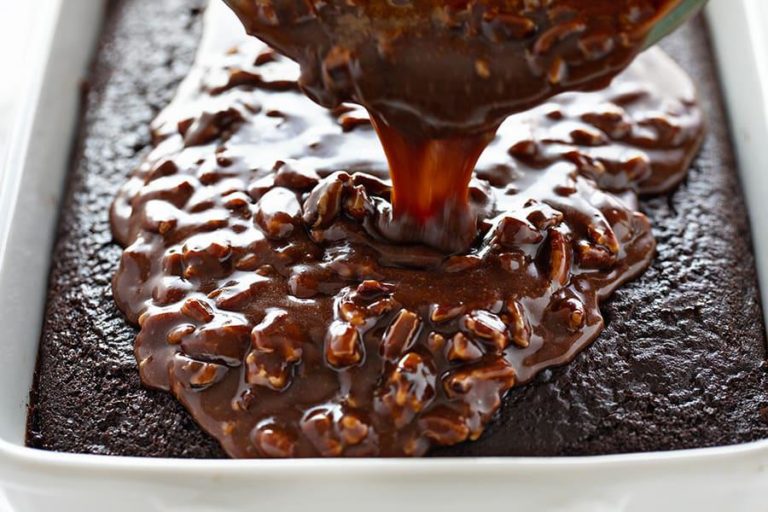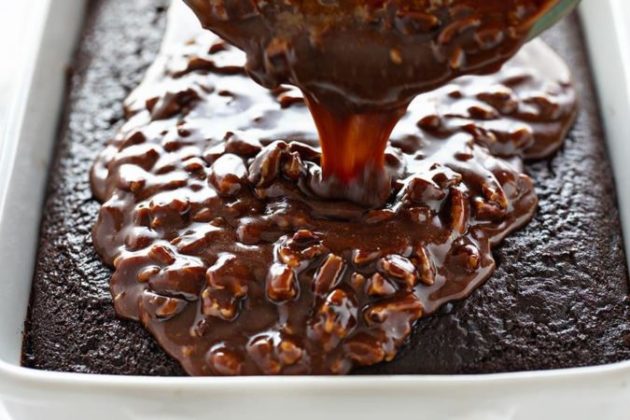 Cocoa Powder vs. Dark Cocoa Powder
Basic unsweetened cocoa powder works great in most chocolate cake recipes. For this recipe, I used Hershey's Special Dark, but Dutch-process cocoa powder and black cocoa powder will also work. Dutch-processed and black cocoa powder gives a beautiful color and more complex depth of flavor, i.e. more pure bitter chocolate flavor. When testing this cake without frosting, we noticed that while it had powerful chocolate flavor, it did not taste as sweet as when I used traditional natural cocoa powder.
When using the dark chocolate, the final appearance of the cake can appear black, so some have referred to it as a blackout cake.
The beauty in this specific recipe is the pairing of the dark chocolate cake with the buttermilk pecan frosting. The frosting is so beautifully sweet that is complements the cake.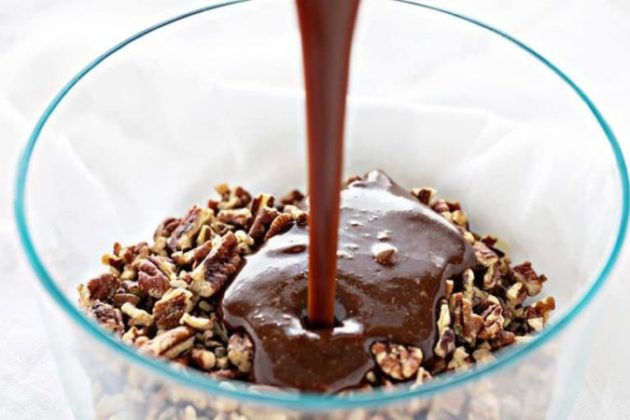 Buttermilk Pecan Frosting
The method is not as important as ingredients. A shocking thing for me to say on a baking blog! The first time I made the frosting I added all the ingredients (except the confectioner's sugar) to a cold pan and stirred. Removed from heat and added the sugar. It was just fine and you can absolutely do this. The second I made it is how I have listed it in the recipe… melted the butter, sugar, and buttermilk together then removing from heat and adding the confectioner's sugar and vanilla. Once I reached the consistency I wanted (adding 3 total cups of confectioners sugar instead of the two that the original recipe called for) I poured it over the pecans and stirred. Feel free to just add the pecans to the frosting too.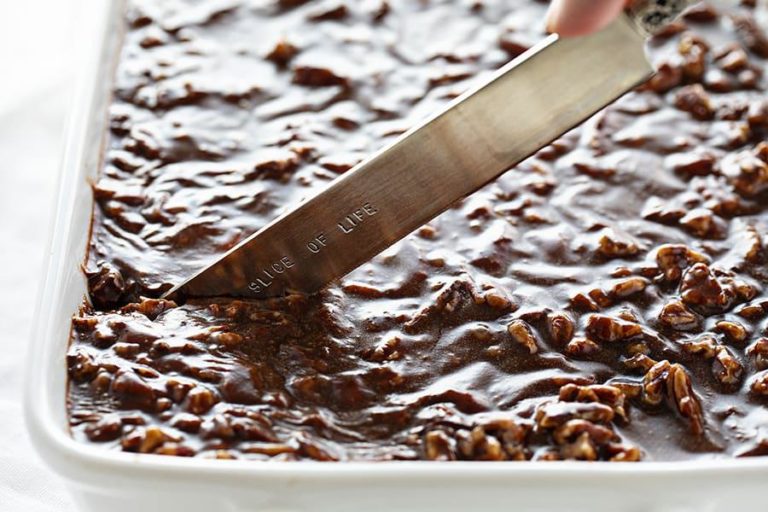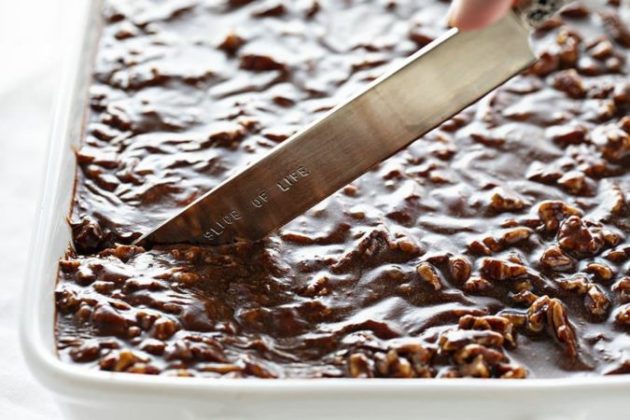 The 2nd method worked every single time I tested it and I always want to make sure I am providing the best no-fail options when sharing recipes with you.
I used dark cocoa powder in this frosting as well as the cake. If you are using regular unsweetened cocoa powder, you may want to decrease the amount of butter (only use 1/2 cup) and decrease the amount of sugar.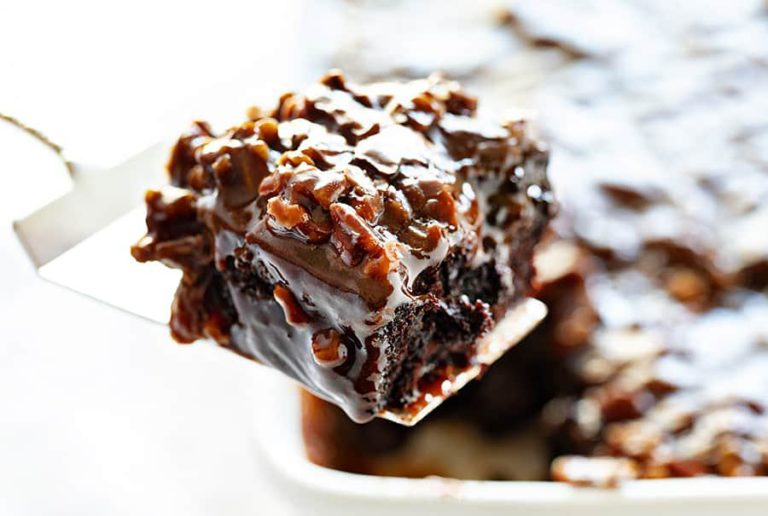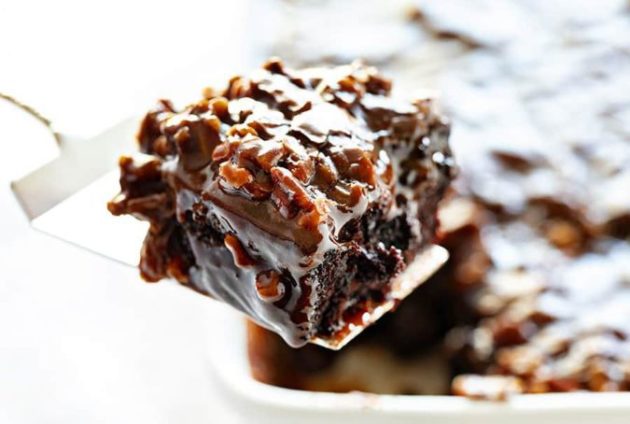 After pouring the frosting over the warm cake, let it sit. This was tough as I wanted to dive right in, but is important if you want the frosting to soak into the cake. Allowing it to sit also helps the frosting set up and be less runny when you cut into it. The images in this post show the cake after having sat for 2 hours, and you can see that it is still a little runny, which is a beautiful thing.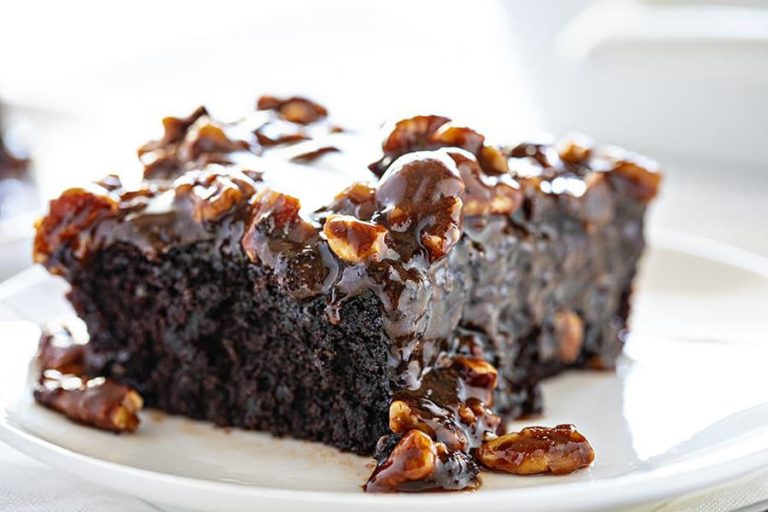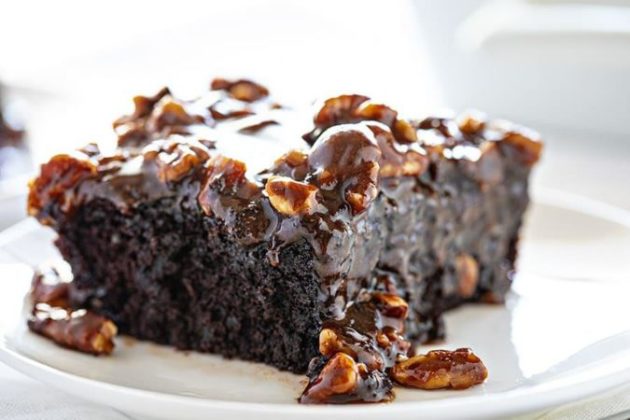 How to Serve Chocolate Cake with Buttermilk Frosting
Warm is key. Everything is ooey-gooey perfection. I was tempted to add vanilla ice cream (and trust me, I wouldn't judge you if you did) but found that it didn't need it. You get a trifecta of amazing with each slice: flavor, texture, and beauty.
If you are making this cake ahead of time, be sure to warm it slightly before serving. You can either pop the pan in the oven at 200°F for a few minutes or microwave individual slices.
If you want to be a rebel, serve it cold. Like straight-out-of-the-refrigerator cold. The texture is different, more solid, but the way cold chocolate cake tastes is different than warm. Just try it.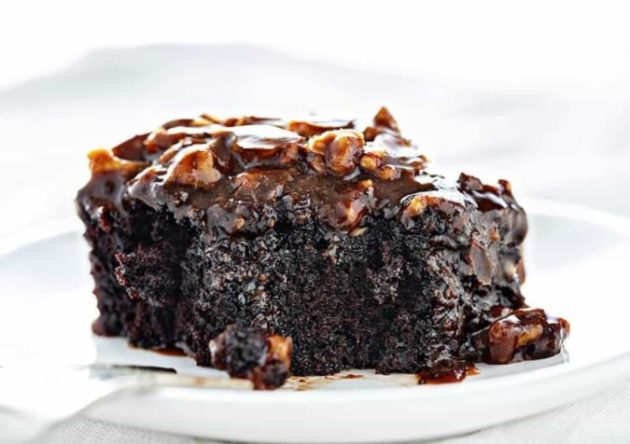 Can You Freeze This Chocolate Buttermilk Cake?
You can certainly freeze the cake, but I do recommend waiting until it thaws to add the buttermilk pecan frosting.
This chocolate cake will freeze well if it placed in the freezer the same day you make it. Make sure that it is completely cool before preparing it for the freezer.
Here's what I do:
Allow the cake to cool in the pan fully. Place a layer of plastic on top of the cake and then place a cutting board or cooling rack on top. Flip the cake over. Wrap the plastic up over the edges of the cake and then add another large piece and wrap it again as tightly as possible without crushing the cake. Make sure that none of the cake is exposed in the freezer as this can cause freezer burn. Now wrap it in a layer of foil. Label and date the cake. The cake will freeze well for 1 month and should be fine for up to 3 months.
To thaw the cake, remove from the freezer and set on the counter. After about 30 minutes, remove the foil and remove the bottom piece of plastic wrap. Place on a serving platter and flip the cake over so that it is now right-side up. It should thaw completely after 2-3 hours at room temperature. Prepare your Buttermilk Pecan Frosting and serve!
INGREDIENTS
CHOCOLATE CAKE
1 3/4 cup all-purpose flour
3/4 cup dark cocoa powder
2 cups granulated sugar
2 teaspoons baking soda
1 teaspoon baking powder
1 teaspoon salt
2 eggs, beaten
1 cup coffee
1 cup buttermilk
1/2 cup vegetable oil
1 teaspoon vanilla
BUTTERMILK PECAN FROSTING
1 cup butter
1/2 cup dark cocoa powder
1/3 cup buttermilk
1 teaspoon vanilla
3 cups confectioners sugar
1 cup pecans, roughly chopped
INSTRUCTIONS
CHOCOLATE CAKE
In a large bowl combine flour, cocoa, sugar, baking soda, baking powder, and salt. Whisk to combine.
Add eggs, coffee, buttermilk, oil, and vanilla to the dry ingredients and stir using a spatula or whisk until ingredients are fully combined.
The batter will be dark and very runny.
Pour into a prepared (greased or parchment-line9x13 pan and bake for 40-50 minutes. Start checking at 40 minutes, if the cake jiggles at all or an inserted toothpick is removed with wet batter, the cake is not done. When an inserted toothpick is removed with a few crumbs (not clean!) the cake is done.
BUTTERMILK PECAN FROSTING
In a saucepan, heat the butter, cocoa powder, and buttermilk on medium-low heat until butter is melted. Stir occasionally to incorporate ingredients.
Remove from heat and add the vanilla. Add confectioners sugar 1 cup at a time. Depending on the humidity and your kitchen circumstances, you may be able to use less confectioners sugar. You want the frosting to be like a runny pancake batter.
Add pecans to the frosting or pour frosting over the pecans. Stir.
ASSEMBLY
When cake has cooled for at least 15 minutes, pour frosting over the cake. Let sit for about 1 hour before cutting, or refrigerate for 30 minutes.