This bite-sized bacon-wrapped shrimp appetizer is so easy to prepare, and they look and taste elegant enough for a very special party. For serving, transfer them to a warming tray or in a slow cooker.
Generally, a pound of medium shrimp should make about 45 appetizers. Large shrimp would make about 30 to 35 and would use 10 to 12 strips of bacon. The recipe is easily multiplied for a crowd.
For added flavor, you may try marinating the shrimp in an easy lemon and olive oil marinade.
Perfect if you're looking for something a little different to serve guests, you can't go wrong with these elegant shrimp bites, pleasantly seasoned with bacon and jalapeno.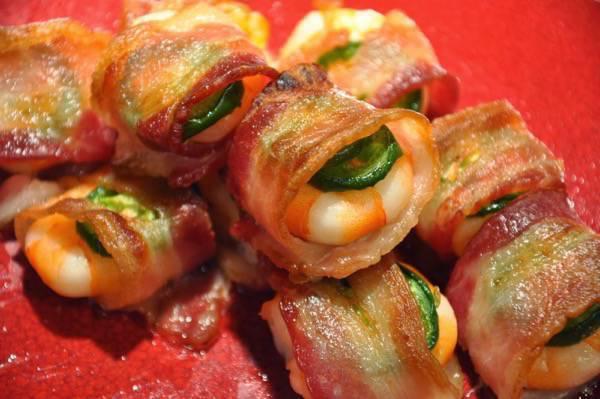 Ingredients
1 lb of bacon (thin sliced)
1 lb. shrimp
fresh jalapeno sliced
Instructions
Clean and devein all the shrimp.
Cut the bacon in half.
Lay one slice of jalapeno in the center of the bacon top with a shrimp, fold bacon over shrimp and put on foil wrapped cookie sheet seam side down.
Turn broiler on and set pan on second level from the top.
Broil until just starting to brown, check often.
Turn oven to 400 and move pan to bottom and cook for about 5 minutes more to help brown the bottom.