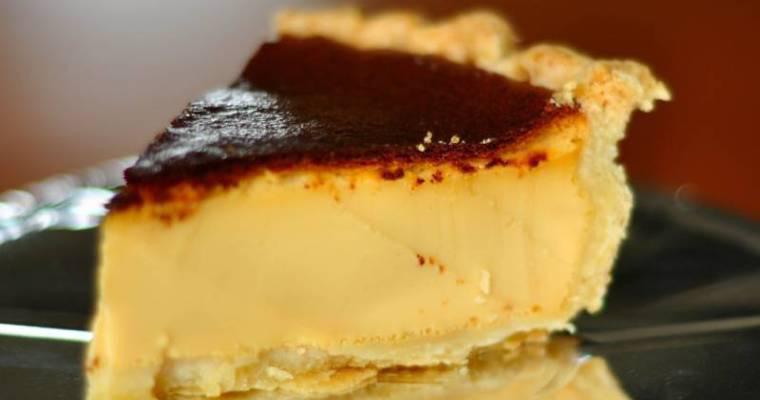 Ingredients
1 cup evaporated milk
4 large eggs and another 1 large egg with white and yolk separated
1 tsp vanilla extract
1 tsp fresh kalamansi or lemon juice
1 can condensed milk (14oz)
Instructions
In a mixing bowl, combine flour, sugar and salt. Mix well. Add butter and mix thoroughly with other ingredients using a pastry mixer.
Gradually add the cold water to the mixture. Continue mixing until all the ingredients are well combined.
Gather and shape the dough into a large ball. Refrigerate for at least 30 minutes.
On a clean flat surface sprinkled with flour, flatten the dough using a rolling pin into about ½ centimeter thick and wide enough to cover a 9″ pie pan/dish (I broke my pie dish so I just use a regular round baking pan).
Arrange and press the flattened dough on the baking pan or pie dish. Use kitchen shears to trim the dough to about a half-inch overhang. Save the scraps. You can use those to bulk up thin areas of the crust when you're fluting the edges.
Crimp the edges either with a fork or by pinching around the edge with your fingers. I did the latter. Keep the dough in the refrigerator while making the filling.
For the filling:
Heat the evaporated milk in the microwave oven for 1 minute.
In a large mixing bowl, combine and whisk the 4 eggs and the separated egg yolk. Gradually add the condensed while whisking. Add the vanilla extract and lemon juice, and continue whisking until all ingredients are well combined.
Add the evaporated milk and mix well with other ingredients.
Using an electric mixer, beat the egg white until it forms soft peaks.
Fold the beaten egg white into the mixture. (The beaten egg white will give the top of the egg pie a brown color after baking.)
Baking the Pie:
Preheat oven to 350 degrees F. Pour the filling on the refrigerated pie crust.
Bake for 15 minutes at 350 degrees F then lower the heat to 325 degrees F and continue baking for 40 to 45 minutes or until toothpick inserted in the filling comes out clean.
Remove the egg pie from oven and allow to cool down. Serve with your favorite drink either for dessert or snack.