Cinnamon Biscuits are lightly sweetened biscuits infused with cinnamon flavor and topped with a light crust of cinnamon and sugar. Delicious all on their own, but incredible with a smear of honey butter. These are great for breakfast or as a compliment to dinner.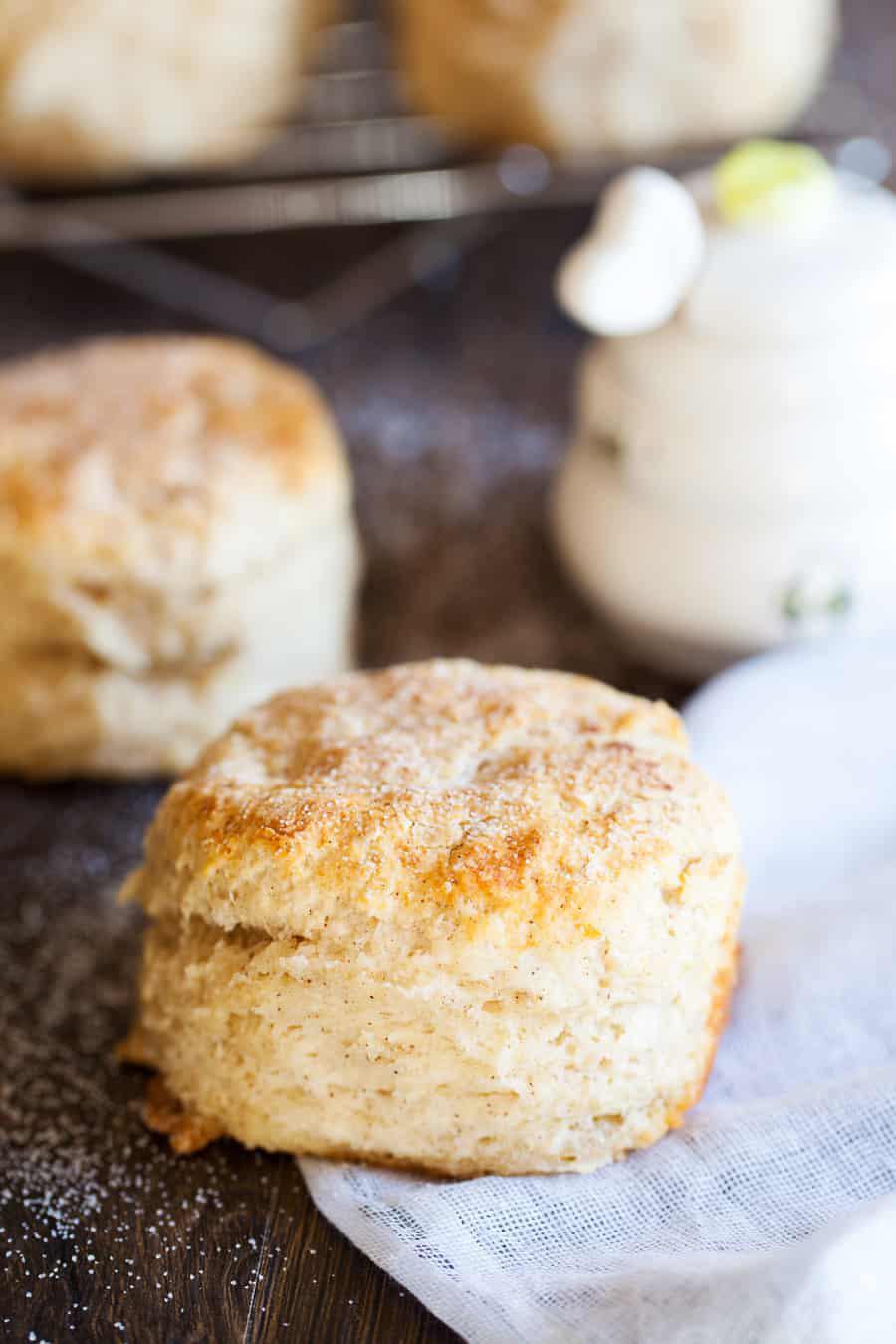 CINNAMON BISCUITS WITH HONEY BUTTER
Flaky, buttery biscuits are a breakfast favorite around here. BUT have you ever had a sweet biscuit? Give these cinnamon biscuits with honey butter a try and they will become your breakfast favorite. Served up with a glorious batch of honey butter and breakfast will never be the same. It is kind of hard to describe, but, have you ever been to one of those restaurants where they slap a bowl of bread on the table and a tin of butter? You take your bread and smear on a healthy slab of butter and take a bite and are instantly transported into some sort of euphoria because the butter is sweet and you just broke all the rules and had dessert before supper. Have you? This is what you can expect. You will honestly think you are biting into a soft, fresh from the oven cinnamon and sugar donut. The flavor is so delicious, but do not be fooled, these biscuits are not fried!!
Since these babies are covered in cinnamon and sugar, obviously my kids love them. They are a really nice alternative to regular biscuits. You can use them as a pre-dinner appetizer, a snack, or with breakfast. We love them with a cup of coffee in the morning.
HOW TO MAKE CINNAMON BISCUITS
One of the best things about this recipe is how easy it is to prepare. You will mix the dry ingredients with the wet to create a dough and then add a sweet sugar coated topping. To do this, start with a large bowl to combine the dry ingredients. Add the flour, baking powder, sugar, salt, and cinnamon, and stir to combine it all. Using a fork or a pastry blender, cut in the pads of butter until the mixture becomes crumbly. Pour in the milk and continue stirring until a dough forms. Transfer the dough to a floured surface and start to form about a 7-inch disc of dough. Once you have that prepared, grab a round cutter and cut out your biscuit shapes. Transfer the cut out biscuits to a prepared baking dish. You can bring together any leftover dough to form a couple more biscuits.
For the sugar-coated topping, grab a small bowl and combine the sugar and the cinnamon. Sprinkle the entire mixture over the top of the biscuits and pop the dish into the preheated oven for about 14-16 minutes, or until the cinnamon biscuits start to turn a golden brown. While the biscuits are cooking, prepare the honey butter by combining butter with honey.
This dish is best served up hot and fresh right out of the oven!
Ingredients
CINNAMON BISCUITS
2 cups flour
1 tablespoon baking powder
2 teaspoons sugar
½ teaspoons salt
1/2 teaspoon ground cinnamon,
¼ cup cold butter, diced
3/4 cup milk
CINNAMON BISCUIT TOPPING
1/8 cup sugar
1/4 teaspoon cinnamon
HONEY BUTTER
1/4 cup butter
1/3 cup honey
Instructions
CINNAMON BISCUITS
Pre-heat oven to 450°F and grease an 8-inch cake pan.
In a large bowl, whisk together the flour, baking powder, sugar, cinnamon, and salt.
Cut in the butter using a pastry blender until crumbly. Add the milk and stir until a dough forms.
Transfer the dough to a floured surface and using your fingers, pat down into a 7-inch disc. Use a round cutter to cut dough into rounds and transfer to the prepared cake pan. Bring together any leftover dough scraps and repeat.
CINNAMON BISCUIT TOPPING
In a small bowl, combine sugar and cinnamon. Sprinkle over the biscuits. Bake for 14 to 16 minutes, until golden. Let cool slightly in the pan before serving.
HONEY BUTTER
While the biscuits are baking, make the honey butter by stirring together the butter and honey. Serve with warm biscuits.