Homemade Mayonnaise is a creamy, delicious condiment with an egg and Dijon mustard base that is delicious on sandwiches, in salads, and as a dip. Try my Aioli recipe for a garlic mayo recipe.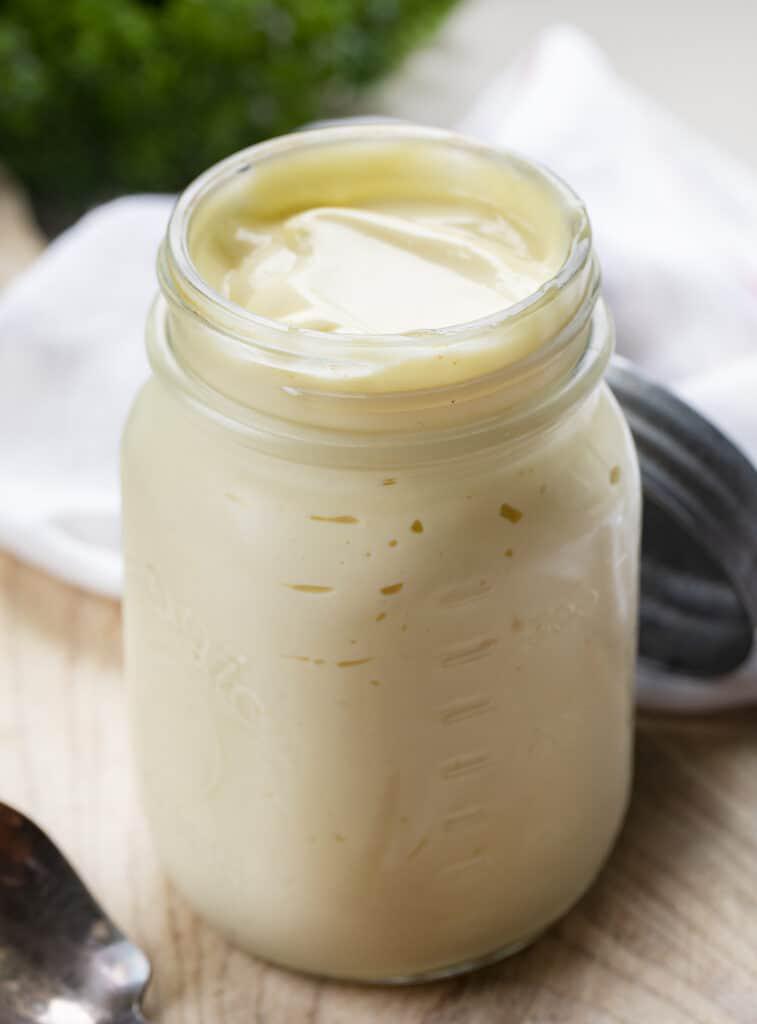 Homemade Mayonnaise
There really is no reason to buy mayonnaise when you can make your own to have on hand whenever you need it! It is easy to make and I love it for dipping homemade air fryer french fries! Mayonnaise is also a wonderful base for other dressings like my Russian Dressing and Homemade Ranch Dressing.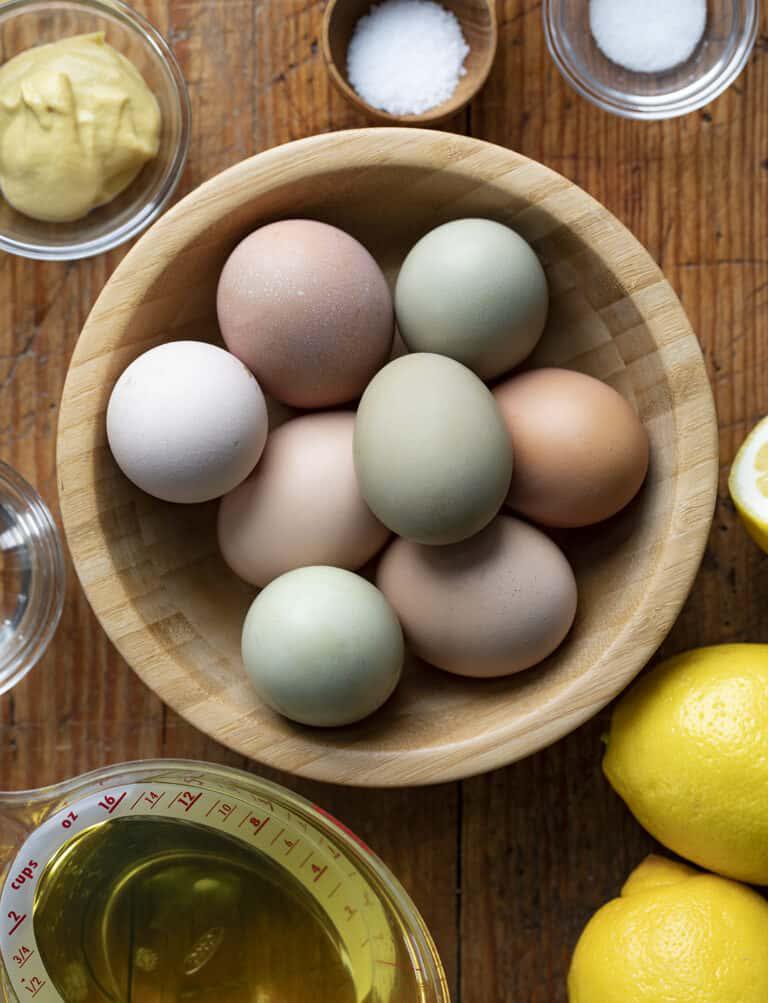 Homemade Mayonnaise Ingredients
Eggs: Again, this recipe does contain raw eggs, so if you are pregnant or have a compromised immune system, you may want to avoid this recipe.
Mustard: I used Dijon mustard in this recipe. Dijon mustard is made with brown or black mustard seeds and usually white wine. It definitely has a sharper and tangier flavor when compared with yellow mustard. However, you could use either in this recipe.
Vinegar & Lemon juice: The acids in both the white wine vinegar and lemon juice adds flavor to the mayonnaise. It also helps stabilize the condiment.
Oil: You will notice that the canola oil needs to be added slowly and gradually. The reason for this is that if you add the oil too fast, the liquids will not emulsify (combine).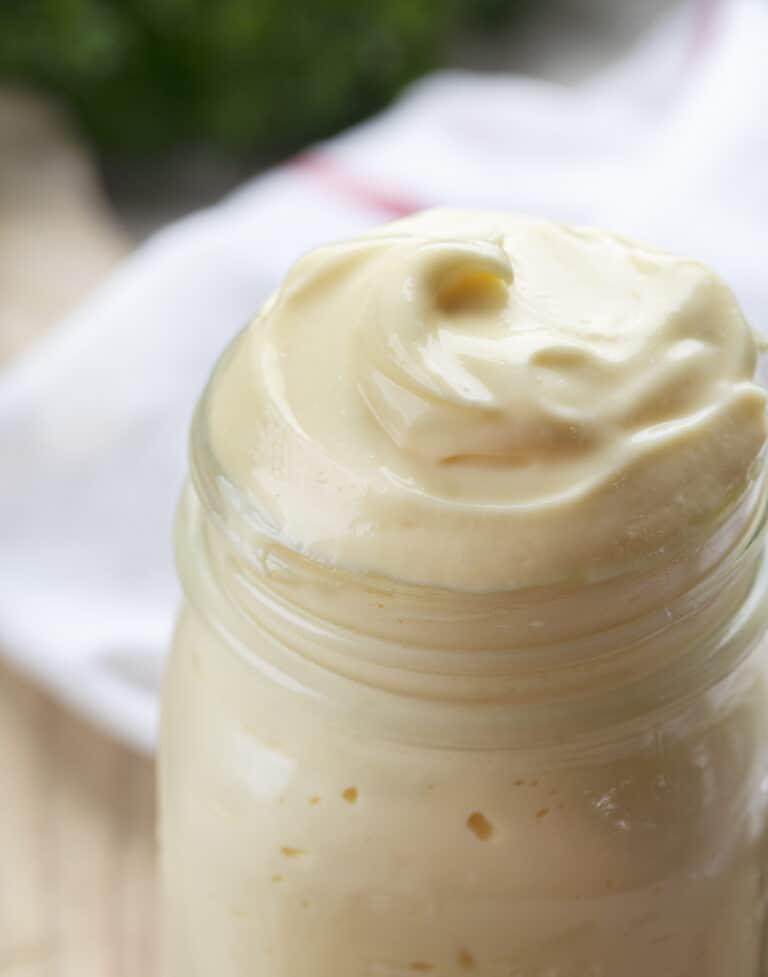 How to Make Homemade Mayonnaise
It's easy to make homemade mayonnaise and the taste is definitely a step up from storebought mayo. To get started, first, add the eggs, mustard, vinegar, lemon juice, salt, and sugar to the bowl of a food processor. Process the ingredients for about 30 seconds, or until the mixture is smooth and combined.
With the processor on, SLOWLY add the oil. Again, if you add the oil too quickly, the liquids will not combine. The mixture will begin to thicken and become an emulsion. This is when everything is completely blended together. Store the mayonnaise in an airtight container for 3-4 days. Do not freeze homemade mayo.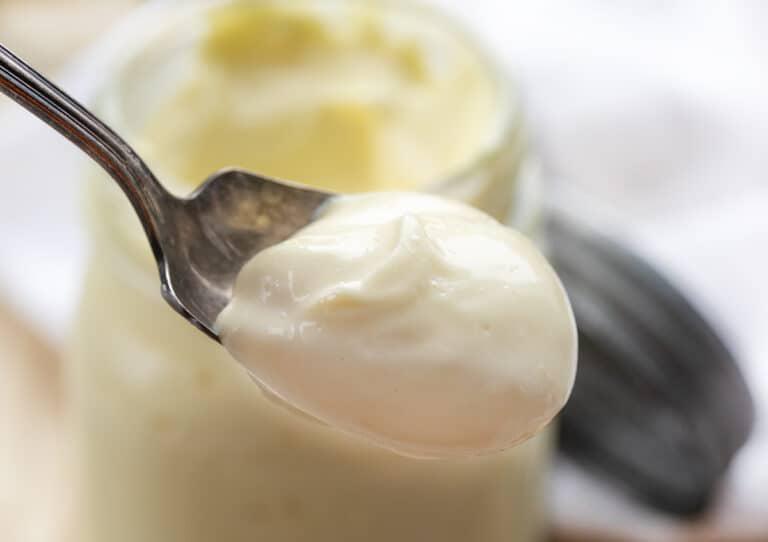 Ingredients
2 large eggs
4 teaspoons Dijon mustard
2 tablespoons white wine vinegar
4 teaspoons lemon juice, fresh squeezed
1 teaspoon kosher salt
¼ teaspoon granulated sugar
2 cups canola oil
Instructions
To the bowl of a food processor, add egg, Dijon mustard, vinegar, lemon juice, salt, and sugar. Process for 30 seconds, or until smooth & combined.
With the processor on, slowly add the oil in a thin stream, as gradually as you can, until the liquid thickens & lightens a bit, becoming an emulsion.
Store in a sealed container in the refrigerator for 3-4 days.