French Onion Cheesy Fries has all the flavor of French Onion Soup, but you can eat this dish with your fingers–no spoon required! But, you will definitely want a big plate because once you have one of these fries, you will not be able to stop eating them!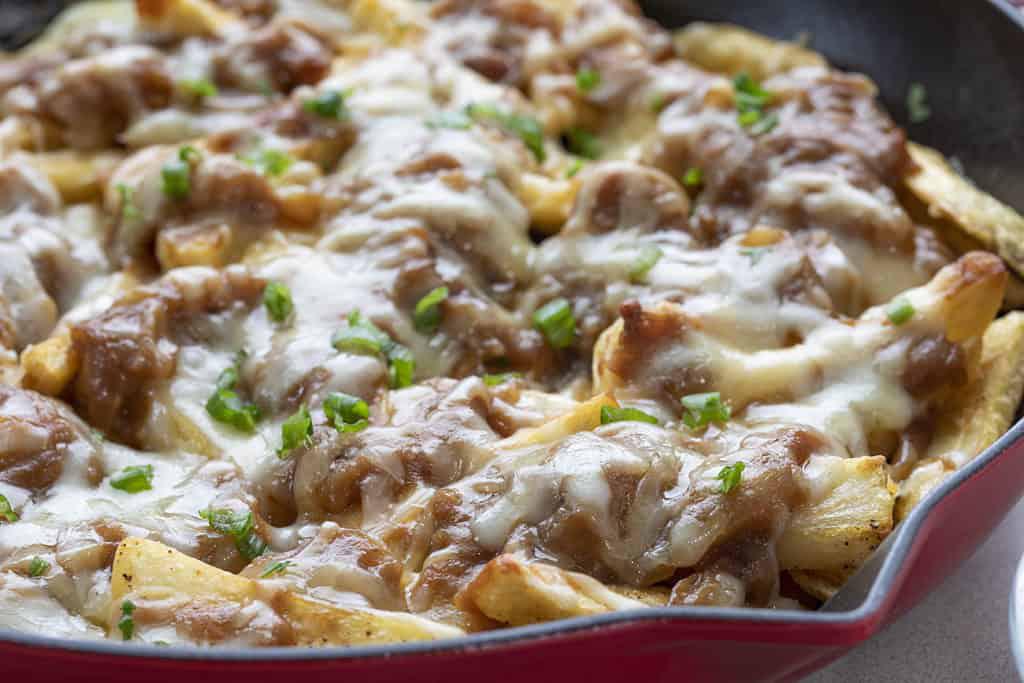 I have been on a French Onion kick lately. It had been a while since my Homemade Onion Soup Mix, but lately, I have expanded to making French Onion Dip, French Onion Deviled Eggs, Skillet Onion Dip, and my French Onion Zucchini Bake. I told you, there have been a lot of French Onion dishes around here! Well, I have added another recipe to that list. French Onion Cheesy Fries are steak fries loaded with caramelized onions and lots of cheese that will make your mouth water! I have to admit, I had a hard time sharing these since they were so good!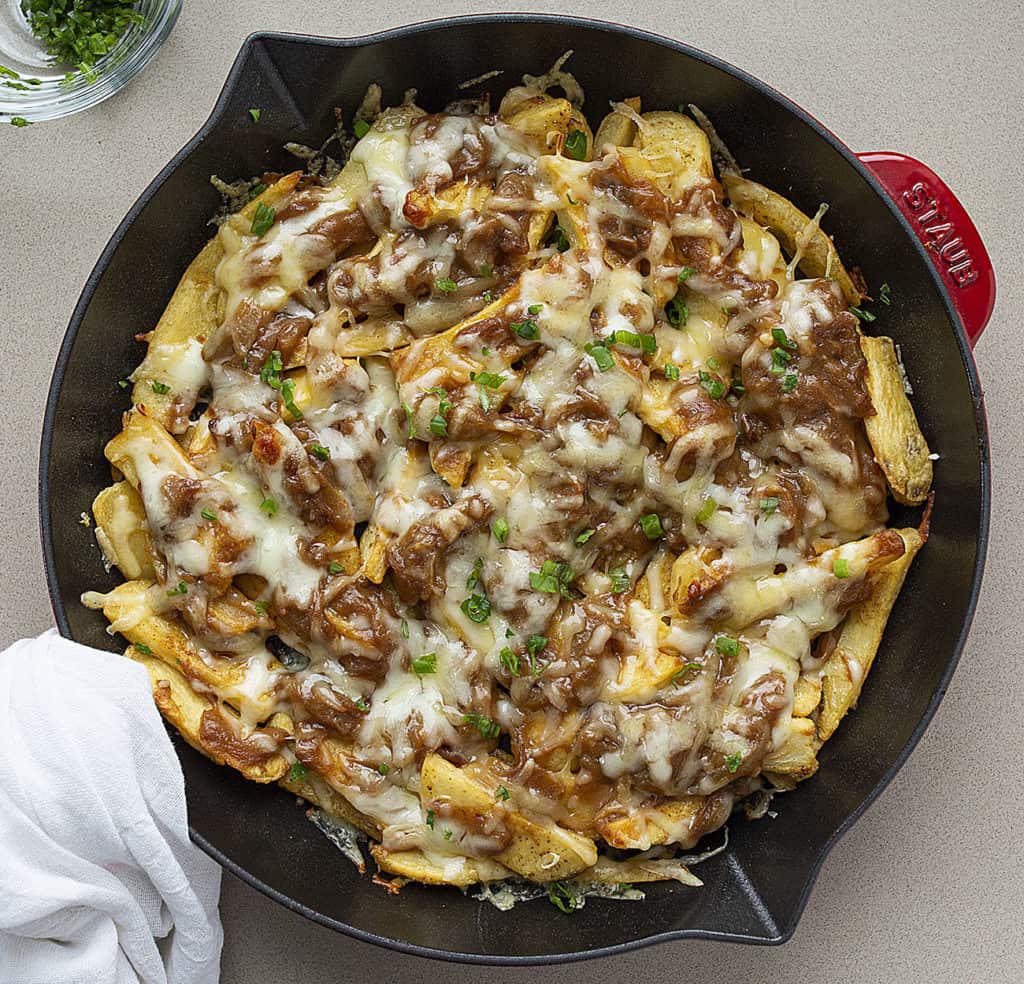 FRENCH ONION CHEESY FRIES RECIPE
It's all about the caramelized onions for this French Onion Cheesy Fries recipe. You could really step it up by making your own Roasted Potato Wedges if you feel motivated!
Ingredients (full recipe below)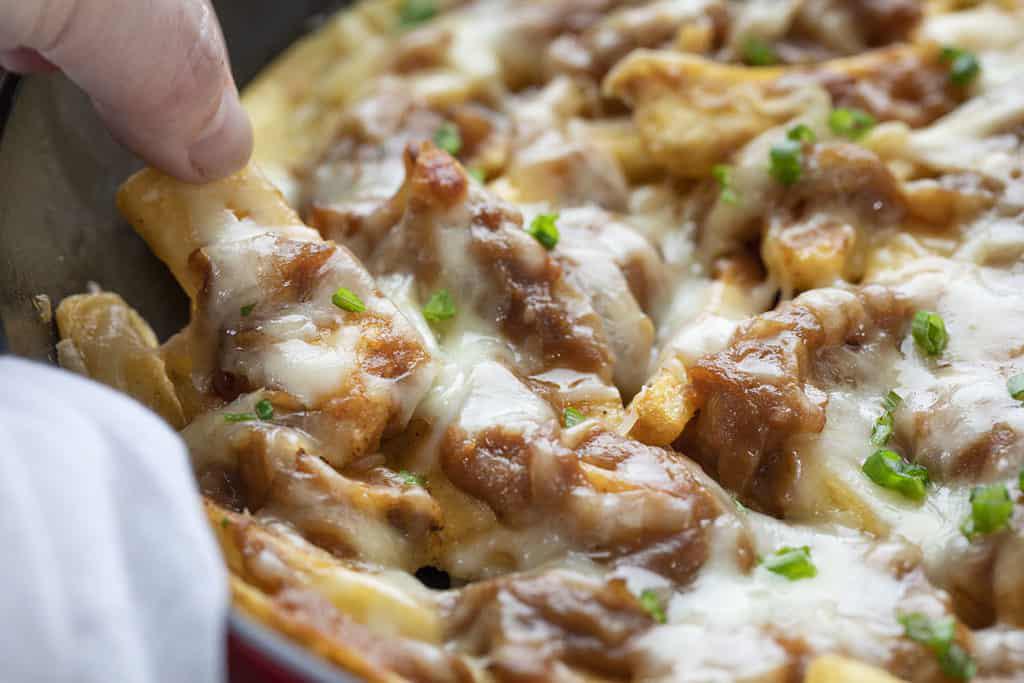 HOW TO MAKE FRENCH ONION CHEESY FRIES
Begin by cooking the frozen steak fries per package directions. (Or, remember, you could make your own potato wedges?). Once the fries have been cooked, be sure to adjust the oven temperature to 400°F and transfer the fries to an oven-safe skillet. While the fries are cooking, caramelize the onions and make the gravy topping that will smother this scrumptious appetizer.
To make the onion topping, begin by melting the butter over medium-high heat. Add the onions and cook them for 15-20 minutes, or until they are brown and tender. While the onions are browning, mix the beef broth and flour in a small bowl. Pour this mixture over the onions, add the salt, and bring the onion mixture to a boil. This will end up being more of a gravy at this point.
Pour the onion mixture over the cooked fries that you have placed in an oven-safe skillet. Top it all off with the shredded provolone and shredded Gruyere cheese. With the oven temperature now at 400°F, bake the skillet of smothered fries for 10-15 minutes, or until the cheese is melted. Top with parsley, if you wish. But, you better dig in right away! These will not last long, I can assure you!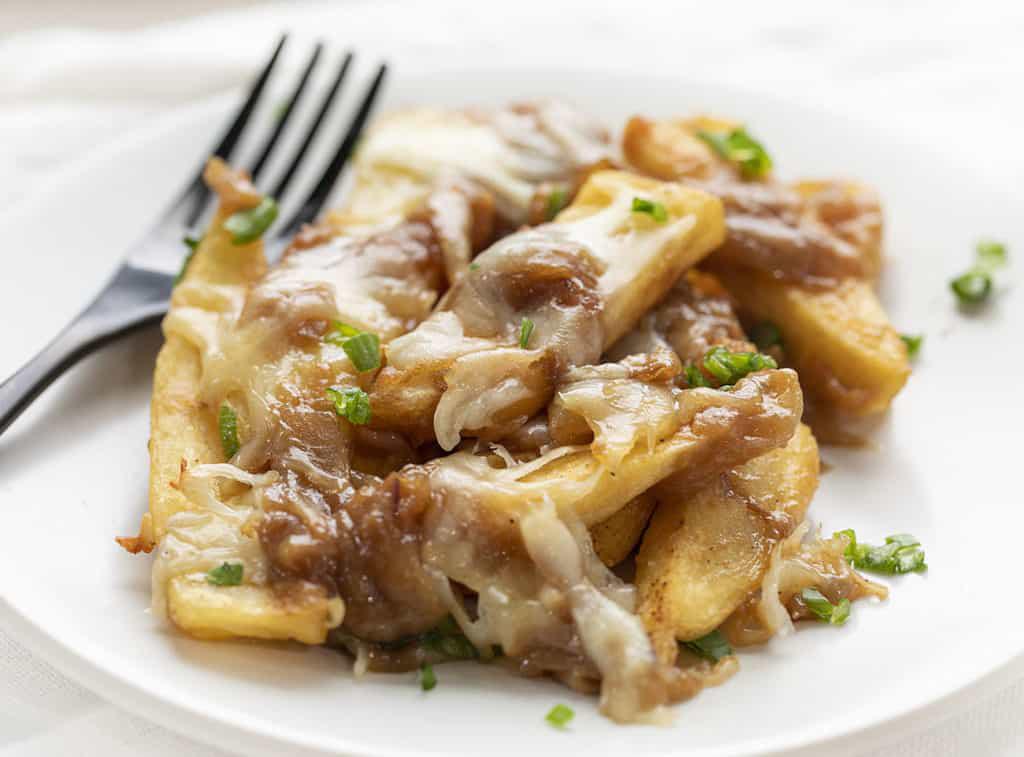 WHAT IS GRUYERE CHEESE?
One trick to make these French Onion Cheesy Fries stand out is to use authentic Swiss Gruyere Cheese! Trust me on this one. It's the best all-around cheese for baking because of its firmness and anti-stringiness if that is even a word. (It is now, I guess.) It also has a nutty flavor that is delicious!
If you can't find Gruyere, you can use a French Comte cheese. Regular old Swiss cheese you find in masses at the grocery store may be substituted, but beware! The texture is different, and it may not give you that taste that stands out from the crowd.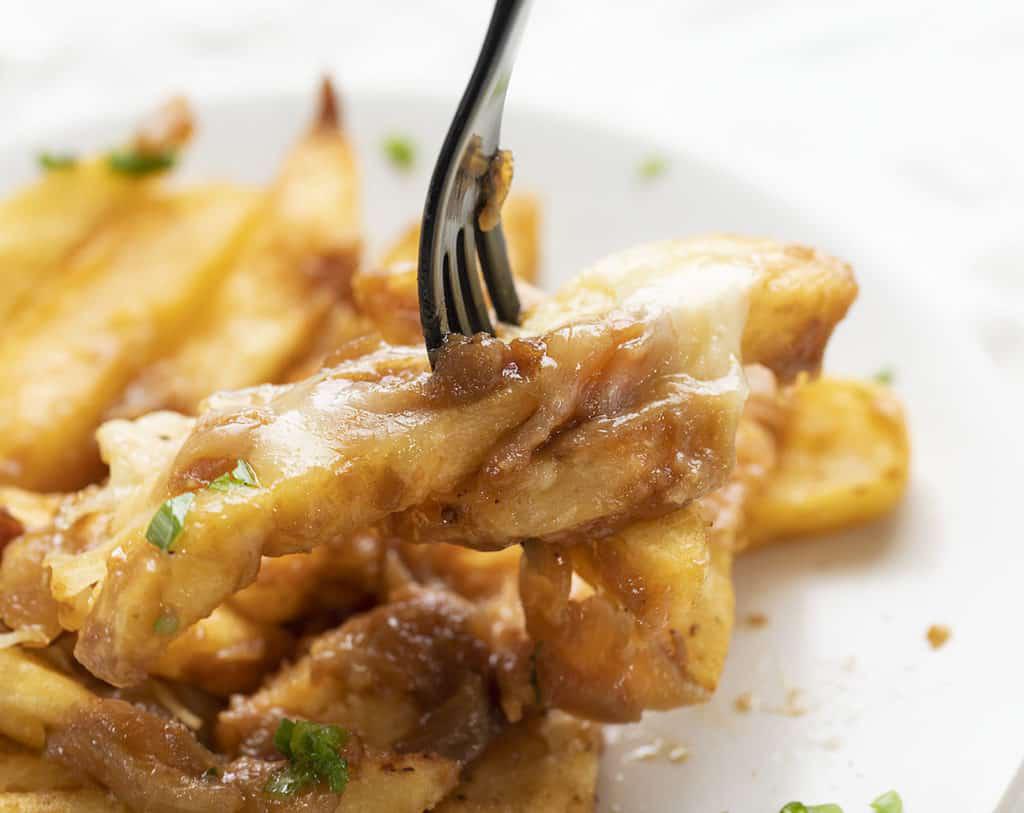 Ingredients
1 bag (28 ounces) steak fries, cooked per package instructions
3 tablespoons butter
2 yellow onions, thinly sliced
2 tablespoons flour
1 cup beef broth
1/2 teaspoon salt
1/2 cup provolone cheese, shredded
1/2 cup Gruyere cheese, shredded
Parsley, for garnish
Instructions
Preheat the oven to 450° F.
Cook steak fries according to package directions.
While fries are cooking, melt the butter in a large skillet over medium-high heat.
Add onions and cook until the onions are browned and tender (approximately 15-20 minutes).
In a medium bowl, mix together beef broth and flour. Pour over cooked onions, add the salt, and stir until mixture comes to a boil. Set aside.
Lower oven heat to 400° F.
Place cooked fries in an oven-safe skillet.
Top steak fries with onion mixture, provolone cheese, and gruyere cheese.
Bake for 10 to 15 minutes or until cheese is melted.
Top with parsley, for garnish.