French Onion Soup from Famous & Barr in St. Louis, Missouri. Nothing is as reminiscent of Famous as this iconic French onion soup. The soup was thick and rich, bubbling with melted cheese atop two slices of French baguette.
As the stores closed their restaurants, it was fortunate that many years ago the St. Louis Post-Dispatch published the recipe in their Food Section so fanatics of this soup could recreate their obsession at home!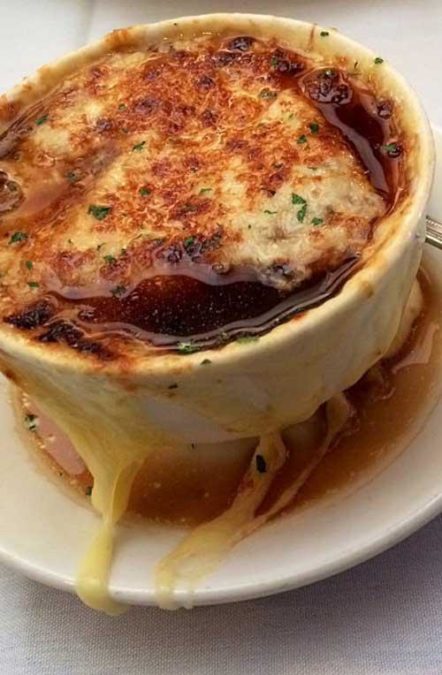 Prepare to be transported to the iconic era of Famous & Barr in St. Louis, Missouri, as you embark on a culinary journey with their legendary French Onion Soup. This recipe, once shrouded in secrecy, has finally been unveiled for all to enjoy. Imagine succulent caramelized onions dancing in a velvety broth, crowned with a luscious layer of melted cheese atop crusty slices of French baguette. Every spoonful is a symphony of flavors, a testament to the culinary artistry that defined Famous & Barr.
Ingredients
0,6 lbs. medium white onions
1/2 cup butter
1 1/2 tsp. pepper
2 Tbsp. paprika
1-2 bay leaves
3/4 cup flour
3 x 32oz containers (8 cans) of beef broth (I've also used a combination of beef (64 oz) and chicken broth (32 oz) and it has actually been my favorite result.)
1 cup white wine
Salt to season
16 oz. Gruyere cheese (can substitute Swiss which I typically do), shredded
Olive Oil
Parmesan
1 French Baguette, sliced
Instructions
To Prepare the Soup:
Slice the onions ⅛" thick. Melt butter in a large pot and sauté the onions over low heat for 1½ – 2 hours.
Add seasonings; pepper, paprika and bay leaves. Mix well and saute on low for 2-3 minutes; stirring frequently.
Add ⅔ of the broth to the pot and stir well. And the flour to the remaining broth and mix thoroughly and then add to the pot, stirring in.
Add wine and simmer 2 hours.
Refrigerate overnight.
To Serve:
Turn on oven to broil.
Brush bread slices with olive oil and sprinkle with Parmesan cheese. Lightly brown bread using the broiler watching very carefully so not to burn.
Heat soup on stove top.
Layer soup, then Parmesan toasted bread, then cheese in ovenproof bowls.
Broil until cheese melts; 3-5 minutes. Watch carefully!
Let cool for a couple of minutes before eating.
Nutrition Information
Yield 16
Serving Size 1
Amount Per Serving
Calories 834
Total Fat 51g
Saturated Fat 23g
Trans Fat 1g
Unsaturated Fat 22g
Cholesterol 196mg
Sodium 511mg
Carbohydrates 31g
Fiber 3g
Sugar 8g
Protein 58g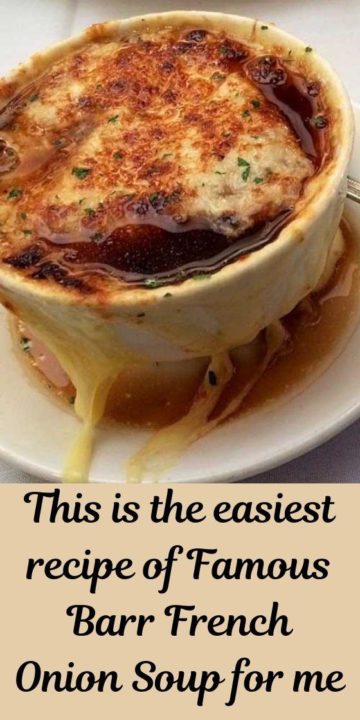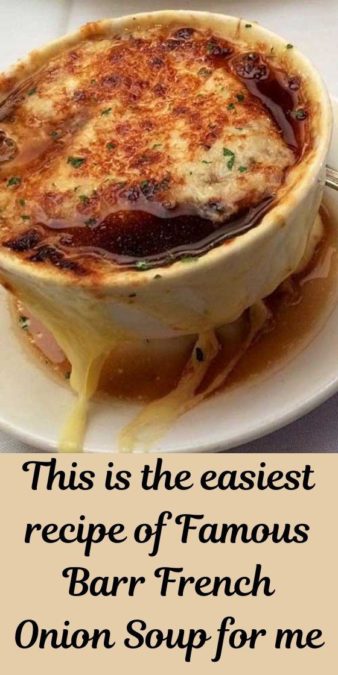 Unlock the secrets of this cherished recipe as you embark on its creation in the comfort of your own kitchen. Picture the tantalizing aroma of onions slowly caramelizing in a pot, their natural sweetness intensifying with each passing minute. Then, the magical moment when wine joins the simmering symphony, adding a delightful tang that elevates the soup to new heights. With each sip, you'll be transported back to the bygone era of Famous & Barr, where this timeless classic reigned supreme.
Prepare yourself for a culinary adventure like no other as you indulge in Famous & Barr's French Onion Soup. Let its rich flavors and enchanting aromas transport you to a place where tradition and gastronomy merge in perfect harmony.