Dill Pickle Chex Mix gives the regular Chex Mix a boost of flavor by adding plenty of dill pickle flavors to the crunchy party snack.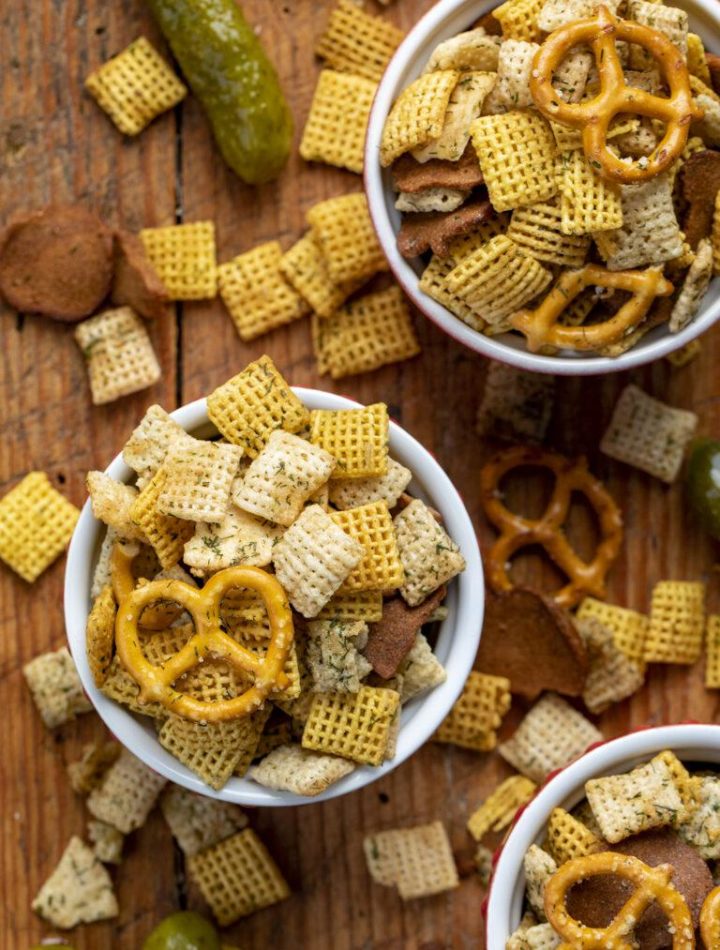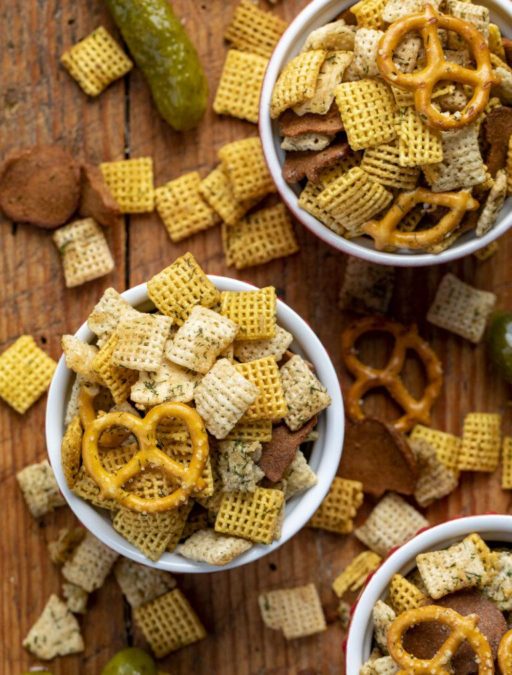 DILL PICKLE CHEX MIX
Dill pickle flavored snacks, especially chips, are all the rage right now. The flavor gives you that salty and pickle taste that makes your mouth pucker, similar to salt and vinegar chips. Dill Pickle Chex Mix will also give you that popular and addicting taste in every handful you eat. Plus, Chex mix is the perfect party appetizer, and the more varieties of the popular snack, the better!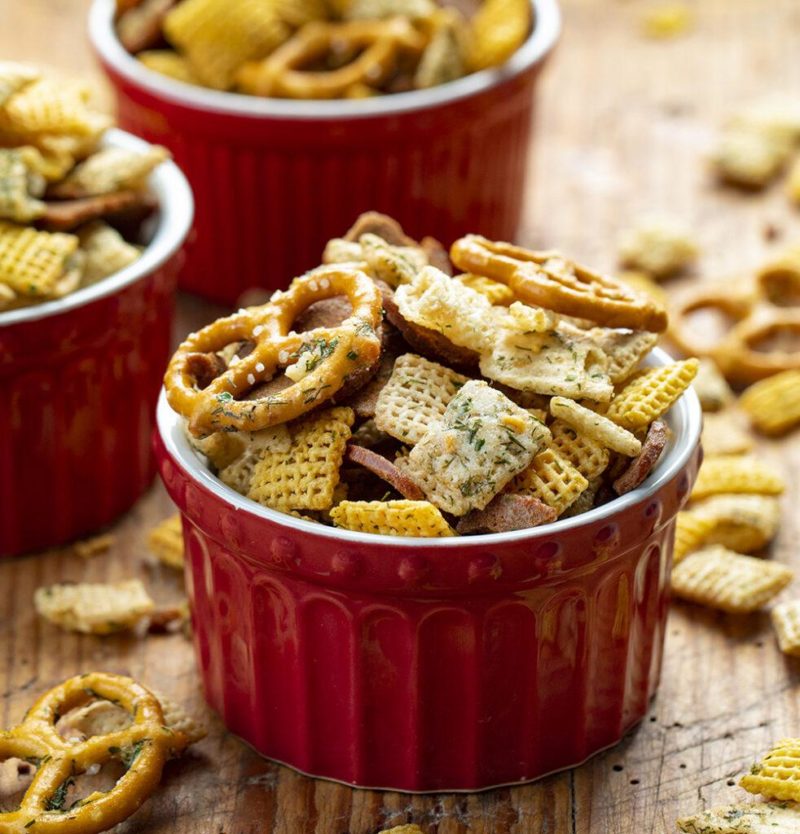 DILL PICKLE CHEX MIX INGREDIENTS
It's all about the dill in this recipe. I wanted to make sure each bite packed a punch of dill flavor.
Crackers: Garlic is the perfect complement to dill, so I went with garlic parmesan crackers (Good Thins) to add to the mix.
Cereal: I used Rice Chex and Wheat Chex in this recipe. Choose any brand of rice and wheat squares you prefer.
Pretzels: Look for dill flavored pretzels.
Rye Crisps: Again, I went will the garlic-flavored rye crisps. (I could eat those on their own all day!)
Dill: Both dried dill weed and dill pickle juice are used in this recipe.
Garlic Powder: Yes, more garlic…
Dry Ranch Seasoning Mix: Here is a recipe for homemade ranch seasoning mix if you don't have a packet on hand. If you make your own, use about 2 tablespoons of the mix (equivalent to a store-bought ranch seasoning mix packet).
Vinegar: Use distilled white vinegar.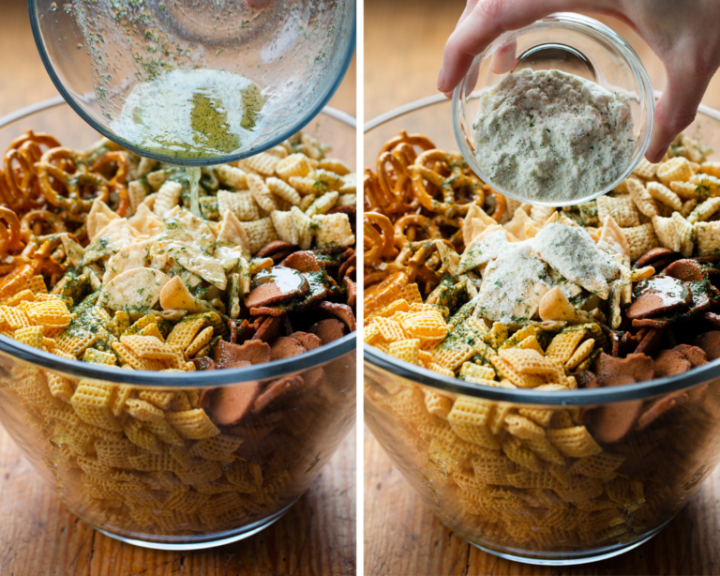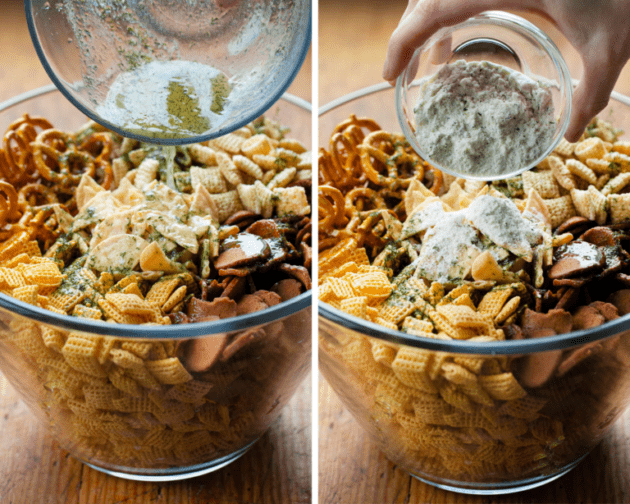 HOW TO MAKE DILL PICKLE CHEX MIX
To make Chex mix, first, preheat the oven to 250°F and line a couple of baking sheets with parchment paper. Set the baking sheets aside. Next, in a large bowl, combine the broken crackers, both kinds of cereal, the pretzels, and the rye crisps. In a smaller bowl, combine the remaining ingredients.
Then, pour the oil and pickle juice mixture into the bowl of dry ingredients, tossing to coat. Transfer the mix to the lined baking sheets, evenly spreading out the mixture. Bake for 25-30 minutes, stirring halfway through the baking time. When the snack mix is golden brown, remove it from the oven and let it cool completely before serving. Store leftover Chex mix in an airtight container for 3-4 weeks (if it will even last that long)!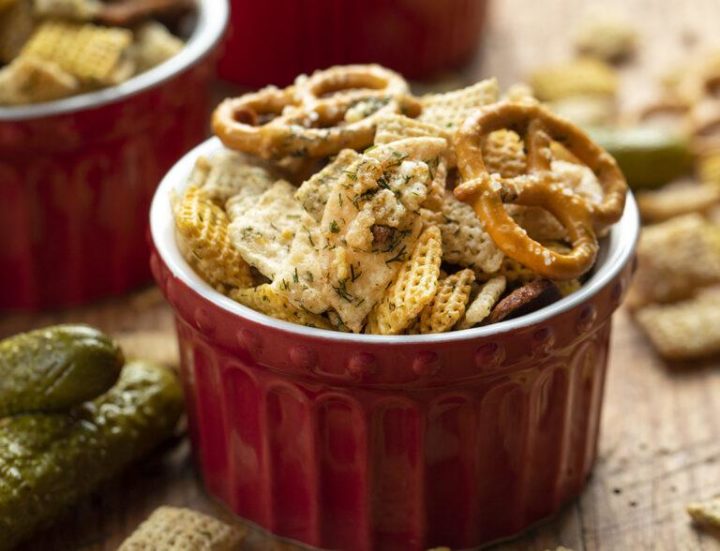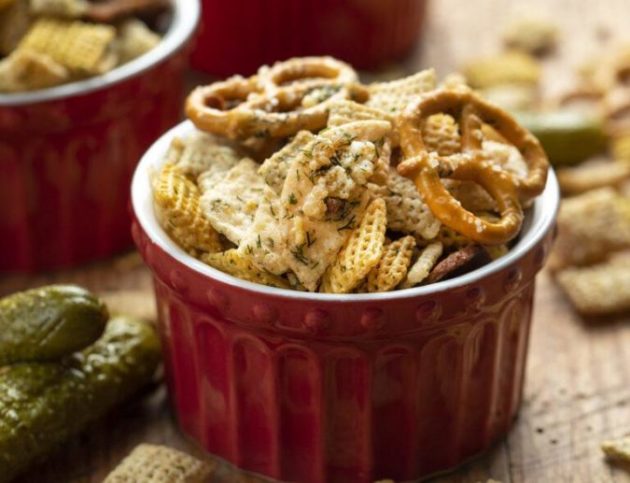 Ingredients
1 cup garlic parmesan Good Thins crackers, broken into pieces
4 cups Corn Chex™ cereal
4 cups Rice Chex™ cereal
1 cup dill pickle pretzels
2 cups regular-size garlic rye chips
⅓ cup vegetable oil
1 tablespoon dried dill weed
1 teaspoon garlic powder
½ cup dill pickle juice
1 package (1 ounce) dry ranch seasoning mix
1 tablespoon distilled white vinegar
Instructions
Preheat oven to 250°F and line two baking sheets with parchment paper. Set baking sheets aside.
In a very large bowl, mix crackers, corn Chex, rice Chex, pretzels, and rye chips.
In a small bowl, mix the oil, dill weed, garlic powder, pickle juice, dry ranch seasoning, and vinegar.
Pour the oil and dill mixture over dry ingredients, stirring well to combine.
Transfer Chex mixture to the prepared baking sheets, evenly spreading out in a single layer.
Bake for 25-30 minutes, stirring halfway through.
When the mixture is golden brown and slightly crispy, remove the pans from the oven; let cool completely before serving.