French Onion Deviled Eggs are a creamy variation of deviled eggs loaded with flavor from caramelized onions and Gruyere cheese.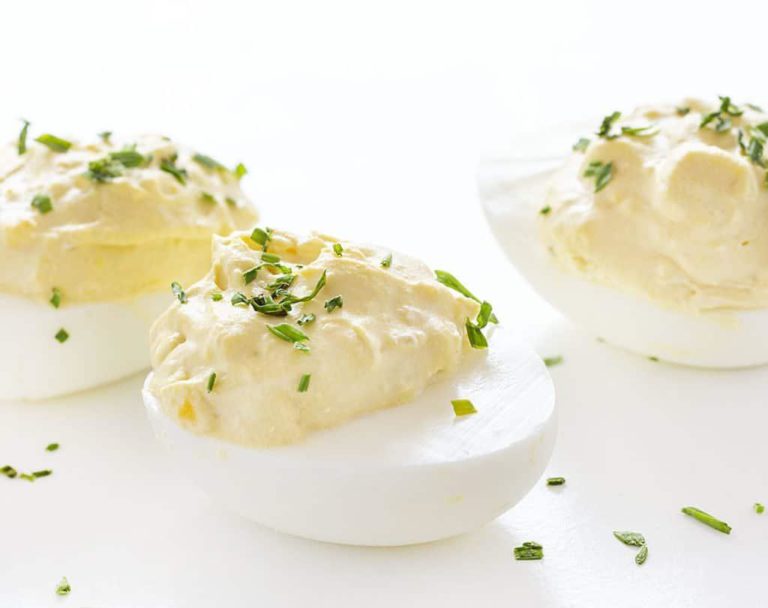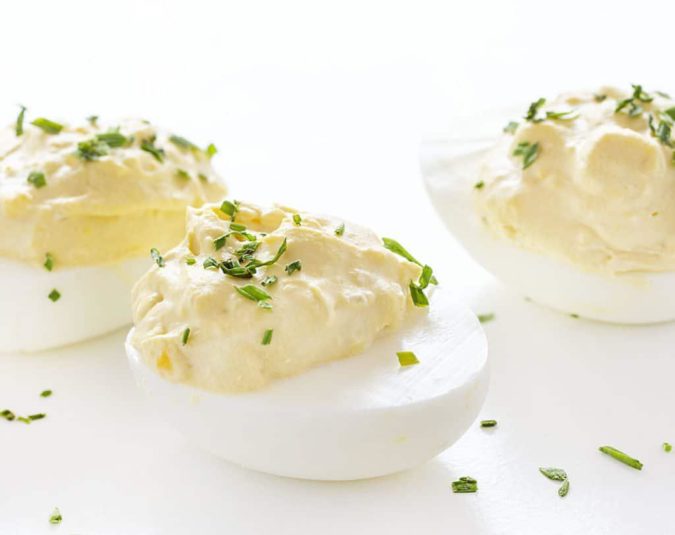 FRENCH ONION DEVILED EGGS
I admit I have been on a Deviled Egg kick lately! I love my Bacon Deviled Eggs, Buffalo Chicken Deviled Eggs, and these French Onion Deviled Eggs aren't too shabby, either! It's fun to have a variety of this popular appetizer to serve your family and guests. Eggs provide a lot of nutritional value, both from the egg whites and the yolks, so I always have eggs on hand. I love hard-boiled eggs as a snack, and dressing them up a bit as French Onion Deviled Eggs is a treat to enjoy once in a while.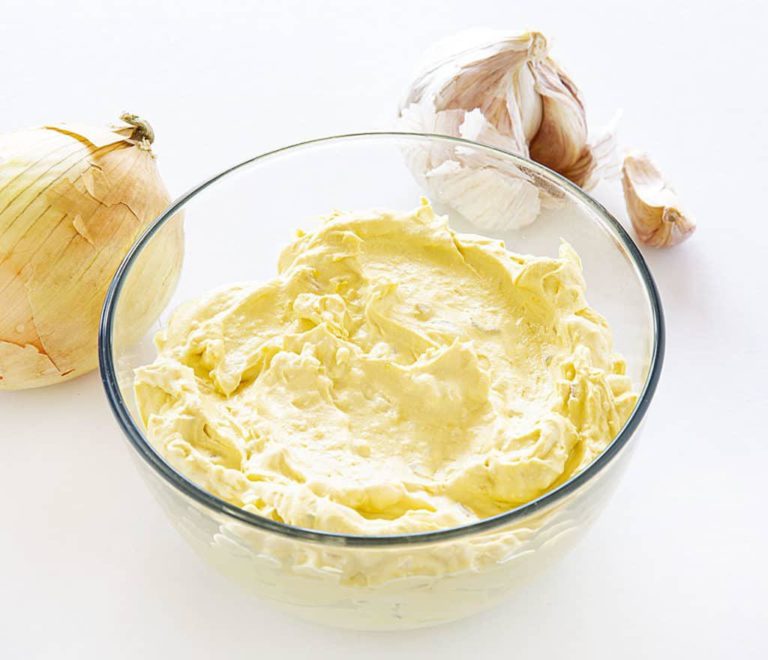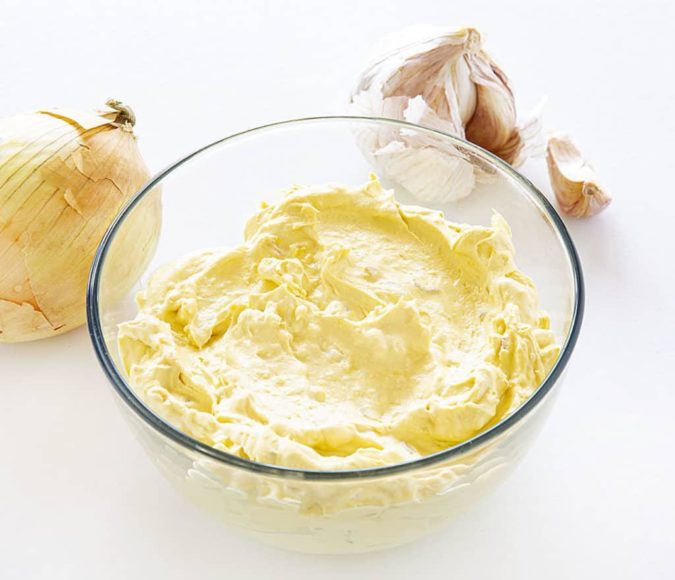 FRENCH ONION DEVILED EGG RECIPE
With just a few additional ingredients to a traditional Deviled Egg recipe, you will be reminded of the classic French Onion Dip with these French Onion Deviled Eggs.
Ingredients
Eggs: Farm fresh is best, but if those are not an option, choose the organic or cage-free eggs.
Canola oil
Onion: We used a white onion, but any onion would work.
Garlic: I encourage you to mince your own garlic. The few extra seconds it takes to flatten and cut up fresh garlic is worth the extra flavor it will bring to any recipe that calls for garlic.
Sour cream: Full fat is the winner, but you can also choose a lighter version if you prefer.
Cream cheese: Get in the habit of using room temperature cream cheese in all your baking and cooking recipes.
Salt
Worcestershire sauce: Don't forget to add this!
Milk: Don't pour all the milk in the mixture at once. Take it about one tablespoon at a time until it gets to be at your desired consistency.
Gruyere cheese: Be picky when you are choosing the cheese. The nuttiness of Gruyere cheese will help it stand out from other french onion dips and recipes.
THE PERFECT BOILED EGG
Love deviled eggs, but hate the process of getting the eggs ready? For easy-to-peel hard-boiled eggs, cover the eggs with cold water (there should be about a half an inch of water on top of the eggshells), bring the water to a boil, stirring occasionally to balance the egg yolks, cover and then remove it from the heat. Let the eggs sit in the hot water for 14 minutes. Pull the eggs out and immediately shock them with an ice bath for about 5 minutes. Voila! Lovely, crater-free deviled eggs. To make the peeling of the egg a bit easier, hold the egg under cool water as you peel.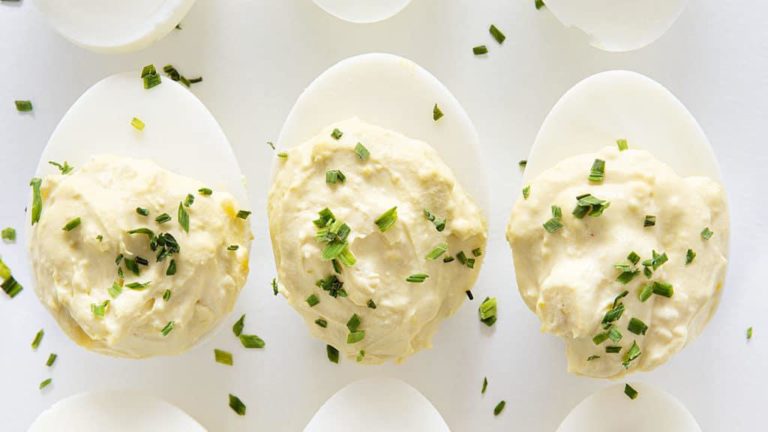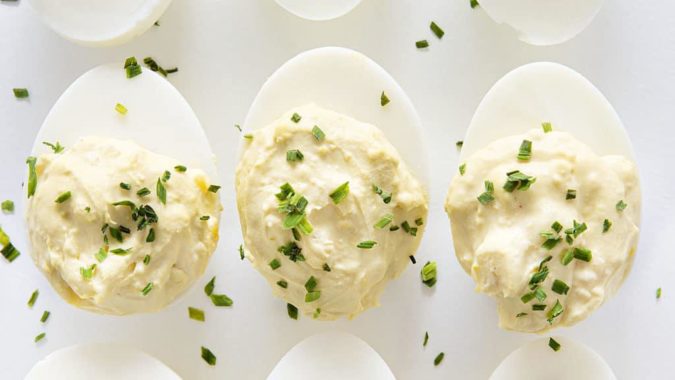 HOW TO MAKE FRENCH ONION DEVILED EGGS
Once you have your eggs boiled and peeled, cut each egg in half and gently remove the yolks. Place each yolk in a medium-sized dish and set the halved egg whites off to the side.
Chop the onion and cook it in the oil for 10-15 minutes.
Next, add the garlic and cook for about 30 seconds. If you used fresh garlic, you will be able to smell the delightful, garlicky aroma!
Remove the onion from the heat to let it cool as you mix the other ingredients.
While the onions are cooling, combine room temperature cream cheese, the sour cream, salt, and Worcestershire sauce to your bowl of egg yolks. Use a hand mixer to get a creamy mixture.
Here is where you add the all-important onion and Swiss Gruyere cheese. Have I mentioned how important this particular cheese is for this recipe???
After everything is combined, add about a tablespoon of milk at a time until you get the consistency of the mixture you want.
Finally, spoon in the french onion and yolk mixture to each egg white half and enjoy!
If you put this mixture together without the egg yolks, you have the classic French Onion Dip. In fact, if you want to skip the egg yolks altogether, try filling the egg whites with just the dip! Garnish the eggs with chives for some added color and flavor.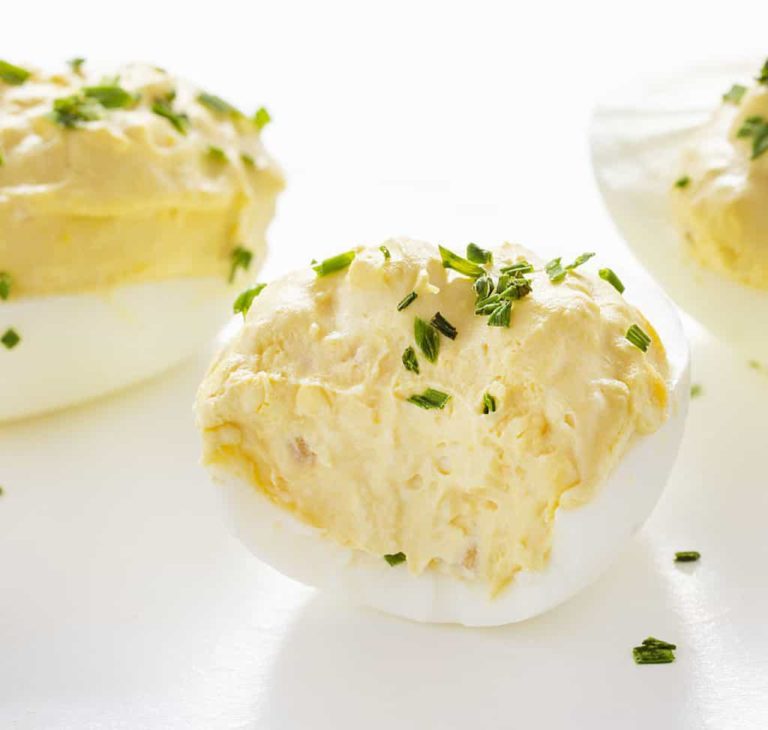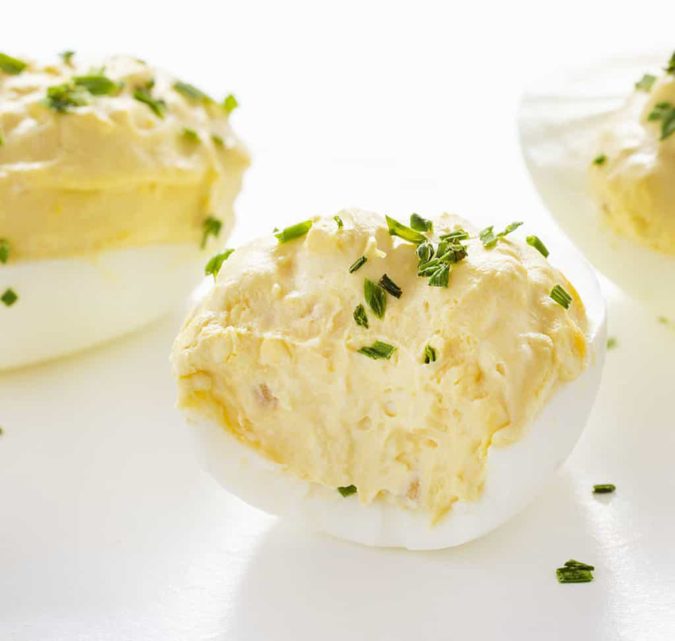 Ingredients
12 large eggs, aged
2 tablespoons canola oil
1 onion, chopped
2 cloves garlic, minced
1 cup sour cream
8 ounce of cream cheese
1 teaspoon salt, or more to taste
1 1/2 teaspoon Worcestershire sauce
1/4 cup milk
1/2 cup gruyere cheese, shredded
Instructions
In a large pot, arrange the eggs in one layer. Fill with cold water until it is about ½ above the top of the eggs.
Turn the heat to medium-high, stirring occasionally to balance the yolk (so it doesn't set in the middle of the egg)
Bring the pot to a boil, cover and shut off the heat. Let sit, undisturbed for 12 minutes.
Place the cooked eggs in an ice bath and let cool for about 5 minutes.
Under cool running water, gently peel the eggshell away from the egg. Set aside and repeat with remaining eggs.
Cut each egg in half lengthwise and gently remove and place each yolk in a medium-sized bowl. Set aside.
Cook onion in oil until very soft and tender and slightly browned. Roughly 10-15 minutes.
Add garlic and cook for about 30 seconds.
Set aside to let cool.
Combine egg yolks, room temperature cream cheese, sour cream, salt, and Worcestershire sauce in a medium bowl and beat with a hand mixer until creamy.
Add onion mixture and cheese and stir to combine the dish.
Add milk a tablespoon at a time until you reach your desired consistency.
Spoon or pipe the yolk mixture into each egg white well.