Roasted Parmesan Green Beans are the perfect side dish to go with any meal. Crispy on the outside and tender and juicy on the inside, every bite loaded with flavor. If you are looking for other side dish ideas, make sure to check out my German Cucumber Salad too!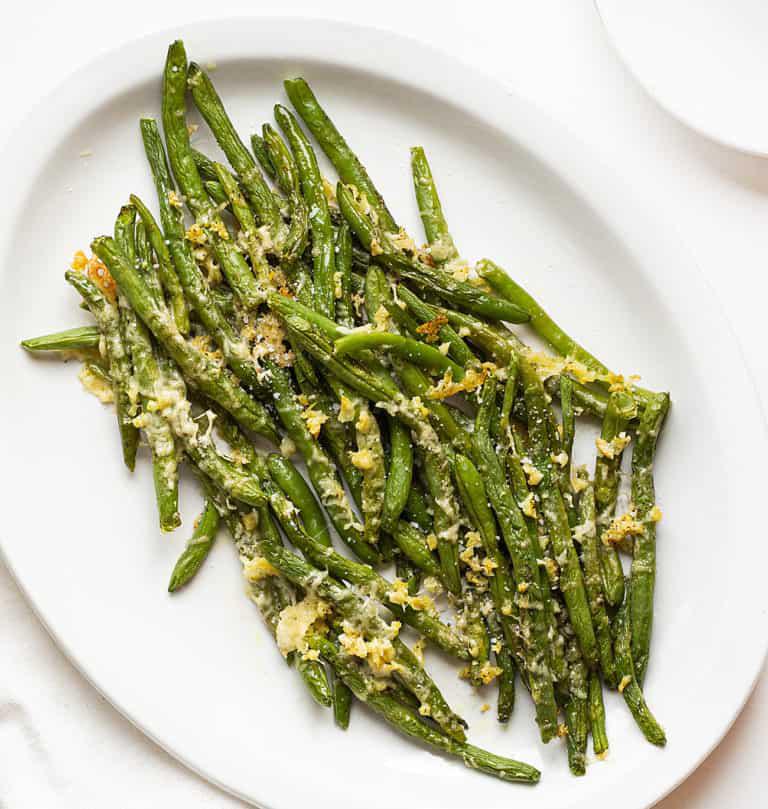 ROASTED PARMESAN GREEN BEANS
It's great to have an easy side dish to serve with meals, but sometimes it's just hard to come up with something to add to the meal. Or, serving the same plain old vegetables can get a bit boring. It's amazing what a few spices can do to liven up a vegetable. Roasted Parmesan Green Beans sound fancy, but they are super easy to make and give a little life to fresh green beans. The beans come out so perfectly garlicky and seasoned I could eat the entire batch! And, that wouldn't be so bad. These green beans would be a great alternative to a traditional Green Bean Casserole at Thanksgiving, but they are so simple, they would be a great side to any dinner. Pair them with my Pork Loin with Roasted Garlic Cream Sauce or my Jalapeno Popper Pork Loin for a lovely vegetable side.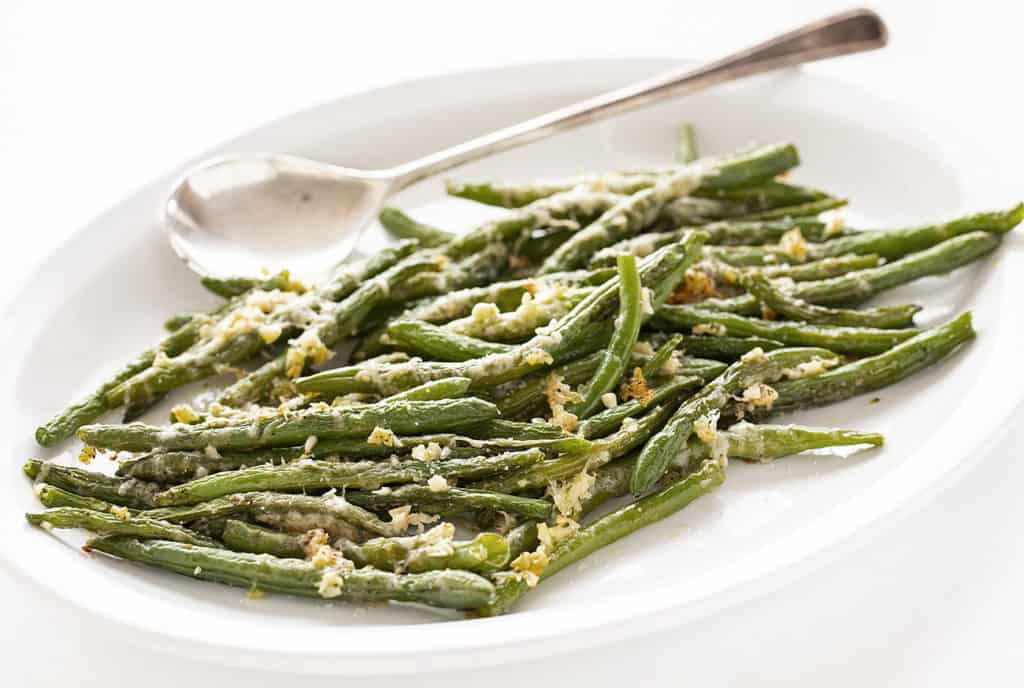 GREEN BEAN INGREDIENTS
Some of the best recipes I have are the simple ones. Make no mistake, just because these recipes and ingredients are simple, doesn't mean they taste simple. To prepare this recipe you will only need:
Fresh Green Beans – Always go with fresh green beans if you can.
Parmesan – I always go for freshly grated when I have the time, the pre-shaved version will work but I think the flavor is so much better when I do it myself.
Garlic – Finely minced, if you want to get extra fancy you can pre-roast the garlic. I have a how-to guide in my Cajun Chicken with Roasted Garlic Alfredo Recipe.
Extra Virgin Olive Oil – You can go regular EVOO or pick up the flavored version.
Salt – I prefer a coarser salt with this recipe, so I usually opt for sea salt, but kosher will work as well.
Freshly ground black pepper
Garlic powder
Onion powder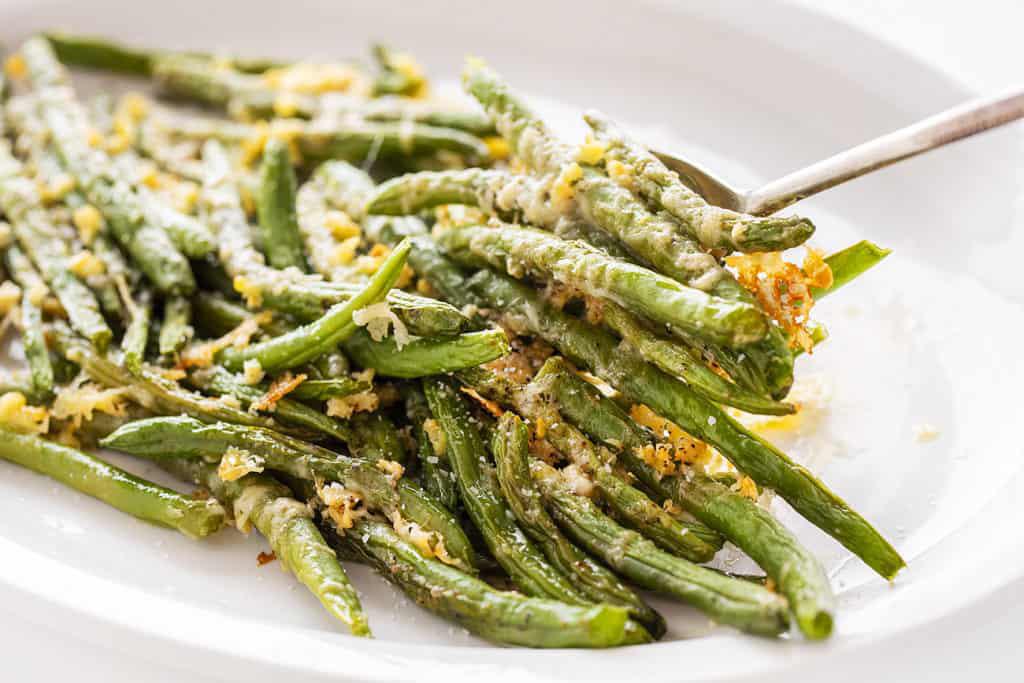 HOW TO PREPARE GREEN BEANS
Start by preparing a baking sheet with foil. Spread the green beans and the garlic out in a single layer on the foil and drizzle the entire sheet with olive oil. Sprinkle on salt, pepper, garlic powder, and garlic powder over the top and toss to coat. Spread everything back into an even layer and pop everything into the oven for about 15-20 minutes.
The best part is, you don't even need to mess up any extra dishes. You can mix this whole thing up in a lined baking dish. No bowls, no spoons. Just your ingredients and your hands. You can serve it right on the baking dish too, or transfer it to a nice serving tray if you are looking for something a bit fancier.
You do want to serve these up immediately (they cool down pretty quickly so you want to serve them hot).
ROASTING GREEN BEANS
The process of roasting vegetables always makes them taste amazing! The act of roasting a vegetable of any kind amplifies its natural flavor to a delightful level. Roasting vegetables, in my opinion, is the best way to go. There are so many benefits. It is a fairly hands-off procedure. You season your vegetable and throw it on a pan to bake. It comes out charred and bursting with flavor. I honestly cannot think of a single vegetable that doesn't benefit from roasting.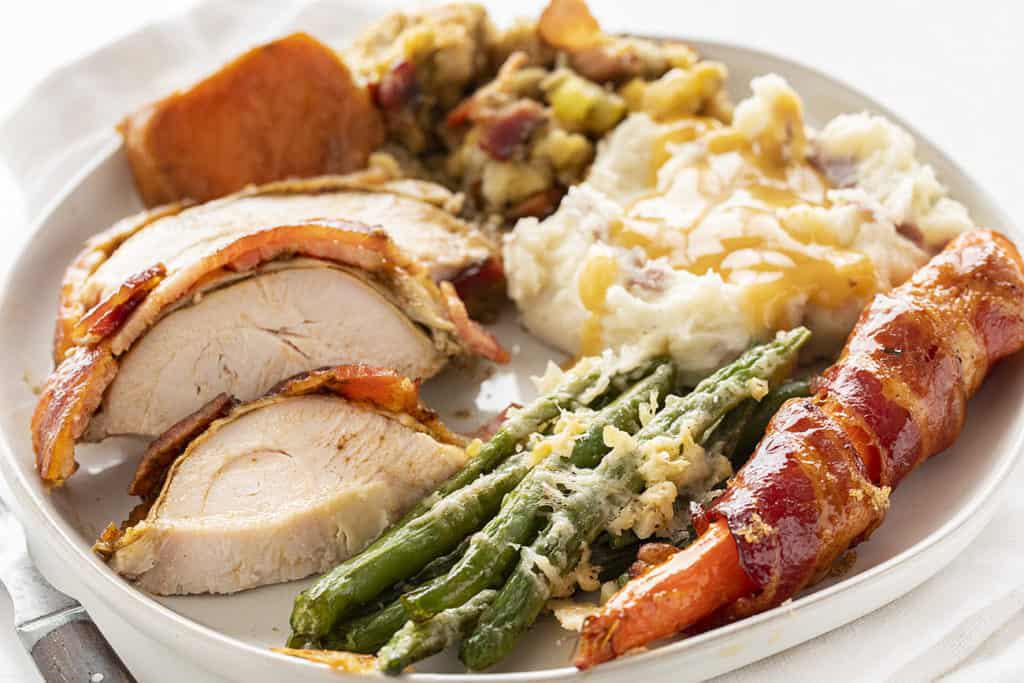 HOW TO SERVE GREEN BEANS
Parmesan Roasted Green Beans pair well with most main courses. We love to serve these around the holidays. They make a great addition to a Thanksgiving or Christmas menu. If you are looking to round out a holiday menu, here are some of my favorites!
Ingredients
1 pound fresh green beans
4 cloves garlic, minced
2 tablespoons olive oil
1 teaspoon Kosher salt
1 teaspoon black pepper
1 teaspoon garlic powder
1 teaspoon onion powder
¼ cup parmesan cheese, grated
Instructions
Preheat the oven to 400°F.
Place the green beans and garlic in a single layer on a baking sheet.
Drizzle with the olive oil, then sprinkle the salt, pepper, garlic powder, onion powder, and parmesan cheese on the green beans.
Roast in the oven for 15-20 minutes.