BBQ Chicken Tenders are pieces of chicken breasts that are covered in barbecue sauce and coated with seasoned breadcrumbs, baked in the oven, and then brushed with even more barbecue sauce.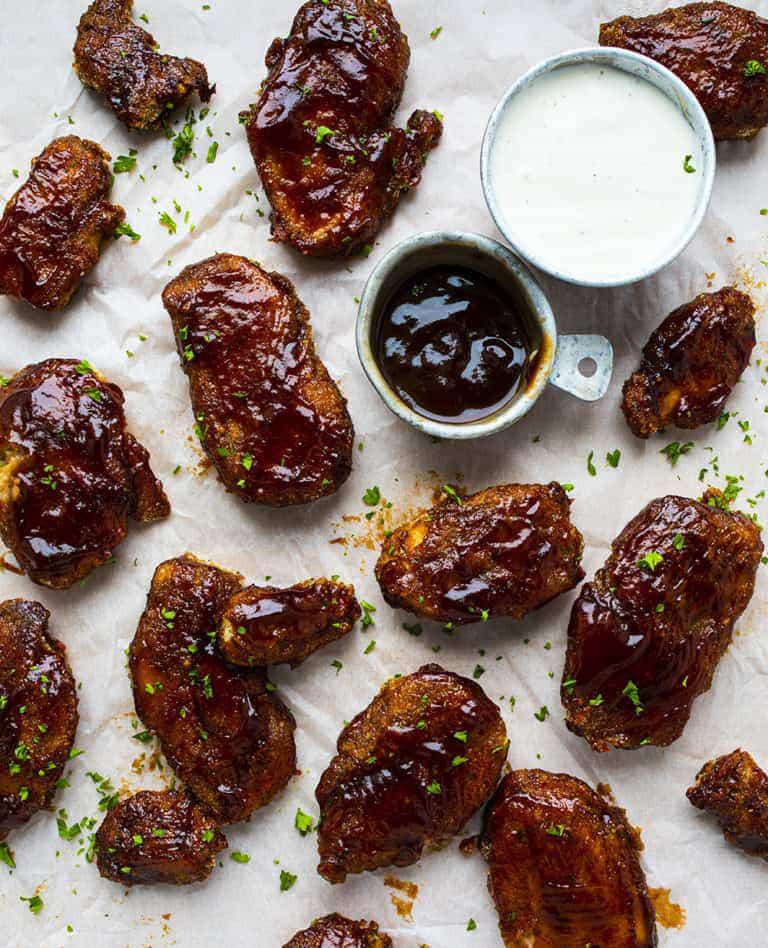 BBQ CHICKEN TENDERS
BBQ Chicken Tenders can be a meal or appetizer that the whole family will enjoy. These chicken tenders are made with boneless, skinless, chicken breasts and are baked, not fried, making them healthier. These tenders are wonderful as-is, smothered in barbecue sauce. They are also delicious dipped in homemade ranch dressing or your favorite dipping sauce.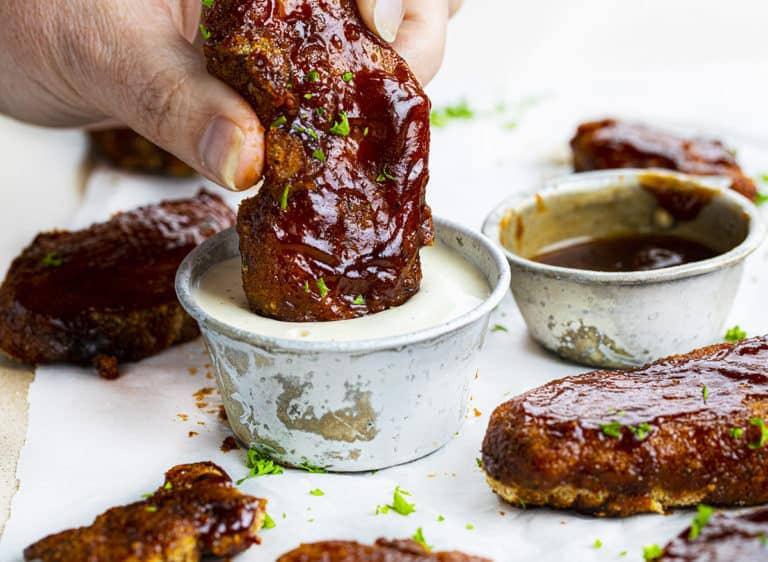 BBQ CHICKEN TENDERS RECIPE
With just three ingredients, you can get these chicken tenders on the table, ready to be enjoyed by the whole family!
Ingredients (full recipe below)
Chicken breasts–I cut two boneless, skinless chicken breasts into pieces, but you can find chicken already cut into tenders if you prefer.
Seasoned bread crumbs
Barbecue sauce–Choose your favorite brand and flavor of bbq sauce to use.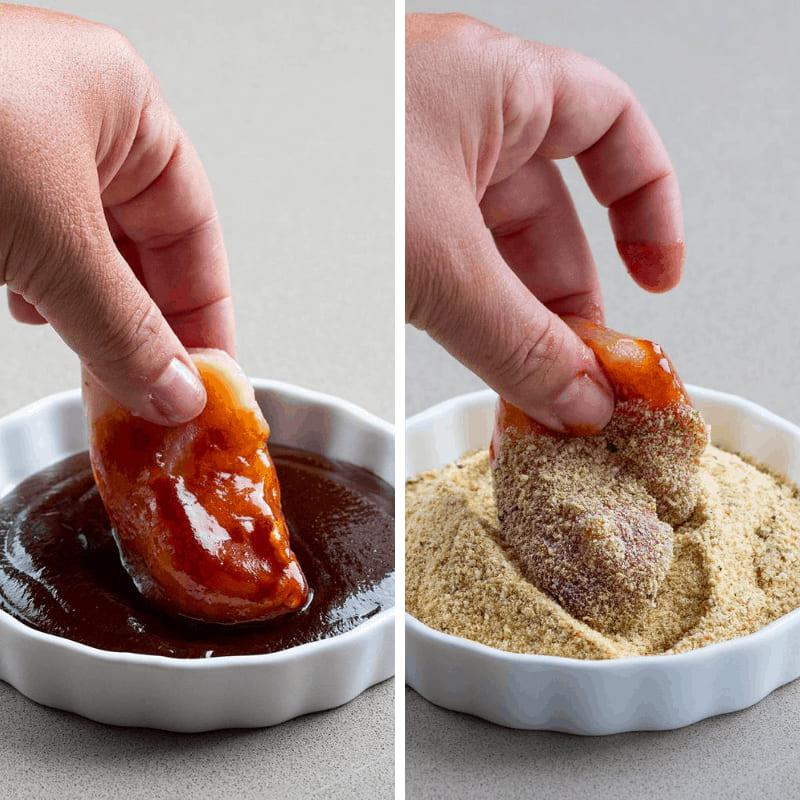 HOW TO CUT CHICKEN BREASTS
Chicken breasts are healthy protein that can get a little boring to eat sometimes. Cutting the breasts into tenders makes the chicken a finger food that appeals to all ages! To cut chicken breasts, get out a long, sharp knife. Before cutting, either pat the chicken dry with a paper towel or let it sit on a plate in the freezer for about 15 minutes. This will make the chicken not so slippery and easier to handle.
When you are ready to cut the chicken breast into pieces, place it on a cutting board. Cut the pieces against the grain (that white muscle fiber). I was able to cut between eight and ten pieces per chicken breast. Each piece ended up about 1/2 inch thick. Always remember to wash your hands thoroughly after touching raw chicken.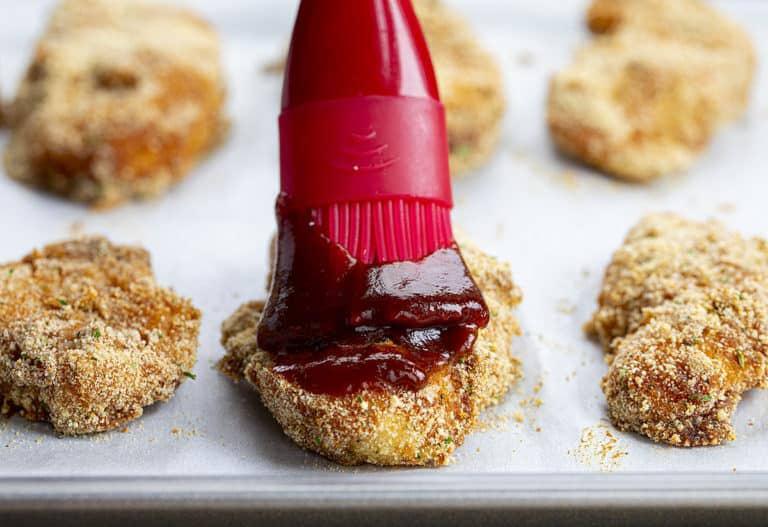 HOW TO MAKE BBQ CHICKEN TENDERS
After you have the chicken cut into pieces, it's time to get them coated and baked. First, preheat the oven to 350°F and line a baking sheet with parchment paper. Get out two bowls, one bowl for 1 1/2 cups of the barbecue sauce, and another for the breadcrumbs. You will use the rest of the barbecue sauce later, so set that aside.
Working one chicken tender at a time, first dredge the chicken in the bowl of barbecue sauce. Next, coat the chicken with the breadcrumbs, making sure to get all sides. Place the coated chicken pieces on the parchment-lined baking sheet until they have all been coated. Bake them for 15 minutes.
After fifteen minutes, remove the chicken from the oven, but leave the oven on. Brush the remaining barbecue sauce over the tops of the tenders and bake them for another 10 minutes. Serve with your favorite dipping sauce and add some homemade macaroni and cheese to the menu for a family-friendly meal.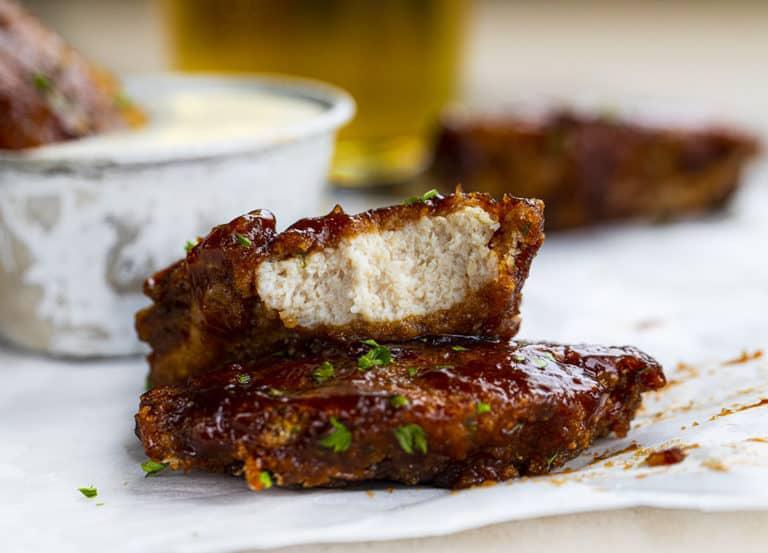 Ingredients
2 boneless skinless chicken breasts, cut into even pieces
2 cups seasoned bread crumbs
2 cups BBQ sauce, divided
Instructions
Preheat oven to 350°F and line a baking sheet with parchment paper.
Slice the chicken into even strips.
Pour 1 1/2 cups of BBQ sauce into a wide bowl, reserving the remaining 1/2 cup for topping later.
In a separate bowl, pour the breadcrumbs.
Working one at a time, dredge the chicken first into the bowl of BBQ sauce, then in the bread crumbs (being careful to coat evenly on all sides).
Place the coated chicken tenders on the parchment-lined baking sheet.
Bake for 15 minutes, and then remove them from the oven.
Using the reserved BBQ sauce, brush evenly over the top of the chicken tenders.
Bake another 10 minutes and serve with your favorite dipping sauce.