Have an incoming vegetarian party and looking for something to cook for the dinner? Try this dish with warm tofu with garlic sauce and sesame recipe and impress even your meat eating guests.
This simple tofu recipe is served with a delicious garlic and sesame sauce, perfect for serving up with some rice and vegetables for an easy and quick vegan midweek meal.
You can even add more pepper flakes for a spicy and more kick of flavor. This dish is so easy to prepare you can cook it in a short period of time.
Ready for the taste of warm tofu made flavorful using garlic sauce and sesame, check this recipe!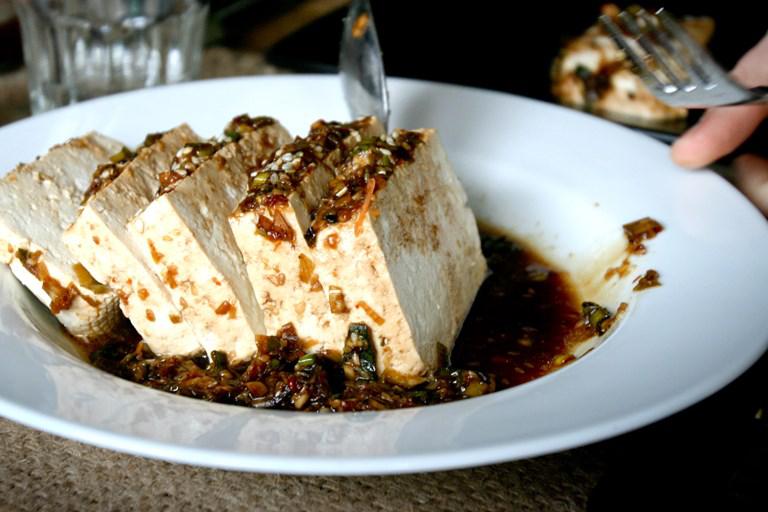 Ingredients
400g package of firm tofu
2 cloves garlic
¼ cup chopped spring onions
2 teaspoons sesame seeds, and coarsely ground with a mortar and pestle
3 tablespoons soy sauce (or tamari for gluten free)
1 tablespoon sesame oil
½ tsp crushed red-pepper flakes (or more to taste)
½ teaspoon sugar
Instructions
Put the tofu in a saucepan and cover with water. Bring to a simmer then keep covered on a low heat while you make the sauce.
Mash the garlic in a mortar and pestle (or with the side of a knife) with a pinch of salt. Stir the mashed garlic together with remaining ingredients.
Lift the tofu with a spatula or slotted spoon out of the water and transfer to a shallow bowl. Spoon the sauce all over the tofu and serve.