This Deep Fried Pickles recipe is like a trip to the state fair, all year long. A simple beer batter and bread crumb combo takes an ordinary pickle chip and turns it into a crunchy appetizer that your family will love!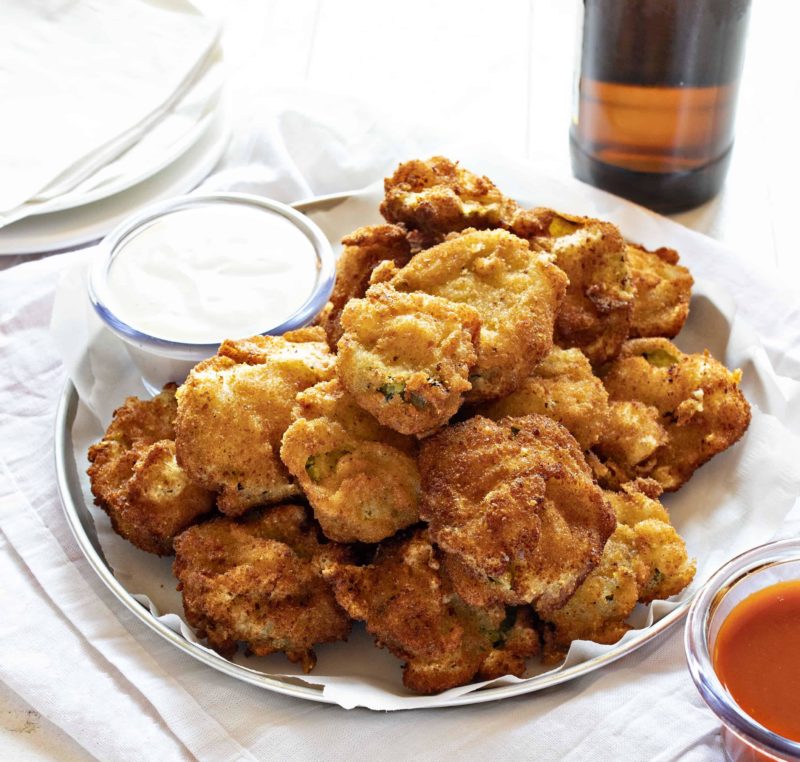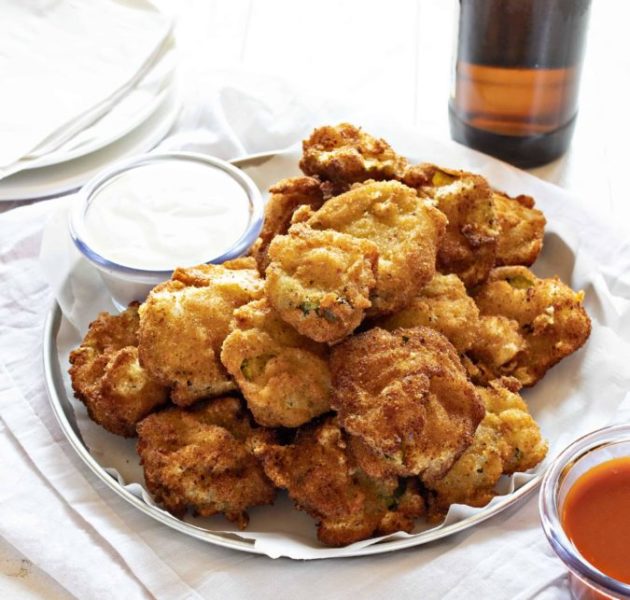 Deep Fried Pickles
I live in Minnesota, which annually hosts "The Great Minnesota Get Together" every August. I know I am biased, but the Minnesota State Fair is the best state fair. I'll hear your arguments for your state a different day, however, I would just like to point out that the MN State Fair found its way on a "Top 10 US Fairs" list this year. Just sayin'. Anyway, one staple food that I will stand in line for every year is the deep fried pickle line. They are crisp pickle slices deep fried to perfection. You can get different flavors and have them drenched in hot sauce or plain. No matter how you order yours, they are amazing. And this recipe just happens to be the closest thing I have ever tried to that fair-food perfection!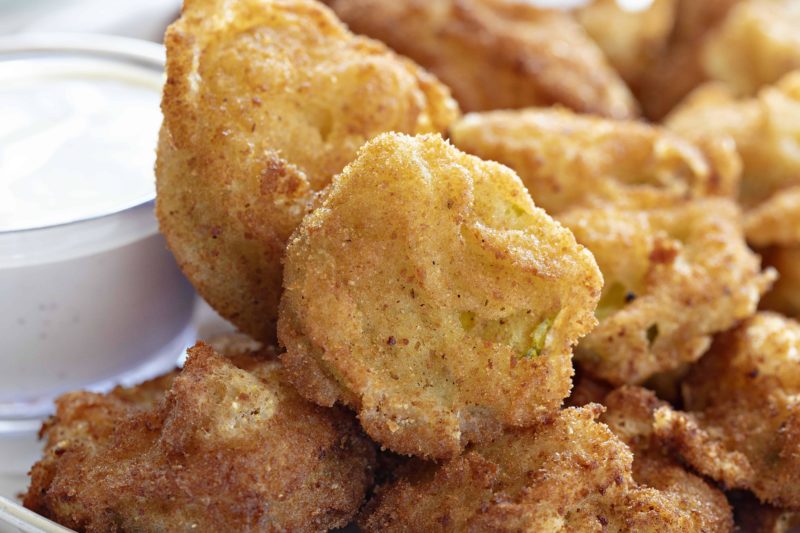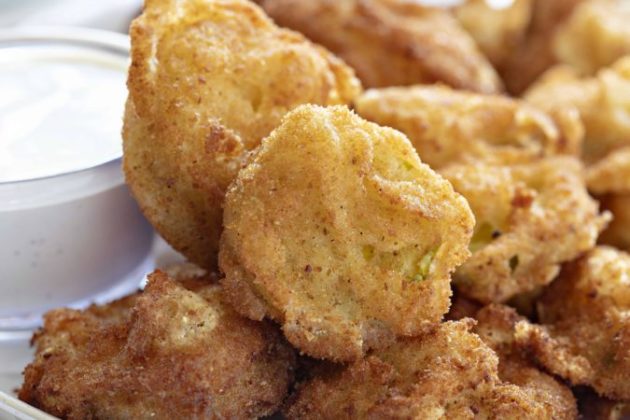 How to Make Deep Fried Pickles
So, I will be honest. This process is messy. You should be warned, anything with a batter like this will likely be a hands-on experience that requires clean up.
To begin, prep your dipping bowls. You will be making three separate batter dips, so you will need three total bowls, two small bowls, and one medium bowl.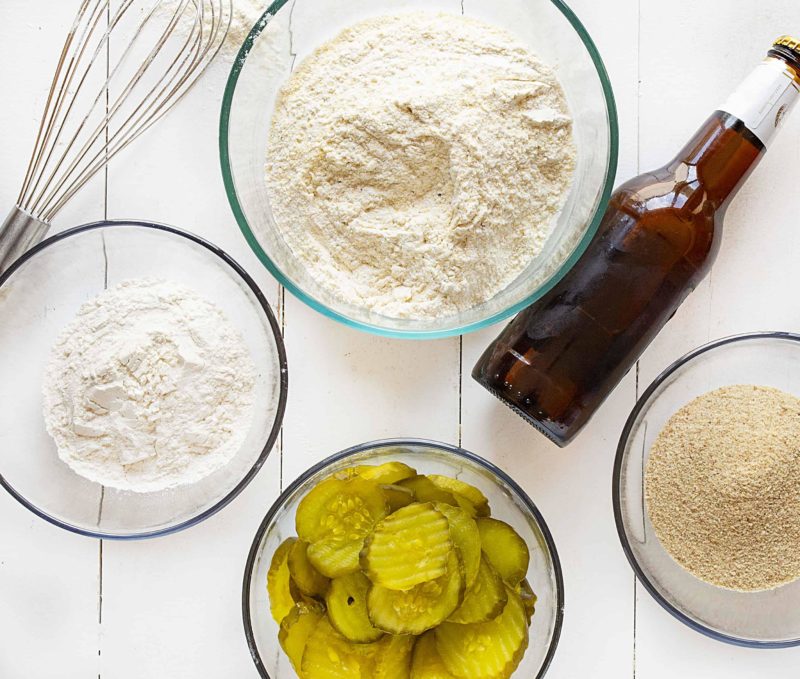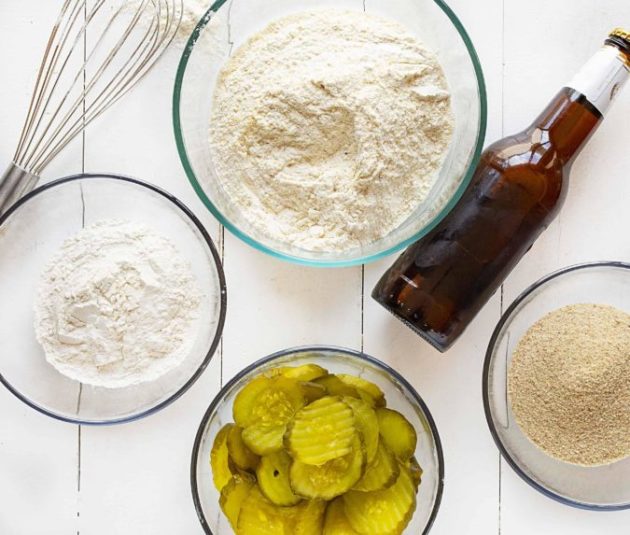 Batter 1 – Small Bowl
The first batter dip is just flour base. This is used to soak up any excess liquid. Grab one of your small bowls and fill with 1 cup of flour.
Batter 2 – Medium Bowl
The second batter dip is the beer batter. Use the medium bowl for this one. This batter consists of cornmeal, baking powder, salt, pepper, cayenne, and 1 small bottle of your favorite beer. I used a light beer because that is what I had (and love), but you could use a hoppier ale if you wanted. Just note that it will adjust the flavor of the fried pickles. Using a whisk, mix that whole bowl together until you get a smooth, lump-free batter.
Batter 3 – Small Bowl
The third and final batter dip is bread crumbs. This is used to create a barrier between the wet batter and the oil and basically holds the whole thing together. You just need a light coating.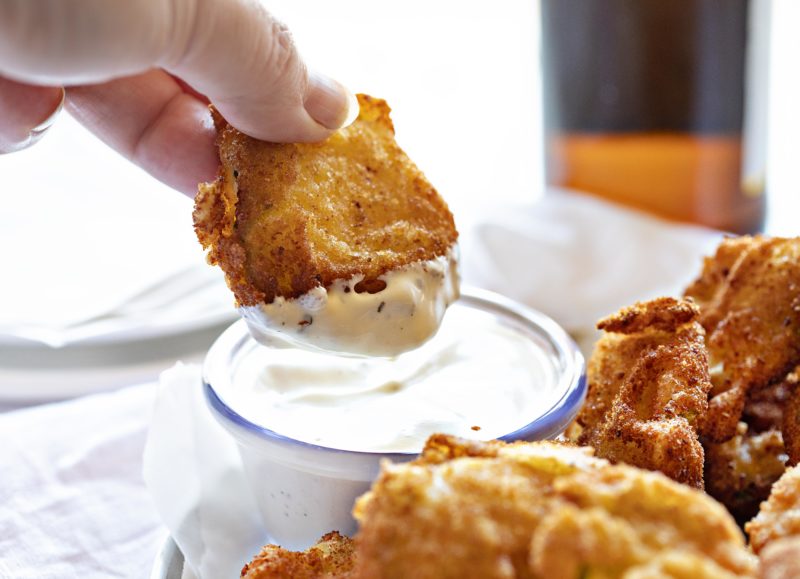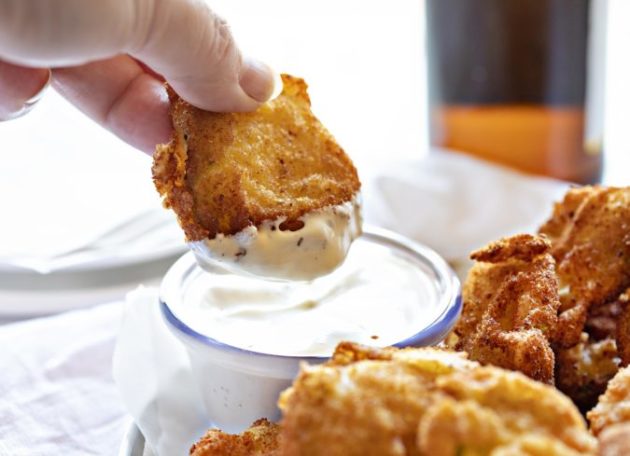 Cooking the Pickles
As you can probably imagine, by the second batter things start to get messy. Here are some tips to keep things together.
Set two sets of paper towels out, one to dry the pickles and one for the grease run off after frying them.
Make sure to dry the pickles before cooking.
Make sure your batter bowls are in order, located next to or near your frying pan.
Use one hand for dipping and a fork for flipping and dropping into the oil.
Have some backup paper towels ready for when you forget this step ??.
Work in very small batches, these fried pickles cook in a matter of minutes so three or four at a time is ideal. This will also help regulate the oil temperature.
Place a thermometer into the oil and leave it there, you want to stay as close to 350°F at all times. Things that make this go up or down are too high or too low of heat, too many pickles in the oil, or pickles in the oil that have too much moisture or haven't been dried.
Have a sieve or a small slotted spoon ready so you can grab the cooked pickles and place them on the paper towel.
Have your dipping sauces ready to go so you can serve these up right away, they are best served hot!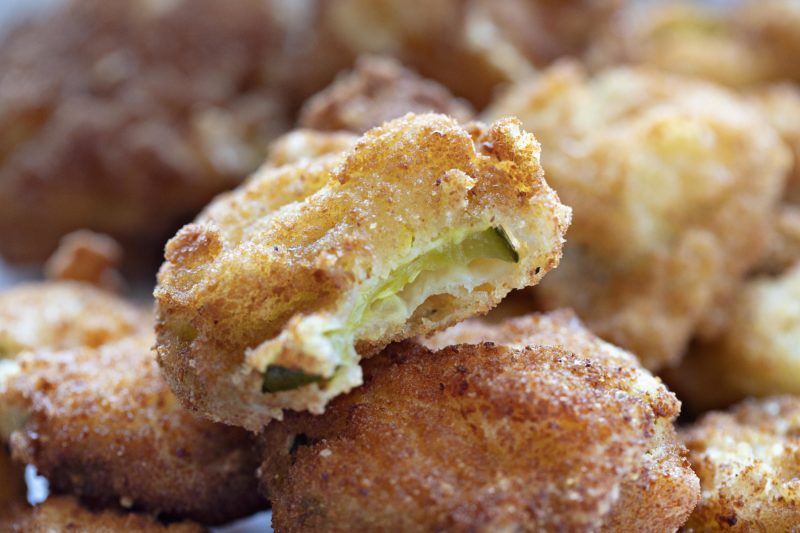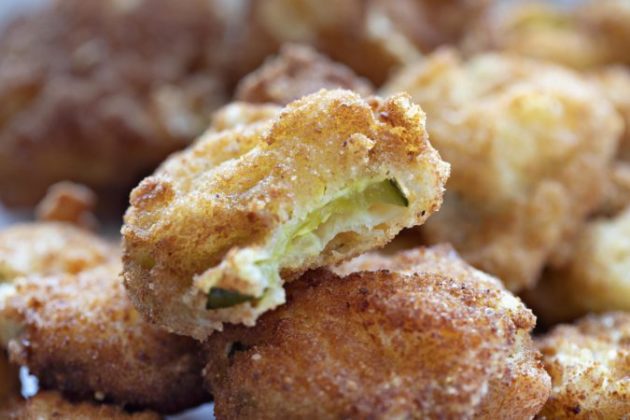 INGREDIENTS
BATTER #1
1-1/2 cup all-purpose flour divided
BATTER #2
1/4 cup yellow cornmeal
1/2 tablespoon baking powder
1/4 teaspoon kosher salt
1/4 teaspoon black pepper
1/8 teaspoon cayenne pepper
1 (12 ounce) beer
BATTER #3
FRIED PICKLES
4 cups canola oil, for frying (add more or less to adjust for pan size)
1 bottle (24 ounces) thick-cut dill pickle chips, patted dry
INSTRUCTIONS
BATTER #1
In a small bowl, add 1/2 cup of flour, set aside.
BATTER #2
In a medium bowl, whisk together 1 cup of flour, cornmeal, baking powder, salt, pepper, cayenne, and beer and stir until all lumps are gone, set aside.
BATTER #3
In a small bowl, add bread crumbs, set aside.
FRIED PICKLES
Add canola oil to a large pot (fill to about 2" deep), heat to 350° Fahrenheit. Do your best to maintain this heat throughout cooking.
Add 1 pickle at a time to batter #1, toss to coat each side of the pickle with flour.
Add the same pickle to batter #2 flipping to coat each side, then lightly shake off excess batter.
Add the same pickle to batter #3, lightly coat each side with bread crumbs, and then release the coated pickle into the hot oil. Cook until golden brown on both sides, about 1 to 2 minutes per side. Using a sieve or metal spatula, lift pickle up out of the oil, drain, and set it on a paper towel to soak up excess grease.
RECIPE NOTES
Do not overcrowd the pan, this will reduce the heat of the oil. If the oil temperature drops too low you will end up with soggy pickles.