It is a modern hybrid of the classic potato and egg salads does not involve any mashing or gobs of mayo (although there's nothing wrong with that!). Instead, the potatoes and eggs are halved, garnished with fresh herbs, sprinkled with some pickles for crunch, and drizzled with a tangy homemade mustard vinaigrette.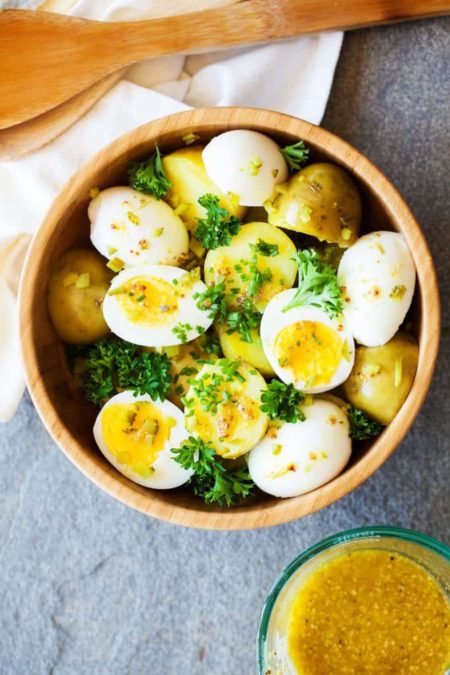 POTATO SALAD
As much as I love traditional potato salad, I love the quickness and flavors of this one a bit more. It is perfect for lunch and when I am trying to eat healthier.
I especially love making this when the main ingredients are harvested right from the property. Eating food that we have raised and cultivated (the eggs our chickens lay are SO tasty!) is such a treat! Feel free to add homegrown onions in addition to the chives, tomatoes, even freshly picked dill.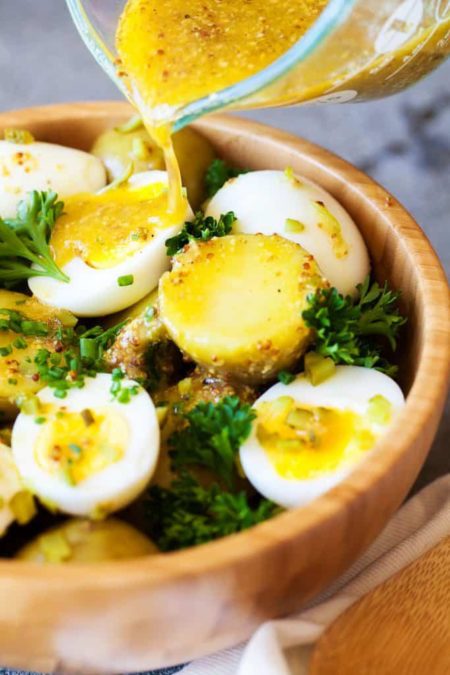 POTATO SALAD RECIPE
So as you can tell this is not your grandma's potato salad! The main reason it looks (and tastes!) different is the lack of mayonnaise and the rough chop of the potatoes. These are big chunks of potato so getting the best quality you can is recommended. (And of course, your garden is always the best source!) I have made this with red potatoes as well as fingerling and loved it. (Although I do kick the salt up a notch when using fingerlings.)
Another option to kick up the flavor in this recipe is to roast the potatoes first!
To do this, start with:
2 1/2 pounds of small potatoes, scrubbed
2-4 tablespoons of extra virgin olive oil (you can even use flavored olive oil!)
1 tablespoon of chopped fresh rosemary or chopped fresh thyme (optional but amazing)
To prepare, heat up your oven and mix all ingredients on a baking pan. Spread them out evenly and roast them uncovered for 25-35 minutes, stirring until the potatoes are tender and brown. Then you can just prepare the salad as directed below.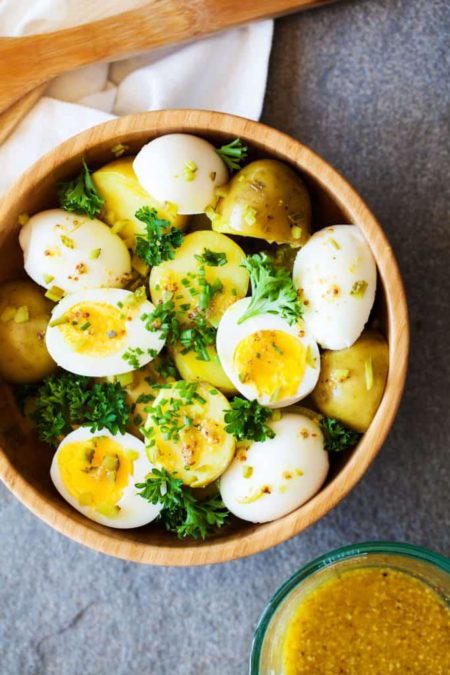 7-MINUTE EGGS
You may be wondering… why 7 minutes? I especially love this quick version because the centers of the eggs are not completely solidified. A beautiful bit of runny yolk peeps through and adds something magical to the overall appearance and texture. If you happen to want fully hard boiled eggs, just continue cooking for an additional 5 minutes or so.
I think you are going to love this Potato Salad with 7-minute Eggs and Mustard Vinaigrette as much as we do!
Ingredients
2 ½ pounds new or baby Yukon Gold potatoes scrubbed
4 large eggs room temperature
3 tablespoons apple cider vinegar
2 tablespoons whole grain mustard
1 teaspoon honey locally sourced is best
⅓ cup extra virgin olive oil
Kosher salt and freshly ground black pepper to taste
1 cup parsley leaves
3 tablespoons coarsely chopped dill pickles
2 tablespoons chopped fresh chives
Instructions
Place the potatoes in a steam basket and set over boiling water. Cover and allow to steam for 30 minutes, until fork tender. Set aside to cool and cut into halves.
Fill a medium sauce pan with water 3/4 full. Gently add the eggs. Heat over medium heat. Once boiling, let eggs boil for 7 minutes.
Remove eggs using a slotted spoon and place in an ice bath to cool. Peel and cut into halves.
Make the vinaigrette by whisking together the apple cider vinegar, mustard, honey, and oil. Season with salt and pepper.
Assemble the salad by placing the potatoes into a large bowl. Scatter the eggs over the potatoes. Sprinkle on the parsley, pickles, and chives. Drizzle with vinaigrette. Serve immediately.