It's the Great Pumpkin Crisp, Charlie Brown! Yes, this Pumpkin Crisp is so good that it deserves its own show! I used my secret double crisp from my Apple Crisp recipe to solidify the greatness of this recipe. This could possibly replace your Thanksgiving pumpkin pie, so be prepared for that!
I have to admit, I have never been a huge fan of pumpkin pie. It seems that it is served every year at Thanksgiving, and if there are no other pies to choose from, I would settle for a small piece. To try to enjoy it, I would smother it with whipped cream to help it go down a little easier.
Needless to say, I was hesitant to try this Pumpkin Crisp and very skeptical as to whether or not I would like it. I didn't like it, I LOVED it! I actually can't wait for Thanksgiving to share this pumpkin dessert with others that I know are not a huge fan of the traditional pumpkin pie. It is really that good.
Like I stated above, one secret that sets this recipe apart from other Pumpkin Crisp recipes is the double crisp. The crisp and the pumpkin mixture are the two parts that come together to make Pumpkin Crisp.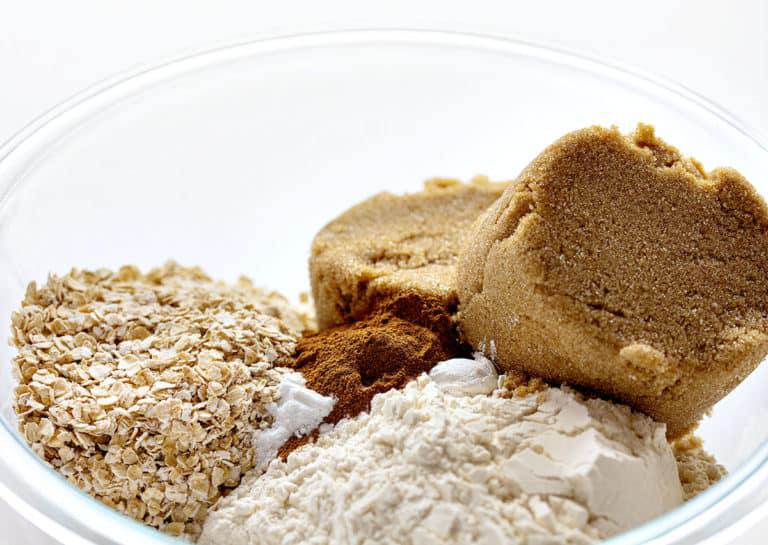 Pumpkin Puree vs Pumpkin Pie Mix
Pumpkin puree is cooked pumpkin that is blended or mashed into a smooth texture. There should be no seasoning, spice, flavoring, or sugar added. Pumpkin Pie Mix has spices and flavoring already added and is sweeter. We are adding our own seasoning and sweetness into this crisp so just want the pure pumpkin flavor of the puree. If you only have pumpkin pie filling on hand you can use it in this recipe, just be sure to use less pumpkin pie spice.
What is Pumpkin Spice?
Don't worry if you don't have Pumpkin Pie Spice in your spice rack. It is simply made from cinnamon, nutmeg, ginger, and cloves. You can click the link for the recipe!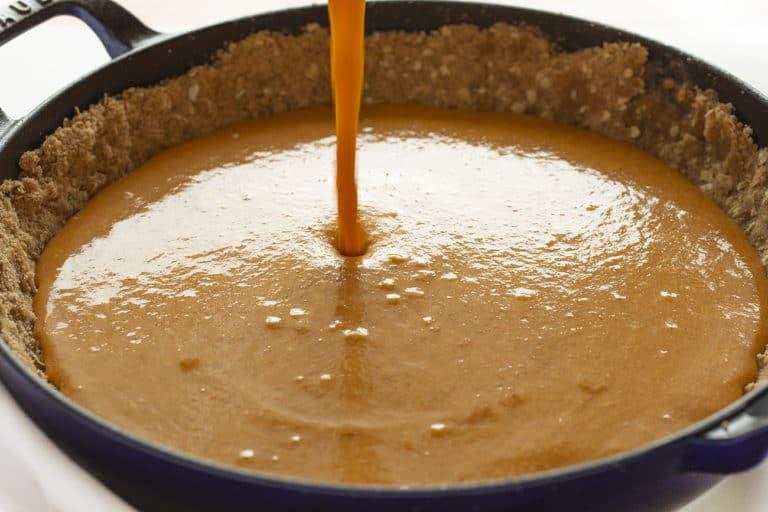 How to Make the Crisp
Let's talk about the butter that you need to cube for this recipe because that is really important! I like to use good quality butter like Challenge Butter. It's churned daily from two natural ingredients: the freshest 100% real pasteurized sweet cream and salt. That's it! The taste is pure, and the flavor is consistent, which is extremely important in baking.
Once you mix all the ingredients together, spray your skillet with non-stick cooking spray. Layer 4 cups of your crisp mixture on the bottom of the skillet, pressing flat. Save the rest of the mixture for the top of your Pumpkin Crisp.
One thing that makes this recipe unique is that the oat mixture is used on the top AND the bottom. The amazing thing about this layer is that it changes depending on how long you bake the crisp.
If you bake at 375°F for 35 minutes, the bottom oat mixture will be slightly caramelized and gooey while the top will be perfect crispy deliciousness.
If you bake at 375°F for 45 minutes, the bottom oat mixture will be crispy throughout. The top will be darker, but if you prefer a less dark crispy top you can add a foil tent to the crisp after 35 minutes.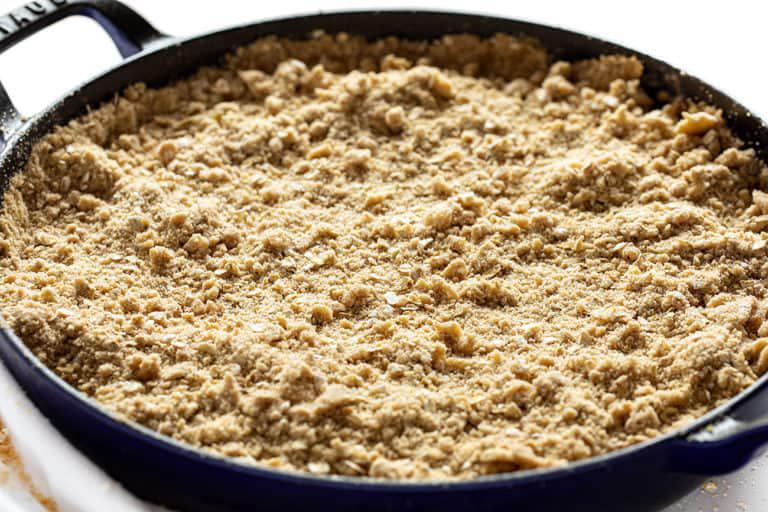 How to Make the Pumpkin Mixture
At this time of year, it is pumpkin spice this, pumpkin spice that, and this recipe is no exception. I have hopped on the pumpkin spice bandwagon. After you taste this Pumpkin Crisp, you will understand.
Making the pumpkin mixture is easy! Start by whisking together the eggs and sugar in a large bowl. Then, add the rest of the ingredients needed for the mixture. Pour the pumpkin mixture on top of the layer of crisp you have in your skillet. Top it off with the rest of your crisp mixture and bake it between 35-45 minutes at 350°F.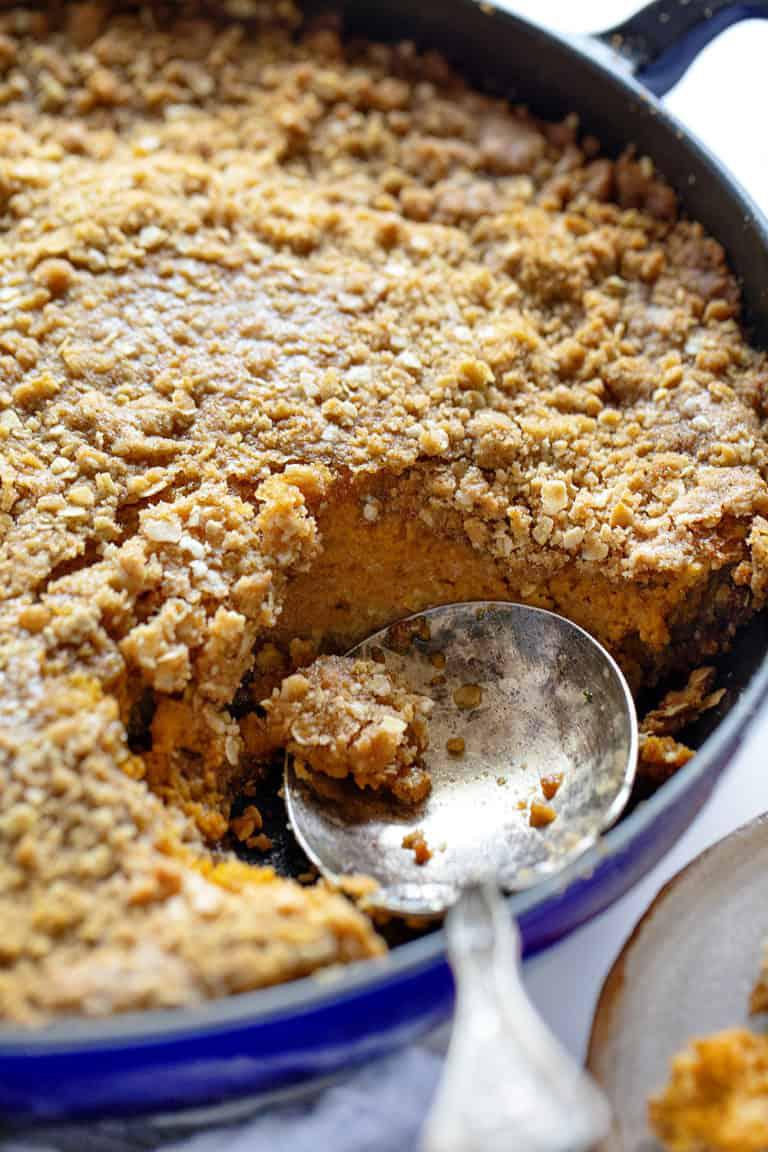 How to Serve Pumpkin Crisp
The jury is still out on whether to serve Pumpkin Crisp warm or cold. Some liked it better warm, but others preferred it cold. I liked it both ways, actually, and it wasn't because I was trying to make everyone happy. I simply loved it both ways! It was wonderful plain, but it is also wonderful with ice cream or whipped cream on top. You could always step out of your comfort zone and drizzle some room temperature hot fudge sauce on top! Pumpkin and chocolate go great together! I have a Chocolate Pumpkin Cake you might want to try if that combination sounds yummy. However you serve it or eat it, it's going to be delightful.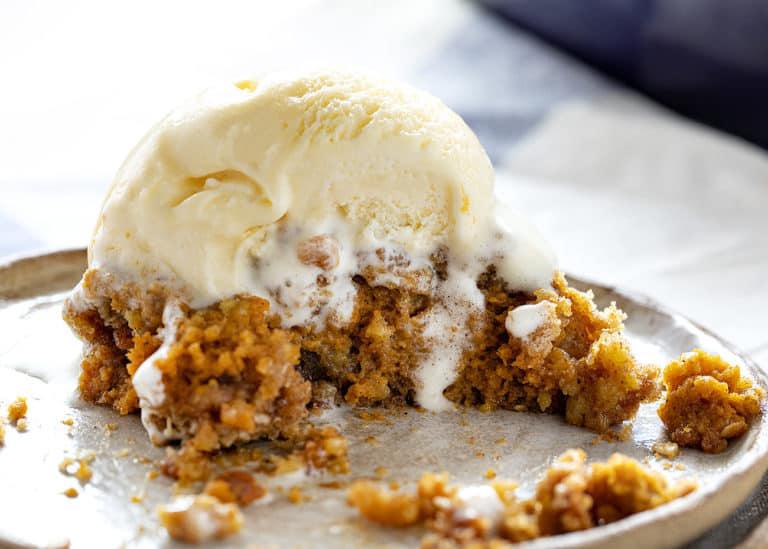 INGREDIENTS
CRISP MIXTURE
2 cups (180g) quick-cooking oats
2 cups (250g) all-purpose flour
1 cup (200g) packed brown sugar
½ teaspoon baking powder
½ teaspoon baking soda
2 teaspoons pumpkin pie spice
1 cup (227g) butter, cubed while cold
PUMPKIN MIXTURE
3 large eggs, room temperature
1 cup (200g) granulated sugar
1 can (15 ounces) pumpkin purée
1 cup (240g) heavy cream
2 teaspoons pumpkin pie spice
1 teaspoon pure vanilla extract
½ teaspoon kosher salt
INSTRUCTIONS
CRISP MIXTURE
Grease a 12inch or 13-inch skillet with cooking spray or butter.
Combine the oats, flour, brown sugar, baking powder, baking soda, and pumpkin spice together. Add in the cubed butter and use your hands to combine. You want the butter to be pea-sized and coated entirely.
Spread 4 cups over the bottom of your prepared pan and press flat.
Set the remaining crisp mixture aside.
PUMPKIN MIXTURE
In a large bowl, whisk together eggs and sugar.
When smooth and fully combined, add pumpkin, cream, vanilla, pumpkin pie spice, and kosher salt. Whisk until smooth and blended.
Pour the pumpkin mixture on top of the layer of crisp in the skillet.
Pour remaining crisp mixture over top of the pumpkin.
Bake uncovered at 375°F for 35-45 minutes.
Serve (warm or cold) with whipped cream or ice cream.