We can't get enough of this delicious recipe. Either can friends and family! Without fail, someone always requests this recipe after our Thanksgiving dinner.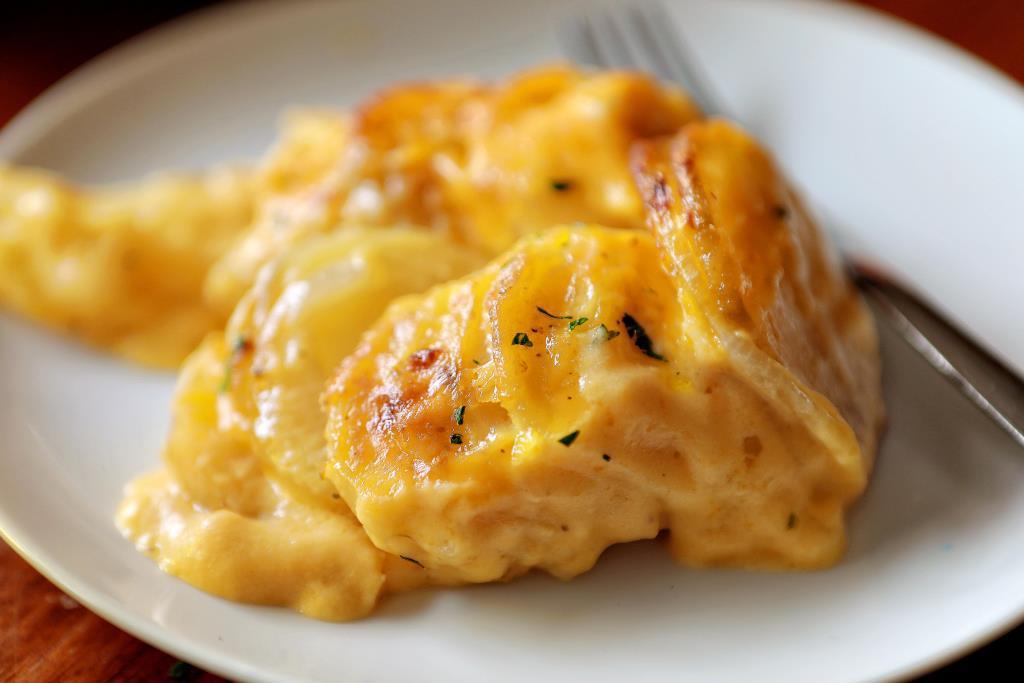 The Difference between Scalloped Potatoes and Au Gratin Potatoes
Why is there so much confusion about scalloped potatoes versus Au Gratin Potatoes? Well, they are very similar. So, we are calling our dish cheesy scalloped potatoes, and let me explain why we can do that. We are basically combining the best parts of both dishes.
A traditional scalloped potato dish consists of sliced potatoes layered in a casserole dish and baked with heavy cream and lots of herbs. A traditional Au Gratin Potato dish, on the other hand, has grated cheese sprinkled between the layers, resulting in a cheesy, more decadent dish. In both dishes, the potatoes are cut into rounds, but the potatoes used in scalloped potatoes are often cut a bit thicker than those in au gratin potatoes.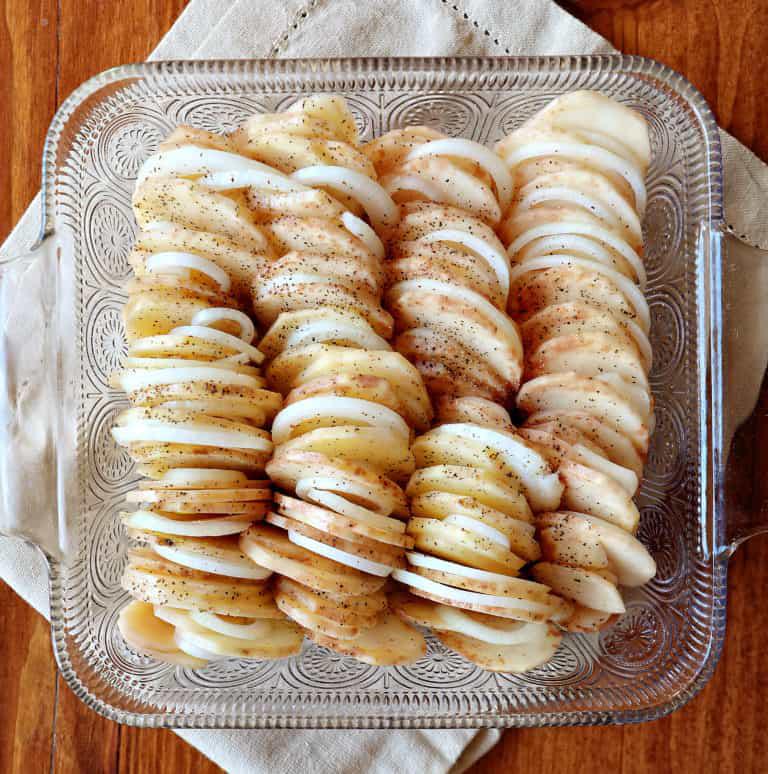 Cheesy Scalloped Potatoes
For this recipe, I take a cream sauce and smother it over thick cut potato rounds. I like to use a mandolin so that our potato slices come out the same every time. This is seriously the most amazing cheesy scalloped potato recipe that I have ever had.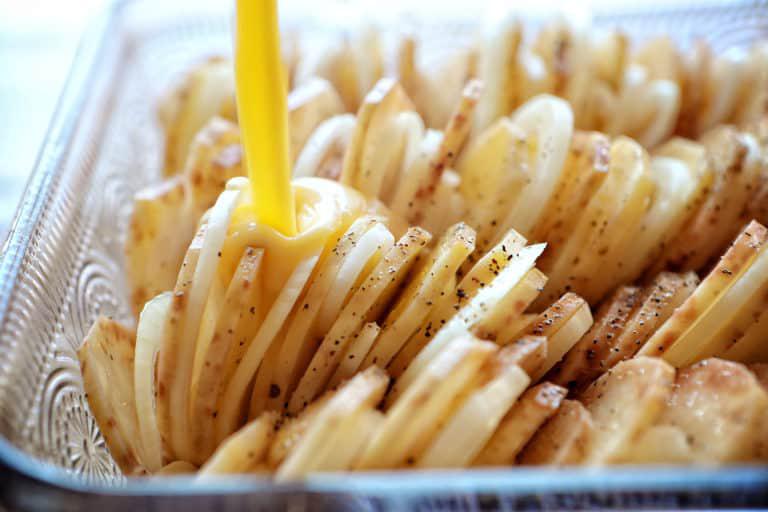 How to Make Cheesy Scalloped Potatoes
We like to start by creating a layered base of potato and onion. This evenly distributes the flavors so that every bit is consistent and amazing.
After you have assembled your masterpiece, you will move over to the saucepan and get started with some melted butter. Then you will mix in flour and salt, creating a base for your cheese sauce. Next milk gets added to the mixture (this is the cream sauce that you normally see in a scalloped potato dish).
Finally, you add in the cheese all at once and stir it all up until its melted. Pour the cream sauce over the potatoes, then cover and cook. Let it bake for a solid hour and a half. Throw on the broiler at the end if you want a crisp topping (I always do this but you don't have to).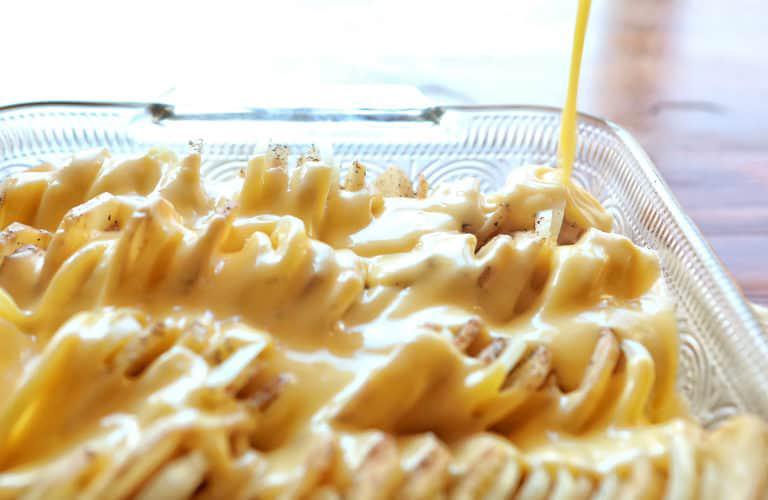 Cheesy Scalloped Potatoes and Ham
So many people have asked if this could be combined with Ham. Without a doubt. This would be amazing with the addition of ham! I would maybe cube it and put it in between the rows of potatoes. Really, all you need to do is add it to the ingredients list, it will incorporate with the rest of the recipe just fine. That would take this from a side dish to a knock out the main course!
No matter which way you decide to prepare this cheesy scalloped potatoes dish, you will not be disappointed! Neither will anyone at your dinner table. Seriously? What is there not to love!?
INGREDIENTS
4 russet potatoes, sliced into 1/4 inch slices
1 onion, sliced into rings
salt and pepper to taste
3 tablespoons butter
3 tablespoons all-purpose flour
½ teaspoon kosher salt
2 cups whole milk
1½ cups shredded Cheddar cheese
salt and pepper to taste
INSTRUCTIONS
Preheat oven to 400°F (200 degrees C).
Butter an 8×8 casserole dish.
Arrange the potatoes and onions in the prepared baking dish, staggering potato and then onion.
Season with salt and pepper to taste.
In a medium-size saucepan, melt butter over medium heat. Mix in the flour and salt, and stir constantly with a whisk for one minute. Stir in milk. Cook until mixture has thickened.
Stir in cheese all at once, and continue stirring until melted and smooth, about 30 to 60 seconds.
Pour cheese over the potatoes, and cover the dish with aluminum foil.
Bake 1 1/2 hours (90min.) in the preheated oven.
For a crisp topping, change the oven setting to broil for 5 minutes before removing the dish.