Jazz up your morning with some sweetness. Quick and simple Orange Pineapple Sweet Rolls with a Pineapple Glaze!
When I was a kid over the summer I would spend a week at my cousins house. They had a house full of kids, 8 to be exact, pretty much back to back from toddler to teenager.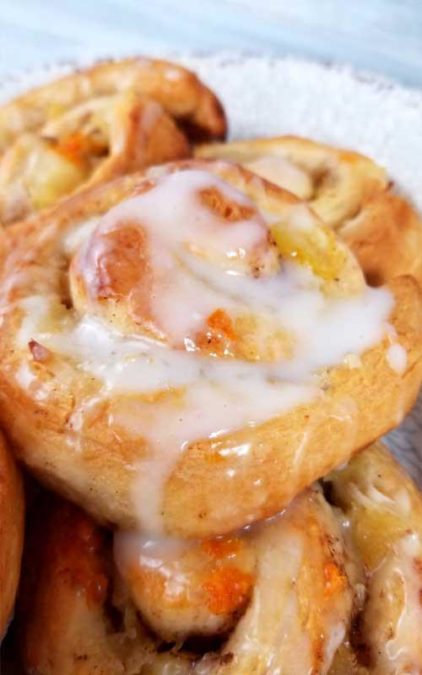 It wasn't a huge house either, they were packed in there. One thing they did have that I remember was a big deep freezer in the basement. My aunt would bring up a few packs of frozen sweet rolls and hang them outside on the clothesline to be heated by the sun.
They didn't have a microwave back then, and it was too hot to turn on an oven.
Well I had never seen such a thing, food hanging on a clothesline, in the plastic wrap and the glaze getting all gooey and running down the plastic. It doesn't sound very appetizing, but for some reason back then, those things were the best.
This recipe brings back memories of carefree summer days back when kids played outside and ran around in the sprinkler and used our imagination to make believe whatever your little heart desired.
So have some coffee and some sweet rolls and reminisce with a good friend while sharing some happy memories.
Hopefully have a few laughs and make sure the kids get some play time outside to use their imaginations and make some happy memories!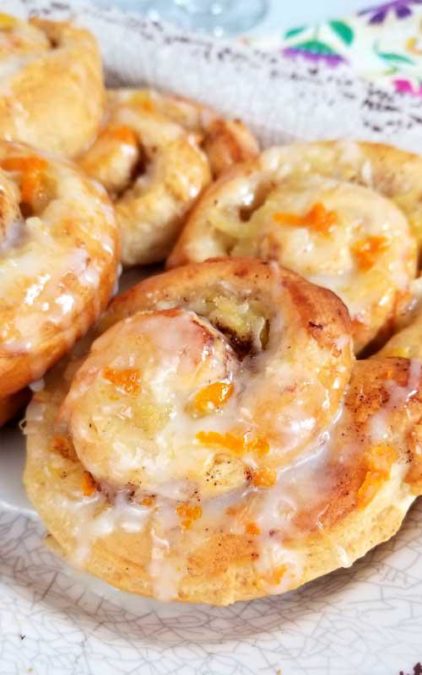 Ingredients
1/4 cup crushed pineapple – well drained, reserve juice for glaze
2 tablespoons sweetened shredded coconut (optional)
2 tablespoons orange zest
2 tablespoons butter (room temp)
1/4 cup powdered sugar
1 13.9 oz Pillsbury Cinnabon refrigerated orange rolls (I didn't use the orange glaze, disregard Pineapple glaze if your using the orange)
Pineapple Glaze:
1 cup powdered sugar
3 tablespoons pineapple juice
1 tsp orange zest
Instructions
Heat oven to 400°F. Line large sheet pan with parchment paper.
Mix together butter, pineapple, sugar, and coconut. Spread mixture over carefully unrolled dough, leaving an inch on the edges for rolling. Zest orange over the top.
Slowly roll the dough into a log. Using a serrated knife, cut along the perforations (rub a little butter on the knife blade to keep it from sticking)
Place rolls about 2 inches apart on parchment covered sheet pan
Bake for 9-13 minutes or until golden brown remove and let cool 15 minutes
For the glaze:
Mix powdered sugar, pineapple juice, and orange zest well and drizzle over cooled rolls
Nutrition Information
Yield 8
Serving Size 1 roll
Amount Per Serving
Calories 331
Total Fat 9g
Saturated Fat 4g
Trans Fat 2g
Unsaturated Fat 1g
Cholesterol 8mg
Sodium 476mg
Carbohydrates 60g
Fiber 2g
Sugar 39g
Protein 3g