Slow Cooker Green Beans with Bacon is one of our very favorite side dishes! Packed full of flavor, this easy green beans recipe takes just a handful of ingredients and a few minutes of work.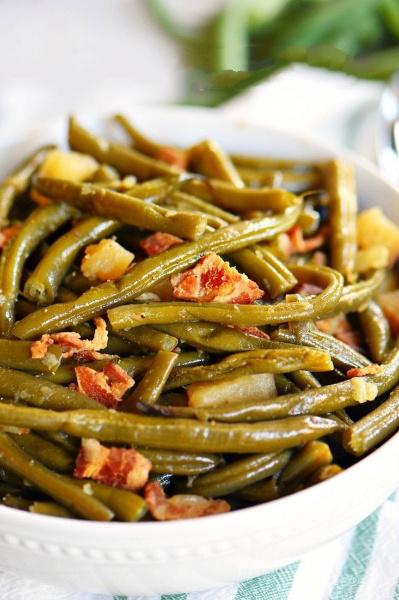 Side dishes are the most fun part of any meal, wouldn't you say? I think this is where we get to be the most flexible and creative. During busy weeknights, our side dishes are usually limited to one, possibly two dishes, most like a veggie of some sort.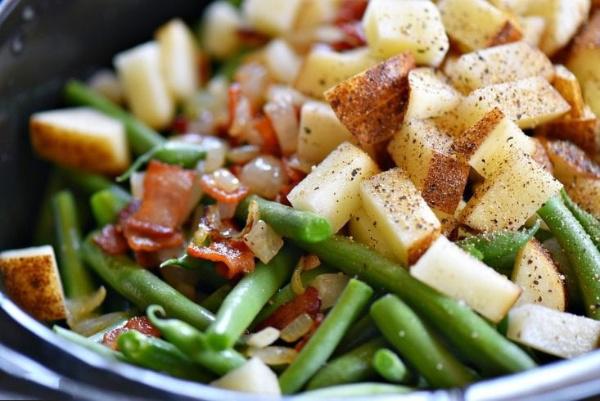 What Is Needed for this Crockpot Green Beans Recipe
These green beans don't need a lot of ingredients which is pretty impressive considering the big flavor. The slow cooker does a lot of the work for you, melding the flavors together and creating an environment that allows the green beans to just soak in the flavor of the bacon and potatoes.
Fresh green beans – canned green beans can also be "doctored" up using this recipe
Bacon
Potato (I prefer russet or red potatoes)
Onion
Chicken broth or water (use the broth or stock if you can)
salt and pepper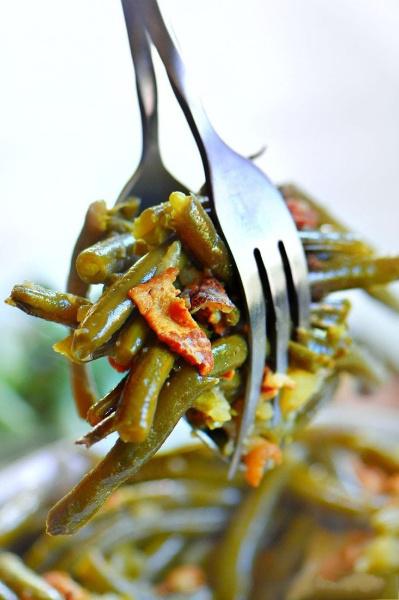 My family prepares these southern style green beans all year long. My Nana would frequently make them with potatoes, like I've done here today but the potato is not super necessary if you're opposed.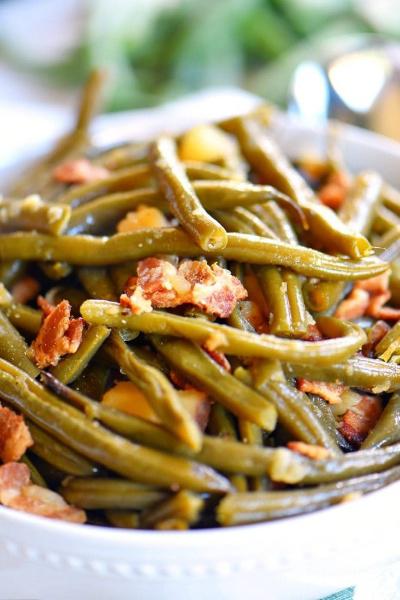 Ingredients
8 slices of bacon
2 pounds of rinsed and trimmed fresh green beans
1/2 cup yellow onion diced
1 potato diced
1 1/2 cups chicken broth or stock
salt and pepper to taste
Instructions
Cut the bacon into small pieces and cook over medium heat until the bacon is fully rendered and crispy.
Add the onions and saute with bacon until transparent.
Lightly spray a slow cooker with cooking spray and add green beans. and pepper and stir making sure the bacon drippings are getting mixed in well.
Add bacon and onion mixture followed by the diced potatoes.
Add chicken broth, salt and pepper to taste. I frequently don't even add salt because the bacon has so much already.
Cover and cook on low heat for 6 to 8 hours or high heat for 3 to 4 hours or until beans reach your desired level of tenderness.
Add salt and pepper to taste. Serve immediately.