Fried Rice is cooked white rice that is stir-fried in a skillet with scrambled eggs, vegetables, and flavored with garlic and soy sauce for the perfect side dish or comfort food. And no, you don't have to have a wok for this easy recipe!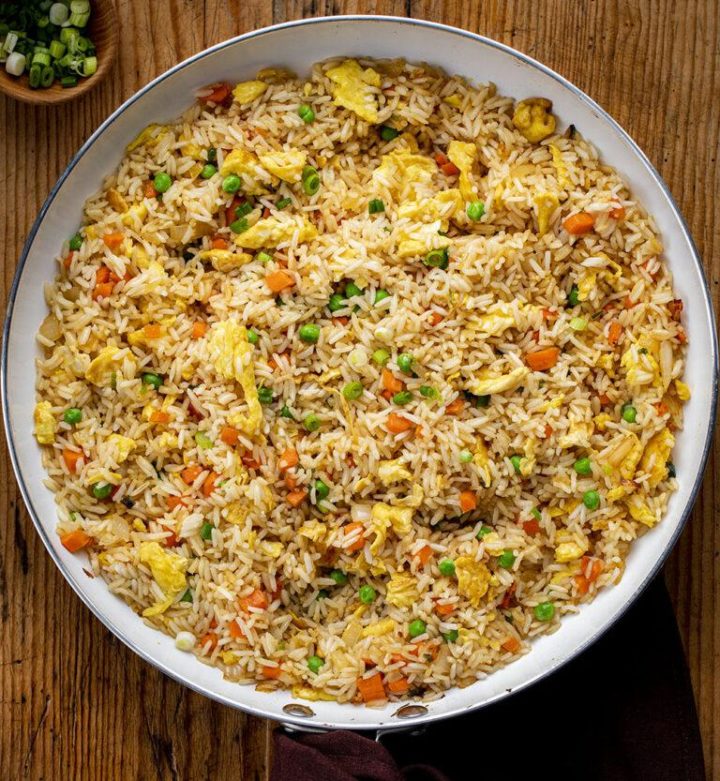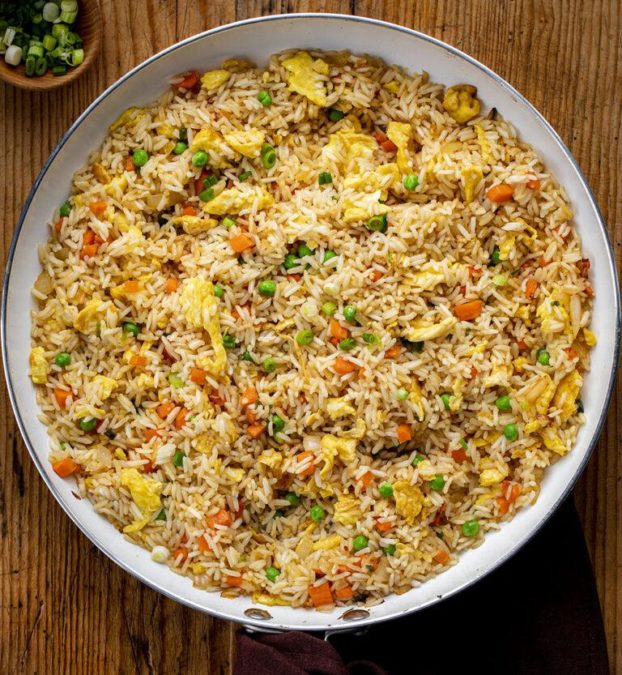 EASY FRIED RICE
Fried rice has been around for centuries and a dish that was created by using leftovers. This dish is perfect with leftover rice, up to 2-3 days old, and any vegetables you want to use. You could also add bits of protein to the rice to make it more hearty. I call this recipe easy because it comes together so quickly. The hardest part is buying the ingredients! ? If you are looking for a more authentic version of fried rice, I recommend Chinese Ham and Egg Fried Rice.
FRIED RICE INGREDIENTS
Rice: I used long-grain white rice for this recipe. Make sure it has been cooked and cooled (cold) before using it in the dish. That is why leftover rice is perfect for this fried rice recipe. But, if you are making this and have to cook the rice ahead of time, be aware of the time it will take for the rice to cool completely. For a slightly healthier option, you could use brown rice in place of white rice.
Vegetables: Carrots, onion, green onion, and peas were the vegetables I chose to use in this recipe. But, feel free to add any stir-fry vegetable favorites you may have!
Soy Sauce: Use the amount of soy sauce that works for you. I used 2 tablespoons in the recipe, but you could also start with a lesser amount and add more after the rice has cooked. It's all about preference when it comes to soy sauce.
See the full list of ingredients and instructions in the recipe card below.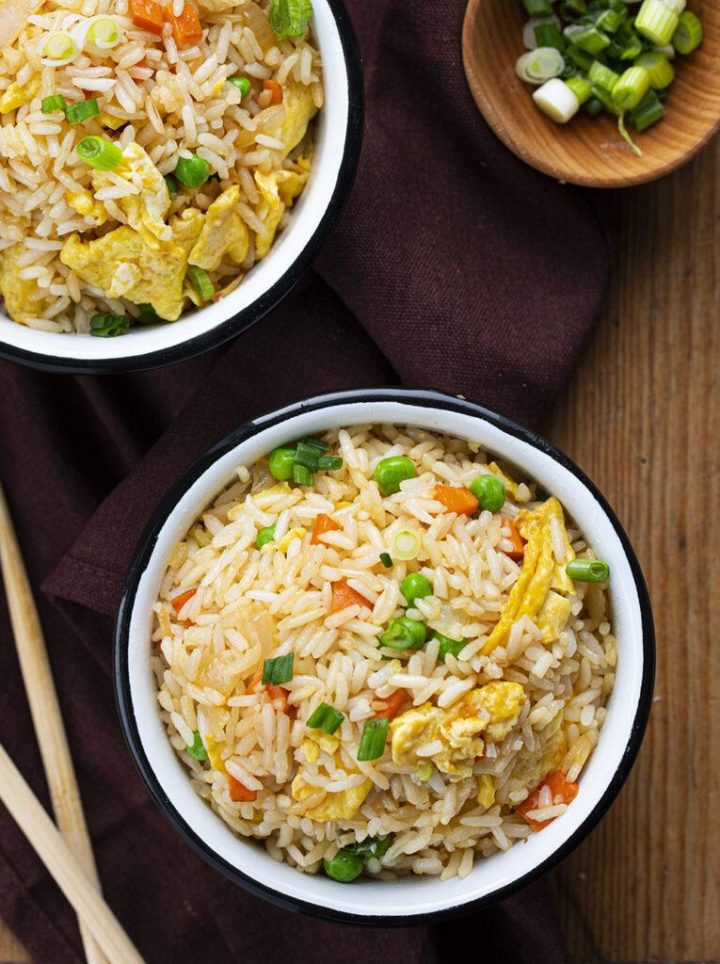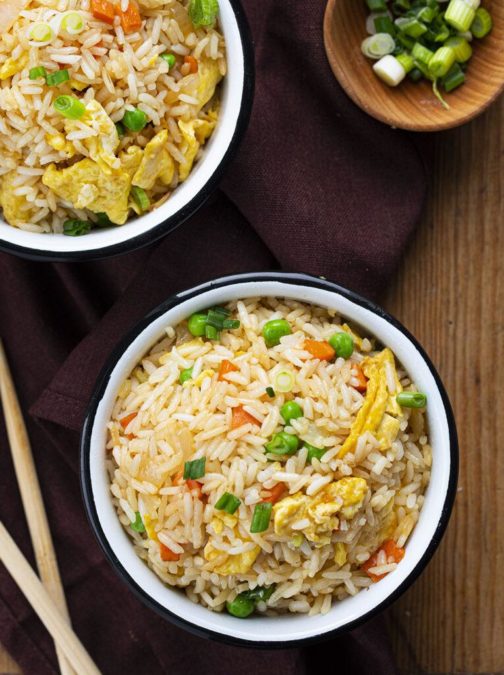 HOW TO MAKE FRIED RICE
To get this side dish made, start by scrambling the eggs in half of the sesame oil. Once scrambled, transfer the eggs to a plate and tent with some aluminum foil to keep warm. Reduce the heat and add the remaining oil to the skillet. Next, add the carrots, white onions, and green onions. Cook for about 5 minutes, or until the carrots have softened. Then, add the garlic and cook for about a minute.
At this point, add the cooked (and cold) rice and scrambled eggs. Finally, pour in the melted butter, lemon juice, soy sauce, and frozen peas (no need to thaw). Cook everything together for 3-5 minutes, or until heated through. Season with salt and pepper, to taste, and a little soy sauce (if preferred).
Once you see how easy and flavorful fried rice is, add some sauteed shrimp or beef, rotisserie chicken, or more stir-fry vegetables. Store fried rice in a sealed container, in the refrigerator, for up to 3 days.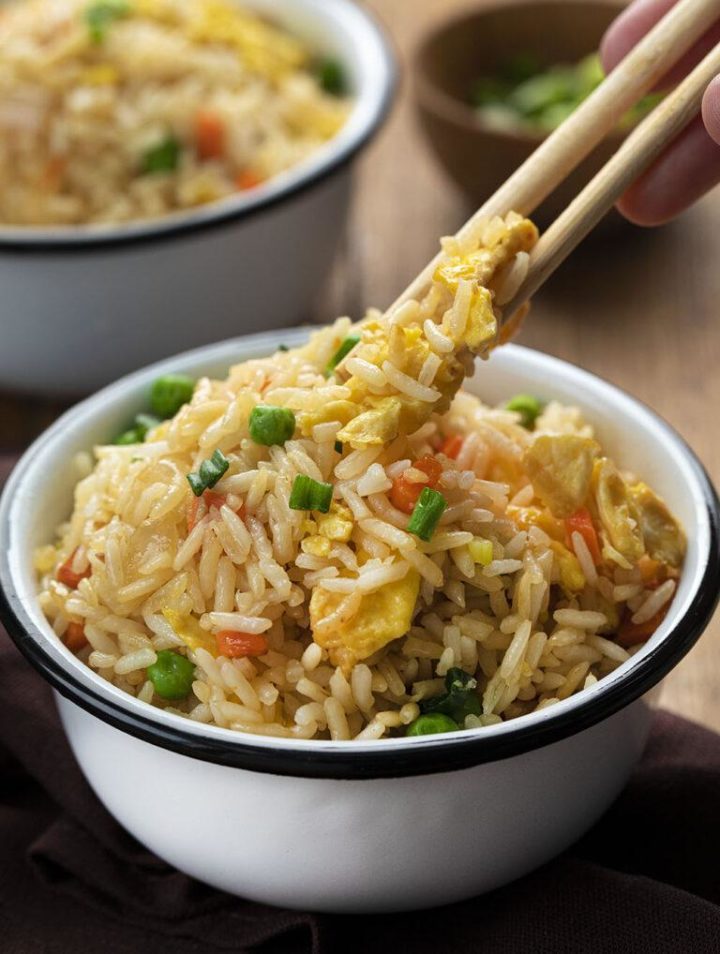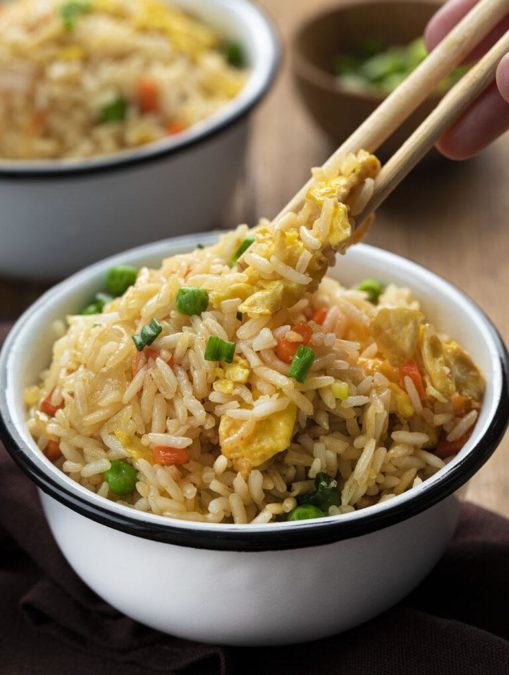 Ingredients
4 cups long-grain white rice, cooked and cooled
2 tablespoons sesame oil, divided
4 large eggs, beaten
½ teaspoon kosher salt
2 large carrots, diced
1 large white onion, diced
¼ cup green onions, diced
1 teaspoon garlic minced
¼ cup butter, melted
1 teaspoon lemon juice
2 tablespoons soy sauce
⅓ cup frozen peas
salt and pepper, to taste
Instructions
Heat a large skillet over high heat until very hot, about 2 minutes. Add 1 tablespoon oil, eggs, and salt and cook until large curds set. Transfer the cooked eggs to a plate and tent to keep warm.
Reduce heat slightly and add the remaining oil, carrots, onions, and green onions. Cook until heated through (about 5 minutes, or until carrots are softened). Add garlic, and cook 1 more minute.
To the skillet, add the cold rice and cooked eggs.
Pour in melted butter, lemon juice, soy sauce, and frozen peas and cook, stirring frequently, for 3-5 minutes, or until heated through.
Season with salt and pepper to taste.