There's a burst of banana bread in every bite of these banana chocolate chip cookies. These are even better though because they have milk chocolate chips stuffed in them. The cookies are soft, chewy, and the perfect spin on chocolate chip cookies.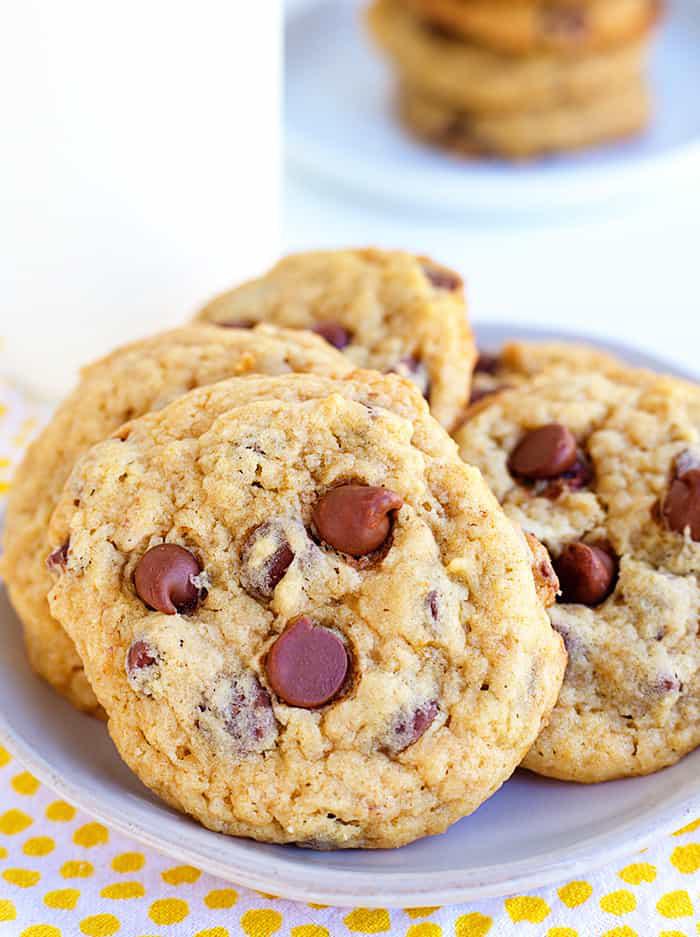 Banana Chocolate Chip Cookies
After extensive testing and a few of bunches of bananas later, I'm incredibly happy with this recipe. They had started out too sticky and just spread out too much, and that just will not do! In my mind, they need to actually look like a chocolate chip cookie and not be mini cakes.
To achieve the perfect banana chocolate chip cookies I ended up tweaking my go-to chocolate chip cookie by substituting the eggs for overripe bananas, added extra chocolate chips, a little cornstarch, and additional flour. The result is pretty amazing!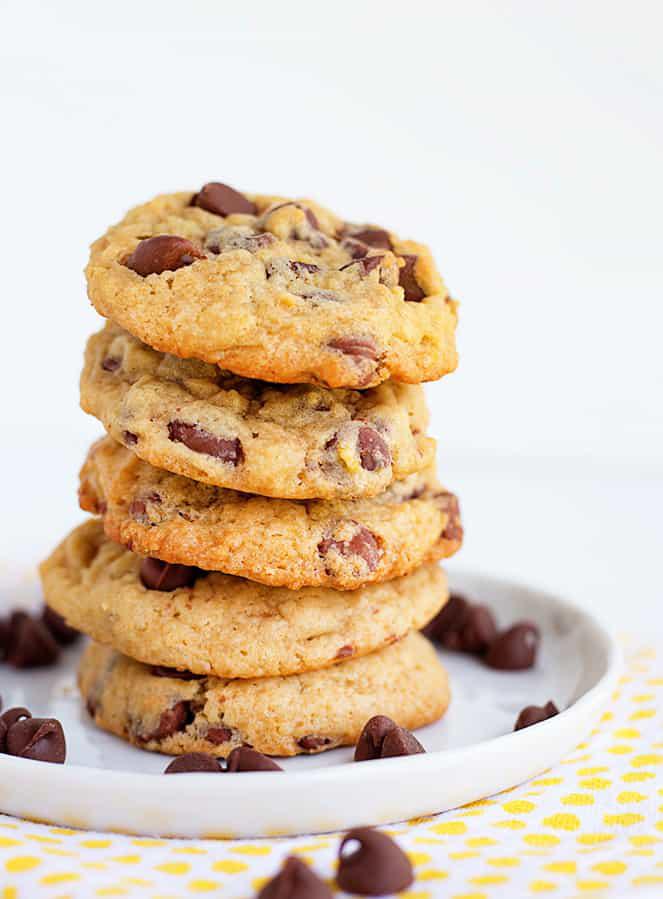 How to Bake Banana Chocolate Chip Cookies
Begin by mashing up two overripe bananas in a small bowl with a fork. I tried to add the whole bananas right into the cookie dough without mashing them first but there were still large visible chunks. This doesn't work as you don't want to overmix your dough trying to get those chunks out… it could lead to a gummy cookie.
Set the bananas aside and grab a medium mixing bowl for the dry ingredients. Add the flour, baking soda, salt, and cornstarch into the bowl and whisk together. Set this bowl aside too.
In a large mixing bowl, add in the butter and both sugars and beat until fluffy. Add in the vanilla and bananas and beat just until the bananas are worked in. At this point, mix as little as possible to avoid the tough, gummy cookie.
Dump the dry ingredients into the large mixing bowl and mix just until the flour is worked in. Add in the semi-sweet or milk chocolate chips and stir with a spatula. Scoop the cookies out onto a baking sheet, top with additional chocolate chips and bake until the edges are golden brown. There you have it, a tasty little bundle of chocolate chip banana bread in cookie form!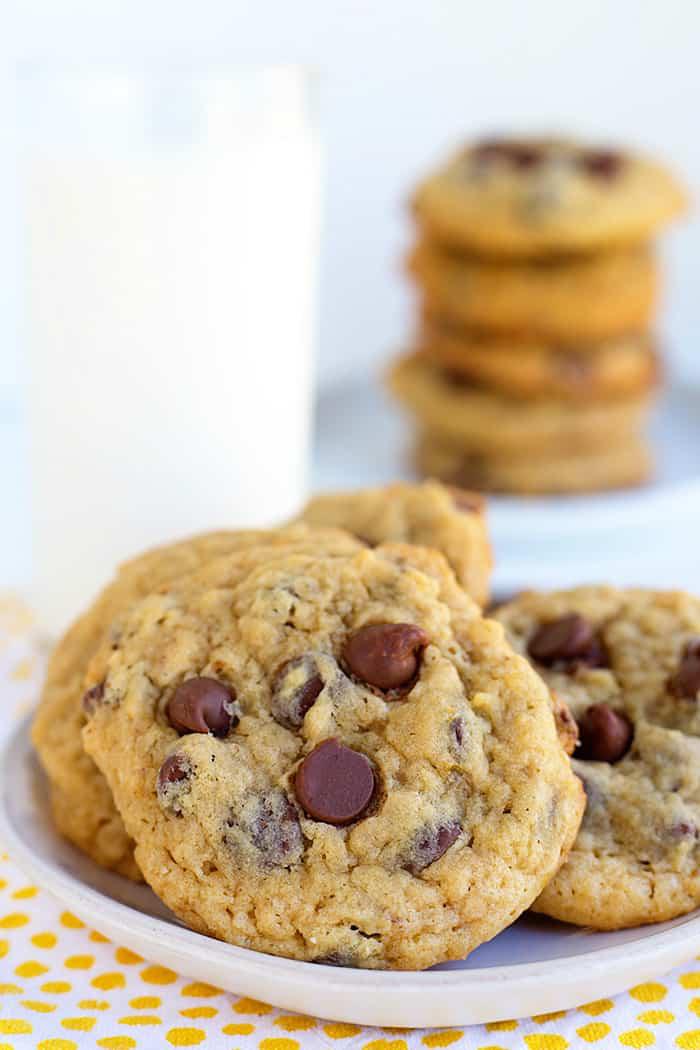 I often buy bananas when they are brown and over-ripe. (My grocery store will package up 5-pound bags and sell them for .20 a pound!) I simply peel them, place them in an even layer in a freezer bag, and date the bag. I thaw them on the counter (it goes pretty fast). They can look pretty darn mushy after they have thawed, but the flavor is still there!
INGREDIENTS
2 ripe bananas, about 1 cup
3 1/4 cups (406g) all-purpose flour
1 teaspoon baking soda
1/2 teaspoon salt
1 tablespoon cornstarch
1 cup (2 sticks or 226g) unsalted butter, room temperature
1 cup (200g) light brown sugar, packed
1/2 cup (100g) granulated sugar
2 teaspoons vanilla extract
2 cups milk chocolate chips, divided
INSTRUCTIONS
Preheat oven to 350°F. Line a cookie sheet with parchment paper. Set aside.
In a small bowl, add the 2 bananas. Mash them up using a fork and set aside. They will turn brown if you plan on letting them sit too long. To prevent this, add a little lemon juice to the mixture.
In a medium mixing bowl, add in the flour, baking soda, salt, and cornstarch, Whisk to combine. Set aside.
In a large mixing bowl, add in the butter, granulated sugar, and brown sugar, Beat on medium with a hand mixer until light and fluffy.
Add in the mashed bananas and vanilla extract. Beat on medium just until the bananas are worked in.
Dump in the dry ingredients and mix until the flour is worked into the dough.
Set aside 1/3 cup of the milk chocolate or semi-sweet chocolate chips.
Add the remaining chocolate chips to the cookie dough. Fold in using a spatula.
Using a 1 1/2 tablespoon cookie scoop, scoop the cookies onto the prepared cookie sheet spacing them 2 inches apart.
Add 3 to 4 chocolate chips from the reserved 1/3 cup to the tops of each ball of cookie dough.
Place into the oven and bake for 10-12 minutes or until the edges are golden brown. Let cool on the cookie sheet for 5 minutes before transferring them to a cooling rack or a paper towel lined counter.