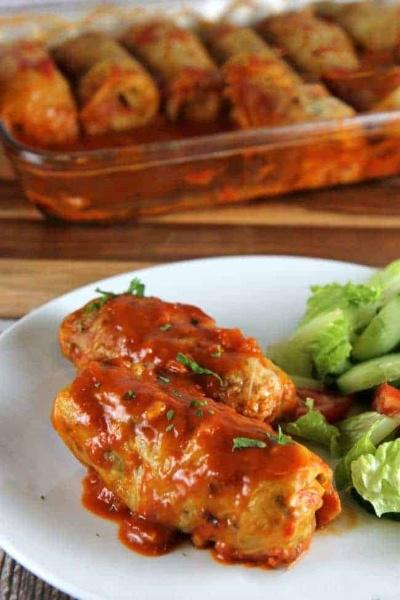 My grandma was directly from Poland so Cabbage Rolls are a dish I've enjoyed my whole life. Grandma's kitchen always smelled incredible… and there was always something amazing to eat!
Cabbage rolls can vary depending on the origin, the Polish version usually contains meat and rice while the Ukrainian version generally contains only rice. I use a combination of beef & pork for the best flavor but you can use any type of ground meat for these easy cabbage rolls. While the tomato soup may not be typical, it softens & sweetens the tomato sauce slightly and tastes delicious!
This great dish is amazing leftover as well… should you be lucky enough to have any left!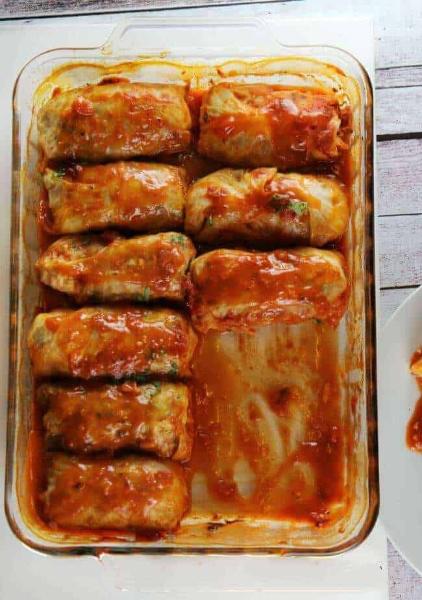 Ingredients
1 head green cabbage
1 pound ground pork (or ground turkey)
½ pound ground beef
2 small onions diced
3 cloves garlic minced
½ teaspoon dill weed
3 tablespoons fresh parsley
1 can diced tomatoes (14 oz) undrained
salt & pepper to taste
1 cup uncooked rice
1 egg
1 ½ cups + ⅓ cup tomato sauce or pasta sauce divided
1 can tomato soup 10.5 oz
Instructions
Boil cabbage leaves about 2 minutes or until soft. (See note below for removing leaves). Set aside to cool.
Preheat oven to 350°F.
Cook rice according to package directions but reduce cooking time by 5 minutes so the rice is slightly underdone. Set aside.
Cook beef, pork (or turkey), onions, garlic & seasonings until no pink remains. Drain any fat. Add in rice, diced tomatoes, ⅓ cup of tomato/pasta sauce, salt & pepper. Stir in egg.
Mix tomato sauce and tomato soup in a bowl. Spread a very thin layer of the tomato sauce mixture in a 9×13 pan.
Remove or thin any thick stem on cabbage leaves. Lay the cabbage leaf flat and add ⅓ to ¼ cup filling to the center of the leaf. Fold in the sides and roll the cabbage up. Place seam side down in the pan. (See note for small leaves). Repeat with remaining cabbage.
Pour sauce over the cabbage and cover tightly with foil. Bake 75-90 minutes. Let cool 15 minutes before serving.
Recipe Notes
To remove leaves from head of cabbage, cut approx ¼" off the bottom of the head and place the whole head of cabbage in boiling water. Boil about 2 minutes. Peel off the softened leaves. Place remaining head back in the boiling water and repeat until all of the leaves are removed. Remove any tough stems from cooked leaves.
Note, if you have some smaller leaves and still have filling leftover just overlap the leaves as needed. The rolls will still cook up perfectly.