Hamburger Macaroni Skillet is almost as easy as making a hamburger pasta out of a box, but with a homemade touch!
HAMBURGER MACARONI SKILLET
It's tough to come home after a long day and try to think of something to make when you didn't plan ahead…Ugh! To make something homemade seems even more daunting, but it doesn't have to be! Instead of relying on a boxed dinner that has little nutritional value, I bet you have some hamburger and cheese that you can throw together with some pasta for something that your whole family will love!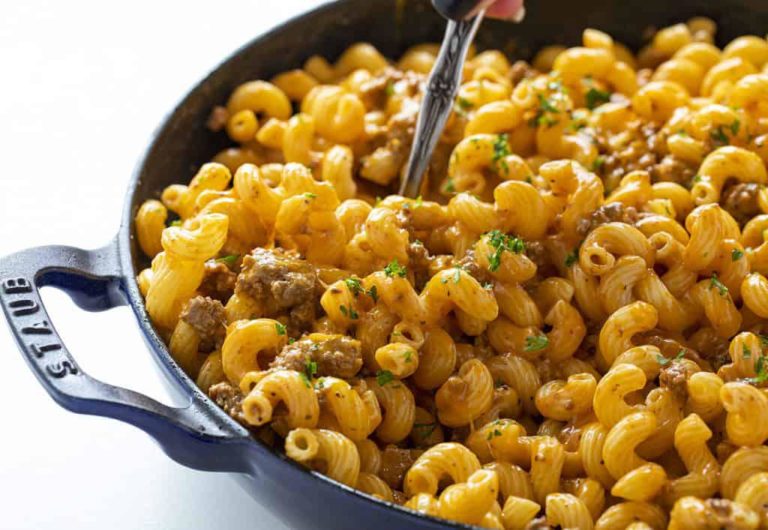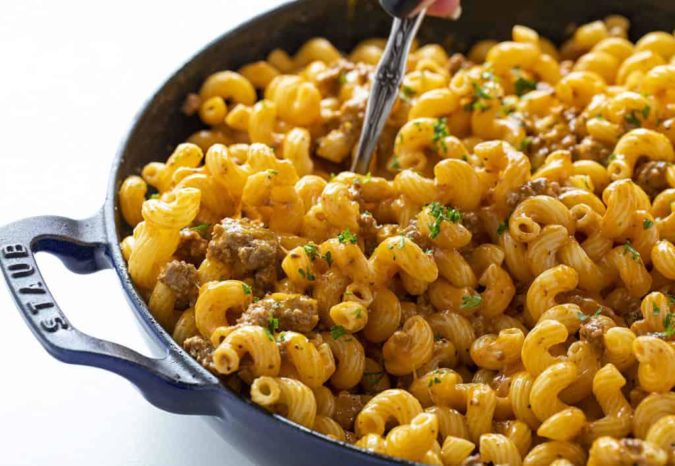 HAMBURGER MACARONI SKILLET RECIPE
One nice thing about this recipe is that you probably have most ingredients on hand. Although I use cavatappi pasta for this recipe (because I love the shape), any pasta would do.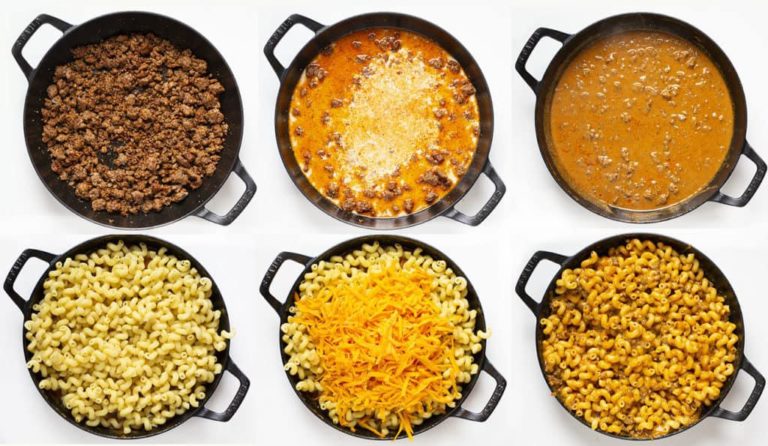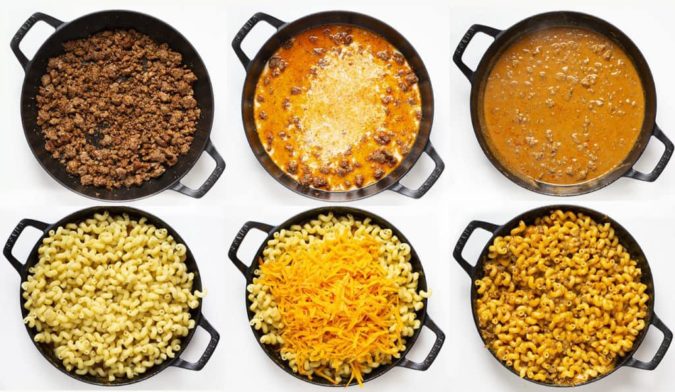 HOW TO MAKE HAMBURGER MACARONI SKILLET
(Full instructions in the recipe card below) Get out your trusty skillet. First things first, do you own a cast-iron skillet? (This cast-iron is the best. Truly.) If not, go out and buy one right now. You will use this more than you think! Best of all, you can use a cast-iron skillet for most of your cooking, including this Hamburger Macaroni Skillet. And don't go out and buy one just because they are in style, buy one because they have been around for a couple of thousand years and they work!
Okay, back to the recipe and how to make this Hamburger Macaroni Skillet. You will have to cook the pasta before you add that to the skillet, so it's up to you when you want to do that. The rest is pretty simple (not saying cooking pasta is not simple…)
Brown the beef in a large skillet.
In a small bowl, mix together salt, paprika*, garlic salt, onion powder, black pepper, and red pepper. Whisk the spices together and add it to the meat.
Using another bowl, whisk together the beef broth, milk, and cornstarch until it's smooth.
Again, add this mixture to the beef and spices (in the skillet).
Add in the cooked pasta and shredded cheese and combine it all together. If you want to add parsley, go for it! It is fine without it, too, so don't stress if you don't have any on hand.
*If you want a smokier flavor to this dish, try smoked paprika instead of the regular. It definitely gives it that smokey flavor!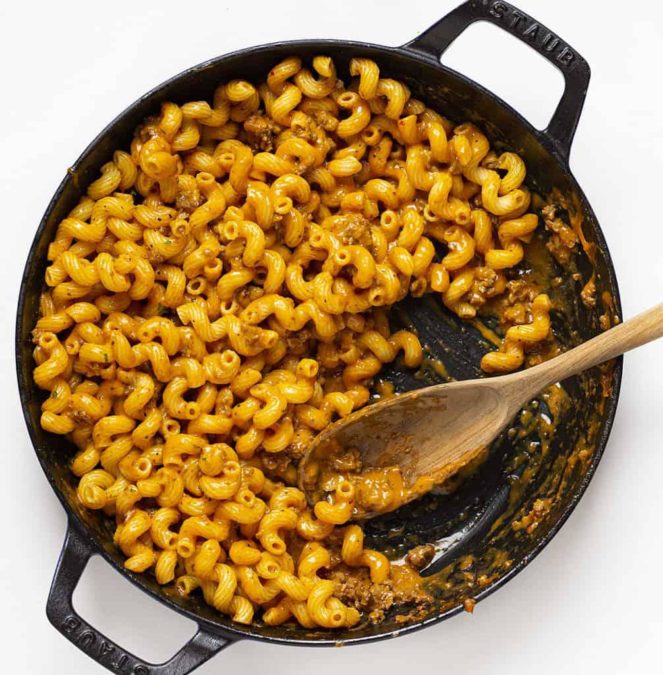 WHAT TO SERVE WITH HAMBURGER MACARONI SKILLET
Hamburger Macaroni Skillet is a hearty meal, but it's nice to pair a starchier meal like this with a refreshing side dish, like a salad. A Wedge Salad is always a fun side dish to serve. I also love to have some homemade bread to serve with a pasta dish.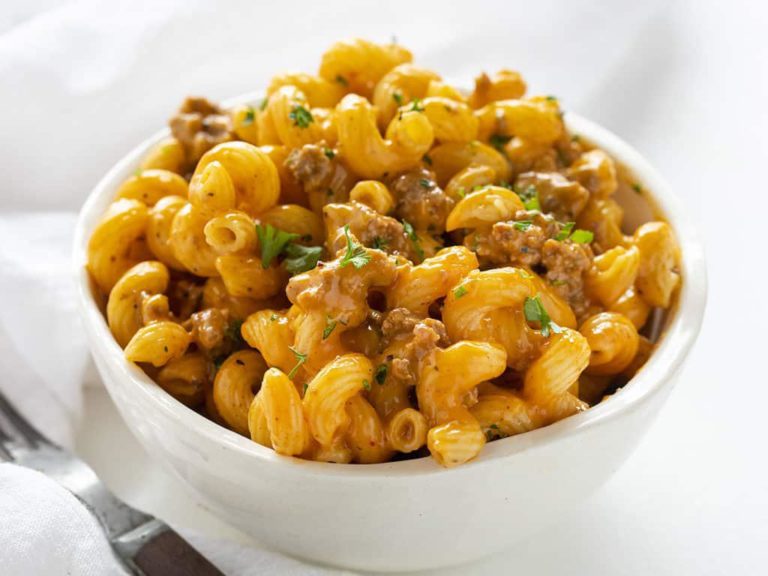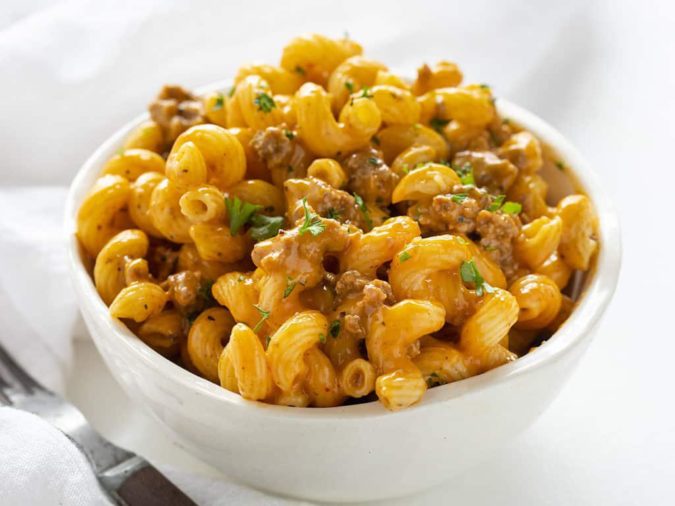 Ingredients
1 1/2 pounds ground beef
2 teaspoons salt
1 tablespoon paprika
1 teaspoon garlic salt
1 teaspoon onion powder
1 teaspoon fresh ground black pepper
1/4 teaspoon crushed red pepper
1 cup beef broth
1 1/2 cups milk
2 tablespoons cornstarch
1 pound cavatappi pasta, cooked to package instructions
3 cups freshly shredded cheddar cheese
1 tablespoon parsley, chopped for garnish
Instructions
In a large skillet over medium-high heat, add ground beef and cook until it is no longer pink.
In a small bowl, mix together salt, paprika, garlic salt, onion powder, black pepper, and red pepper. Whisk together and sprinkle over the meat, stirring to fully incorporate all of the seasonings.
In a medium bowl add beef broth, milk, and cornstarch. Whisk together until smooth.
Pour mixture into ground beef, stir to incorporate completely. Bring mixture to a boil, stirring occasionally, until it thickens.
Add in cooked pasta and shredded cheese.
Garnish with freshly chopped parsley.