Spaghetti Limone is a buttery, lemony pasta dish drizzled with olive oil and topped with plenty of parmesan cheese that is on the table in just a few minutes!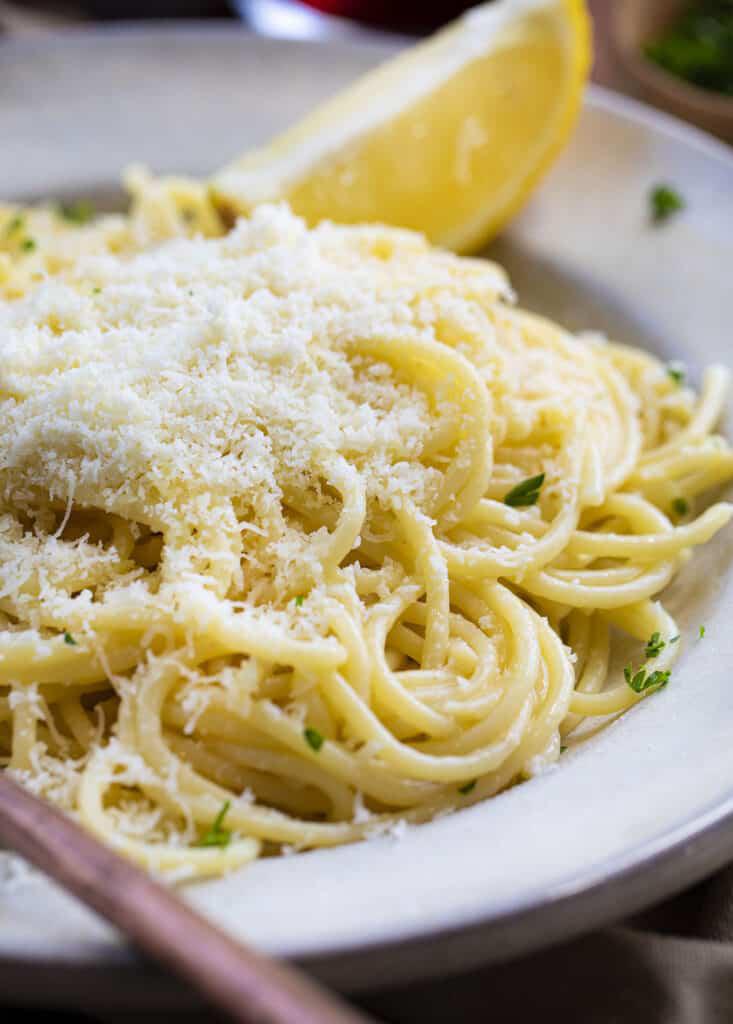 SPAGHETTI LIMONE
This recipe is inspired by Frank Prisinzano's Spaghetti al Limone, which is a simple, but delicious dish that he serves in his restaurants. It may look simple, but that is the way the recipe is supposed to be, with the minimal ingredients blending together perfectly.
It's a dish that can be made in just a few minutes, so it's great when you are short on time. But, it's good enough to hold its own when serving guests, especially with a basket of garlic breadsticks.
SPAGHETTI LIMONE INGREDIENTS
With just a few basic ingredients and a few minutes, you will have this creamy dish ready to enjoy.
Pasta: I used half a box (8 ounces) of spaghetti noodles. You could use your favorite pasta noodles in this dish, but spaghetti noodles are best to help emulsify (blend together) the lemon, water, and butter. As Prisinzano says, "the spaghetti acts like a whisk."
Pasta Water: You will notice that you need to reserve a cup of pasta water as you drain the noodles. I will explain the importance of that later. We only used 1/4 cup of the reserved pasta water, but you can always add more until the sauce reaches your desired consistency.
Lemon: Freshly squeezed lemon is best, but you could use an equal amount of bottled lemon juice (about 2 1/2 tablespoons) in a pinch. (But, I am not sure how the chef would feel about that substitution…)
Butter: Cut the six tablespoons of butter into six, one tablespoon pats.
Toppings: Drizzle olive oil over each bowl of pasta, followed by lots of parmesan cheese before serving.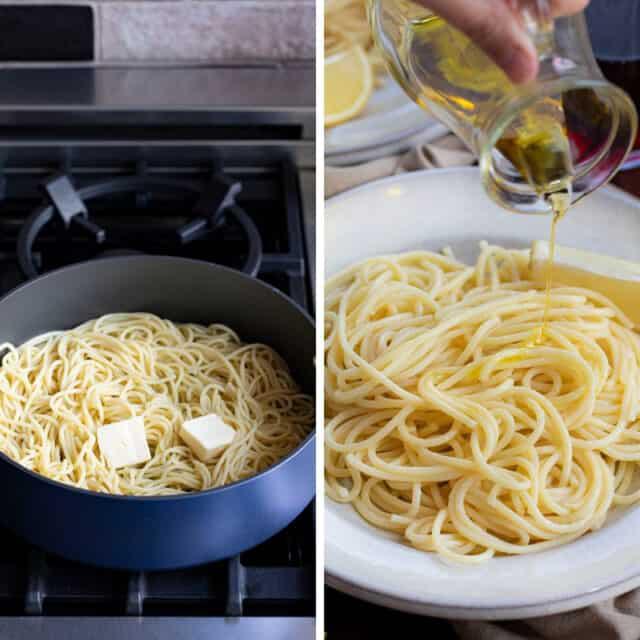 HOW TO MAKE SPAGHETTI LIMONE
To get started in making this spaghetti Limone, cook the noodles al dente (according to the package instructions). As the noodles are cooking, be sure you have the skillet and ingredients nearby to get the sauce made. Once the pasta has cooked, reserve a cup of pasta water and drain the rest.
To the skillet over medium heat, add 1/4 cup of pasta water, lemon juice, and four tablespoons of butter. Once the butter has melted, add the cooked noodles and swirl them around to mix the sauce and coat the noodles. Add salt and the other two tablespoons of butter. Heat until the butter has melted.
SERVING SPAGHETTI LIMONE IN WARM BOWLS OR PLATES
Once the pasta dish has been made, it's important to serve the portions in warm bowls or plates. If your serving dishes are microwave-safe, you can warm them up in the microwave. Or, you can heat the bowls and plates over the pasta water. The reason you want this dish served on warm dishes is so the lemon butter sauce doesn't harden.
After you have portioned the pasta into the warm bowls, top each with olive oil and plenty of parmesan cheese. Serve immediately.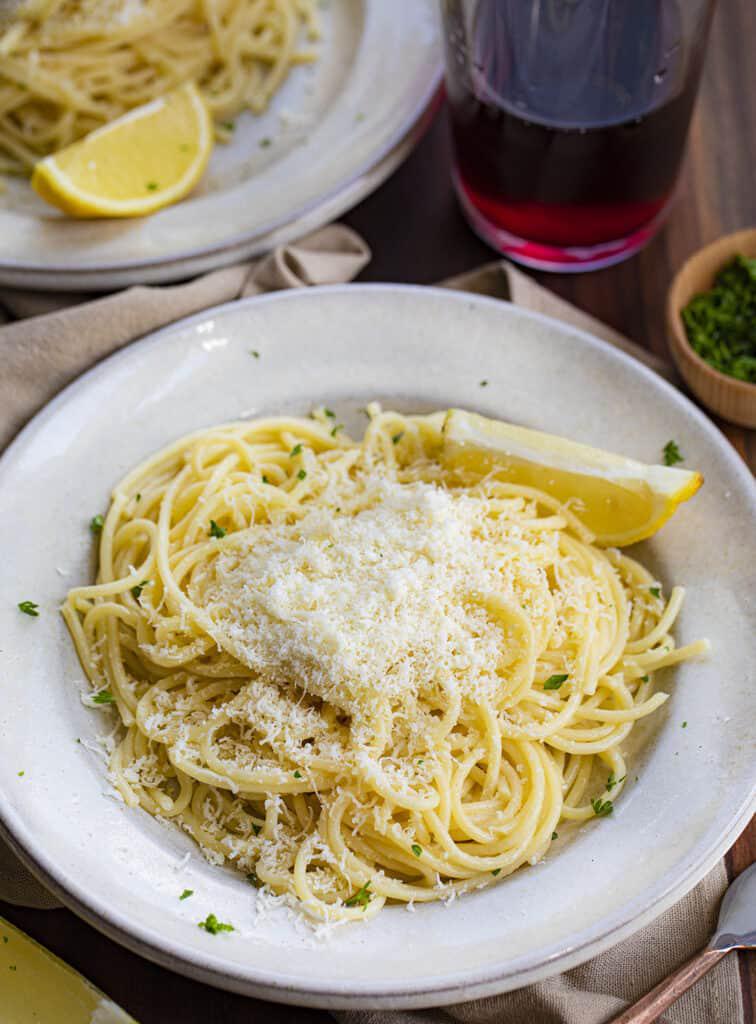 WHY USE PASTA WATER
Pasta water adds a salty flavor to the dish, as well as helps thicken the sauce and evenly coat each and every noodle. And, in a recipe like this, you want to enjoy the buttery, lemony flavors in every bite!
Ingredients
8 ounces spaghetti noodles
½ medium lemon, juiced (approximately 2½ tablespoons)
6 tablespoons butter, cut into 1 tablespoon pats, divided
½ teaspoon salt
olive oil, for drizzling
¼ cup grated parmesan cheese
Instructions
Bring a large pot filled with salted water to a boil.
Add noodles and cook until al dente, according to package directions.
Drain noodles and reserve 1 cup of pasta water. Set the cooked noodles aside.
In a large skillet over medium heat, add ¼ cup pasta water, lemon juice, and 4 tablespoons of the butter.
Once butter is melted, add the cooked noodles and toss to coat.
Add ½ teaspoon salt and the remaining 2 tablespoons butter.
Once the butter has melted, divide noodles into warmed bowls.
Top each bowl with a drizzle of olive oil and 2-3 tablespoons parmesan cheese per bowl. Serve immediately.