Roasted Vegetables are the perfect fall staple for Friendsgiving and beyond! A mixture of our favorite vegetables are roasted until golden and caramelized. The veggies are tossed with roasted garlic cloves and get a creamy flavor boost from an easy hummus vinaigrette.
This version of oven-roasted vegetables is perfect served warm or room temperature meaning they can be made ahead for your feast while the rest of the meal is being prepped!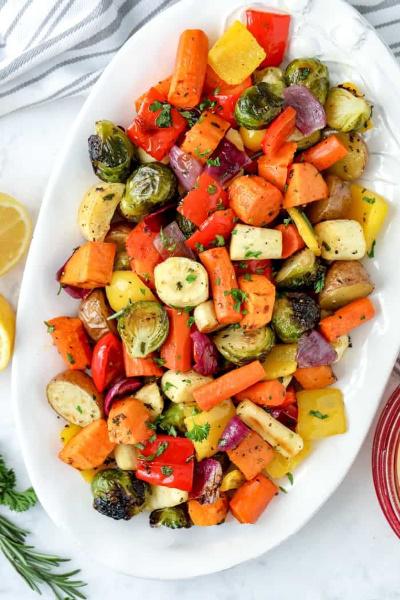 How to Roast Vegetables
What veggies can be roasted? Almost anything goes; bell peppers, onions, brussels sprouts, carrots, potatoes, and sweet potatoes to name a few!
What about frozen veggies? Sure, frozen vegetables can be roasted but they don't caramelize as well as fresh. They're already soft, so the cook time will be much less. Be sure to place the garlic in the oven early so it has time to get sweet and golden brown.
Cut Uniformly: Cut vegetables uniformly so they cook evenly. If you have quicker cooking veggies like bell peppers, they can be added part way through cooking so they don't overcook.
Add Oil: A generous dose of oil keeps the veggies from sticking and allows them to caramelize.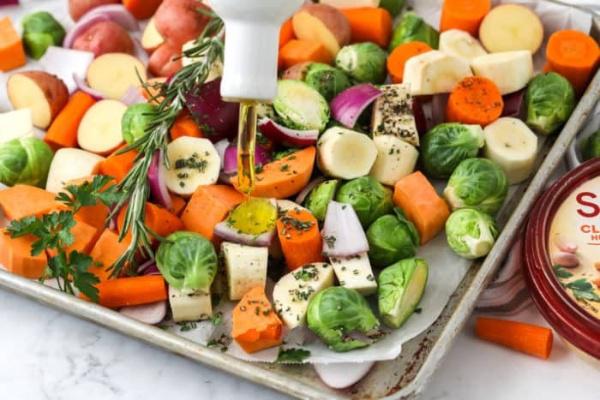 High Temperature: Cooking at a high temperature allows the veggies to brown and caramelize meaning more flavor!
Add Flavor: Season the veggies before cooking but keep in mind that some herbs and minced garlic can burn at a high temperature. We've added a delicious Sabra hummus vinaigrette to these veggies for maximum yum!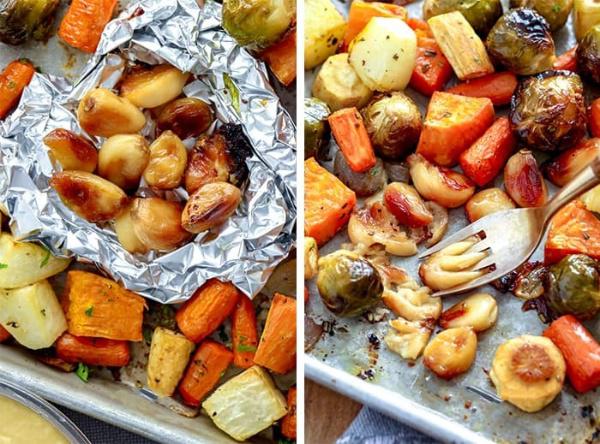 Roasting Garlic makes it sweet and delicious! Place the garlic cloves in a small packet in a single layer, add olive oil and seal well. If time allows, place them in the oven about 15 minutes before the rest of the veggies.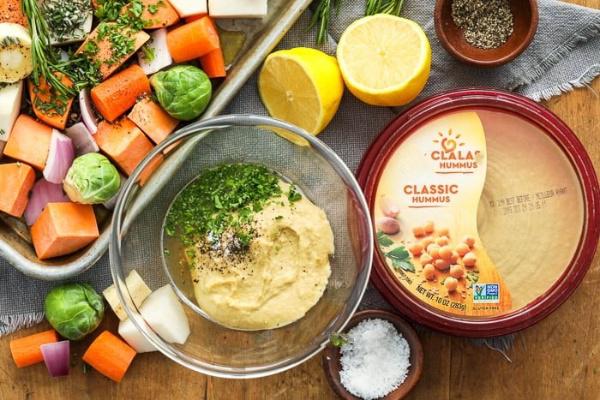 To Make the Hummus Drizzle
The star of this recipe is the vinaigrette dressing, it has tons of flavor and adds a creamy element to the dish. Sabra Hummus is of course great for dipping and even hummus toast but it creates an amazing vinaigrette too (I used classic flavor, feel free to swap up the flavors)!
This hummus vinaigrette drizzle is a delight over any assortment of roasted root vegetables! Make a little extra to use over salads or for dipping!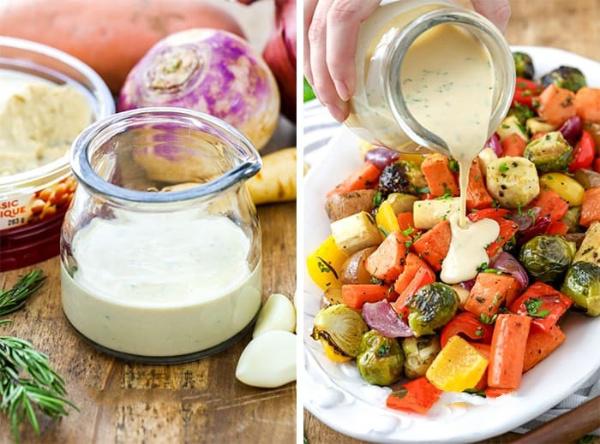 Friendsgiving Tips
Friendsgiving is a time for celebration of great friends and great food!
Plan in advance so everyone has a chance to save the date
If you're hosting, it's a good idea to prepare the main dish as you'll have access to the oven
If you're a guest, be mindful that the oven may be full, a dish like these roasted veggies is great because it can be made ahead of time
Choose a dish that can be served warm or kept warm in the slow cooker (or even served at room temperature like this one)
Keep appetizers light and fresh (like fresh veggies and hummus for dipping) so your hungry guests don't fill up before the main event
How to Store the Leftovers
These reheat beautifully and taste delicious! Store leftover roasted vegetables in the fridge in a sealed container and they should last about a week. To refresh them simply add a little extra dressing and pop them in the microwave
Ingredients
8 cups vegetables including any of the following parsnips, sweet potatoes, brussels sprouts, onions, carrots, turnips, bell peppers, baby potatoes
3 tablespoons olive oil divided
1 tablespoon parsley or rosemary
salt and pepper to taste
10 cloves garlic peeled
Hummus Vinaigrette
½ cup Sabra Hummus classic flavor
1 teaspoon parsley
1 tablespoon olive oil
2 teaspoons lemon juice
1 teaspoons honey
1 tablespoon water
2 teaspoons white wine vinegar
Instructions
Preheat oven to 400°F.
Mix vinaigrette ingredients and refrigerate.
Toss garlic with 1 tablespoon of olive oil and salt and pepper to taste. Wrap garlic cloves in a single layer of foil.
Toss vegetables with remaining olive oil, herbs, salt and pepper. Place vegetables and garlic wrapped foil on a parchment lined pan.
Roast vegetables 45-60 minutes or until tender and garlic is soft, golden, and sweet.
Slightly smash garlic with a fork, toss with hot vegetables and drizzle with hummus vinaigrette. Toss if desired and serve immediately.
Recipe Notes
If adding quicker cooking vegetables such as bell peppers, they can be added in after 30 minutes.
Hummus vinaigrette can be prepared and served over the warm roasted vegetables or it can all be tossed together.
This dish is great served at room temperature.